One of my favorite places to find ideas for Steem posts is in the comments section of my Steem posts.
In the comment section of my last post, entitled How to BUY a token and STAKE it using Steem Engine!, @steemflow left me this comment:
Hey @sumatranate this one is quite handful note to understand the Steem engine process. Even yesterday I was wondering about stake.....would you guide me understanding how staking is more helpful as compared to keeping in wallet
In today's post, I want to discuss some of the benefits of staking.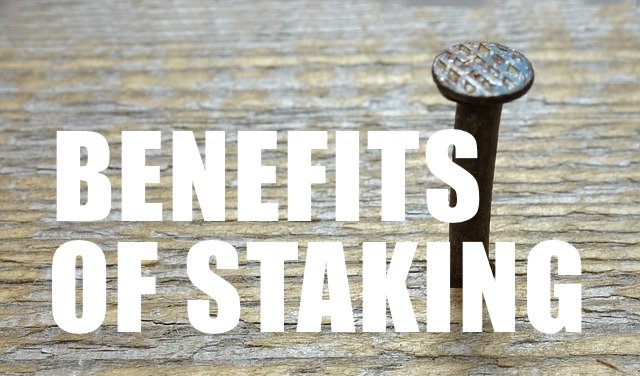 Image Source
What is staking?
From a Steem perspective, staking is depositing (or locking) tokens into a special account in order to receive special benefits associated with a particular token/blockchain.
I used the term locking because tokens must be "unlocked" before they can be involved with financial transactions. Unlocked/unstaked tokens can be sent or received to pay for goods or services.
If you are familiar with Steem, staking is like Powering UP and unstaking is like Powering Down. The main difference between the Steem/Steem Power versus other tokens, is a portion of your Steem Reward is paid out in a staked form (Steem Power).
However, at present, all other frontend user interfaces are only paying with tokens which means that the staking process must be completed manually.
What are the personal benefits of staking tokens?
Well, that depends on the what token we are talking about.
For example, a staked interest in Steem (also called Steem Power) means that a user has the ability to vote on posts which in turn impacts potential curation rewards. Steem Power also equates to Resource Credits, which impacts the amount of activity that a person can conduct on the Steem blockchain.
The following is a list of some potential benefits. Note that this is not an exhaustive list and not all benefits apply to all tokens:
ability to transact on a given blockchain
ability to vote on content
opportunity to earn curation rewards
opportunity to grow you tribe
(example: owners of Steem-engine frontend interfaces have to have 1 staked ENG per user who has staked their token)
opportunity to receive auto upvotes
(example: automatic 20% upvote for a 0.1% ZZAN Stakeholder - click here for more info)
opportunity to participate in giveaways
(example: @battlegames monthly draws if holding 1500 BATTLE - click here for more info)
opportunity to receive other tokens through airdrops
(example: I was able to claim a certain number of PAL tokens based on my Steem Power total. In turn, several communties have airdropped their tokens based on the number PAL I have staked.)
What are the communal benefits of staking tokens?
The community associated with a given token also benefits when you stake their token.
First, staking a token show support to a given community. It is like digitally connecting arms with your fellow community members.
Second, staking a token increases your influences within a given community. The more you feel ownership, the more likely you are to create quality content, support others, and promote the community to people in your circles of influence.
Third, staking a token promotes stable token value. Staking helps eliminates the number of liquid tokens available on the market, which in effect stabilizes the price of the token. Remember that a token must be unstaked in order to complete financial transactions. There process can take from 3 to 13 weeks depending on the token.
Final Thoughts
I stake tokens for the communities that I am most involved with or see the most potential in. There are some projects that I have sold the tokens I received, because I do not feel that I can be a long-term advocate of the project. There are some projects that I am still on the fence about. I have not sold tokens for those projects, but I have not staked them either.
Everyone has to make their own personal decision, but personally I feel that staking is a great investment for the Steem blockchain, a growing number of tribes (Steem communities), and for myself individually.
You may be asking, "Will Steem-Engine even be around after the launch of SMTs?" Check out @aggroed's response by clicking here.
I guess only time will tell, but I look forward to the ride!
@SumatraNate