a year ago
Feb 16 2022 3:14 pm
-
3 minutes read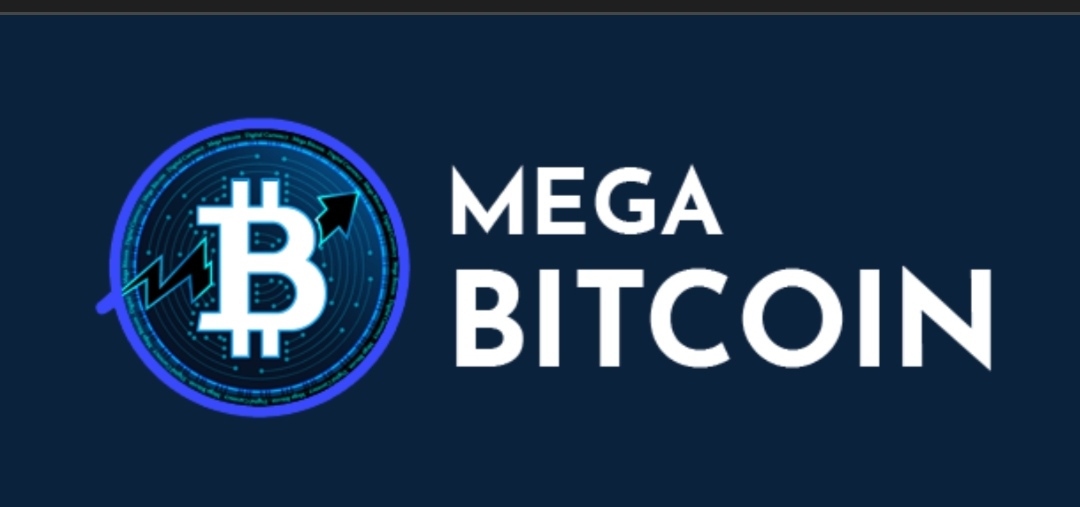 ABOUT MEGABITCOIN
A Bitcoin Rewards Token that includes utility & Future, it is the first token to have a system to give investors as much profit as possible in tokenomics. we will buy bitcoin miners and grow bitcoins endlessly will add liquidity pool. This will not only give investors the best returns but also the best return on their investment. we will use a small percentage of the liquidity pool to create crypto cards for holders to use their rewards with minimum interest rates & Transaction fees.
If you are not a Mega-Bitcoin holder then you can still apply for your card, but the interest rate & Fees will be much higher as a result of the penalty. You will be able to confirm your balance and upload & increase the Liquidity limit on the Mega Bitcoin website. we will also use a small percentage of the liquidity pool for personal cryptocurrency Loans, you have to fill out the Loan Required application on the website to be Approved. depending on the amount you request and the crypto rating you have with our Project is how the rates and fees will be determined & applied to the contracts reached. The Future is Now & You Are Invited.
MEGA BITCOIN'S VISION AND MISSION
conceptualized in early 2021.Our Genesis Developers consists of the core membership 3, and our RE-Genesis the team consists of 4 specialized members, each bringing experience and knowledge to the Project.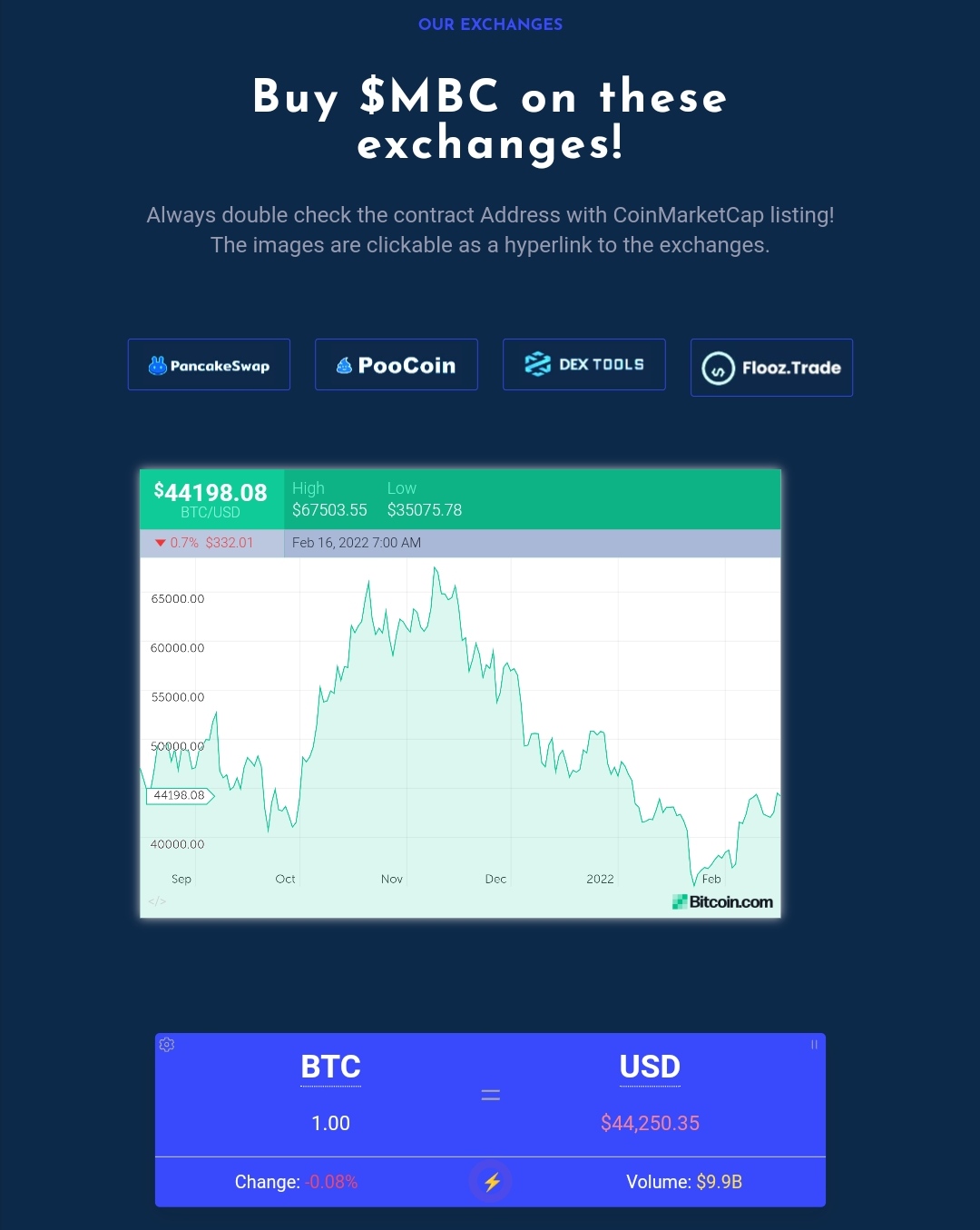 ECOSYSTEM
Supported by Community • Mega Bitcoin is fully decentralized and owned by the community.
• Bitcoin Mega Contracts issued by Binance Smart Chain, backed by Pink Sales Platform and Coin Scope, and publicly audited by leading industry companies.
• Mega Bitcoin is applying for Financial Business Operation Permits from countries in the Americas and Parts of Africa to ensure its BATM can operate unhindered
• Mega Bitcoin will be applied to: 1)international trade, licensing, funding and investment to provide digital financial services.
2)functions as a means of payment in a cross-border blockchain payment system and directly gives bitcoins to its holders.
3)meet the diverse demands of digital payments from the behavior of the economy inside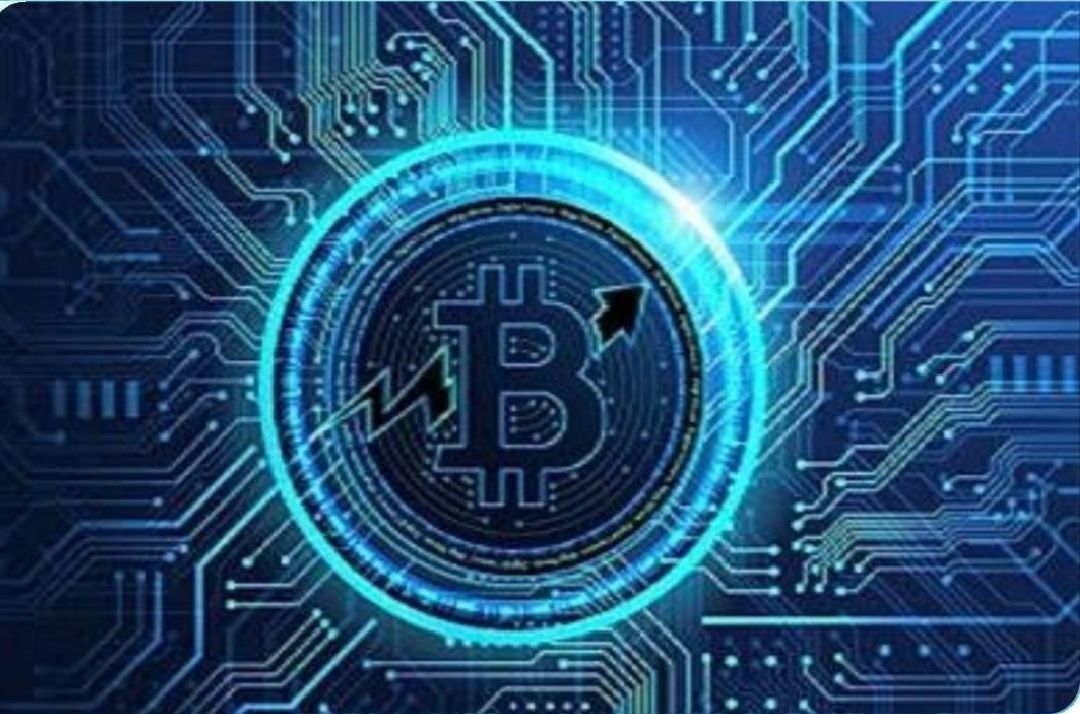 ➡️ EARN $MBC REWARDS ON BITCOIN: Earn daily $BTCB rewards just holding $MBC tokens. A 5.5% reward on every buy and sell transaction (=11%) is given to token holders as a reflection/dividend. You will see the amount if you add the $BTCB address to your Wallet.
➡️ GREEN BITCOIN MINING - EARN MORE! Earn more passive income through Green Bitcoin Mining with solar panels or other eco-friendly electricity. 50% of the Bitcoin mining reward will go to token holders and 50% in company liquidity to buy back $MBC tokens. This will also increase your reward because the company will buy back the tokens and you will get 5.5% reflection on the purchase transaction.
➡️ 11% REFLECTION + BITCOIN MINING With 11% reflection and future Bitcoin Mining, you can earn huge amount of passive income per day with Bitcoin. Many people say that the price of Bitcoin will go up in the future, so if you hold a $BTCB prize, you may be able to earn more by speculating the price of Bitcoin. Also no Limit to buy more Bitcoin-Miners for more rewards in your pocket. The more reflections come in, we can buy more Bitcoin-Miners to maximize your profit in your pocket.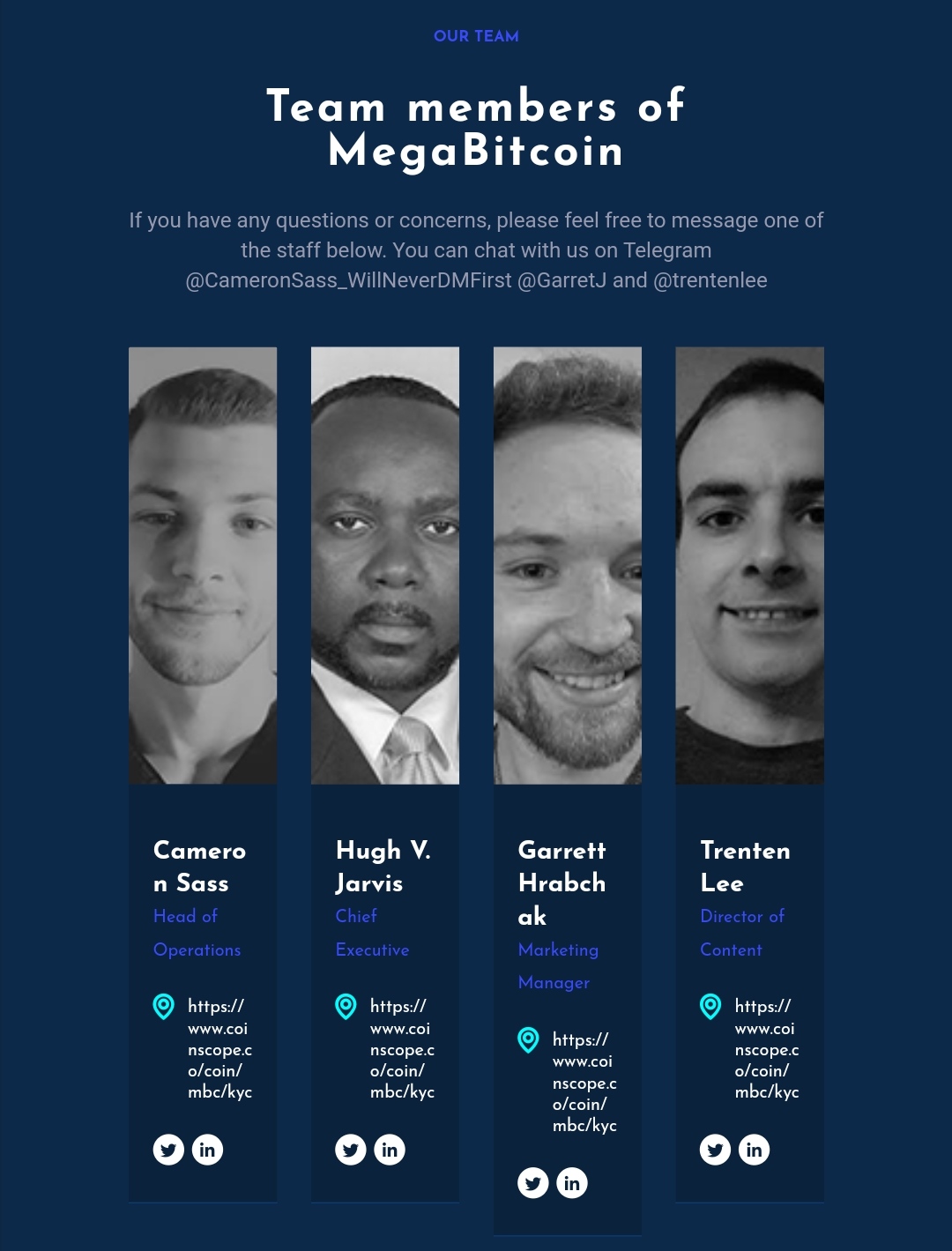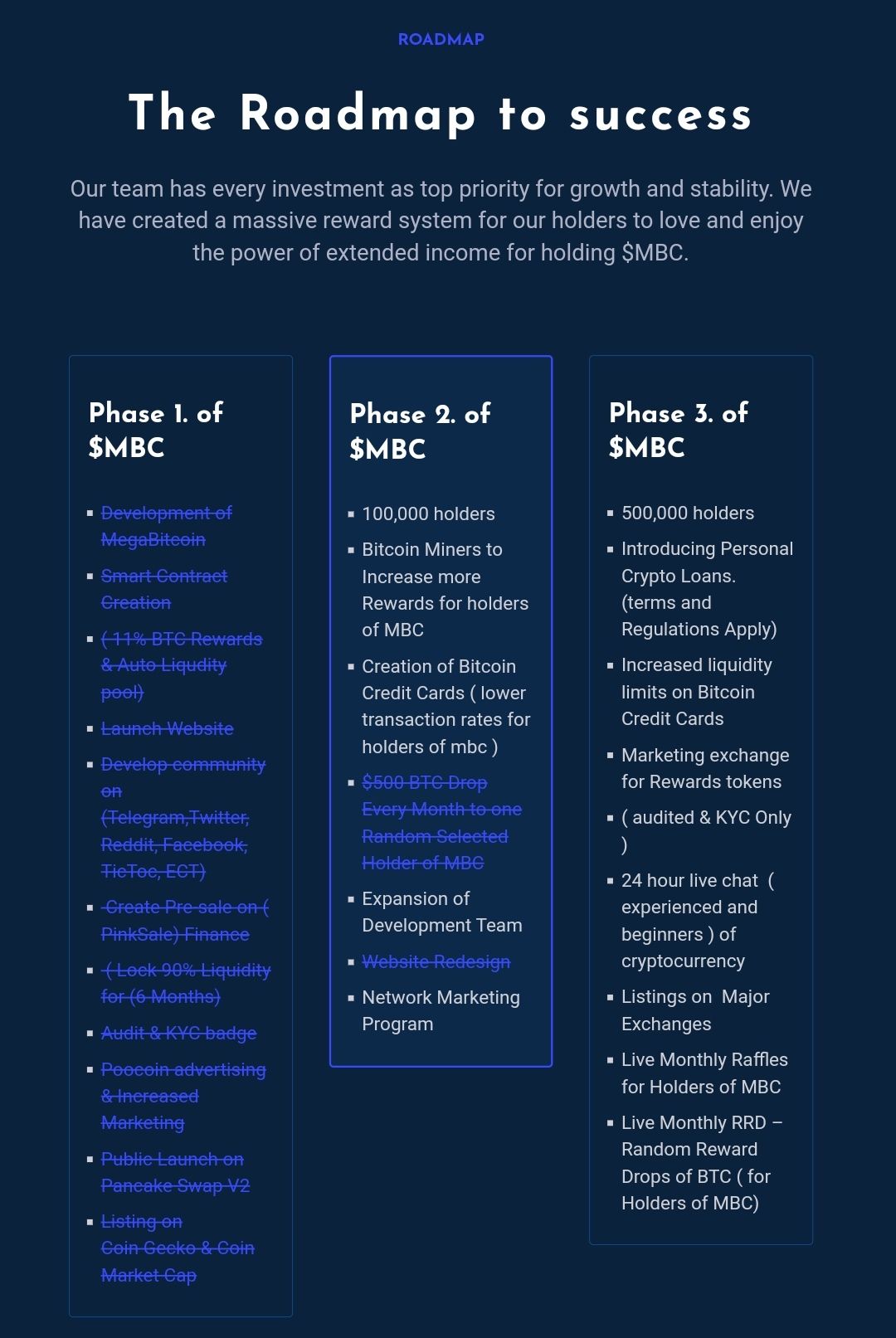 DISCLAIMER OF LIABILITY AND RISK FACTORS
Mega Bitcoin does not make, and hereby disclaims, any representations or warranties with respect to Mega Bitcoin (such as merchantability or fitness for a particular purpose), except as expressly provided herein. Any decision of the buyer to participate in the purchase of any Mega Bitcoin must be made based on his/her own knowledge of Mega Bitcoin and the information disclosed in this White Paper. Without prejudice to the generality of the foregoing, each purchaser will, upon launch of Mega Bitcoin and receive Mega Bitcoin on an "as is" basis, regardless of its technical specifications, parameters, performance or functionality.
✅WEBSITE ✅TELEGRAM ✅TWITTER ✅FACEBOOK
Bitcointalk username: Senkuli
Bitcointalk profile URL: https://bitcointalk.org/index.php?action=profile;u=996827