Both Bitcoin and Ethereum Are on the Move
Only 16 days until _Web3 Social: How Creators are Changing the World Wide Web (And You Can Too!)_** launches. I'm still looking for people to join my launch team and help me get the book out far and wide. If interested, get the details here.**
BTC and ETH adoption grew 22 percent in 2022.
Since Bitcoin's bottom last year, BTC has risen 50 percent. BTC sees its best weekly close in 5 months. Some people are calling it a bull trap. Bitcoin's difficulty rating hit another all-time high. Coinbase CEO Brian Armstrong says the U.S. national debt is evidence of a bullish bitcoin. _He may be right, but it's not the only signal of bitcoin's bullishness. There are intrinsic factors that make bitcoin good seed for the future. _Are NFTs a good fit for the Bitcoin network? Ordinals thinks so. But what are the trade-offs for bitcoin NFTs?
Coinbase and Binance hold 55 percent of circulating Ethereum. Ethereum-based NFT sales spiked 21 percent on OpenSea in January. One must wonder if this is evidence of a correction. Is the market gaining confidence?
The IRS is among the list of FTX creditors. So are Coinbase and virtually all of the Big tech giants (excluding Facebook). But the IRS? The list also includes some foreign governments.
Ripple Labs has named Monica Long its new president. Congratulations! In other news, Ripple partners with Montenegro to launch digital currency pilot. There is a huge market for blockchain companies to consult with government agencies, foreign and domestic, on the creation of digital currencies.
A Coinbase director accuses Binance of "pretty obvious" insider trading. Of course, he may just be jealous of the 16-million BNB token burn.
Circle unveils its USDC reserve holdings.
Mark Cuban says wash trading will be the next big crypto implosion. He's probably right. The crypto-investing public would be shocked—SHOCKED—to find out how many crypto founders are involved in wash trading. When it comes to light, crypto will have its day in hell, but paradise will soon follow for those who stay in.
Yuga Labs Founder Wylie Aronow takes a break for health reasons.
Amazon appears to be jumping in on the gaming NFT bandwagon. It's interesting that Amazon would home in on gaming NFTs. On the other hand, it is primarily an entertainment company. Gaming fits in with its offerings of streaming movies and music, and its mainstay of non-stop books.
Stripe plans to go public or allow employees to sell private-market shares in 2023.
Crypto fraud hit a new high in 2022. We might also say it's reached a new low.
Justin Sun wants 5 nations to adopt TRON as legal tender in 2023._ Could this spark a race among cryptocurrencies to achieve mass adoption as legal tender?_
The top 5 NFT collections by all-time sales volume record a total of $12.7 billion in sales volume. Axie Infinity leads the market. Surprise!
Moody's to introduce stablecoin scoring. This would do much more to assure investors that stablecoins are worth putting money into than regulation would do.
President Joe Biden says it will be a "grave mistake" to "deepen the ties" between cryptocurrency and traditional financial markets. _It would be a grave mistake for the current Administration to continue its path to interfere in that which has naturally and organically grown right up under its nose. _The Prez wants Congress to pass legislation to strengthen crypto law. _The problem is Biden wants to play the part of nanny, "protecting" traditional financial companies from exposure to risk inherent in cryptocurrencies, but those companies' executives understand financial risk better than he does. They know what they're doing, and he doesn't. Therefore, fingers off the cherry pie, Mr. President! _Meanwhile, Senator Ted Cruz has reintroduced a bill that would allow Capitol gift shops to accept cryptocurrencies for payment.
Decentraland rallies 15 percent on Sunday. And no one had to go to the beach.
A look at Hedera key metrics for Q4 2022. By Messari.
While metaverse interest shot up euphorically after Facebook changed its name to Meta in 2021, metaverse interest fell like a boulder in 2022.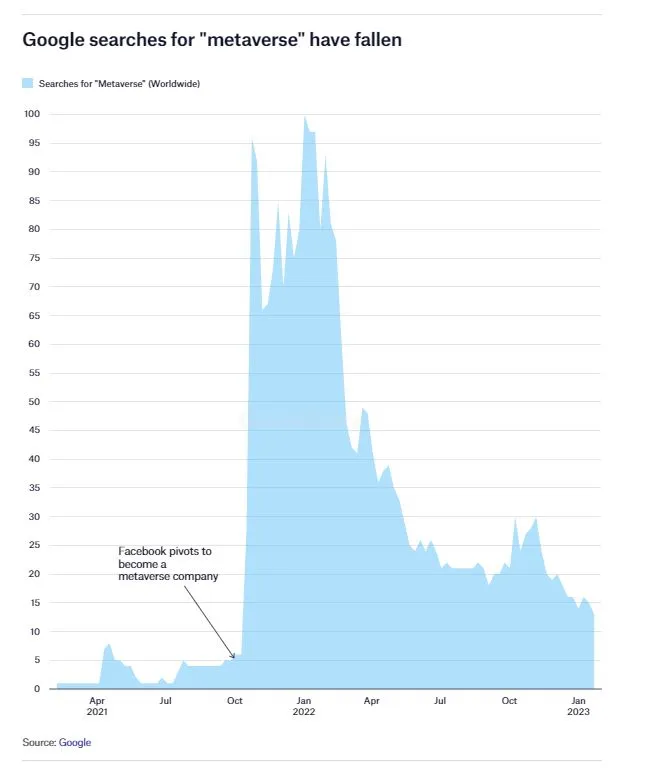 Leo Finance is talking about extending the 7-day payout period on Hive with the introduction of NFTs. This news is too important to wait for Web3 Wednesday. The significance of NFTs hitting the Hive blockchain cannot be overstated. I don't have a timeline on when this will happen, but if it does, it would increase my interest in NFTs—but only on the Hive blockchain.
An Arizona senator wants to make bitcoin legal tender. This may not fly considering who the senator is, but it is noteworthy to mention that U.S. states are now considering this legislatively. I do believe that at least one U.S. state could make bitcoin legal tender within three years.
Hector Network launches NFT marketplace on Fantom.
Smart Stake is shutting down its Secret Network validator nodes.
Black U.S. Web3 founders raised $60 million in venture capital last year, an increase over 2021.
New York considers allowing state agencies to accept crypto for fine payments. That way, they can sue crypto firms, fine them for breaking the state's onerous laws, then hypocritically accept cryptocurrencies to pay the fines. Nice going, New York.
Floki Inu to burn over $100 million in tokens.
The introduction of artificial intelligence has led to a surge in AI-focused crypto projects. Thanks ChatGPT. Thanks a-freakin' lot.
What does the Web3 Trends 2023 report say about the future of crypto?
Threshold rises 94 percent after Coinbase says it will list the token.
Toekenz Collectibles wants to get children hooked on NFTs.
2023 Web3 business trends. When building Web3, transparency is not enough.
The Hainan Province in China is stepping up its efforts to reign in digital collectible fraud and money laundering.
South Korea to introduce digital tracking system for crypto. It's only a matter of time before the U.S. does something like this.
Philippines securities regulator wants to clean up the riff-raff in crypto.
Panama's Supreme Court is poised to rule on whether crypto law should stand.
Snark and commentary are in italics. Inclusion of an item doesn't mean I agree or endorse the ideas presented. Of course, it also doesn't mean I don't.
Cryptocracy is a decentralized newsletter published several times a week. I curate the latest news and crypto analysis from some of the brightest minds in crypto, and sometimes offer a little insightful and snarky commentary. Always fresh, always interesting, and always crypto. Original articles on Fridays.
First published at Cryptocracy. Not to be construed as financial advice. Do your own research.
**Like this issue of Cryptocracy? Consider subscribing if you're not already a subscriber. If you are a subscriber, consider accessing premium content for just $5/month. The current series is called **Diamonds and Pearls: A Historical Look at the Top 10 Cryptocurrencies By Market Cap.
Image credits: NFT sales, CryptoSlam via AMBCrypto; Metaverse, Google