New Energy System to replace ECR in Splinterlands

This post is published via LeoFinance.
3 months ago
Mar 14 2023 2:36 am
-
4 minutes read
Splinterlands has finally announced that they are going to bring a new type of energy system that is going to replace the existing system that is called ECR aka Energy Capture Rate. This is a recent change that we are going to have in a week and as per the announcement made by the team they are going to implement it on 21st March. In any game, it is important to put some control to avoid spam playing and this is the reason why the team has implemented ECR which is the existing energy mechanism.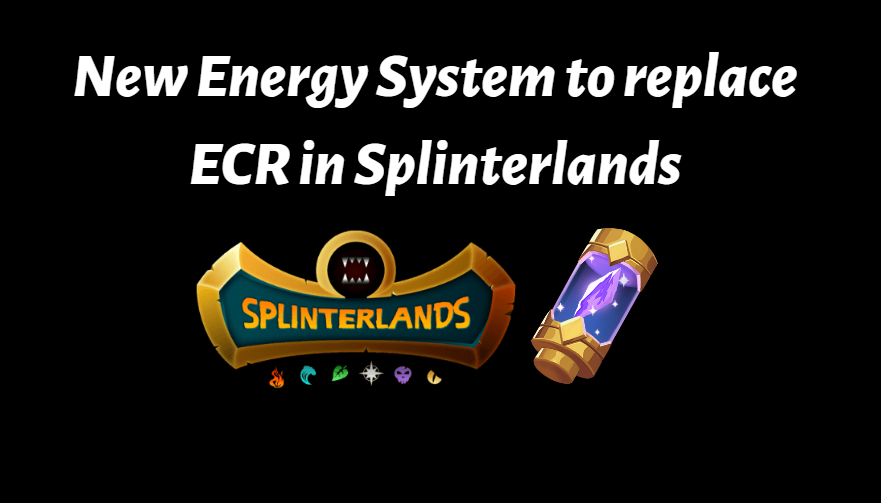 The existing energy system is slightly difficult to understand and especially for New Jersey it is not friendly at all. People were complaining about it in the past that they should be easy and even the option to buy additional ECR should be available.
Current energy system
I am a player in the game and I know that it is very important to maintain an energy rate of more than 50% in the current system. If we do not manage the threshold of 50% then it dreams faster post 50% and that takes a long time to get recharged. If anyone wants to play a good number of battles every day then it is important to have a balance between the ECR to ensure we can play daily. Technically we can play approximately 20 battles in a day so if we start with 100% ECR then we will end up at 80% after playing approx 20 battles in a day. It will take one day time to get it back 200% and then we can play again the same way. it is not necessary to play in one go as we can decide whenever you want to play but this way at least we can manage the ECR in a better way as per the current system.
Change is Good
With the new change, they are going to make things easy where we need not maintain any percentage. We will get 50 energy in a day and with each battle, it is going to reduce one however we will have the option to buy up to 50 energy from the market in a day. There is also a limit because it is required and this is the reason why they have given the option to buy up to 50 energy maximum from the market by paying the amount. We can use different tokens including DEC and credits to buy these energies. The cost to buy additional energy will vary because it is going to be based on the league you play in and accordingly you will have to pay the charges to buy additional energy in the game. This is fair and in my opinion, because this cannot be the same for anyone across the leagues because we get higher rewards in the higher League so obviously it is needed for such players to pay extra.

Announcing a New Energy System for Splinterlands Ranked Battles
The change that the team has introduced this time to buy additional energy from the market is good for the player and also for the platform because the tokens will be burnt post-purchase. Be it credits or any other come that is used for the purchase will be taken out of the system and it is a good decision to empower the token economy for the betterment of the game. Anyways if any player plays more battles then they are getting more rewards and in written they are also helping the community to improve on the token economy.
Overall this looks good based on the details provided in the post by the team and I am hoping that more people will like it because it is easy to understand and we even get the option to play extra battles if we have time. I am not sure whether I am going to buy additional energy but I like the way it is explained and I am sure this will help many new players to understand it and get familiar with the new changes in the game. I play about 20 to 25 battles in a day so whatever energy I'll be getting in a day should be good enough for me but sometimes I feel like playing more so now I have the option to go for it. It is simple that if someone wants to play more then there has to be some cost involved which will be used to strengthen the game economy.
I like the way the team has been working these days as they are more focused on the development and bringing new things for the players and investors. I am looking forward to seeing this upcoming change with the energy system in the game and am even excited to see how things will be after 1 week. Maybe some people do not like the change but I like it and this is the reason why I am proud and excited to see how things will be post-launch of the new energy system.
Thank you
Posted Using LeoFinance Beta