Road to 100k SPS and More Buying..

This post is published via LeoFinance.
2 months ago
Mar 23 2023 5:17 am
-
3 minutes read
Splintershards aka SPS is the governance coin of the splinterlands game. This is one of the coins that we need to accumulate as much as possible but with a long-term approach because they will be many upcoming benefits as promised by the game Team. In fact, they have been doing it where some benefits are provided only to SPS holders. It means we may expect much more in the future where the SPS holding will play an important role. The current price for SPS is at the bottom I believe and the major possibility from here is to go up but again this is not financial advice that I am sharing here. Please do your own study and search before investing in the game all the project and here I am just sharing my strategy and experience that I have gone through.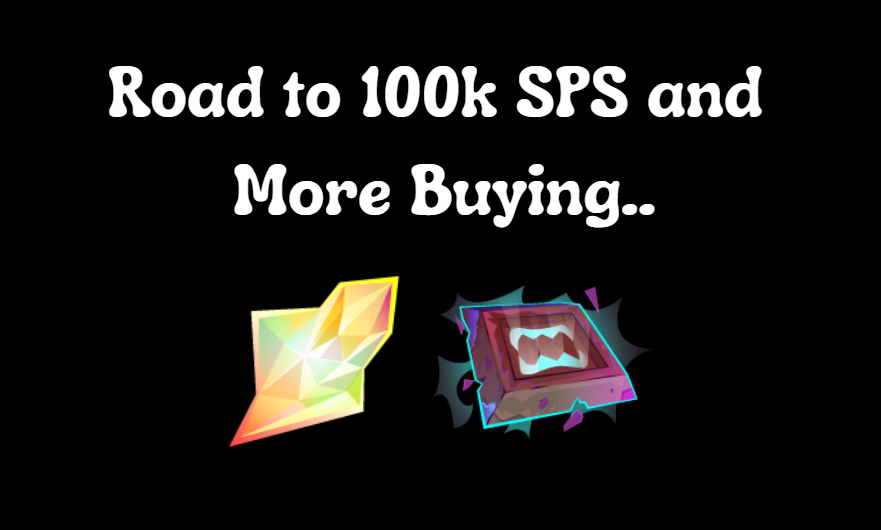 My holding
I am sharing the snapshot of my whole day and I am about to make it 90000 SPS very soon and maybe in a week's time. The current apr is almost 22% which has been fluctuating a bit but I believe this is going to stay at about 20000 in total which is not bad at all. This reward is paid to 2 points including vouchers and spheres but altogether this apr is good that anyone can go for because there is also an added benefit to getting some GLX every day. GLX is under governance coin for the genesis League sports game which is still under development and should be live within this year. If We combine all the benefits into one then this APR is going to be big and I don't think one can get similar earning benefits elsewhere.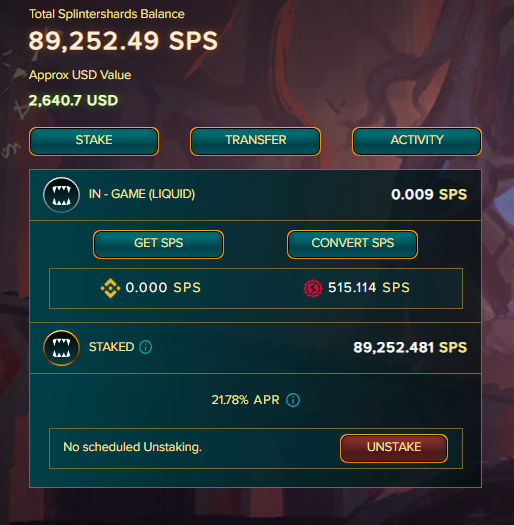 More to add to Stake
My goal is to have 100k sps tokens in my account and I am walking mark 90% whereas for the remaining 10% I am going to try my best to make it happen in the next 2 months approximately. I hope the price remains the same and there is no such spike in the value else I'll be getting fewer coins for the same price which I do not want to happen but again there is nothing that I can control in the market. I can only expect to plan things but there is no guarantee that the market will follow my strategy because it is hard to predict how things will move in the market. The majority of my SPS stake is purchased from the market and I have been buying from a higher price range which was approximately 20 cents because I did not expect the price to go to low which is available now.
Why to stake SPS
There are multiple benefits for holding SPS in the game account apart from the regular reward that we receive every day. For example, currently, we have an ongoing promotional sale for SPS holders only and only sps holders are eligible to buy this card. This is just one after benefits that we have received but I am sure there is a lot that is coming on the way and a bigger SPS holding will be helping us a lot to grab the benefits. Later on, they are also planning to add SPS holding as collection power in the game which is going to be a game changer step. I'll be talking about it more in detail in my other post but for now, I can say that with this option going live the price for SPS will see a spike.
The current price for SPS is approximately 3 cents but it was even low a few weeks back. The price has gone up slightly after the recent market positive movement and I am waiting if this to go down again so that I can buy more and all this will be added to my overall SPS holding in the game. I also need to claim my SPS promo card but I will be doing it later as the sale will continue to be available for 7 days and it is still remaining for 5 days there is nothing very as I have enough time to do this.
Thank you
Posted Using LeoFinance Beta