How about Thread prompts? Feedback needed

5 months ago
Jan 17 2023 3:47 pm
-
4 minutes read
I know that @forexbrokr has dog prompts in threads, @l337m45732 has #gmfrens, and there are other users who publish specific threads and engage in specific topics, but I have never seen a #thread prompt or #threadstorm prompt other than those we had during the launch of Threads, and even though they were successful, I haven't seen any more.
Which is why, for the next stage of our 2023 Adoption Campaign I'm thinking of having a Threads #dailyprompt where we will have a different topic each and every day of the year for people to engage easily on threads and learn how fun it can be once you get the hold of #threading.
We have Leo Ambassadors, and now we also have Thread Squires. Both of these Leo Power levels will play a key role in the process of mass adoption, which aims to have 5k users by the end of 2023 - but I'm even pointing higher than that.
All we need is the new UI, but that doesn't mean we can start planning ahead, right?
Daily Thread Prompts and Threadstorms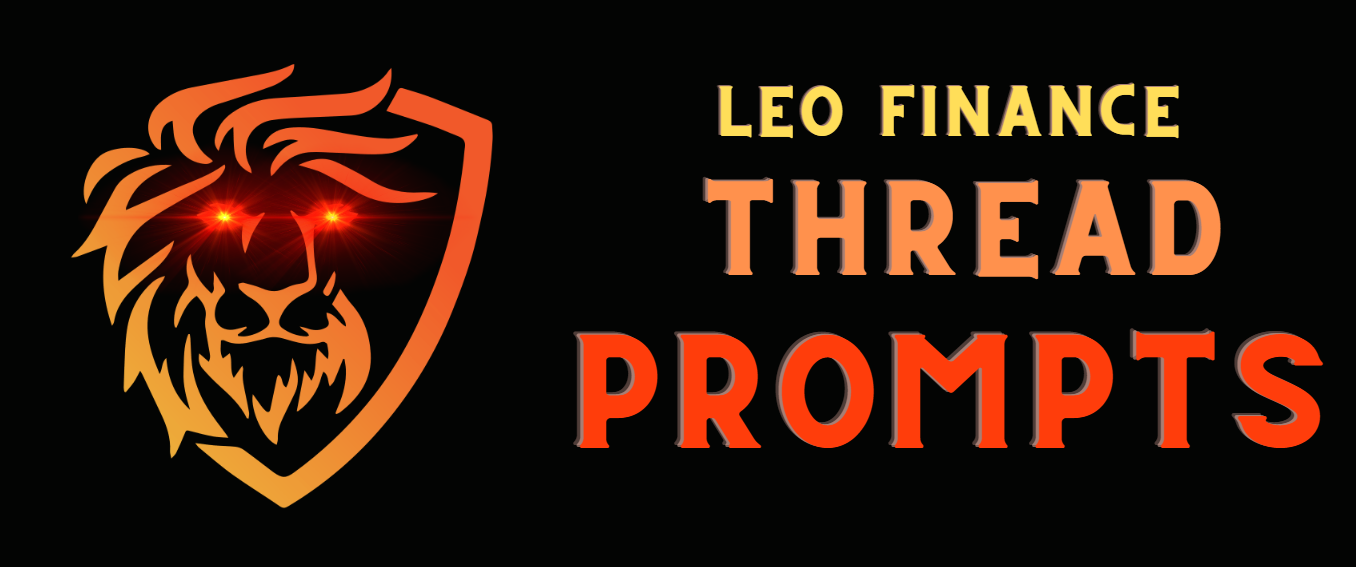 I have this idea, but I want as much feedback from the Leo Community as I can get. It's not about my idea, but about making it the best idea, even if it has nothing to do with my original idea.
The point is to have the best, most engaging, most attractive and fun way to encourage daily thread usage. So here's my idea:
1 - An account announces the Daily Prompt at 00:00 UTC 2 - Anyone can join this prompt and tag it #dailyprompt 3 - Even if people don't see the announcement, they will see other users engaging in it and they will find out the topic, and they can engage 4 - The topics can be about anything 5 - The daily prompt topic can be selected by a squire or ambassador (with schedule) 6 - The ambassador/squire will be in charge of curating the #prompts of that day 7 - There can be 3 daily winners picked in terms of engagement in the prompt 8 - Threadstorms are allowed 9 - #dailyprompts can include some sort of task, like "Go read this post and give your opinion about it" or "Go reply to this tweet telling them to come to Leo and post your results" 10 - Prompts can include anything blockchain related 11 - Daily prompts can be as simple as "Post a pic of your dog" or as raidy as "Go follow this author on hive, leave a comment, like a post, reblog your favorite post from the author, and let them know you got to know the author because of a thread raid" or as complicated as "Create an account on reddit and comment on this specific post about your experience on Leo Finance, then post in threads a screenshot of your reddit post" 12 - My idea is to make the prompts get harder as every day of the week passes. Monday can be simple as hell while friday can be difficult as fuck. Saturday and Sunday could be bonus, with more leaning towards the fun part of Leo. 13 - Raids are a reality now, we can increase the awareness of Leo Finance by raiding (not shilling) other communities and even other crypto platforms in the form of "Leave a comment, follow, let them know you are there because of a Leo Raid - not inviting them or shilling, just letting them know). 14 - Threadstorm prompts allow users who are interested in the topic to engage on threads and even start their thread journey in case they are not part of LF. Example: Prompt about your garden might interest everyone from the hivegarden community to come and thread here, and then they would stay because of the awesome engagement they will get from ambassadors, squires, other Lions, and the hivegarden members themselves. 15 - Engagement is key, LeoPower and rewards matter, but engagement is what will make people come AND stay. That's the importance of having ambassadors, squires and the LF community engaging every single day. Once we gain traction, the community itself will be so engaging that it will thrive on its own.
If this idea gets attention, maybe we can ask @khaleelkazi to set a button on top of the new UI as "Daily Prompt" and users can click it, and get the task/challenge/topic/prompt of the day.
Gamification
This idea can be gamified. If it gains momentum and then Khal hardcodes it into the UI, then the possibilities are endless for Thread prompts. They could even become LF prompts at some point, who knows. That's like the fourth step of this campaign, and I'm currently trying to shape step one, so help me.
IDEAS
I need ideas, Lions.
I have the skeleton for this initiative that will help us onboard hundreds of users, all I need is for you to provide the meat and personality to the bones.
Leave a comment and help me shape the best Thread Prompt initiative.
Posted Using LeoFinance Beta