Completing my 4 years on Hive Blockchain

This post is published via LeoFinance.
a year ago
Dec 16 2021 5:39 pm
-
5 minutes read
Today I'm completing my 4 years on Hive. Hive blocks say I have seen 58 moons as of today. I would like to take this opportunity to share some of my experiences in this long journey. First of all, I would like to thank all my friends here who made this possible. We believed a lot in Hive and we were here even during the bad times of Hive. That's the key thing. Many people join the platform and stay here only if things are going well. When Hive's price started going down, some of my friends quit. But there were still a few who wanted to stay here long-term. I'm glad to be a part of that group too.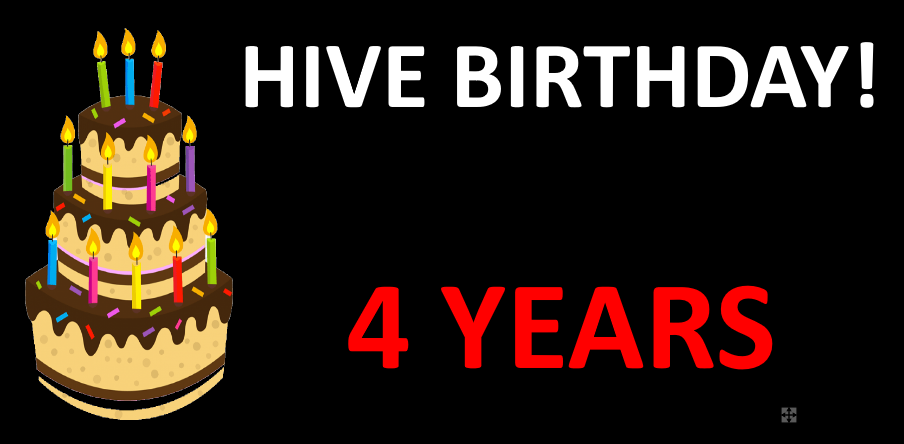 My accomplishment on Hive
I have to admit that compared to the first 3 years of growth, last year was very great and the worth of my profile got bigger. I was also consistent in writing every single day that gave me a good boost. Not just reading but I was also up to date on what was happening on Hive and was able to share my thoughts on them in the form of articles. Not just growth but I also personally think that I have accomplished something being on Hive all along.
I would like to give some thoughts on what I have accomplished here on Hive being a part of this ecosystem for the last 4 years. Maybe I can start with the transition from Steem to Hive but I really don't want to talk about Steem now as we have all moved on. I would like to list out some of the things that connect me strongly with Hive. That will make me proud and also act as a motivation for me to keep going further. I'm not going to mention everything but only a few top accomplishments that are worth sharing.
Kanibot
I started a service on Hive called Kanibot which is a notification service for discord users. This was my own project. To be more precise, I personally wanted to have a bot that would give me customized notifications based on my need. Gina was there but it was broken for a while and also it wasn't giving Hive Engine notifications. That's why wanted to build my own notification service for discord users.
Beyond a notification service, Kanibot is going to get a little bigger. I have a few plans and have been working on something already. I will soon be posting an update on what the new feature will be.
Hive Engine Witness
When I worked on Kanibot to send Hive Engine notifications, I was able to grasp most of the concepts from Hive Engine. When the team came up with a consensus, I was curious to set up a Hive Engine witness node, and yeah I'm running a Hive Engine witness with the account @kanibot. If you have a WORKERBEE stake and would like to vote me as a witness, you can vote here. In addition to running my own witness server, I also maintain the witness servers for a few other communities and friends too. If you wish to run a witness node and would want me to manage it, you can contact me. I'm doing that as a service with a minimal cost.
Neoxian City
This is the best thing that I got on Hive. I made a lot of friends here and I'm also one of the developers in the city. I code some apps and bots for the city and the projects run by Neoxian. This virtual city on Hive used to be on discord and a few months back it was moved to Element chat. This is the best place for some investment ideas and to meet some good like-minded individuals.
Indiaunited
Indiaunited is the community for Indians on Hive. This community has been in existence for the past 4 years. When I joined Steem back then, this community was also started and had been active since then. This community is being operated by some good and like-minded individuals from India who support each other. There is a registration process and the registered individuals also get a chance to receive votes from the community account. The curation done from the community account is 100% manual. In addition to that anyone donating their Hive Power to @indiaunited account will receive a 100% curation reward share. I have some bots and applications created to perform all these activities.
Muterra
I always wanted to be a game developer from a very young age. I wanted to do animation movies and game development. I didn't know where to start. I ended up becoming a developer in a company. I'm glad that after these many years I have now got an opportunity to become a game developer. Not the front end though but a backend developer for now. I'm one of the co-founders of the Muterra game and this game is going to be one of the biggest things on Hive in 2022. The progress had been really great so far and we are pushing it hard towards the release.
Apart from Muterra, I also personally have a few gaming ideas but not sure when it will become reality. Hopefully, I get enough time next year to accomplish even more.
My future plans
I do have a few plans for the future. As mentioned several times by me in my articles, I want to be financially independent and I personally think that Hive and Hive ecosystem can play a vital role in that. Most of my holdings are in the form of Hive and HBD. I recently started growing my HBD stake and that should give me decent stable coin returns. I want to be able to hold close to 100k HBD that will give me a solid passive income to be financially independent.
In addition to this, I want to start writing technical blogs or probably a Youtube channel where I can walk people through coding on Hive. Maybe I can pick some examples and explain things in simple words for the beginners. I struggled a lot to learn how to code on top of Hive by using the libraries so it will be nice if I can share whatever I learned here with others to make it easier for them.
I also wanted to do some content in my local language explaining concepts of Hive in my local language so that it will be easy to onboard people and let them grasp all these concepts easily. I don't know how I will be able to manage time for all these but I guess someday I can figure things out.
Slowly transition to a new account on Hive
In one of my previous articles, I mentioned that I wanted to change my account and start using a new account. The main reason was to make it easier for people to remember me easily. I have a few numbers behind my username that I think is the stupidest mistake I made on Hive. Maybe at least during Steem to Hive transition, I should have started fresh with a new account. But yeah never too late. I'll try to slowly transition to a new account and move my posting activity there. I believe this will make people remember me well and stop getting frustrated while trying to tag me on something. But urgently I don't have any plans as there are so many dependencies and I don't want to lose the rewards I have been getting on my current account. Especially December month had been a great month for me in terms of rewards.
---
---
Posted Using LeoFinance Beta