Hive Power Up day and My Monthly Hive Report

This post is published via LeoFinance.
6 months ago
Dec 01 2022 5:27 pm
-
3 minutes read
The first date of every month is celebrated as Hive power-up day. Today again is Hive power-up day and I'm glad to participate again in this. I know I'm not eligible for any contest or anything but I want to participate for the fun aspect of it and to show my support for the growth of this blockchain. I'm happy in doing this because my personal account is also growing because of this.
This Hive Power Up day is also additionally special for me because I'm completing my Hive goals for the year with the power up. I had a goal to reach 50k Hive power before the end of the year. Thanks to the price of Hive because I was able to reach the goal sooner than expected. I did not expect this to happen anytime soon before the end of the year but I'm glad I completed it 1 month prior.
The value of Hive still needs some recovery. I hope it goes back to 1$ again so that we can all book some profits. I have been planning to book my profits from next month onwards irrespective of the price of Hive. At least I should be able to take my HBD and move it to other investments, just to diversify.
My Monthly report
The monthly report is usually based on the author rewards and the curation rewards. But I recently started including my witness earnings as well in the report. I have two accounts namely bala41288 and balaz. I have not been actively writing on my second account but I write every single day on my primary account. It is really a pain to maintain consistency but I still try to keep up.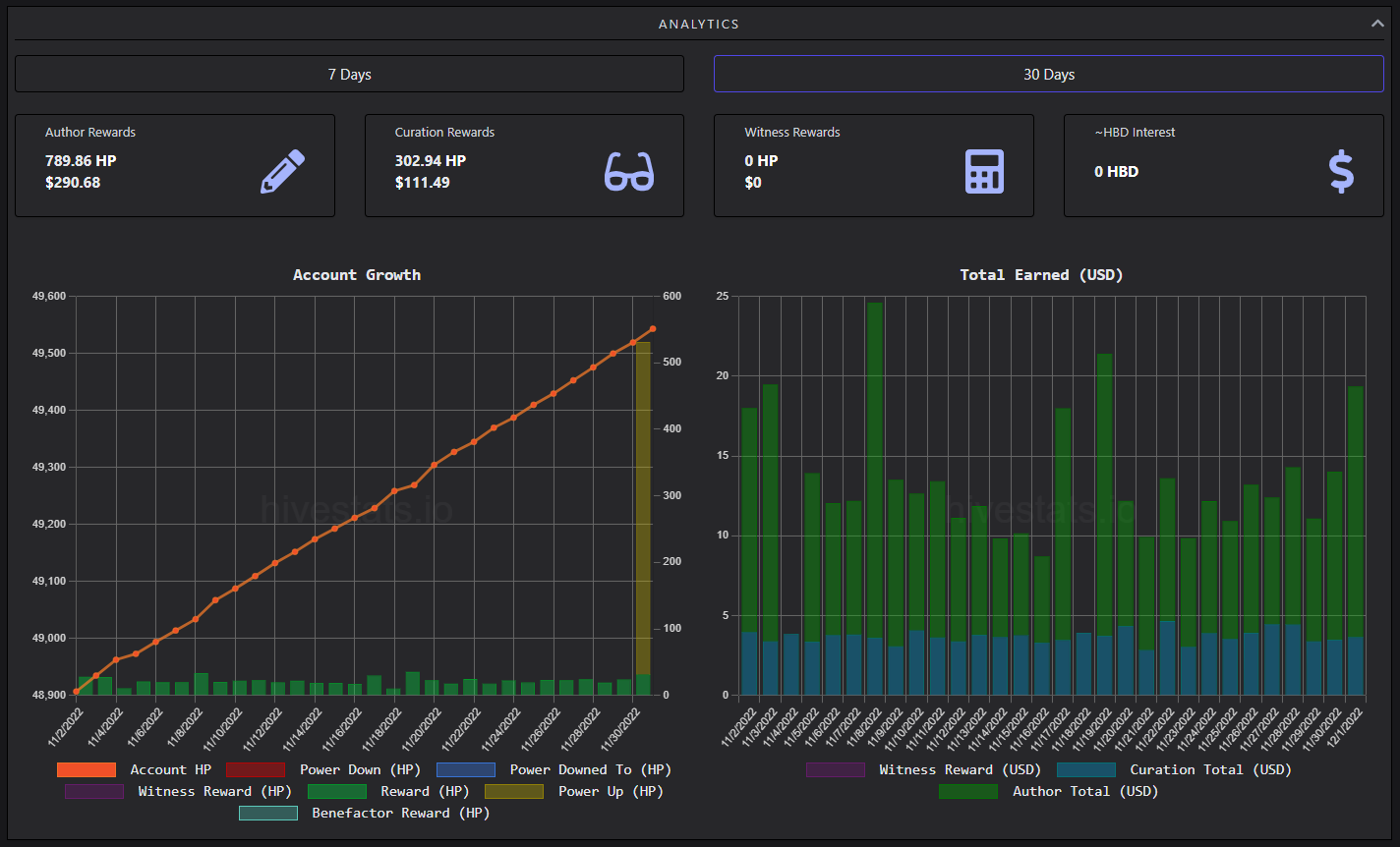 Compared to the previous month the rewards are a little less. This is something that I expected. I know for a fact that the rewards were reduced in the last month and I was also not very actively engaging in the comments section. In addition to that, the price of Hive going down is also another reason. But I'm sure it is still a good number and I would like to continue what I have been doing.
The curation rewards alone are slowly picking up and I hope 50k Hive power should also give a decent amount of curation rewards going forward. It is also believed that growing the Hive power after having a decent Hive power is also helpful. People having more hive power would be able to grow their accounts faster than someone who is just starting.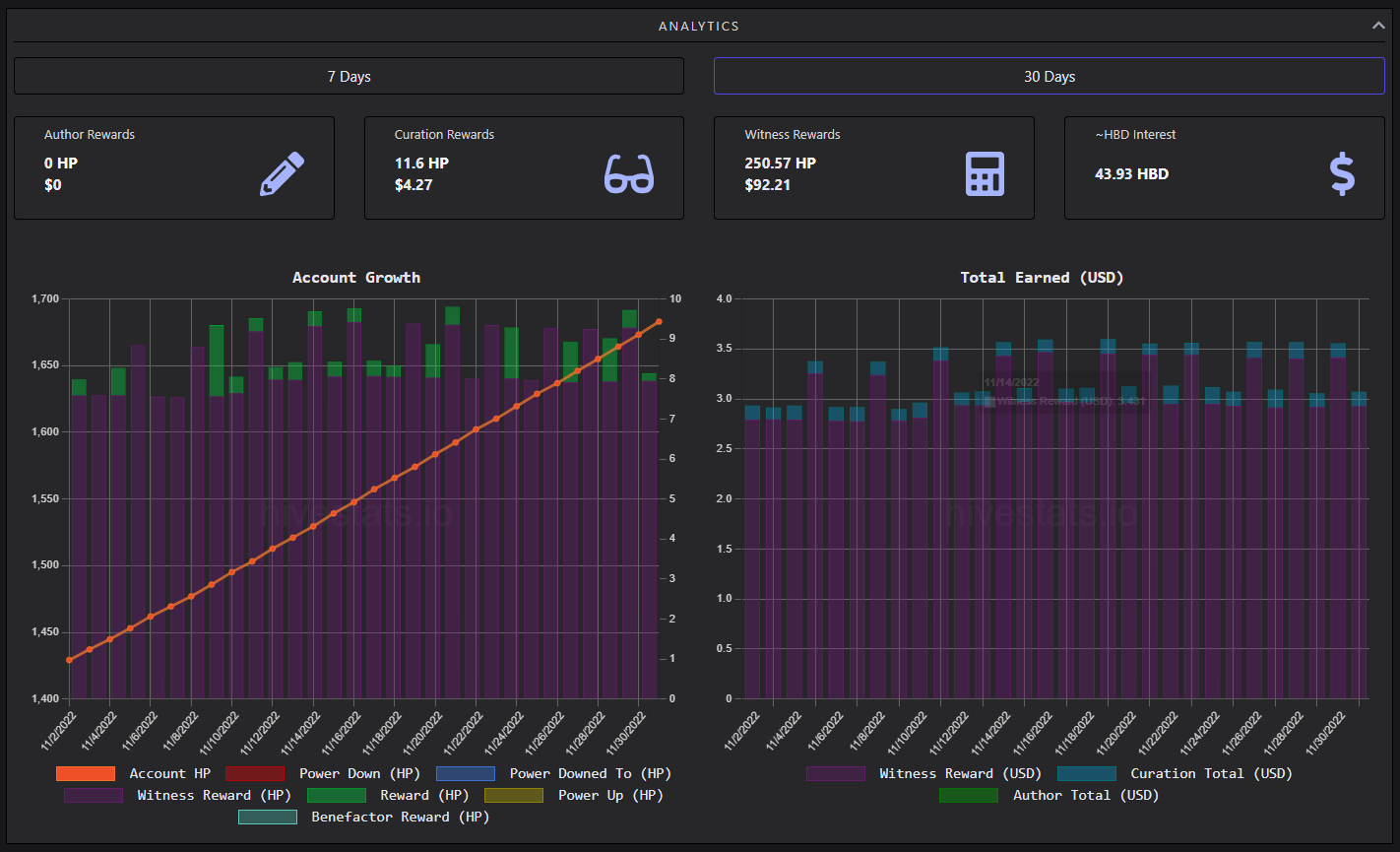 The above shows my witness earnings on my balaz account. I did manage to write my witness update post about a month back. Last month I did not write anything on this account so it was only the witness earnings over there. I'm glad that the witness earnings are at least covering my server expenses. I hope it keeps going like this. There is also a small amount of HBD in the savings of this account. That's another decent additional income on this account.
My power-up report
I have a decent power-up report for the year. This is the last power-up for the year and the next power-up happens in the new year I would be starting a new column for that and maintaining the power-up report. If you guys were wondering if I was maintaining this report by making a note of it on every power-up day, no you are wrong. I recently took a report with the help of Hive SQL and started maintaining the same after that.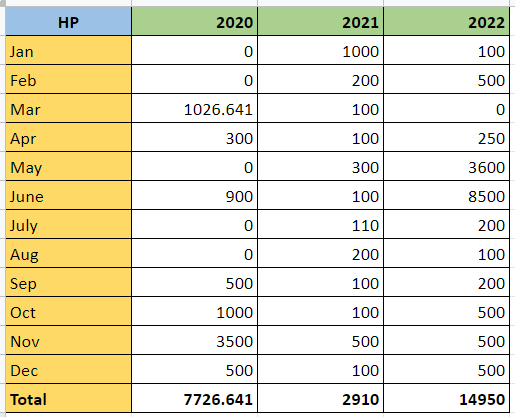 I could even power up a little less as I have already reached my goal of 50k Hive power. But I did not want to do it like that. I wanted to continue powering up as much ever I can. Maybe from next month onwards, I will reduce the amount of Hive I power up. But for now, I wanted to go for 500 HP even this month and that helped me complete my goal already.
---
If you like what I'm doing on Hive, you can vote me as a witness with the links below.
---
---
Posted Using LeoFinance Beta