Splinterlands - Last DAO proposal shows that the team is listening to the community
Splinterlands play2earn game on Hive blockchain proves once again that is not like the other blockchain games and that is because the team and the community built around this game are in perfect synergy. And if you are not convinced of that, the last DAO proposal should eliminate any doubt on that: Proposal #15 - Daily Burn of Unsold Chaos Legion Packs.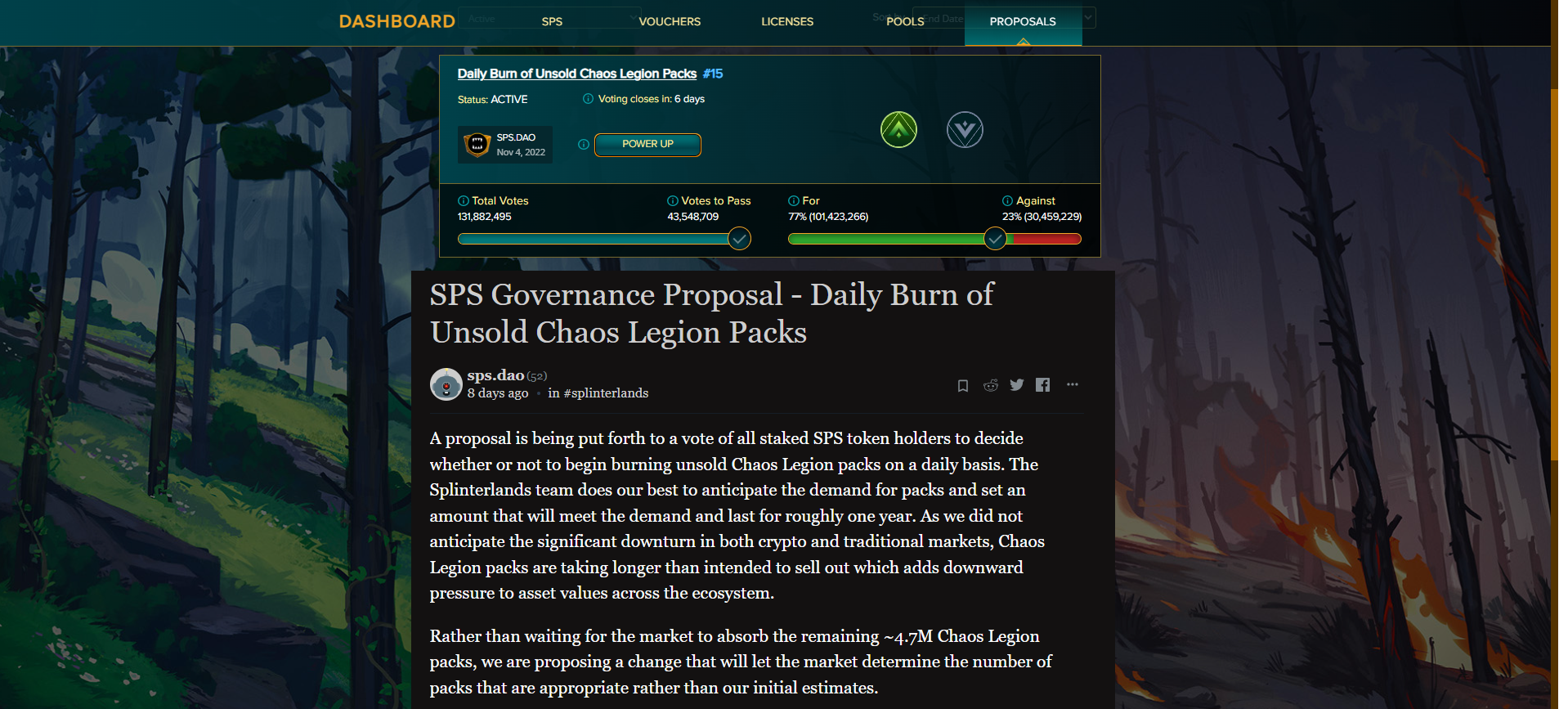 While most of us were surprised about the supply of Chaos Legion packs put on the market in the amount of 15 Million, it seems that as things slowed down heavily on that, the Splinterlands team took the decision to add a DAO proposal to burn most of the remaining ones. The community subscribed to this initiative in a big proportion and we can see and expect the proposal to be granted with more than 77% of SPS holders supporting it. That should be a breather for the Chaos Legion NFTs and also allow maybe the second market to kick in and make the price appreciate a bit.
This game thrived not only because the Splinterlands team was on the winning side, but also because the community could make a profit by investing early in the game and in the sale editions. And through this proposal, I think it remains something on the table also for the community to benefit from and that should help with the overall tokenomics from the game. So I salute this proposal and I will be waiting to see how the entire metaverse dynamics be positively impacted.

I hope this will be a lesson for future pack releases to be better sizes. Will the next edition entitled Rebelling be expected to see the market somewhere in the summer of 2023, an appropriate size for me would be up to 10 Million packs. That should be good enough for the current and future user base and make this entire ecosystem preserve value, rather than get it on a downtrend and hammer the price periodically. Nevertheless, great and expected move with this DAO proposal showing the care for the community as well!
Come join Splinterlands and forge your destiny!
Posted Using LeoFinance Beta