The Daily LEO #140 Major Plays Happening In Cryptos Backend | DeFi Updates

This post is published via LeoFinance.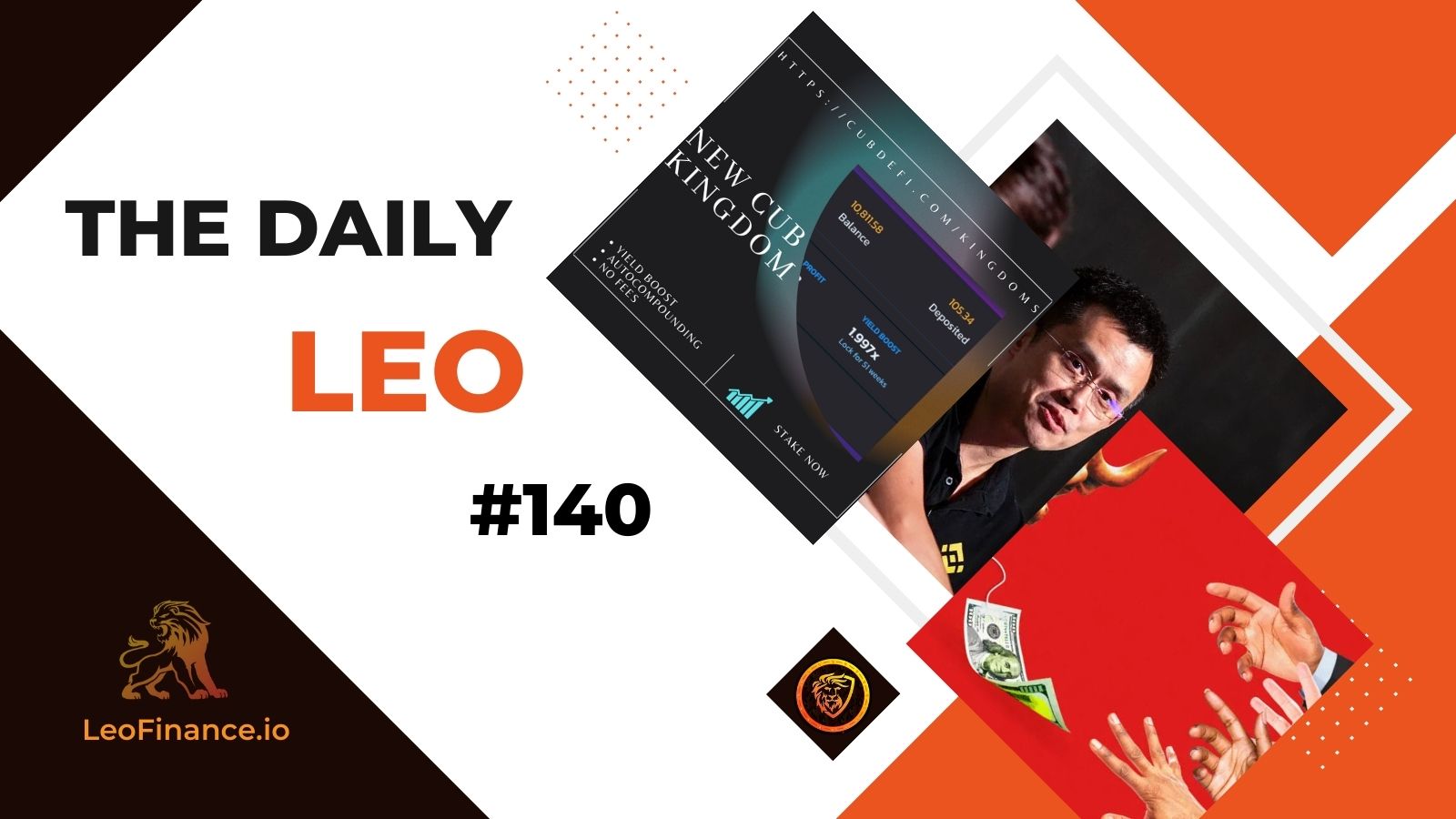 Welcome to this edition of The Daily LEO! We pull the best articles in Finances, Crypto news and Hive/Leo into one condensed information packed space.
Be sure to follow @thedailyleo so you never miss the Daily LEO. You can also subscribe to the newsletter here Subscribe to the Daily LEO
---
---
Ina scathing court filing on Thursday, John J. Ray III, the newly appointed CEO of failed crypto exchange FTX, said that he'd never seen "such a complete failure of corporate controls and such a complete absence of trustworthy financial information." Given his decades of experience in the rough-and-tumble world of corporate bankruptcies and restructurings, including in cases involving fraud, that was saying something. Learn more about the appointed CEO John J. Ray III
---
OECD Forecast for Global economy next year
Hobbled by high interest rates, punishing inflation and Russia's war against Ukraine, the world economy is expected to eke out only modest growth this year and to expand even more tepidly in 2023.
That was the sobering forecast issued Tuesday by the Paris-based Organization for Economic Cooperation and Development. In the OECD's estimation, the world economy will grow just 3.1% this year, down sharply from a robust 5.9% in 2021.
Read more on OECD's global estimates here
---
Base comp at boutique banks has soared. Here's how much 9 firms are paying analysts, associates, and VPs.
ust because they're small doesn't mean they can't pay big.
We've talked before about why boutique banks oftentimes rank higher among workers than their bulge-bracket peers.
There's the hands-on experience and the work-life balance, both which rate high among younger bankers.
But at the end of the day this is investment banking. And as much as bankers like to say their job isn't all about the money, it's kind of all about the money. Read More On This Analysts
---
---
Banking Giant JPMorgan Files Trademark for New Crypto Wallet With Ability to Exchange and Transfer Virtual Currencies
According to the required trademark statement of use document, the J.P. Morgan Wallet's identified purpose is to facilitate digital currency exchange.
"Financial services, namely, providing electronic transfer of virtual currencies; providing electronic transfer of virtual currencies for use by members of an online community via a global computer network; financial exchange of virtual currencies; cryptocurrency payment processing; credit and cash card payment processing services; charge card and credit card payment processing services…"
According to USPTO, the trademark was officially registered on November 15, 2022. See what the next actions of J.P Morgan in the crypto space might be
---
Cathie Wood's ARK Invest adds more Bitcoin exposure as GBTC, Coinbase stock hit new lows
With FTX contagion still rippling through the crypto industry, ARK's decision to add exposure to two firms caught in the firing line stands out.
According to numbers supplied by CEO Cathie Wood's dedicated tracking resource, Cathie's Ark, the firm added 176,945 GBTC shares on Nov. 21.
These join a larger tranche of 273,327 shares from Nov. 15, that purchase was completed just a week after FTX fell apart. Learn more about Cathie Wood's buys
---
Binance CEO Seeking Funds From Middle East Investors for Crypto Recovery Fund: Bloomberg
Binance's CEO Changpeng "CZ" Zhao has been meeting with investors in Abu Dhabi seeking cash for the exchange's crypto recovery fund, Bloomberg reported Tuesday.
Zhao held several meetings with potential backers of the fund last week, including entities affiliated with the United Arab Emirates' National Security Adviser Sheikh Tahnoon Bin Zayed, according to the report, which cited people familiar with the matter.
Binance announced its plans to start a recovery fund earlier this month, to help projects with strong fundamentals but suffering a liquidity crisis, owing to the fallout from FTX's collapse. Learn more about CZ's intentions with this move here
---
---
Introducing CUB Fixed-Term Staking! | Migrate From Old CUB Kingdom to New CUB Kingdom It's official! The new CUB Kingdom that we've been working on for so many months is finally live. This marks a radical shift in CUB. The Multi-Token Bridge (bHIVE & bHBD Derivatives) were the first phase of a 3-phase plan to rebuild CUB to the glory that it once had.
Our focus: generating sustainable, reliable and growing yields in DeFi. This has always been our mission from day 1. It's taken so many iterations. So many trials and failures. Learn more about CUBDeFi Updates
---
Uniswap VS PancakeSwap | Data on TVL, trading volume and users
Uniswap has started it all, but Pancake has made it accessible for a lot of small users and account. The fees for a swap are more expensive than a regular transaction. In the last year Uniswap fees were insanely high at some point making it almost unusable for smaller accounts. Pancake has been feeling up this gap ever since.
In the last period the fees are smaller on Uniswap, but Pancake has already established itself and has a regular user base and projects. Get the full analytics here
---
LeoFinance is a blockchain-based social media platform for Crypto & Finance content creators. Our tokenized app allows users and creators to engage and share content on the blockchain while earning cryptocurrency rewards.
Subscribe to The Daily Leo and start being up to date with the crypto & finance world!
This edition of The Daily Leo was published by @bitcoinflood on Leo Finance, read the original article here
Posted Using LeoFinance Beta