Hive Blockchain Goals, The Stack That Keeps On Stackin

This post is published via LeoFinance.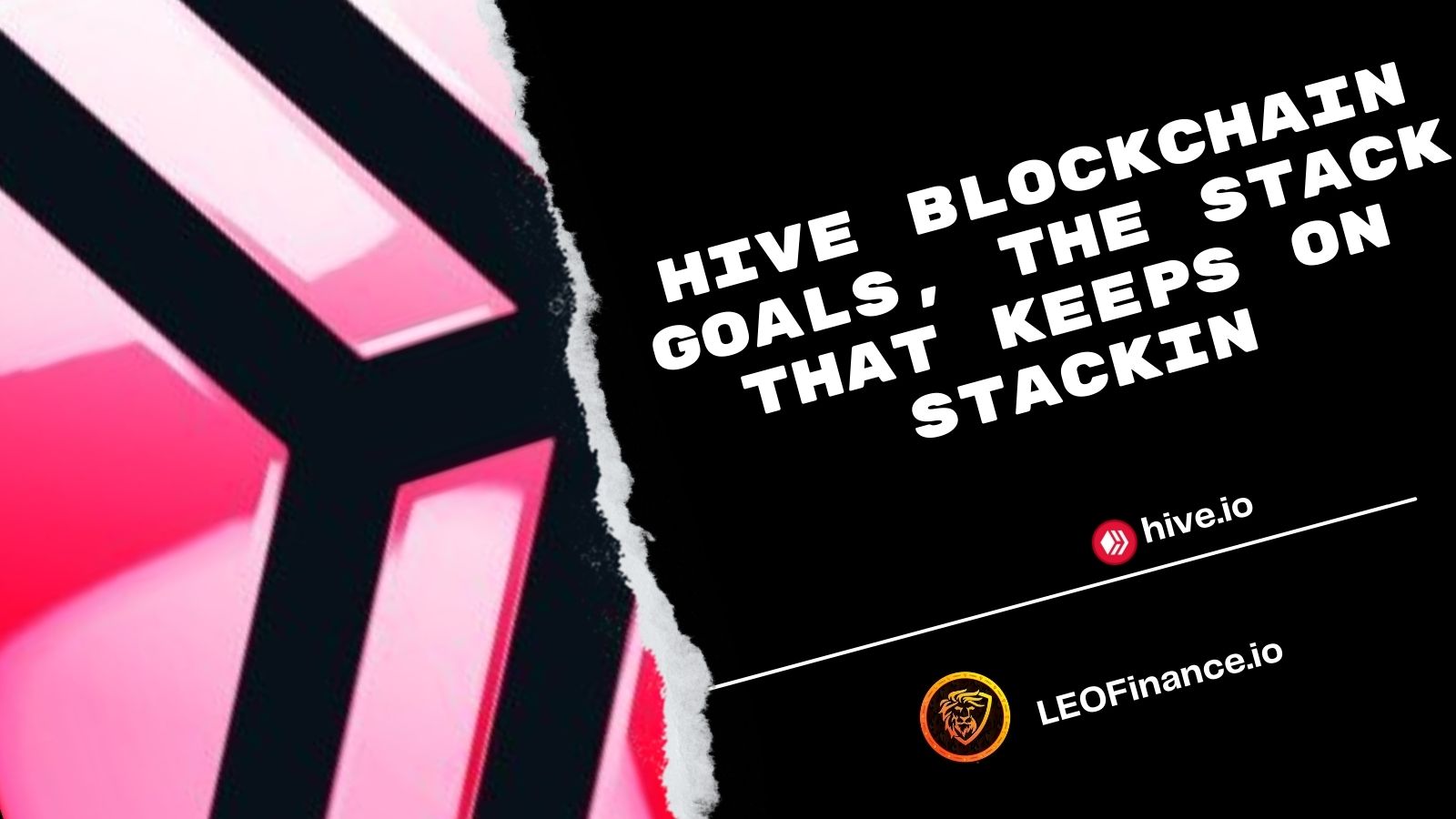 For how much I look around for other blockchains that compare anything to hive there's always a big miss. While there are a few I do enjoy and feel they have done a decent job in the crypto field like Minds and Torum
While these are great they still lack in comparison to what Hive offers and is capable of doing. I think they only negative on hives end right now is that long form content is still seen by many as the only thing that should be rewarded on chain. The other negative would be everything posted on many other front ends gets logged as a new post all but LeoThreads which does it in a smart way.
There hasn't been too much on the Hive front end again in terms of big news. It's been a lot of small updates across games and some front ends but nothing too news worthy and because of that let's jump into some goals.
Please note these goals I share are of my own thoughts and opinions and are not financial advice. They are also meant to motivate others and show them what's possible with continued effort and focus for the hive blockchain.
GOALS
Hive
Goal: 100,000 Current: 90,974 Needed Per Day: 32.23
Overall this number continues to fall a little each day. I've also been starting to convert and power up a decent amount of hive each day in order to hit this goal much faster. Ultimately I'd love to be around 250,000+ on hive but this 100k is going to be the first milestone so the sooner I can hit it the faster I can move on to the next aggressive goal.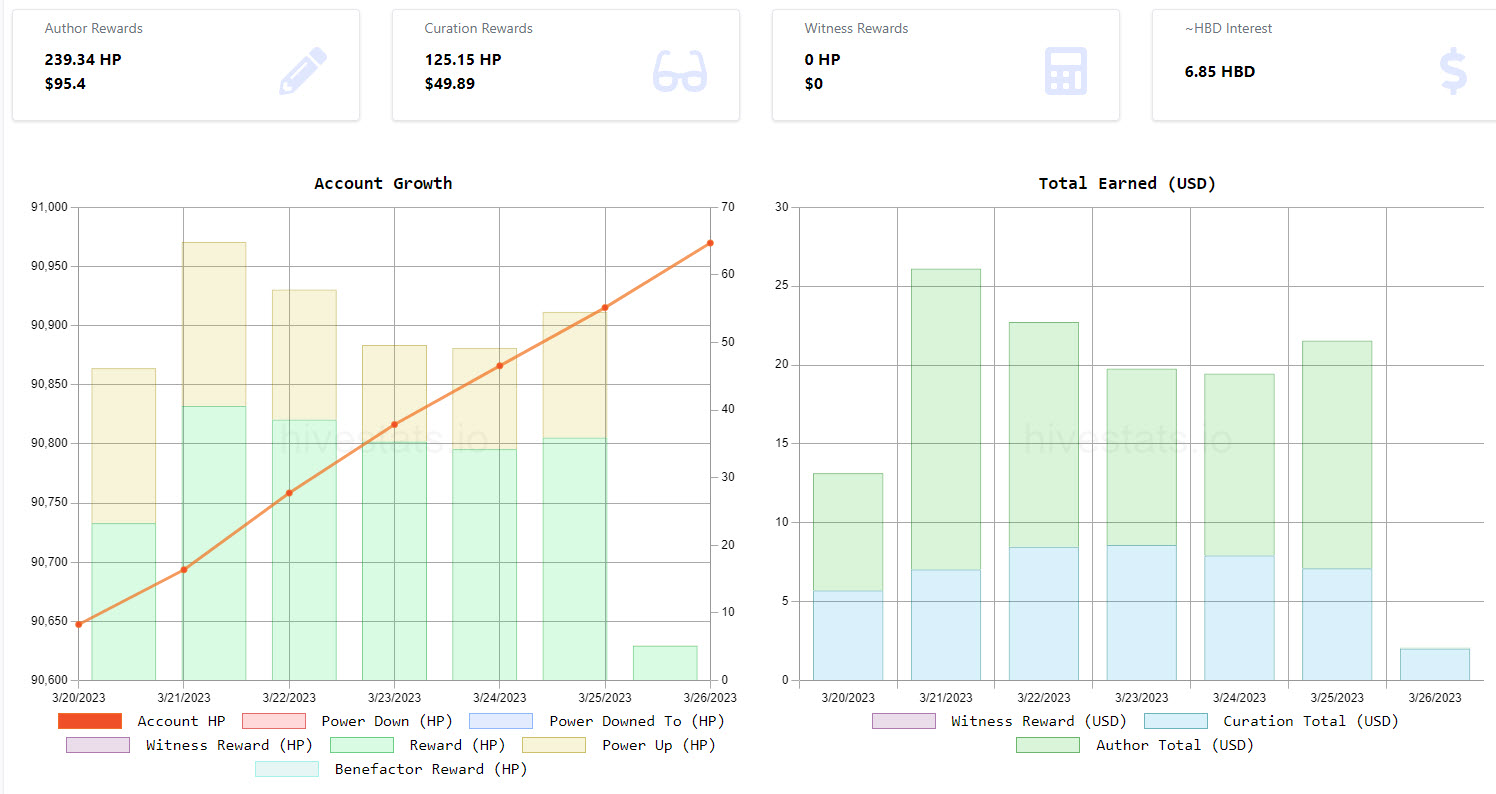 As you can see between author rewards and daily power ups we are pushing around 50 hive a day. That's not counting curation rewards which is roughly another 7 hive a day on top of it all. That's moving us a bit closer to our goals but still a long road ahead. The goal is to hit at least $100 in a value every day and while I might be hitting though with all hive projects such as Splinterlands and various other games and tokens I want to hit it with hive a lone and the others be a bonus on top of that.
LEO
Goal: 150,000 Current: 80,133 With Delegations: 115,138
I don't want to count on the delegation for that 150k but it helps in terms of curation rewards and building the stack faster. Also once we hit 100k on hive any time I go 1k over in hive power I'll most likely boost up the delegation to LEO or at least some of it along with other projects to keep that flow going and support projects I believe in on hive.
Splinterlands
Goal: A million bucks in asset value. YEP! While this will of course come down to price points on all splinterlands assets I did hold nearly a million dollars worth of value in Splinterlands during the last bull run. Should I have taken more profits at the time? Sure but I didn't lol
One of the primary goals I have for this game is to hit 1 million SPS and while that wont happen overnight I've made some milestone reaches so far. In about 2 months I should be able to convert some decent profits out of places like Pancake swap and convert that into SPS as long as the conversion rates are still looking nice. That will be a large boost in my SPS goals.
Other then that I have 142 plots of land of which 100 are from a tract of land I bought way back in the day. My plan is to try and manage them all myself at get them somewhat built up and after a little offer them up for sale for the few I don't need myself or struggle with managing. That means I need at least 1.4 million DECB but really I should hit around 4.2 million DEC-B. That's been one of the aggressive goals I have right now as land seems like it's going to be rolling out sooner than later.
I'm not sure if land is going to be a passive income making for me but I'm hoping so. It's going to depend on lots of factors in the game but none the less I'm going to give it my best to produce as much as possible and see what that turns into. There was a time when passive income of Splinterlands a lone was well over $100 daily and I think with land, sps and rentals I could see those numbers again if not higher.
Well there ya go some of my own personal goals and updates on the hive blockchain. What are some goals you have for yourself?
Posted Using LeoFinance Beta