NEWSPAPER BROFUND | ISSUE 11| 2023

2 months ago
Mar 19 2023 9:53 am
-
6 minutes read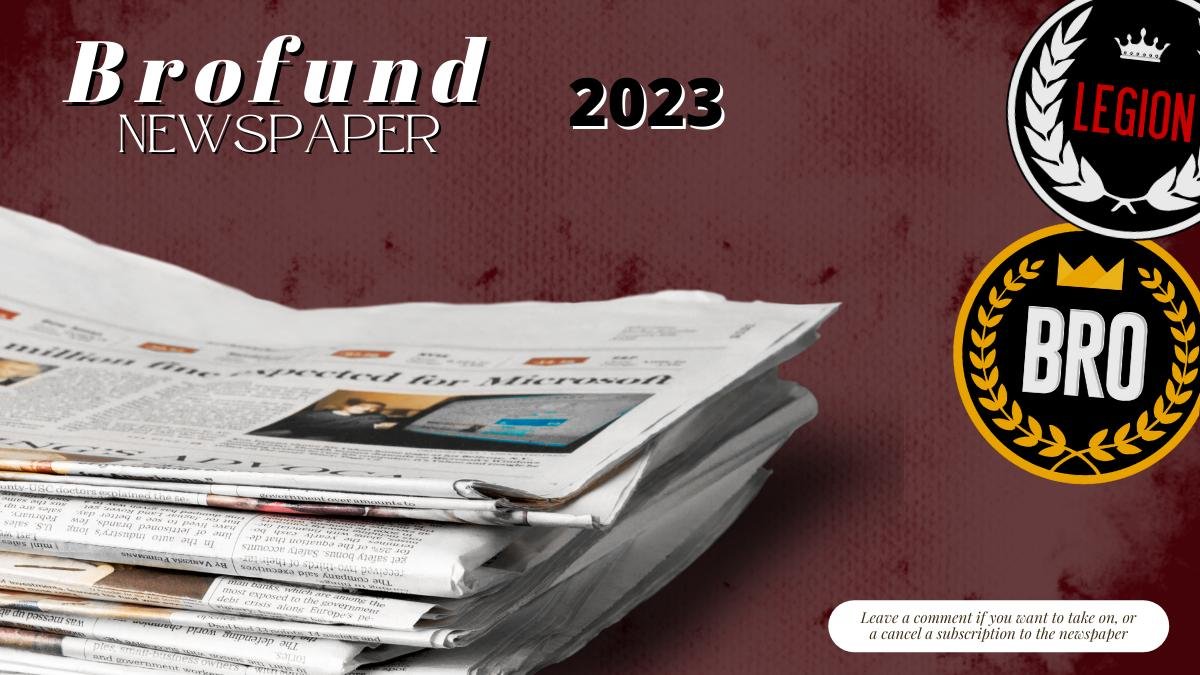 Image created with Canva Pro
BRO & LEGION NEWS
Welcome to the BRO Newspaper, where we keep you up to date with the latest news from the world of BRO and Legion! This week we've seen a lot of announcements from our very own @raymondspeaks. Ray had a very active week.
The most important news this week is surely the announcement that we will get our "own" Tamer in the Muterra game. This will be an uncommon card that will be available for purchase in the Muterra game on March 31 and can be purchased with Legion, amongst 15 other tokens. It looks super cool, as can be seen on the attached preview in the announcement blog.
Would you like to know more about this exciting development? Be sure to check out the blog, where Ray explained everything for you! Of course I can also highly recommend that you find out more about the Muterra game, who knows, this might be the new Splinterlands. Yes you may be laughing out loud now, but the fact is you never know for sure, it is and remains crypto and gaming. Both worlds in which rapid changes are the order of the day. And both worlds in which you don't want to miss anything, right?
You probably all know the PIMP project from @enginewitty! Ray has developed an interest in this, but not only that. He has become so interested that work is currently underway to help him create the white paper for PIMP, paving the way for a presentation at the Dragons Den. Obviously the aim is to make more people enthusiast for the PIMP project, and for the PIMP project itself to grow.
In addition, Ray is also exploring potential opportunities for BROs at Slothbuzz, and it's good to know that he won't make an investment until he knows all the details of the project and has made a full risk assessment. This will probably take a few weeks.
Finally, we are working hard to rebuild our Twitter account after losing the password. If you're not already following our new account, don't forget to do so! Link included at the end of the newspaper!
And don't forget to consider @brofund when casting your vote for witnesses. There definitely is a lot happening over here and we can't wait to see and show what the future holds!
NUMBERS DON'T LIE
I can imagine that you as (potential) investor want to know how much dividends Bro is giving out, right? You don't have to ask that for yourself anymore, here it is ... the numbers don't lie.
BRO has managed to distribute 1511 Hive in dividends over the last 5 weeks, despite the ongoing bear market. This is showing the resilience of BRO. Even in these challenging market conditions we continue to generate passive income for our investors/holders..
Moreover, since the start of the Legion airdrop, we have given out the impressive amount of 8324 Hive to Legion holders.
These figures don´t look bad at all in these market conditions where everyone has been hit by the bear. And these figures demonstrate that BRO and Legion are both reliable sources of passive income, even in difficult market conditions.
We have full faith that these numbers will only increase as the market shifts back towards a bullish trend.
If you also want a piece of the pie, the only thing you need to do is holding BRO and/or Legion in your wallet. Of course you can buy both tokens from the market.
If your pockets are not that deep, there is also a way to earn them. You can also earn BRO by delegating Hive to @brofi. If you want to earn Legion you can delegate Hive to @stickupcurator.
BURL'S SPLINTERLANDS BRO UPDATE
And while we are talking about the numbers, let's also take a look at how the Bro's Splinterlands Adventure is coming along. Our player @burlarj was kind enough to give an update where the Bro's are standing at the moment.
Despite the drop in value of Splinterlands assets, we remain optimistic about their future. Our Browarrior player, Burlarj, has been playing brilliantly, winning SPS, tournaments, and Soul bound cards under the new system. While the latter have no value yet, they will become valuable after one year, making older cards more valuable in the meantime. So although we have experienced losses, we are also gaining value during the bear market, and when the bulls return, we expect to profit greatly. Thanks to Burl's exceptional gameplay, we are confident in the long-term success of our Splinterlands account.
This is a screenshot for the amount of SPS won by Browarrior in the last season, from brawl, ranked and season rewards.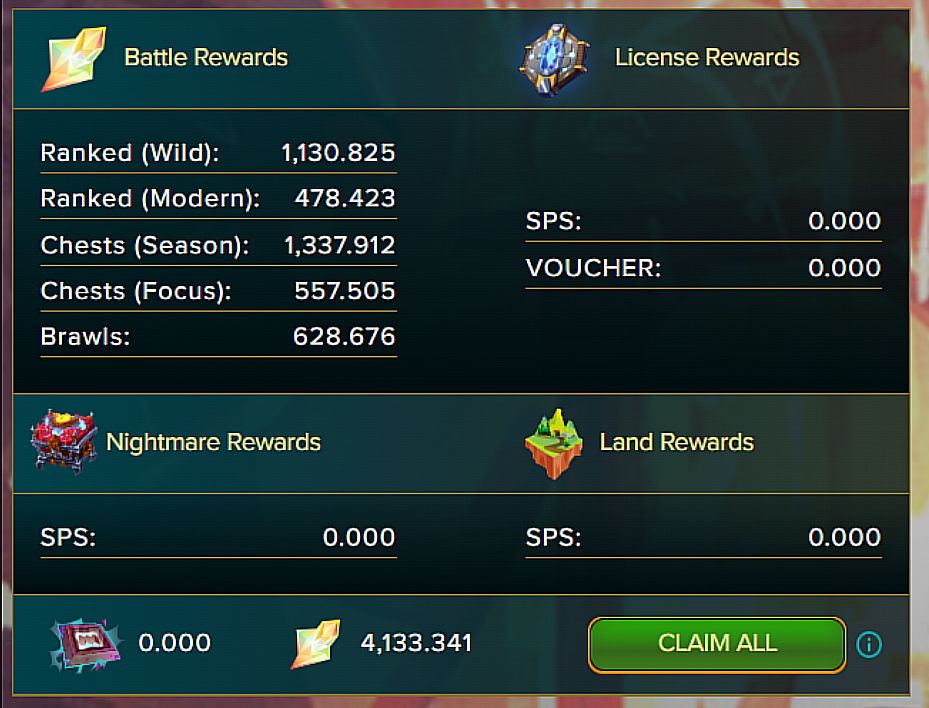 And here are the soul bound cards won by @browarrior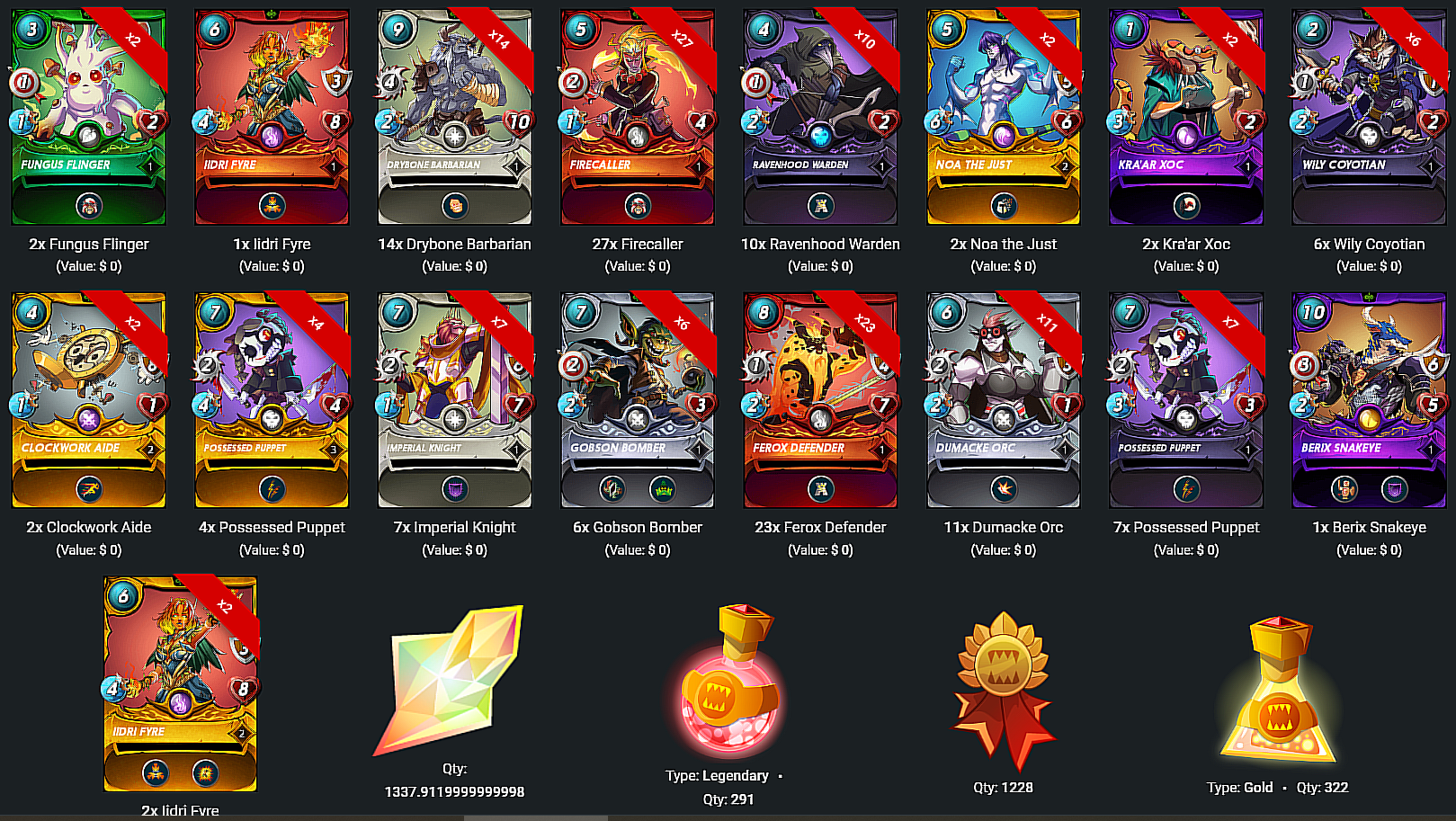 The Tournaments Winnings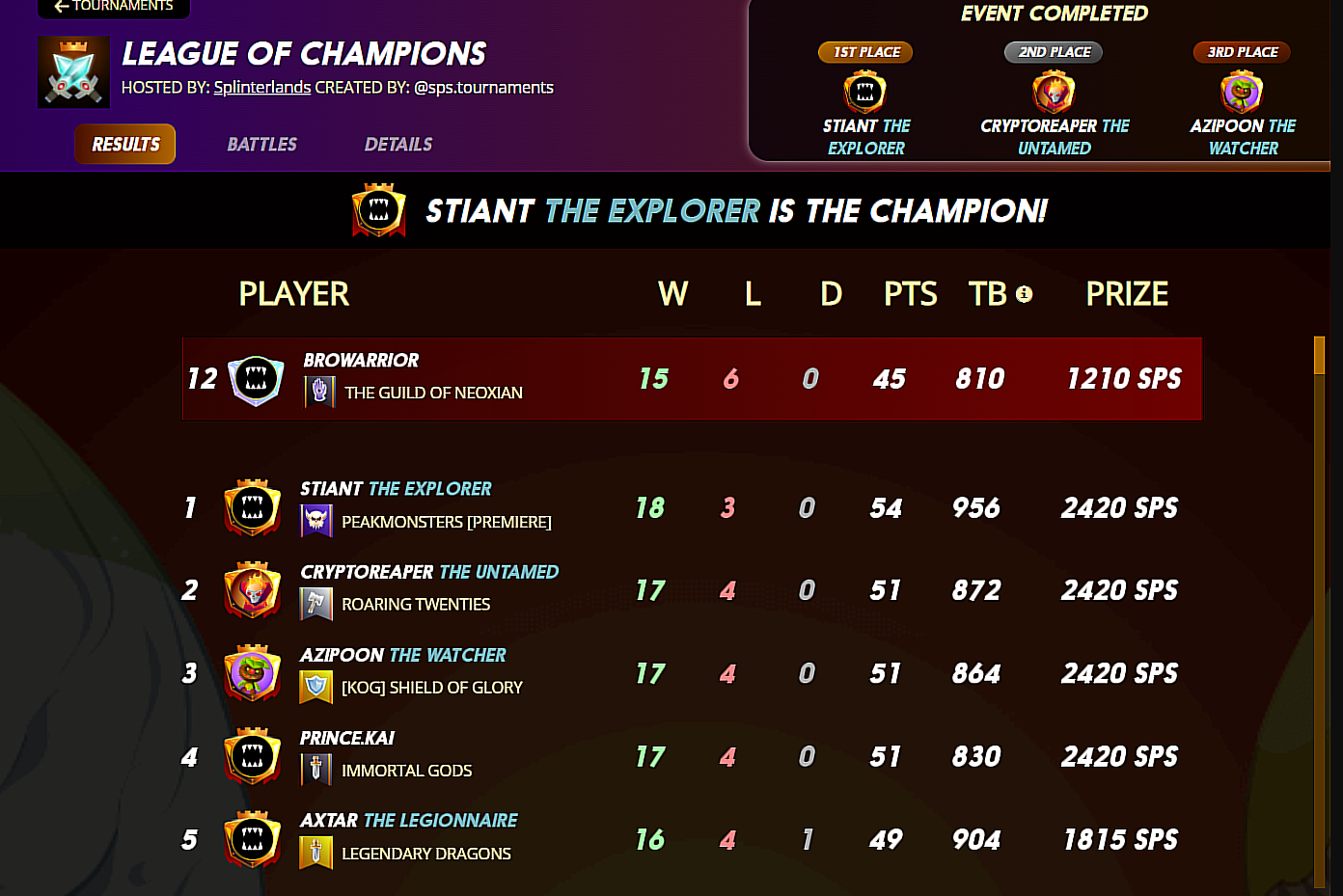 HIVE RELATED NEWS
Ever since our community decided to split off from Steemit, Hive has become more and more promising. Hive is one of the few truly decentralized platforms that offers a lot of possibilities for users, but also offers very much for developers. There is only one thing that is really missing, and that is the recognition in the crypto world, the 'mass adoption'. But @crimsonclad seems to be changing that with her project.
She has set herself the goal of bringing Hive to the attention of many, and thus ensuring that Hive is recognized and known. That it becomes known what Hive is, what it offers, and that we are now much more than just a "blogging blockchain".
The event BREATHE! Web 3 Convention in Las Vegas is an excellent opportunity for this. If you want to know how, what and where? Then read what @crimsonclad has to say about this.
In my opinion this news was for sure Hive related news worth sharing!
HIVE FUN QUESTION
So, first I'd like to say "Thank you for participating" to each and everyone of you who gave an answer to our question this week! We greatly appreciate it. But as you know, there can only be one winner. And the answer that wins the 20 Hive came this week from none other than @hive-world. Congrats!
So ... are you all ready for the new question?
For this week my thought was: Let's talk crypto again this week!
How do you determine the (potential) value of a cryptocurrency? In other words, what is a reason for you to invest or not to invest in a certain cryptocurrency? And what do you think are the most interesting cryptos to invest in at the moment?
Since you guys seem more interested in financial related questions, I keep it at that for now, it's up to you if that will be changed again. If you're reading this for the first time, by just answering the question in the comments below you have a chance to win 20 Hive. If you're reading this every week ... well, you know the drill!
The answer that attracts us most wins the 20 Hive.
Go get'm!
GOSSIP
Given the recent developments on the Cine frontend, and the developments that are currently being worked on, it might be strange that the token is so low. When @melbourneswest got wind of that, he briefly thought about investing in Cine. Ray jumped up as if stung by a wasp to stop him. Then you might ask yourself why? "Let's face it, if Mel invests in something, you can flush the token down the toilet afterwards," Ray said. "Even if Mel invested in a gold mine, it would probably collapse." @melbourneswest could laugh about it. He shrugged and just did his own thing. Right so Mel! So we might see the big Cine investment soon?

Ray wanted to keep his birthday quiet, but of course he hadn't counted on @stickupboys. He jumped the Discord stage in the Mancave and posted a heartfelt congratulations on Ray's 100th birthday. Officially retired, but still firmly in the saddle to propel Legion & Bro to great heights. Now that's what I call a MASTER BRO! Congratulations on behalf of all BROs @raymondspeaks, and may you continue to be at the helm of your dream project for many years to come! Even when you're rich and live on your own dream island!

@caulderfreeman, @beardoin and @bearbear613, they have one thing in common over the last few weeks! They all seem focused on @cryptoshots.nft's AI chatbot Karina! It's amazing how they embrace the technology of the 21st century and can chat with a piece of code for hours! It really seems true love! How touching!
CRYPTO NEWS
Of course there is a lot more news regarding the crypto world. Every week I will highlight some interesting news for you.
I hope you enjoyed this issue of the Brofund Newspaper.
Don't forget that you can subscribe by simply letting us know in a comment. If you want to cancel the subscription, you can do so in the same simple way.
If you feel there's something in this newspaper you'd like to chat about with us?
You can find us here;
Make sure to also give our TWITTER a follow
Thanks for tuning in, and as always, have an awesome week and Stay crypto!