Bitcoin Mining on the Rise - Bullseason Confirmed?

This post is published via LeoFinance.
2 months ago
Mar 30 2023 4:44 am
-
2 minutes read
In recent weeks, the value of BTC has made a significant leap forward, going from a minimum value of the period of around 15k dollars to today which settles above 27k. The appreciation of the cryptocurrency has consequently aroused the interest of miners again, many of whom had decided to shut down even entire factories due to both the high cost of energy and the lowered price of BTC.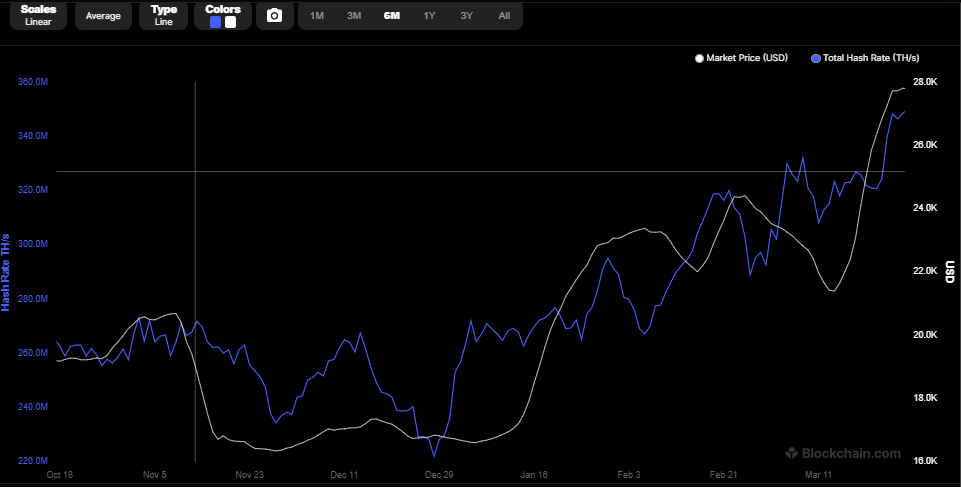 Source
---
Today the situation has definitely changed and the trends have reversed, arousing a certain optimism and the acceptance that the bearish market is effectively over and a new bullish market is ahead, especially as the next halving approaches, expected in the first half of 2020. next year.
Mining hashrate is a key security metric. The more hashing (computing) power in the network, the greater its security and its overall resistance to attack. Although Bitcoin's exact hashing power is unknown, it is possible to estimate it from the number of blocks being mined and the current block difficulty.
The number of miners is therefore increasing again, which means that the market conditions are back to being favourable, also increasing the security of the network. Sam Wouters, Research Analyst at River Financial, has calculated that if we maintain the 2023 growth rate, we will hit a Zettahash by the end of 2025!
Electricity consumption could therefore soon become a problem again, although the market today offers hardware with less expensive but at the same time more performing energy characteristics. For example, Bitmain's new Hydro models are starting to hit the market: each machine boasts a computing power of "over 250 TH/s," and this significantly increases the overall hash rate of the network.
Mining is therefore far from discouraged, and the rising price of BTC has once again awakened an expensive hunt for digital time. Imagine if the price were to reach 100k. There really would be a mining rush!
Posted Using LeoFinance Beta