What is SafeMoon crypto (SAFEMOON)? - SafeMoon Guide

This post is published via LeoFinance.
2 years ago
Jun 26 2021 11:57 am
-
12 minutes read
---
A beginner's guide to SafeMoon and the SafeMoon Protocol, a community-driven, fairly launched DeFi Token.
SafeMoon is a cryptocurrency token created in March 2021 on the Binance Smart Chain blockchain.
A deflationary token, its goal is to reward long-term holders by charging a 10% fee on each sale, with:
5% redistributed to token holders
5% directed to a BNB wallet described as a liquidity pool,
While the risk is that this pool is controlled by the coin's creators, the idea behind these fees is to try to create a "solid price floor and cushion for holders",
If you want to understand how the project works in detail, this detailed Safemoon Guide has you covered.
Introduction to SafeMoon
An introduction to SafeMoon, the deflationary token that rewards long-term holders by charging a 10% fee on each sale.
As SafeMoon is a BEP-20 token that was launched on the Binance Smart Chain, it is available to retail investors on the easily accessible Pancake Swap decentralised exchange.
SafeMoon can be described as a "meme coin", much the same as Dogecoin and Shiba Inu.
This is because the value of the token can be compared to to a joke, all in lieu of it possessing any true intrinsic value.
According to CoinGecko, there is a total supply of 1,000,000,000,000,000 SafeMoon tokens available, with a circulating supply of 585,536,370,000,000.
The price at the time of writing this guide ($0.000002998), translates into a market capitalization of $1,751,568,284.
Since its launch, SafeMoon has already accumulated over 1 million holders and its price has gone parabolic.
SafeMoon was audited by CertiK, receiving a modest score of 82/100.
The audit noted the fact that the projects' owners retain control over all tokens funded by SafeMoon's seller fee remains what they call a 'major issue'.
In response, the SafeMoon team issued the following statement:
"In regards to owner control, we are a fair launch governed by a central board which is subject to governmental regulations and law. We are a legally registered entity in accordance to the law and jurisdictions in which we operate".
Not an answer that inspires confidence in the legitimacy of the SafeMoon project.
Yikes.
---
How does SafeMoon work?
We draw from the project's whitepaper to examine how SafeMoon works.
From a technical standpoint, the inner workings of SafeMoon are very interesting.
But from an investor's standpoint, it is certainly not without risk.
Before getting started on this section of our guide, head to the official site and take a look at the SafeMoon whitepaper.
The SafeMoon protocol
Safemoon's Whitepaper provides a very short summary as to how the protocol works:
SafeMoon employs 3 simple functions: Reflection + LP acquisition + Burn In each trade, the transaction is taxed a 10% fee, which is split 2 ways:

5% fee = redistributed to all existing holders
5% fee is split 50/50 half of which is sold by the contract into BNB, while the other half of the SAFEMOON tokens are paired automatically with the previously mentioned BNB and added as a liquidity pair on Pancake Swap.
Seeking to eliminate the trouble caused by unsustainable farming rewards in DeFi, SafeMoon has adopted static rewards.
A common misconception with the heavy APY average is the subjectivity of the impermanent loss from staking an LP (liquidity provider) in a farming reward generator. With the explosion of DeFi we have seen too many new cryptocurrency prospectors get sucked into a high APY LP-farming trap, feeling hopeless as they are pushed out by earlier buyers with higher staking rewards. We've all been there, seeing those shiny 6 digit figures can be pretty damn tempting to jump in. However, almost always the token suffers from the inevitable valuation bubble, which is then followed by the burst and the impending collapse of the price. This is why we have seen the mass adoption of static rewards, also known as reflection, a separate concept that seeks to eliminate the troubles caused by farming rewards.
SafeMoon claims that by utilizing these static rewards, a host of problems inherent in other cryptocurrencies can be eliminated.
First, the reward amount is conditional upon the volume of the token being traded. This mechanism aims to alleviate some of the downward sell pressure put on the token caused by earlier adopters selling their tokens after farming crazy high APY's. Second, the reflect mechanism encourages holders to hang onto their tokens to garner higher kick-backs which are based upon a percentage carried out and dependant upon the total tokens held by the owner.
To accomplish this task, SafeMoon discourages day trading of its token and rewards long-term holders by taxing a 10% fee on each sale.
What SafeMoon has created is a reflective mechanism that encourages 'HODLING' your tokens to earn rewards based on a percentage dependant upon the total tokens owned.
Half of the fees collected are earmarked for existing coin owners, who receive a sort of dividend in the form of additional coins.
"In theory, the added LP creates a stability from the supplied LP by adding the tax to the overall liquidity of the token, thus increasing the tokens overall LP and supporting the price floor of the token."
Another aspect of the workings of SafeMoon surrounds its 'token burns'.
This is the process by which a crypto asset is permanently removed from the circulating supply in order to decrease the overall supply.
In lieu of the standard continuous burns, SafeMoon has optioned to conduct manual token burns.
It is SafeMoon's official position that manual burns give the team more control over the coin's supply.
---
Is SafeMoon a scam?
Let's examine the most obvious reasons SafeMoon could be a scam.
While we've seen plenty of both new and old cryptocurrencies moon overnight for no reason, the SafeMoon moonshot is absolutely wild.
In this section of the SafeMoon guide, we try to answer whether SafeMoon is a scam, or whether it's actually legit.
We answer the two biggest questions that continue to come up when investors try to find out whether SafeMoon is a scam.
1. Does SafeMoon's tokenomics resemble a pyramid scheme?
The first question mark around SafeMoon is whether it's a pyramid scheme, or even a ponzi.
When we earlier asked the question why is SafeMoon so popular, the ponzi-esque tokenomics was actually our biggest red flag.
While SafeMoon's tokenomics say that they're the way they are to incentivise HODLing, it's literally the definition of a pyramid scheme.
The model followed is that profits made by early investors are based purely on others paying more for the token at a later date.
When you buy SafeMoon, you're charged a 10% fee by the network on each transaction.
5% of this fee will be burned, while the other 5% is redistributed to SafeMoon HODLers.
If something looks like a duck, swims like a duck, and quacks like a duck...
Then it probably is a duck.
2. Have SafeMoon's founders locked away 50% of its own liquidity pool?
A second question mark over the SafeMoon crypto project is around the founders locking away over 50% of its own liquidity pool.
While Safemoon's CEO has stated that the liquidity is being held to keep the SAFEMOON token more secure, a level of trust is still required.
So who is the SafeMoon team:
The CEO of SafeMoon: John Karony, an ex-analyst for the U.S. Department of Defense.
The CFO of SafeMoon: Thomas Smith, an ex Director of Software Engineering or CTO for a variety of software-related companies.
What makes me really nervous, is that neither of SafeMoon's founders has a proven track record in the cryptocurrency industry, let alone in DeFi.
DeFi coins like SafeMoon require a level of trust in the team, as well as in the security of the platform itself.
Something we're not quite sure that we should, let alone can, give this team.
When Pancakebunny was hacked, we spoke about how important it is to find a DeFi platform run by a team that you can trust.
The biggest reason that so many here in the LeoFinance community have chosen Cub Finance is because of the team's multi-year track record building scam-free crypto projects.
The SafeMoon team don't have any sort of proven history to draw upon and the fact that 50% of its own liquidity pool being locked up even offers the option of a rug pull should be a huge red flag here.
Final verdict on whether SafeMoon is a scam
The more I read about and research SafeMoon crypto, the more it just feels like a scam.
All of the best crypto and blockchain-related projects are highly decentralised and usually open source.
SafeMoon on the other hand is entirely centralised, with the team maybe not directly controlling their own personal wallets of SAFEMOON, but having access to 50% of its own liquidity pool is the same thing.
Actually, it's worse.
Even ignoring the tokenomics that make SafeMoon an actual pyramid scheme, the 50% of it's own liquidity pool being locked up is the final nail in the coffin.
Whether there's a rugpull, hack or code exploit, it's on the cards.
SafeMoon is a scam.
---
Why is SafeMoon popular?
We go over the top 4 reasons SafeMoon crypto is popular.
Whether we think it's rational or not, Safemoon is extremely popular.
This is especially true with investors who may be new to the cryptocurrency scene and easily influenced by the hype of exciting marketing campaigns and celebrity endorsements.
In this section of our LeoFinance SafeMoon guide, we go over the 4 biggest reasons why SafeMoon is a popular investment.
Keep in mind that being a community built on top of the decentralised Hive blockchain, we can't help but be highly sceptical of a project like this.
Take the advice given here with a grain of salt.
1. SafeMoon tokenomics try to incentivise HODLing
The tokenomics, or the economics of a cryptocurrency like SafeMoon, are extremely interesting.
You see, technically SafeMoon is what's called a deflationary cryptocurrency.
This means that the supply of SafeMoon tokens is designed to decrease over time.
But when it comes to the tokenomics of SafeMoon, we'd be more inclined to call SafeMoon a pyramid scheme rather than sound deflationary properties.
We say this because when you buy SafeMoon, you're charged a 10% fee by the network on the transaction.
5% of this fee will be burned to create deflationary pressure on the token's total supply of 10,000,000,000,000,000 (lol).
With the other 5% of the fee being redistributed to SafeMoon HODLers.
What the fee is meant to do, is encourage people to hold their tokens for the long term instead of selling at the first sign of trouble.
But as you can see, SafeMoon relies on new people continuously buying the token in order to increase its value for those who bought earlier.
[draws a triangle on the board.]
"...I have to go and make a call."
2. SafeMoon is a cheap cryptocurrency to invest in
No matter how many times you explain to people that Bitcoin is divisible to the 8th decimal place, the concept of unit bias is always there.
We're all only human beings after all and the fact that 1 Bitcoin is priced at $40,000 USD is always going to be somewhat of a barrier to entry for many.
But as we've seen during Dogecoin's rally to new all time highs, people just seem to resonate with cheap, fun sounding cryptocurrencies.
If you had have bought just $1000 worth of Dogecoin in 2019, you'd already be a millionaire today.
An absolutely mind-boggling statement, but a true one nonetheless.
With SafeMoon being so cheap, we're seeing even seasoned cryptocurrency investors buying SafeMoon in order to try and jag the next Dogecoin.
While Safemoon is yet to replicate the gains that we've seen in Dogecoin, the hype (or hope...) certainly hasn't subsided.
3. Celebrities like Dave Portnoy are endorsing SafeMoon
For some reason, people love to know what celebrities are doing and yes, SafeMoon has a B-grade celebrity endorsement of its own.
Having no intention of falling behind, we've already seen the founder of Barstool Sports Dave Portnoy, appoint himself as leader of the Safemoon crypto project.
In what Portnoy dubbed a shitcoin announcement, he announced via Twitter that he's ploughed $40K into SafeMoon crypto.
At least Portnoy was honest in his assessment of SafeMoon, calling it out to be the ponzi scheme that we alluded to it being in the section above.
Just keep in mind that the entire purpose of SafeMoon is to get new people to buy.
Pyramid scheme and pump and dump are other terms that Portnoy could have used to describe his SafeMoon investment.
With that in mind, let's now compare the timestamp on that Tweet to the top of this current crypto market cycle.
[checks notes.]
Yep, that was the day of the top.
Hilarious.
4. Buying SafeMoon is easy
No matter where you are in the world, buying SafeMoon crypto on your favourite decentralised exchange is easy.
This is because SafeMoon is a BEP-20 token that has been issued on the Binance Smart Chain (BSC).
To buy Safemoon:
Head to your favourite decentralised exchange such as Cub Finance.
Click on trade then exchange.
Swap your BNB or other BEP-20 token of choice for SAFEMOON.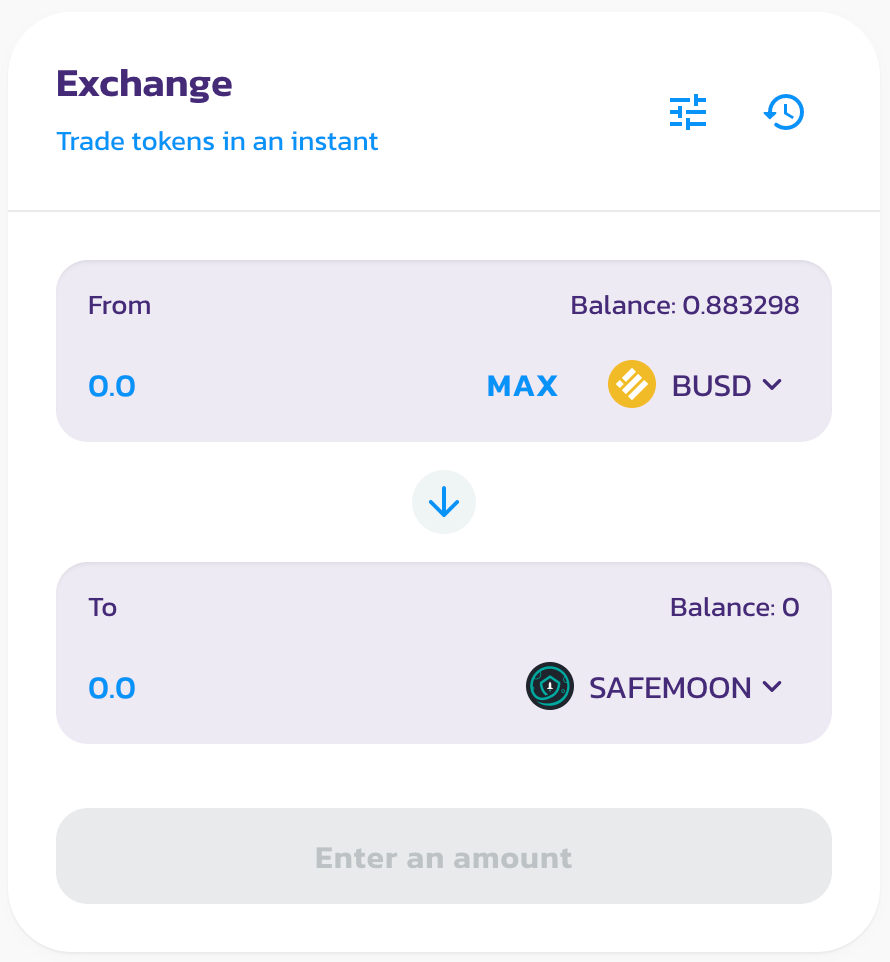 As you can see, buying SafeMoon is a pretty easy process that even the least technically savvy can follow.
Just be aware of that 10% tax we explained in the tokenomics section above!
---
SafeMoon pros and cons
Read this list before you invest in SafeMoon in 2021.
SafeMoon has grabbed a lot of investor's attention since its inception in the crypto world.
In this section of our guide to SafeMoon, we are going to look at some of the major pros and cons of SafeMoon.
At the end of this section, we will try to answer whether one should invest in SafeMoon in 2021 or not.
Pros of SafeMoon
1. Passive Income: SafeMoon tokenomics are designed to reward investors for simply holding the token in their wallets. Every time a token is sold, a 10% fee is charged. Half of which is distributed among the holders dependent on their stake.
2. Fair Launch: SafeMoon's developers burned all the Dev Wallet Tokens (223 Trillion) before its initial launch on DxSale. The Liquidity Pool is locked on DxLocker for four years and LP generated with every trade will be locked on Pancake Swap to solve the liquidity problem.
3. Exchange Listings: Anybody can easily buy SafeMoon on PancakeSwap and store the tokens in your wallets such as Metamask or Trustwallet.
4. Development: Apart from its tokenomics, SafeMoon doesn't really have any utility as of now. But their roadmap does seem quite exciting. Later this year, they have planned to create SafeMoon's hardware and software wallets, SafeMoon exchange, NFT platform, games, and even other charity projects. Lots of exciting stuff!
5. Celebrity Endorsement: SafeMoon hype was created by a bunch of celebrities like Jake Paul, DJ Afrojack, Ben Phillips and Dave Portnoy who talked about the token on their social media profiles. It has helped the project gain popularity among their fans and obviously helped the price too.
6. Precision: While Bitcoin goes to 8 decimal places, SafeMoon goes to 9 decimal places. This provides more opportunities for smaller, retail investors to buy smaller incriments of the SAFEMOON token.
Cons of SafeMoon
1. Punishing Sellers: Every time you sell SafeMoon tokens, you are charged a 10% fee. This way, selling is discouraged by punishing you with fees. The early investors are relying on sellers and new investors to make money, thus being called a Ponzi Scheme by many social media crypto influencers and journalists.
2. Centralized: Audits have found that the owner's address will have a sufficient amount of LP tokens through constant selling. If the owner chooses to run with all the money, this poses a huge risk to all other investors. Until SafeMoon introduces a DAO-like system to manage funds, they are not safe.
3. BEP-20 Token: By definition, SafeMoon is centralized to a higher degree than other cryptocurrencies, especially ERC-20 tokens based on Ethereum. This is because Binance Smart Chain is operated by the Binance exchange, and Binance itself selects the validators
4. Marketing Gimmick: SafeMoon is nothing more than a marketing gimmick. It used new-age social media tactics to get popular. Celebrity endorsements and wild promises don't go far unless there is something special they do with their products. Something SafeMoon does not look like doing.
---
Should I buy SafeMoon in 2021?
Our final verdict on whether SafeMoon is a good cryptocurrency to buy this year.
Before buying, ensure you read the extremely short and digestable SafeMoon whitepaper.
After reviewing the whitepaper, it is now up to you whether you're satisfied with the project and its plans for the future.
SafeMoon is a highly speculative asset with a number of red flags attached to the project.
In the latest Certik SafeMoon audit report, there was a total of 13 issues found.
The most striking risk is the centralized nature of its Add Liquidity function within the smart contract.
So, should you invest in Safemoon in 2021?
If you are an inexperienced trader who is just starting out in crypto, please do not buy SafeMoon without completely understanding the risks described within our guide above.
It turns out that SafeMoon is actually not as safe like its name suggested and apart from its wild tokenomics, there is simply a lack of utility for the token.
As long as you treat SafeMoon as a purely speculative asset, you may put yourself in a position to take advantage of the potentially wild gains on offer.
But the time will likely come when SafeMoon goes to zero and when that day comes, you don't want to be the one left holding the bag.
---
LeoFinance Crypto Guides.
Why not leave a comment below and share your thoughts on our guide to SafeMoon crypto? All comments that add something to the discussion will be upvoted.
This Safemoon crypto guide is exclusive to leofinance.io.
Posted Using LeoFinance Beta