Daily CUB Report | Astronomical Volume on bHBD-BUSD Shows Us the Future of CUB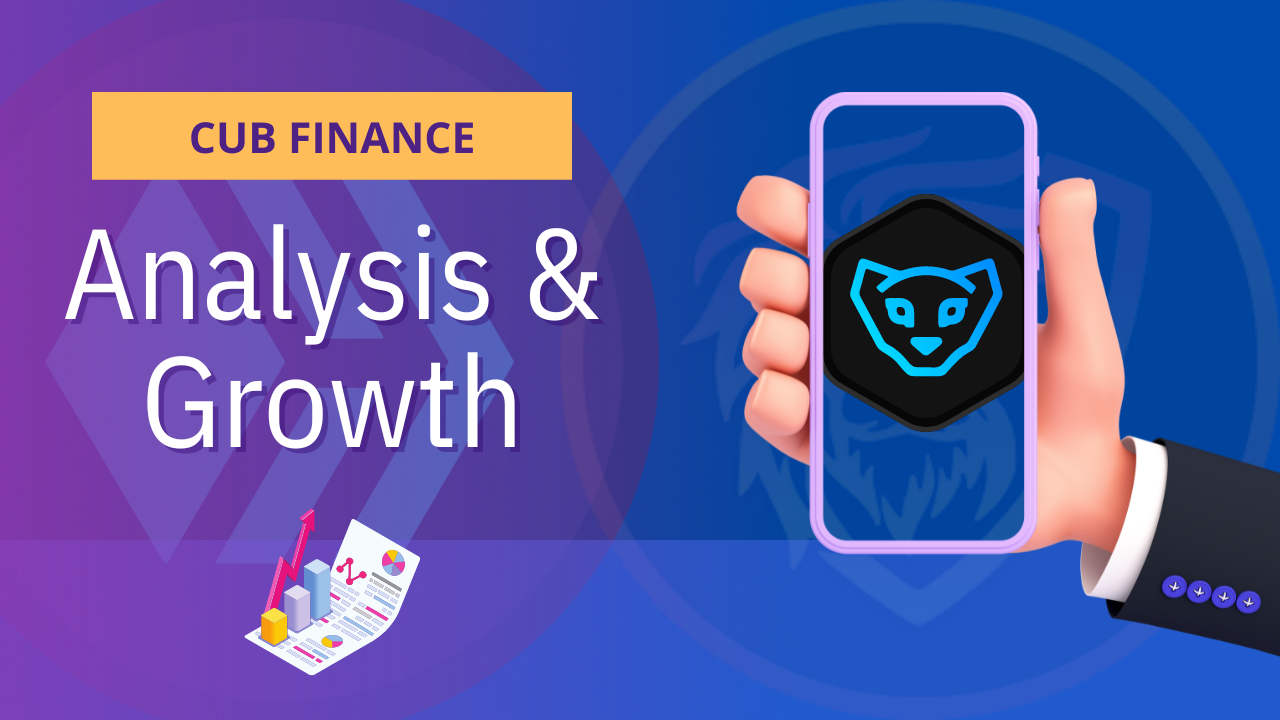 Overnight we saw another Korean Pump of HBD - Hive-backed dollar. bHBD rose temporarily alongside HBD and both have since returned to ~$1 soft-peg both for native HBD and the bHBD derivative.
All of this trading volume brought significant volume to bHBD-BUSD as a trading pair on Pancakeswap..
What does that mean?
It means huge fees earned by Liquidity Providers (LPs)!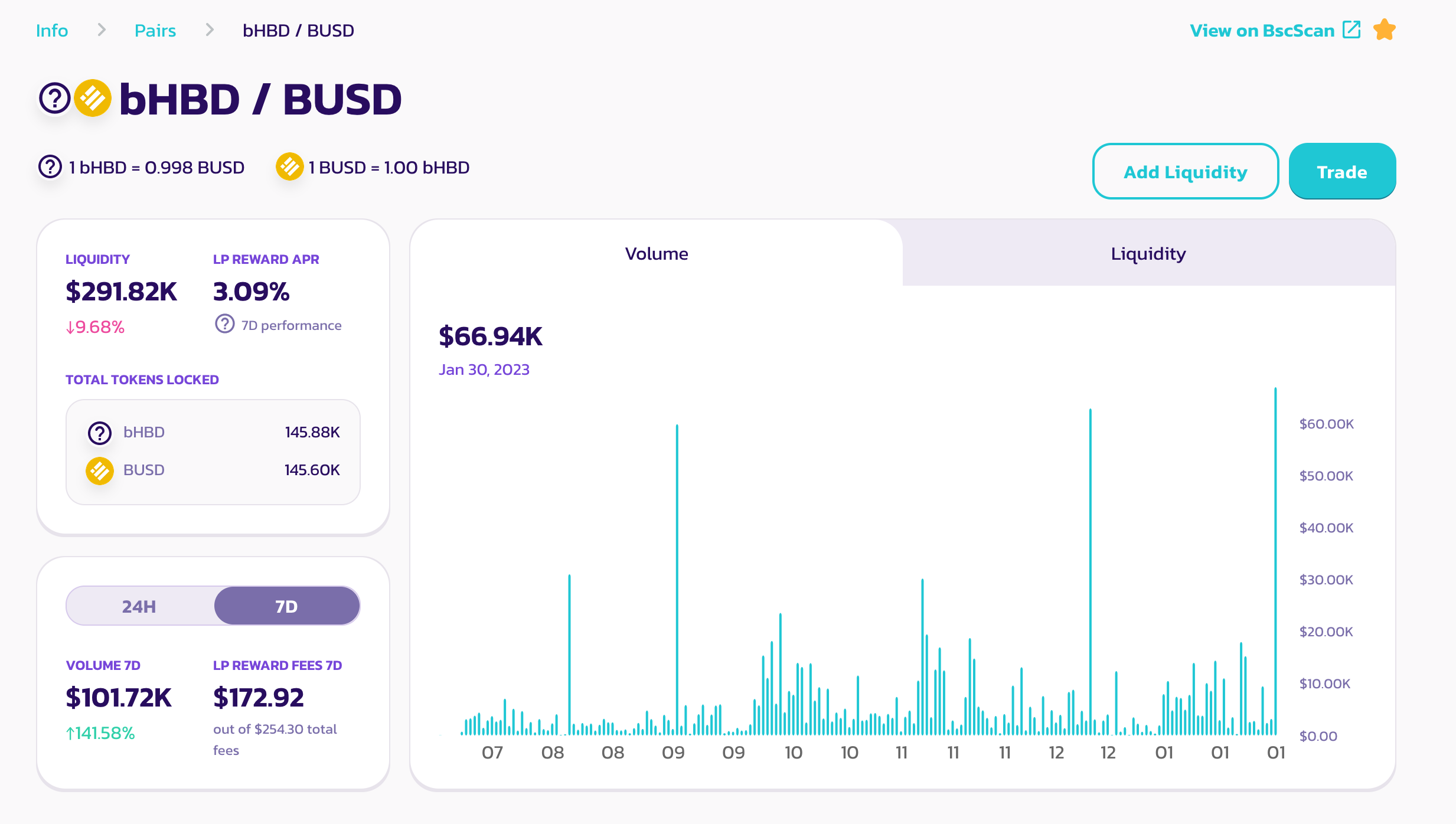 3.09% APR Yield on bHBD-BUSD + the 21% Yield on CUB = 24.09% APY for LP'ing
So right now you can earn ~24% APY for providing liquidity to bHBD-BUSD. This is amazing. We're seeing this come from two sources:
Trading Fees (PancakeSwap) based on trading volume = 3.09%
CUB Yield (CubFinance) based on CUB price & yield mechanics = 21%
Things are starting to go really well for this pair. We've seen liquidity deepen and coincide with a growth in overall trading volume.
The future of CUB lies in bHBD and bHIVE. If liquidity can continually deepen, then we'll see more trading volume which will lead to more Multi-Token Bridge volume which will lead to more CUB getting bought and burned each month.
I think the future is bright for CUB. It's going to take some more time for things to grow, but the future of the platform has never looked so good!
Follow along as I report daily on @cubdaily 🙏🏽
P/E Analysis of CUB
Here's a new section I'm trying out. I decided to run a P/E analysis of CUB using data from each Monthly Burn Report posted by @leofinance. Check out the second analysis I ran and leave a comment below with your thoughts.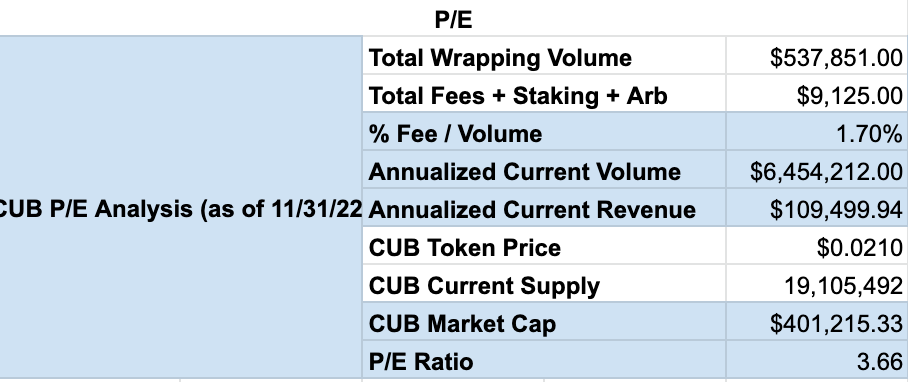 CUB Rewards Flow
*NEW
Here's another new section of my daily reports. This chart will be updated monthly. It accounts for the flow of CUB rewards.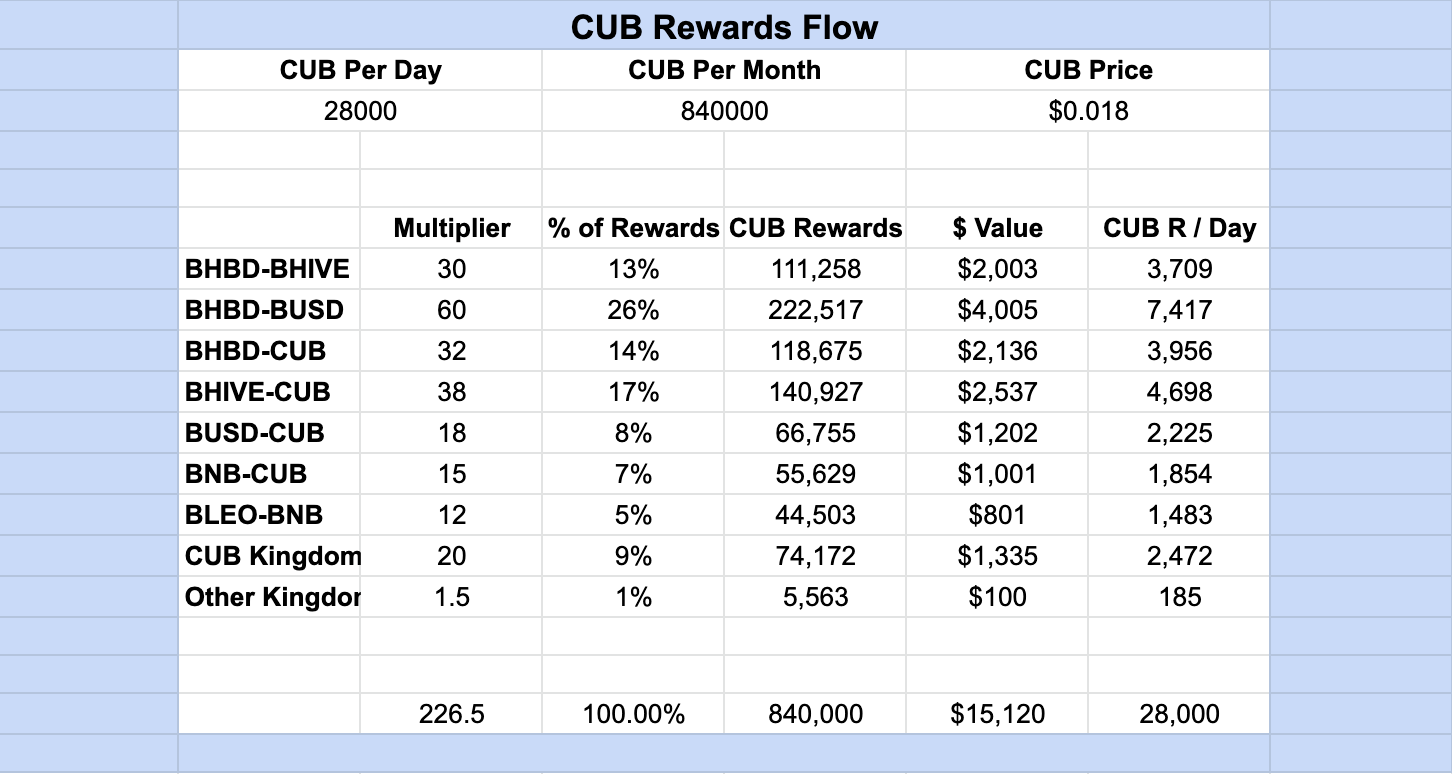 "Over time, I'll start collecting data on how much each Liquidity Pool actually earns for the CUB Protocol (through wrapping revenue, arbitrage, etc.). Obviously, that's a lot of data to capture! This tells us something very important though: is the DAO effectively using its monthly funds (inflation) in paying LPs to build liquidity that ultimately generates revenue. Let's keep an eye on it and see how this progresses, maybe the team can even take this data and use it to migrate multipliers to more effectively build liquidity in the pools that are generating the most revenue."
Locked CUB

A new section! The new CUB Kingdom is now live and we can track the amount of CUB locked and how long it is locked for.
CUB Locked: 5,596,410
Avg. Lock Duration: 33 Weeks
CUB Token

Price: $0.0199
Total CUB Supply: 20,453,521
Total CUB Burned: 1,996,886
Total Market Cap: $397,196
Total Value Locked: $1,342,563.49
Multi-Token Bridge Stats

bHBD-bHIVE: $161k
bHBD-BUSD: $287k
bHBD-CUB: $137k
bHIVE-CUB: $168k
Total: $753k
CUB Burns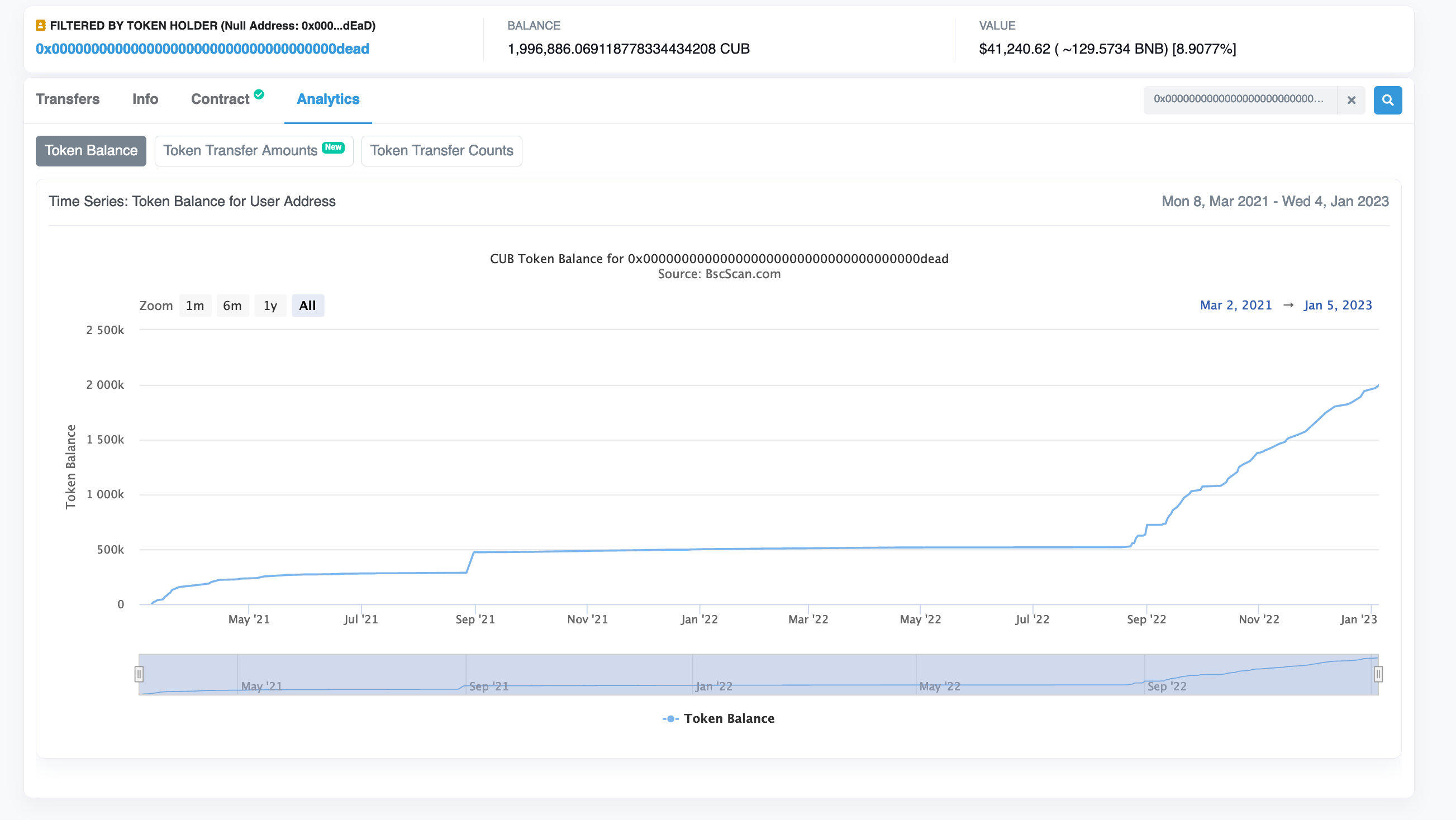 Further Reading:
Latest Reports From this Account: @cubdaily
Latest CUB Burn Report From the LeoTeam:
About CubDaily
I'll be using this account to report on the CUB stats each and every morning. Together we'll track the growth of CUB under the completely revamped ecosystem that LeoTeam has built called the Multi-Token Bridge.
Posted Using LeoFinance Beta