Daily CUB Report | CUB is One of the Best Platforms for the Hive Ecosystem's Growth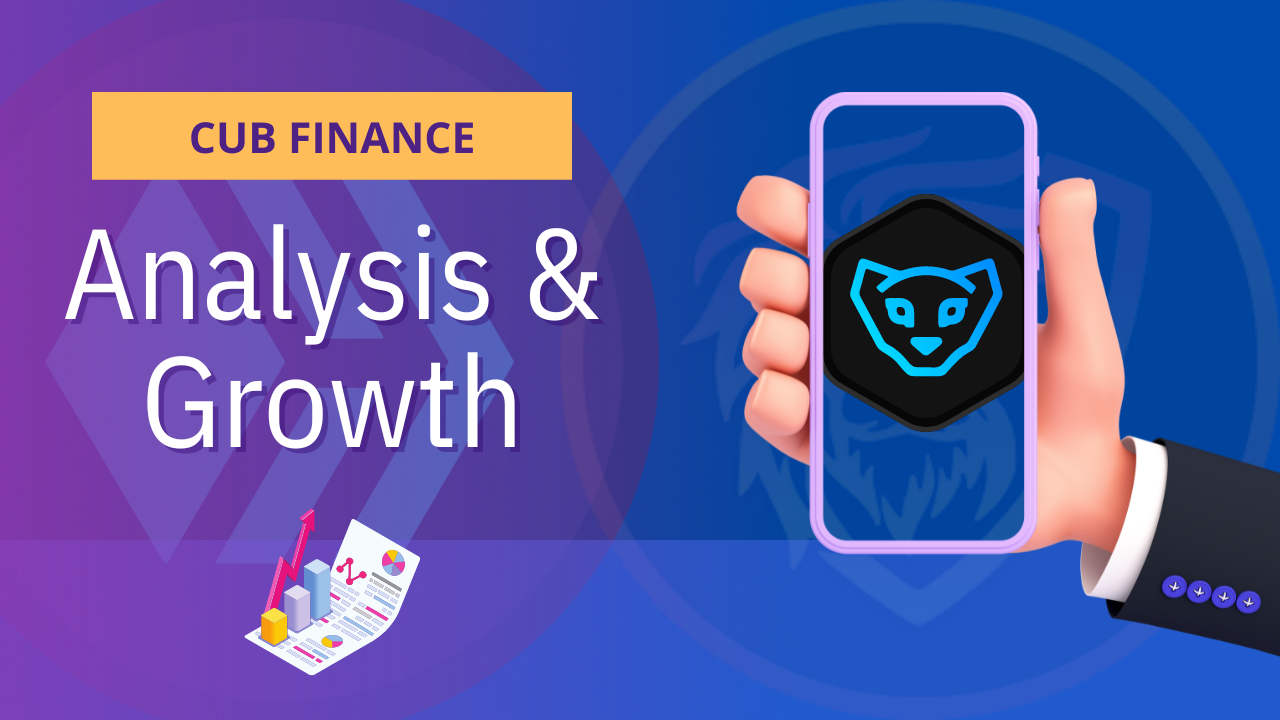 I'm a big believer in Hive. I love the technology here and I believe that this chain will be one of the top 20 blockchains in the long-run by Market Cap.
By other metrics, like daily on-chain activity, Hive is already in the top 3-5 on most categories.
The key now is building liquidity to grow the Market Cap. I think HBD has super massive potential to grow this blockchain ecosystem on Hive but I also see a major burden being access to HBD liquidity.
Right now, your best bet is either HBD on the internal market or bHBD on CubFinance.
That's why Cub is such a massive opportunity for the Hive blockchain ecosystem. If HIVE and HBD can grow liquidity on bHBD and bHIVE, then I believe we'll see a ridiculous level of growth at a scale that is hitherto unknown to this ecosystem.
Imagine a future where you can seamlessly trade $10k HBD with no slippage. Instantly.
That's a future that CUB is building. It takes time, but we are headed in that direction.
What can you do?
Add HIVE to bHIVE liquidity pools
Add HBD to bHBD liquidity pools
The future for CUB and HIVE are bright frens. We need to work together to build liquidity on https://cubdefi.com/farms!
Follow along as I report daily on @cubdaily 🙏🏽
P/E Analysis of CUB
Here's a new section I'm trying out. I decided to run a P/E analysis of CUB using data from each Monthly Burn Report posted by @leofinance. Check out the second analysis I ran and leave a comment below with your thoughts.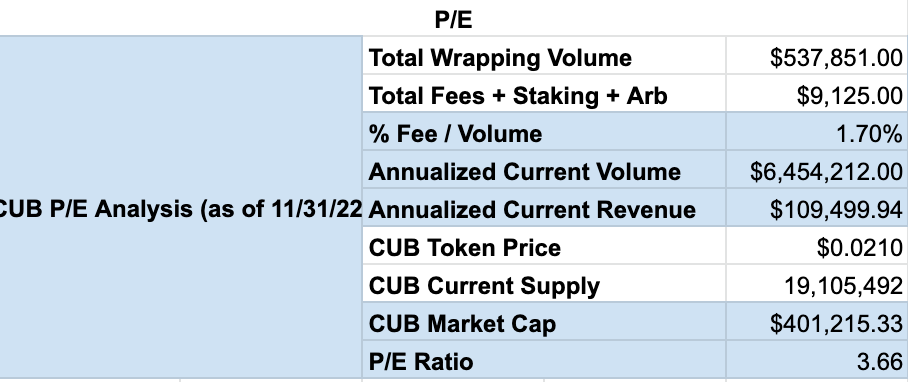 Locked CUB

A new section! The new CUB Kingdom is now live and we can track the amount of CUB locked and how long it is locked for.
CUB Locked: 5,339,098
Avg. Lock Duration: 31 Weeks
CUB Token

Price: $0.018
Total CUB Supply: 19,535,073
Total CUB Burned: 1,942,381
Total Market Cap: $mcap
Total Value Locked: $1,156,050.78
Multi-Token Bridge Stats

bHBD-bHIVE: $124k
bHBD-BUSD: $278k
bHBD-CUB: $120k
bHIVE-CUB: $124k
Total: $646k
Steady growth here. Seems to have sloped off in terms of $$ but it actually keeps growing in asset terms since HIVE price keeps dropping.
CUB Burns

The burns have been amazing lately. We're about to cross 2M total CUB burned!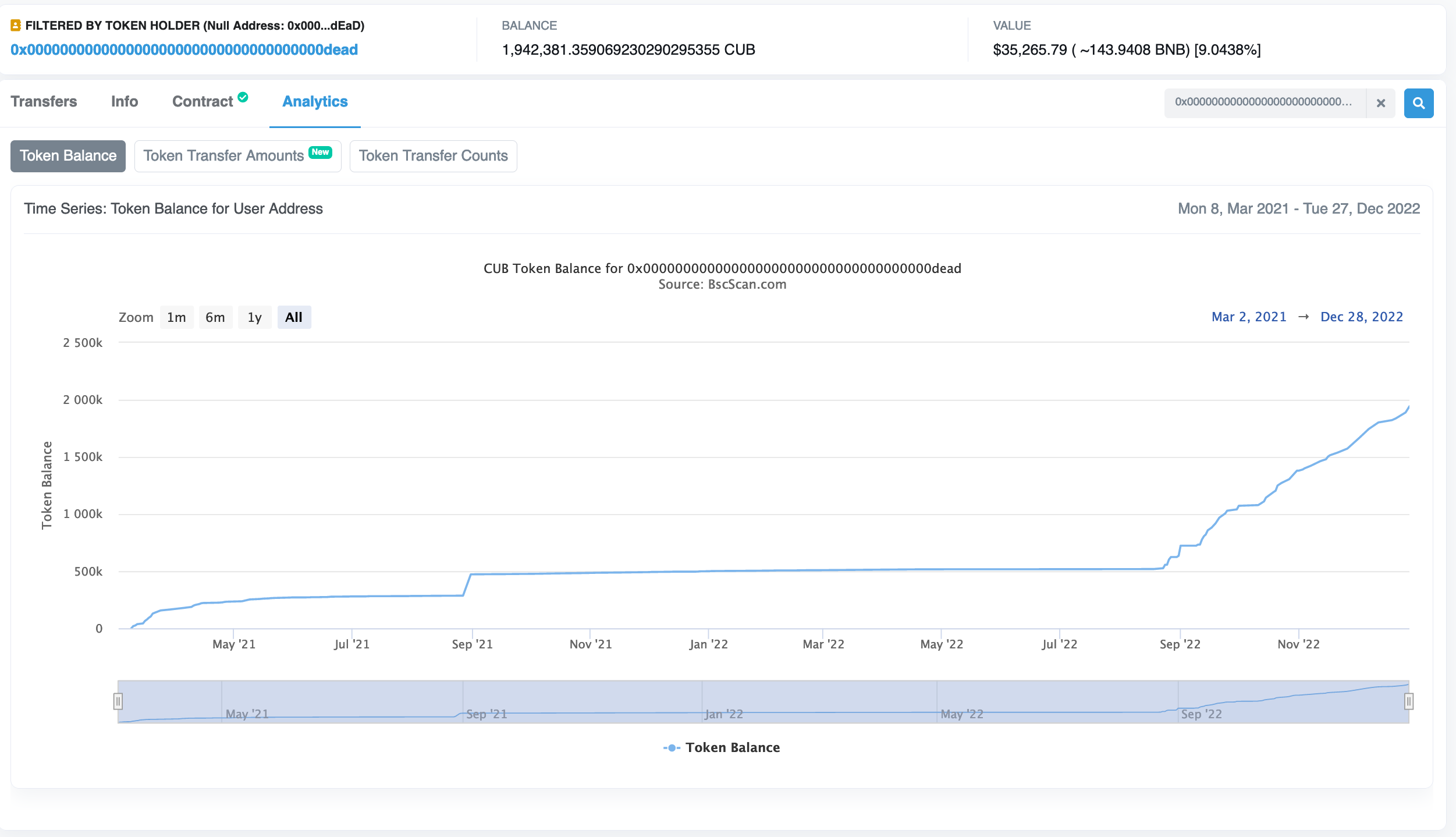 Further Reading:
Latest Reports From this Account: @cubdaily
Latest CUB Burn Report From the LeoTeam:
About CubDaily
I'll be using this account to report on the CUB stats each and every morning. Together we'll track the growth of CUB under the completely revamped ecosystem that LeoTeam has built called the Multi-Token Bridge.
Posted Using LeoFinance Beta