Daily CUB Report | The Arb is Strong In This One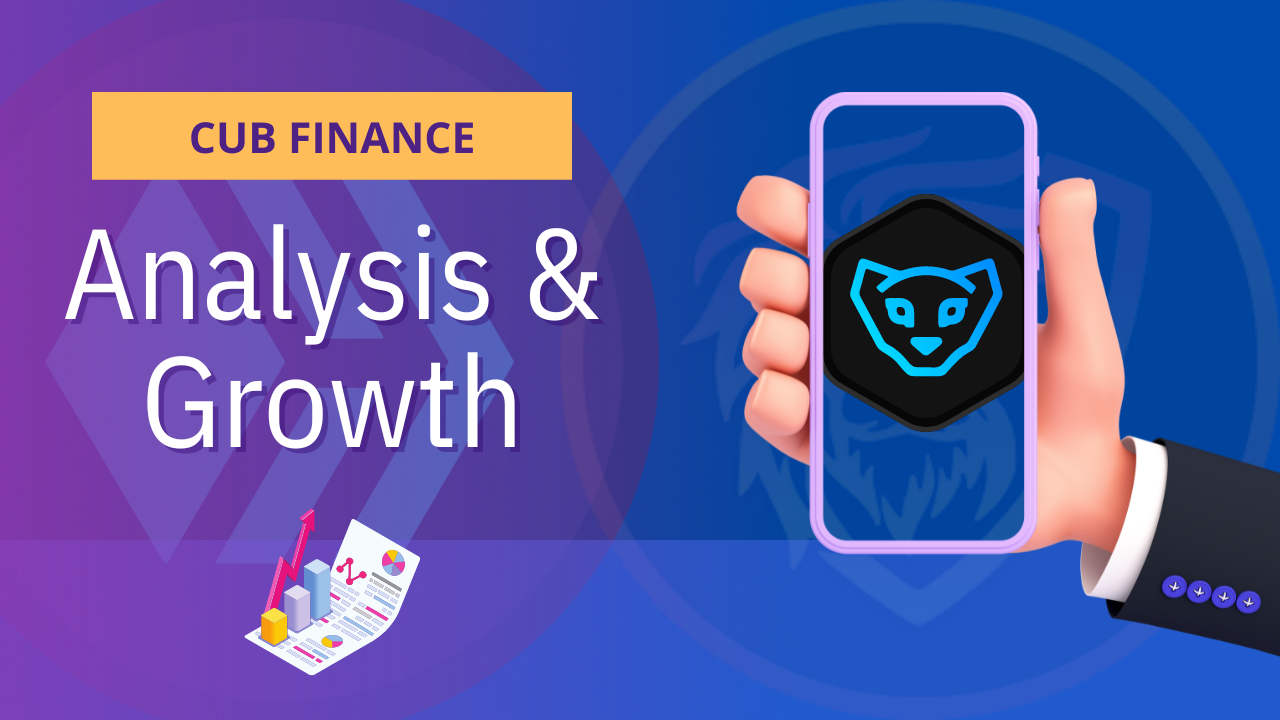 HBD and HIVE have had an absolutely balistic run in the past week. We've seen HIVE skyrocket over 70% in a day and then give back a material % of those gains as it reverted back to the mean.
We also saw HBD pump to $1.50 briefly.
A new HBD whale entered the arena, staking 600k HBD and he is now earning 10k HBD per month. As I'm writing this post, I see his stake has already climbed to $720k and keeps going.
While all of this stuff is happening, the CUB DAO is printing money. I wouldn't be surprised if we are approaching the coveted flippening that we all can't wait to see happen.
One thing I love about this volatility is stress testing CUB DAO and giving the team the ability and opportunity to improve the bridges.
As we see more volatility, I'm sure we'll see more CUB Get burned. I have a feeling over 2.5M CUB will be the total burn figure (currently 2M) by the end of February!
Exciting times to be a CUB DAO member and CUB Token Holder. I see much of this as the beginning stages of a beautiful business model that CUB has developed.
Follow along as I report daily on @cubdaily 🙏🏽
P/E Analysis of CUB
Here's a new section I'm trying out. I decided to run a P/E analysis of CUB using data from each Monthly Burn Report posted by @leofinance. Check out the second analysis I ran and leave a comment below with your thoughts.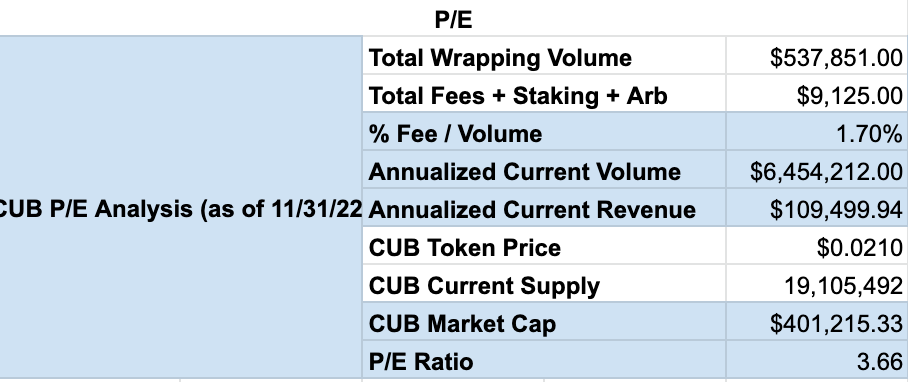 CUB Rewards Flow
*NEW
Here's another new section of my daily reports. This chart will be updated monthly. It accounts for the flow of CUB rewards.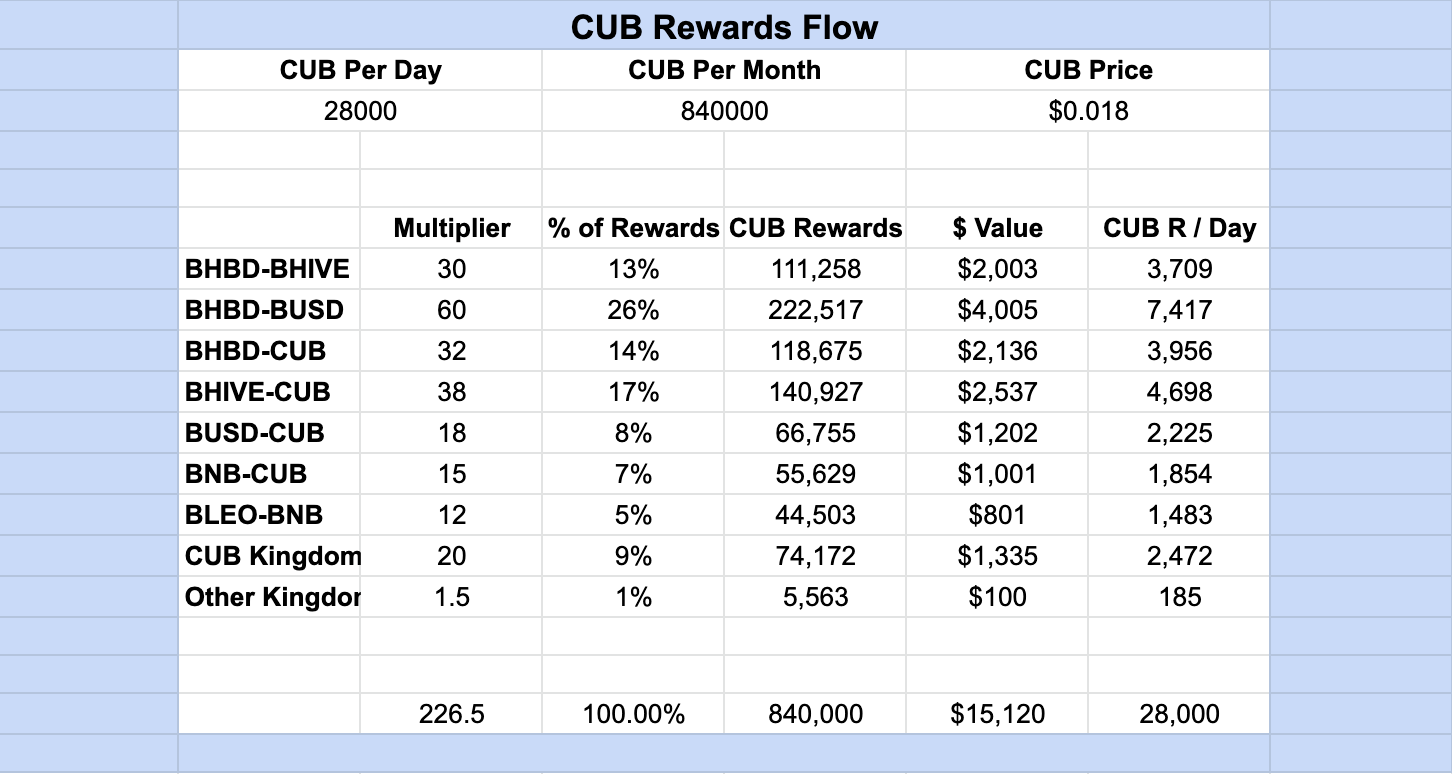 "Over time, I'll start collecting data on how much each Liquidity Pool actually earns for the CUB Protocol (through wrapping revenue, arbitrage, etc.). Obviously, that's a lot of data to capture! This tells us something very important though: is the DAO effectively using its monthly funds (inflation) in paying LPs to build liquidity that ultimately generates revenue. Let's keep an eye on it and see how this progresses, maybe the team can even take this data and use it to migrate multipliers to more effectively build liquidity in the pools that are generating the most revenue."
Locked CUB

A new section! The new CUB Kingdom is now live and we can track the amount of CUB locked and how long it is locked for.
CUB Locked: 5,596,410
Avg. Lock Duration: 33 Weeks
CUB Token

Price: $0.02
Total CUB Supply: 20,658,020
Total CUB Burned: 2,048,354
Total Market Cap: $410,980
Total Value Locked: $1,364,215.51
Multi-Token Bridge Stats

bHBD-bHIVE: $168k
bHBD-BUSD: $277k
bHBD-CUB: $142k
bHIVE-CUB: $177k
Total: $764k
CUB Burns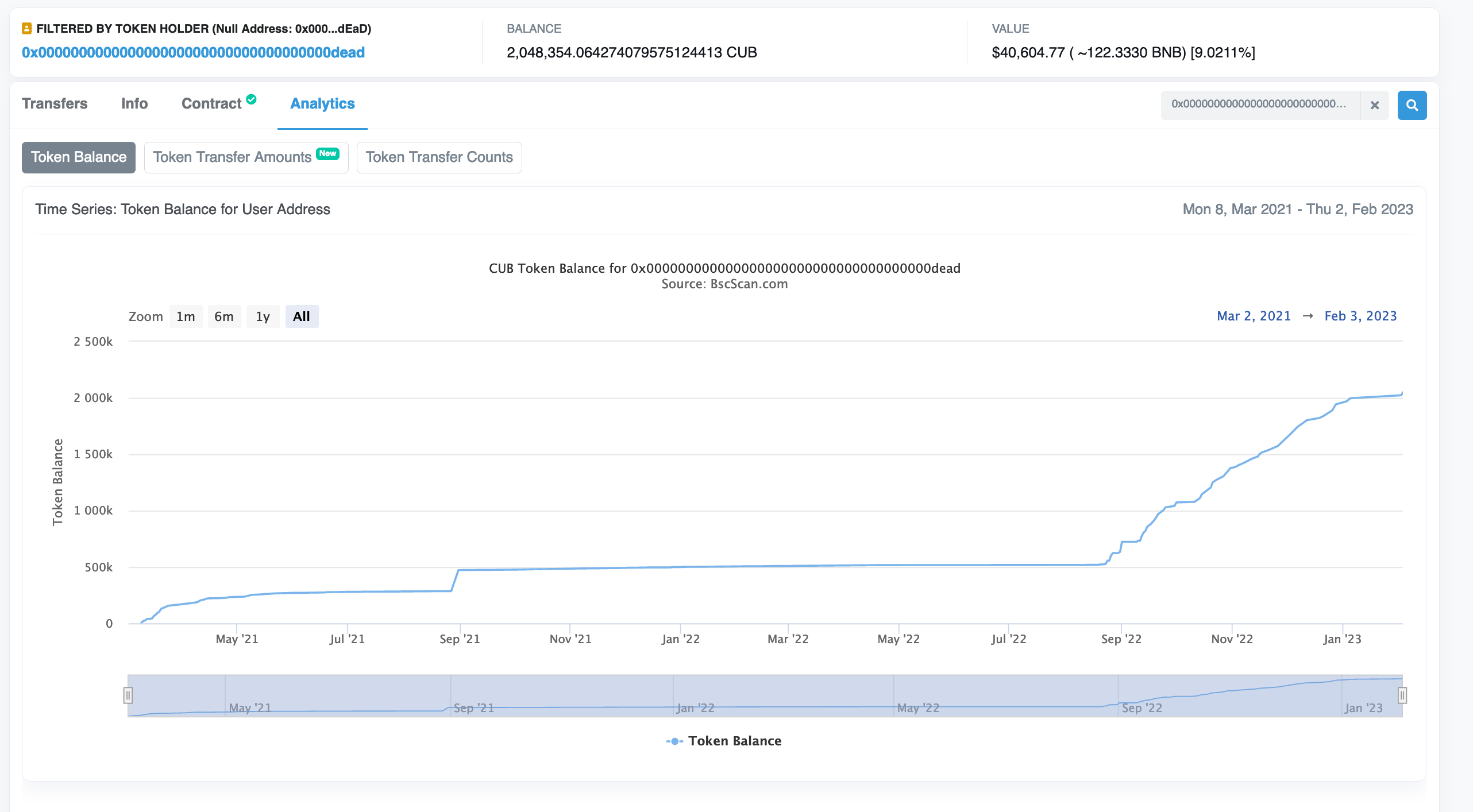 Further Reading:
Latest Reports From this Account: @cubdaily
Latest CUB Burn Report From the LeoTeam:
About CubDaily
I'll be using this account to report on the CUB stats each and every morning. Together we'll track the growth of CUB under the completely revamped ecosystem that LeoTeam has built called the Multi-Token Bridge.
Posted Using LeoFinance Beta