9 Ways To Monetize Your Cryptocurrency Blog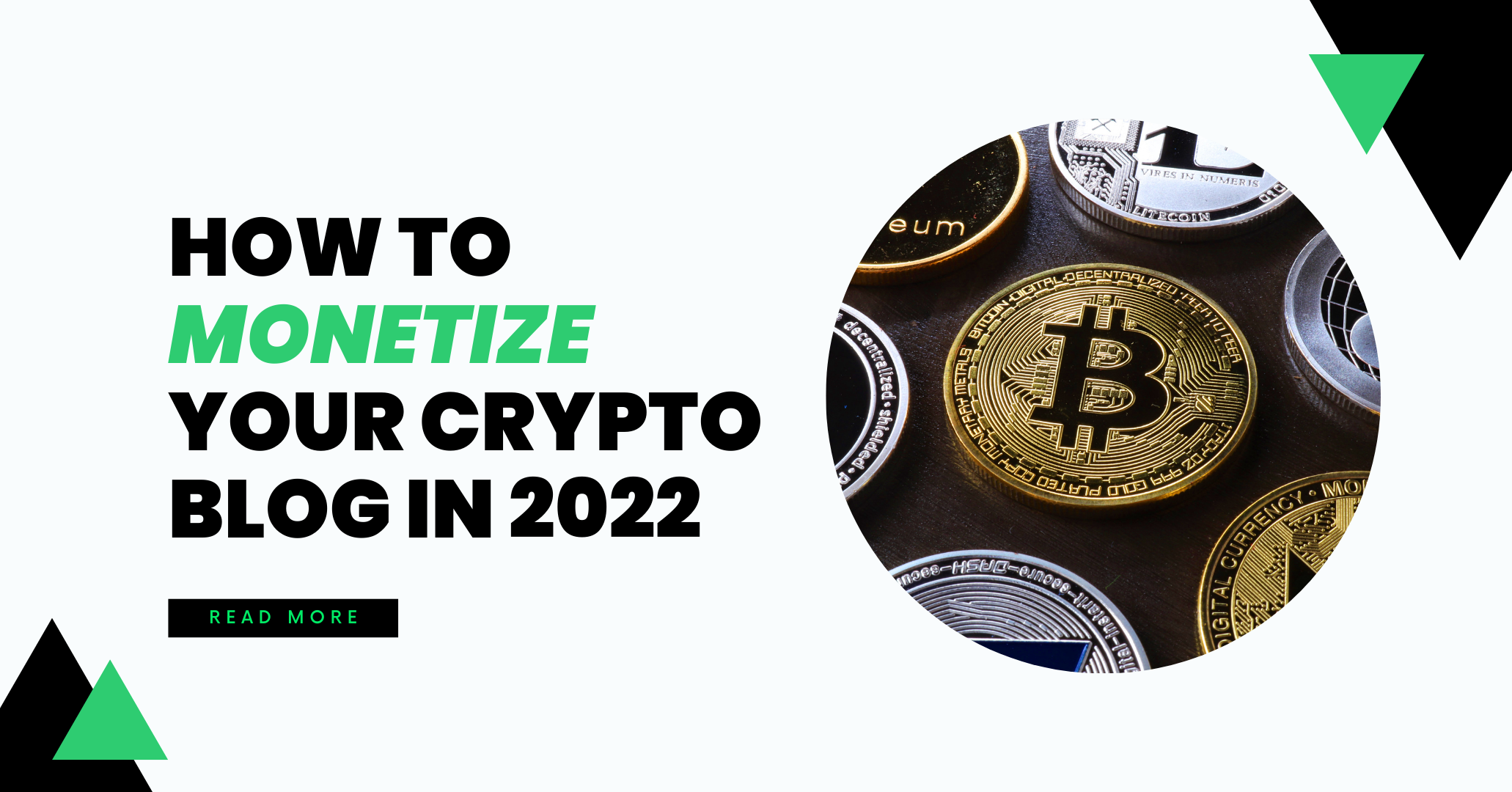 ---
Cryptocurrency is a trendy subject that's generating a lot of interest out there. If you've been thinking about starting a blog around it, now is the best time to do it! You can check out my previous post on how to start a crypto blog in 2022. Once you have your blog set up, you'll want to start making money from it. In this article, I'll discuss some of the best ways to generate revenue for your cryptocurrency blog—without having to spend money on ads.
While the technology behind cryptocurrencies is quite new, you can still learn a lot about how to use cryptocurrencies by reading other blog posts and watching videos on Youtube. You're not going to be able to read or write every single blog on the internet about cryptocurrencies, but you can start with some of the best ones out there. There are different types of themes you can follow or mix them up to create your unique blogging style:
Personal
Business/Corporate
Personal Brand/Professional
Lifestyle
News
Educational
Review
Choose one and get writing!
One of the most popular ways to monetize a blog is through affiliate marketing. This involves partnering with other businesses or individuals to promote their products or services in exchange for a commission on any sales that are generated. There are a number of different affiliate programs available, and it's important to choose those that align with your blog's niche and audience. Crypto Exchanges like Binance have great affiliate programs under which you can earn from the trading fees generated via trades done by the person who used your referral link to join the platform. You can simply write blogs about various services and products and link their affiliate link and monetize your blog
One of the best ways to make money is by growing an email list. It's also one of the best ways you can stay in touch with your readers and get feedback from them. Email lists are so important because they let you sell products, offer services, and promote affiliate programs directly to your audience without relying on social media or guest posting (except for lead generation). When someone joins your email list, they are giving you their email address — which is something that many people are very protective about giving out online — so it means they trust you enough to take action based on what you share with them via email.
Digital products are everywhere. They're the products that have a digital component, like an app, course, ebook, printables, templates, mockups, or a membership. You may have even purchased one for yourself or tried a free one. You can create them one time for the cryptocurrency niche and sell them over and over again through the traffic on your blog. It's better to host them on your website or use a third party platform like Etsy or Gumroad.
On web2 platforms, you need to find different ways to earn crypto. But do you know you can earn cryptocurrency for publishing blogs from day one? That's the power of web3 platforms powered by crypto and blockchain technology. They are generally tokenized, censorship-resistant and you own your data. There are some exceptions also which combine both web2 and web3 elements. Check out some of the famous web3 social media platforms:
Google runs an AdSense through which you can show PPC (Pay Per Click) ads on your blog. There are ad networks that also pay you in cryptocurrency like Bitcoin, Ethereum, and others for each click or a set of impressions. But before you apply any of these programs, you need to satisfy the eligibility criteria which can be different for each ad network. Also, there are good chances that you can only use only one network to show ads. It's one of the most common ways to earn money from blogging.
You can also get paid for promoting a product or simply do a brand outreach marketing campaign for awareness. Depending upon the traffic and your follower count, you can charge hundreds and even thousands of dollars for doing just one blog. Brands are actively looking to work with micro influencers and nano influencers so everyone has a good chance here. Once your traffic and follower count grows, you can bump up your fees. Cryptocurrency products and services are constantly looking for such creators who can plug in their products or brand image within their blogs. So there is a real chance to make money via this method.
Freelance writers with a traffic-generating blog are favored a lot from for writing gigs than usual writers. There are so many crypto projects launching their websites, services, and products. They need a ton of digital content to engage their audience and keep getting traffic via search engines (SEO). As a crypto blogger, you can use your blog as a writing portfolio and get hired for paid gigs. You can either write a single blog or do a long-term deal with a client having a continuous stream of work.
If you have been providing free content that is valuable and problem solving for your readers, then you can even ask for donations. Many influencers use Buy me a coffee, Patreon or other crowdfunding platforms to generate money. You can set tiers and on their basis, you can charge differently in exchange for perks or extra content for those who subscribe to those tiers.
This is the ultimate way to make a big chunk in one go. If you have made your blog popular enough but don't have enough interest to continue publishing, then you can always sell it online. People would pay top dollar to buy websites and blogs that generate continous traffic in a particular niche they are interested in.
Hopefully, this has given you a good overview of how to monetize your blog. It takes time, but with consistent effort over time, you can grow a following and build your audience. I recommend starting out by writing at least one post per day for two months. After that, the content will start coming to you faster so that you can focus on other aspects of running your business such as marketing or finding advertisers. If you have any questions or suggestions to make, comment below!
---
---
Posted Using LeoFinance Beta