What is LeoFinance and how to get involved?

This post is published via LeoFinance.
3 years ago
May 31 2020 2:11 am
-
2 minutes read
---
Are you a forex or crypto trader reading this from a Twitter link or LeoFinance Google search you've come across?
Well judging by the recent progress of the platform, not to mention the bullish price action of the token, it is certainly now worth your time.
Why not stop by and take a look at what's happening inside Hive's LeoFinance community.
What is LeoFinance?
LeoFinance is an online community based on the Hive blockchain, focused on finance, investing and trading topics.
Create content such as blogs, images or video in order to share your ideas, contribute to the discussion and provide services.
All content is stored on the Hive blockchain, freeing you from potential censorship or loss.
On top of that, the community has been tokenised to create a truly circular economy within LeoFinance.
Users earn LEO tokens for uploading posts, curating content and commenting on other posts.
LEO which they're able to stake in order to get their content seen and further distribute wealth on the platform.
For more, check out LeoPedia or jump straight onto the LeoFinance platform.
LeoFinance LEO price
The native token of the LeoFinance community is the LEO token.
While native LEO is a Hive layer-2 token traded on the Leo DEX, you can easily track its USD price via wLEO on CoinGecko.
LEO/USD Price: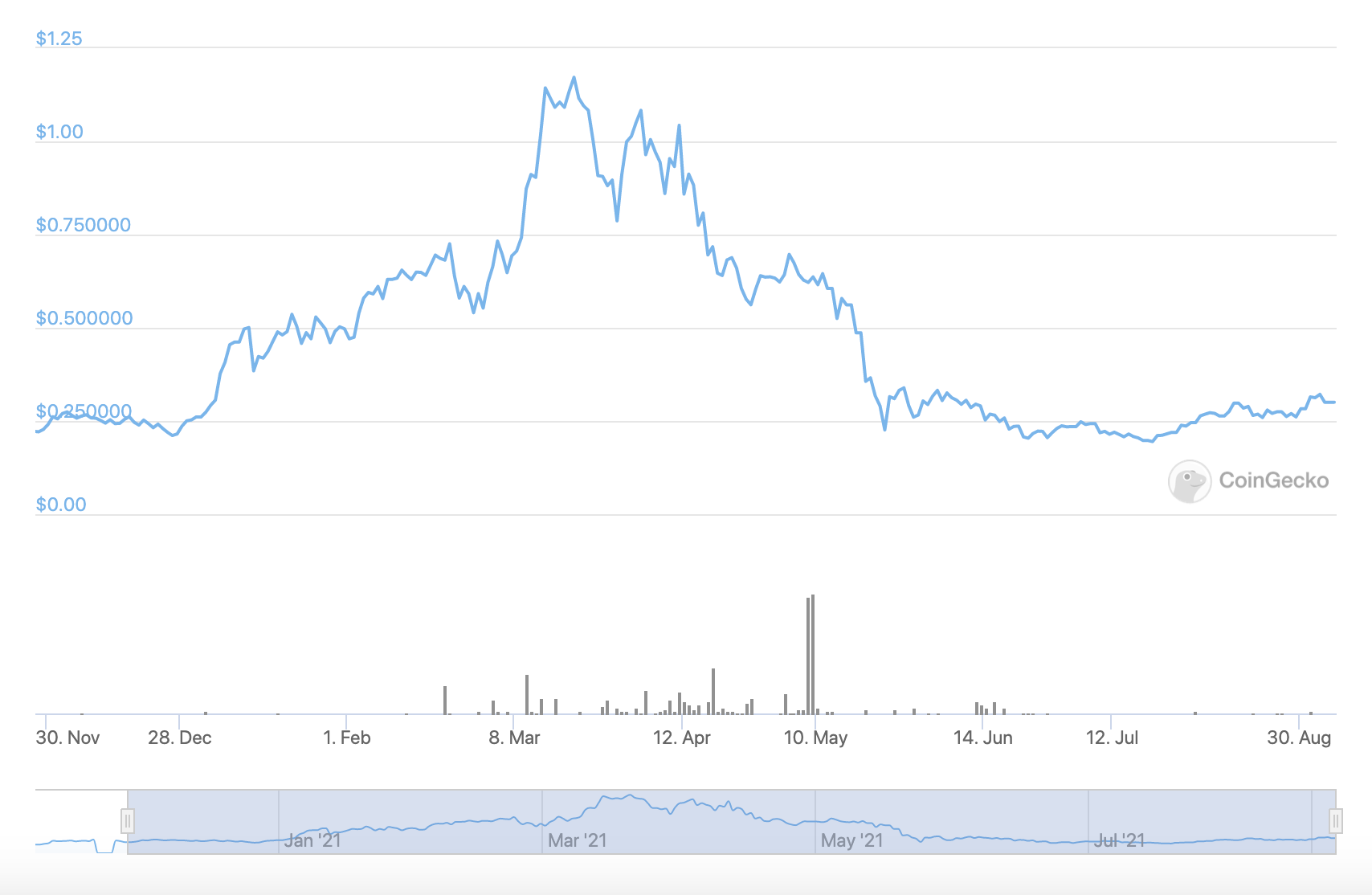 After an epic start to 2021 when the LEO price pumped to $1, the price slid away alongside the rest of the market.
But with the bulls taking back control of the overall market, we've seen the LEO price rally from its lows of 20c.
There's no doubt that on the back of huge development, such as the community's foray into DeFi via Cub Finance on BSC, the LEO token price has room to run.
Get involved in the LeoFinance community
No doubt it's an exciting time to be involved in LeoFinance and the platform is well and truly on the up.
Setting up a Hive account is as easy as clicking the get started button at the top right hand corner of leofinance.io and creating a Hive account.
If you happen to sign up to the community after reading this post, then be sure to tag me into your introduceyourself post and I'll get you started off on the right foot with a juicy LEO upvote.
See you inside the community!
---
Best of probabilities to you.
Direct from the desk of Dane Williams.
Posted Using LeoFinance