Delegate your LARYNX and Generate Income in SPK Token [ESP/ENG]

This post is published via LeoFinance.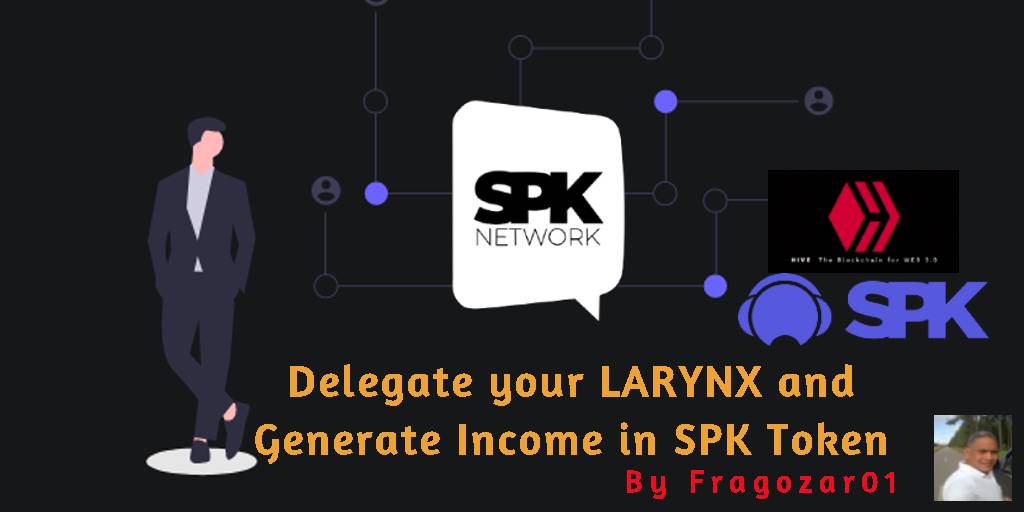 Delega tus LARYNX y Genera Ingresos en SPK Token
Saludos, por acá de nuevo queridos amigos de Hive Blockchain. En esta ocasión, voy a realizar mi quinto reclamo del ClaimDrop del token LARYNX de la red @spknetwork, el cual aún se encuentra vigente y disponible para todos los usuarios de nuestra cadena de bloques que tenían HIVE en sus cuentas el día 6 de enero de este año. Pero además, voy a unirme al Llamado a la Acción realizado por SPKNetwork, para delegar nuestras tenencias en este token a los usuarios que están ejecutando nodos de la red SPK. Esta acción nos permitirá generar ingresos en el token SPK, por lo que es una oportunidad que no debe ser desaprovechada. Te invito a revisar las siguientes publicaciones, donde encontraras más información sobre este aspecto y en general, sobre SPKNetwork.
Delegate your LARYNX and Generate Income in SPK Token

Greetings, here again dear friends of Hive Blockchain. This time, I am going to make my fifth claim of the ClaimDrop of the LARYNX token from the @spknetwork network, which is still valid and available to all users of our blockchain who had HIVE in their accounts on January 6th of this year. But in addition, I am going to join the Call to Action made by SPKNetwork, to delegate our holdings in this token to users who are running nodes on the SPK network. This action will allow us to generate revenue on the SPK token, so it is an opportunity that should not be missed. I invite you to review the following publications, where you will find more information about this aspect and in general, about SPKNetwork.

Lo primero a tener en cuenta, es estar claro a que nodo realizaras la delegación de tu token. Para obtener una lista y el estado de cada uno de los nodos que soportan actualmente la red SPK, puedes acceder a la herramienta SPKCC Monitor, la cual ha sido desarrollada por @hivetrending y el equipo @pizza.witness. Encontrarás información actualizada de cuantos nodos se están ejecutando en la red y el estado de cada uno de ellos, así como otras informaciones muy interesantes. Realmente tenemos muy buenos usuarios ejecutando nodos de la red SPK, por lo que decidirse por uno de ellos no es tan sencillo. Personalmente, decidí dividir mi delegación en dos de los nodos ejecutados por precisamente el Equipo @pizza.spk y el de @v4vapp que maneja el amigo @brianoflondon. Seguramente a medida que reciba más LARYNX a través del ClaimDrop, delegaré a otros usuarios.
The first thing to keep in mind is to be clear on which node you will delegate your token to. To get a list and status of each of the nodes currently supporting the SPK network, you can access the SPKCC Monitor tool, which has been developed by @hivetrending and the @pizza.witness team. You will find up-to-date information on how many nodes are running on the network and the status of each of them, as well as other very interesting information. We really have very good users running nodes in the SPK network, so deciding on one of them is not so easy. Personally, I decided to split my delegation into two of the nodes run by precisely the @pizza.spk Team and the @v4vapp one run by friend @brianoflondon. Surely as I receive more LARYNX through ClaimDrop, I will delegate to other users.

Para realizar la delegación de el token LARYNX, debemos ingresar al sitio donde realizamos nuestro reclamo cada mes, en esta ocasión Vue.dlux.io. Una vez aquí, haremos el reclamo correspondiente si es que tienes alguno pendiente, como en mi caso que estoy realizando el quinto reclamo en este mes de agosto.
To make the delegation of the LARYNX token, we must enter the site where we make our claim each month, this time Vue.dlux.io. Once here, we will make the corresponding claim if you have any pending, as in my case I am making the fifth claim in this month of August.

Luego, en la sección donde estará tu saldo de token LARYNX, al pulsar la flecha hacia abajo verás las opciones para hacer PowerUP que corresponde al bloqueo para obtener poder de voto dentro de la red SPK. La opción Block Liquidity solo estará disponible si estás ejecutando algún nodo de la red y en esta opción, se realiza el bloqueo de los LARYNX. Como vamos a delegar nuestro token, primero haremos el PowerUp para luego escoger la opción Delegate más abajo.
Then, in the section where your LARYNX token balance will be, by clicking on the down arrow you will see the options to make PowerUP which corresponds to the block to obtain voting power within the SPK network. The Block Liquidity option will only be available if you are running any node in the network and in this option, the blocking of the LARYNX is performed. As we are going to delegate our token, we will first do the PowerUp and then choose the Delegate option below.
---
Una vez hecho el PowerUp de tus LARYNX, podrás hacer la delegación de los mismos. Al pulsar en Delegate, se abrirá una pequeña ventana donde colocaras la cantidad de LARYNX que deseas delegar. Como pienso delegar a dos usuarios que ejecutan nodos, lo dividiré en dos porciones, pero puedes delegar a un solo nodo o a varios si es tu deseo. Busca en la lista desplegable el nodo al que harás la delegación y coloca la cantidad que vas a otorgar. En todo este proceso, deberás autorizar todas las transacciones con tu llavero HiveKeychain.
Once the PowerUp of your LARYNX is done, you will be able to delegate them. When you click on Delegate, a small window will open where you will enter the amount of LARYNX you want to delegate. Since I plan to delegate to two users running nodes, I will split it into two portions, but you can delegate to a single node or multiple nodes if you wish. Find the node you will delegate to in the drop-down list and enter the amount you are going to delegate. Throughout this process, you will need to authorize all transactions with your HiveKeychain keychain.

Podrás hacer el PowerDown de tus LARYNX cuando lo desees, tomando en cuenta que necesitaras de cuatro semanas para ser desbloqueados en su totalidad. Se obtienen recompensas en el token SPK, a razón de 0,010% por el token colocados en PowerUp y al delegar tu token LARYNX, podrás recibir recompensas en el token SPK, a razón de un 0,015%, tanto para el que delega, como a quien se le delega este monto.
You will be able to PowerDown your LARYNX tokens whenever you wish, taking into account that you will need four weeks to be fully unlocked. Rewards are earned on the SPK token, at a rate of 0.010% per token placed in PowerUp and by delegating your LARYNX token, you can receive rewards on the SPK token, at a rate of 0.015%, both for the delegator and the one to whom this amount is delegated.

De esta manera podrás unirte y aprovechar la oportunidad que se nos presenta con la red SPKNetwork y beneficiarte no solo del ClaimDrop que aun continúa vigente, sino que ahora podrás generar recompensas en SPK con estos LARYNX recibidos. Realmente es un gran proyecto lo que se construye con todo lo relacionado con SPKNetwork y las posibilidades que nos ofrece a todos los usuarios de Hive. Se trata de un proyecto con ideas revolucionarias y que vienen a establecer firmemente el concepto de descentralización en la web3 a través de todo el entramado de servicios, aplicaciones y recursos que estarán disponibles en esta red. Precisamente por lo revolucionario y único que es, se hace un poco complicado de entender, y aun más, de explicarlo. Pero no hay duda de que lo que se plantea, es devolverle a las personas el poder y la libertad de disponer de un internet más humano y social y menos corporativo y hambriento de control y dominio de las masas. Espero tomes acción para este llamado y también leer tus consultas, opinión o pensamientos en los comentarios más abajo.
This way you can join and take advantage of the opportunity presented to us with the SPKNetwork and benefit not only from the ClaimDrop that is still in force, but now you will be able to generate rewards in SPK with these LARYNX received. It is really a great project that is being built with everything related to SPKNetwork and the possibilities it offers to all Hive users. It is a project with revolutionary ideas that come to firmly establish the concept of decentralization on the web3 through the whole network of services, applications and resources that will be available on this network. Precisely because it is so revolutionary and unique, it is a bit complicated to understand, and even more so, to explain. But there is no doubt that what is proposed is to give back to the people the power and freedom to have a more human and social internet and less corporate and hungry for control and domination of the masses. I hope you will take action on this call and also read your questions, opinion or thoughts in the comments below.

---
This post is of my authorship and I express in it, my experiences and learnings every day in this Blockchain. All images are edited by me and correspond to captures made on my PC and the sources are indicated in each case. If you like it, you can leave a comment or opinion and your favorable vote.

---
Posted Using LeoFinance Beta