New Reward Card - Ever-Hungry Skull

Salutation Splinterions,
Today,we shall feature one of the newest reward cards in action. Some of you might thought that this bodiless entity dies instantly against magic attack, but the trick to playing this card is right positioning and advantageous ruleset.
Check out one of the best match ruleset below for example. https://splinterlands.com?p=battle&id=sl_f4559cf50e156a885d876bc71d5ae4d8&ref=goblinguide
For the battle above, ruleset is "Super-Sneak." I positioned my Cursed Windeku in the 1st position, and the Ever-Hungry Skull in the back(to be less likely be killed in front by a magic monster, they is only a few monsters that attacks with magic at the back, like goblin sorcerer or coral wraith). Anticipating they would put their melee monsters to take advantage of the ruleset. And adding in the Weirding warrior mainly for its amplify effect on thorns(+1 damage), having shatter is a bonus. Using Zintar Mortalis with its -1 melee on opponent is great! Stats of the Ever-Hungry Skull is below.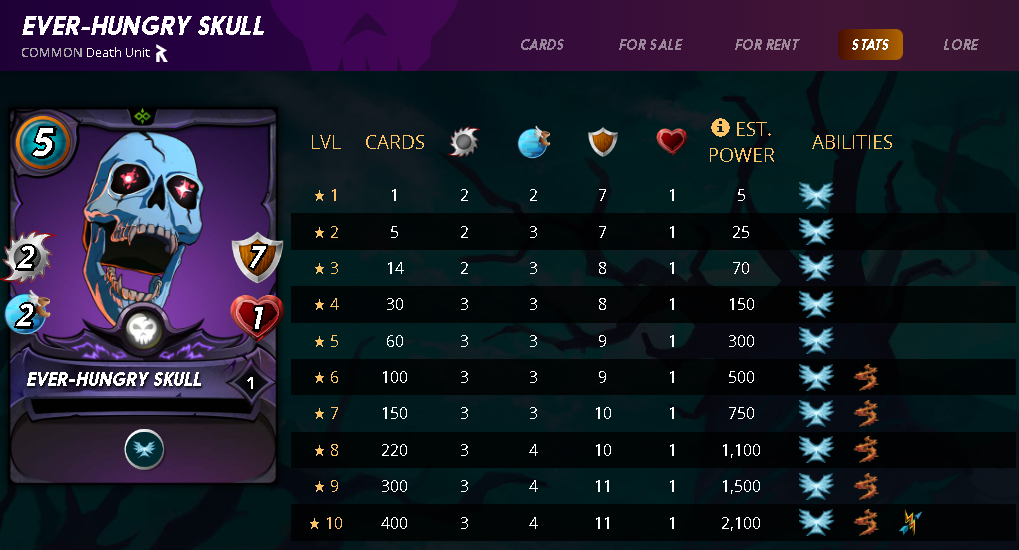 Mix and match, experiment, grow and enjoy your stay in Splinterlands!
Update 6/4/2022 These are the 2 different battle i have with Ever-Hungry Skull. Weak-Magic and Lost Magic. Also had a Weirding warrior for rust and shatter in one of those matches. https://splinterlands.com?p=battle&id=sl_e4a85966eea8f4d7977d475e2bb93768&ref=goblinguide https://splinterlands.com?p=battle&id=sl_41b9d5b61c35996ac639ebc5b74ecb68&ref=goblinguide