Sunday is for creativity ////still on our anniversary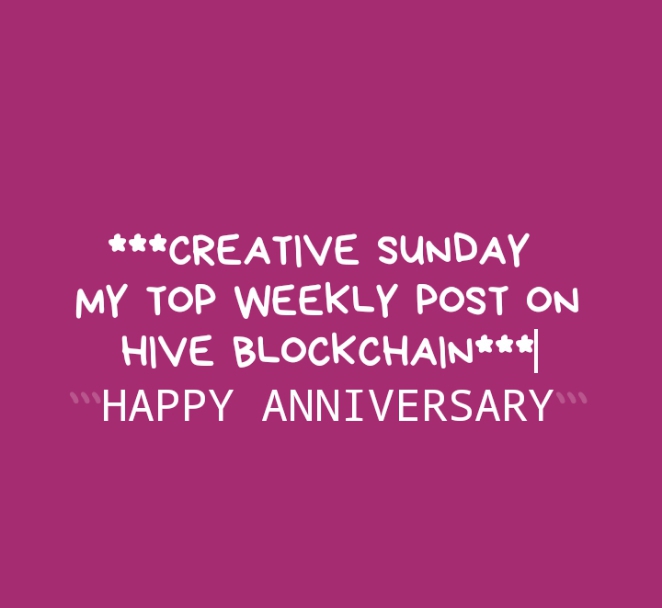 Good evening to all my fellow hive learner community,happy Sunday to all christian on hive blockchain and I wish you all a sweet weekend,Prayer is very important to human life and I will be using this medium to remember all users of hive to pray more and see reward from God both Muslim and christian. It's still hive one year anniversary which the celebration is still ongoing as we are on our 54th hive learner weekly contest which I will be exploring my excitement as part of users of hive and bringing out my best participated post to the hive family.I will start by gratitude from the very first day that I joined the community through my friend @vickoly who invited me to the community contest.Those content have enlightened me Ideologically and educationally in terms of posting and partaking on the weekly Hive learner have make me more engaged to people on this community and make more friends from here while reading people post and creative works. Sometimes I feel exited when participating on the weekly contest because there are alot of creative user and skilled users here. LISTING OUT MY TOP POST ON HIVE LEARNER COMMUNITY. I have been engaging on hive learner weekly contest with alot of my creative work but I will not be picking my creative work as my top one post to the community because the first top post is my favorite of all.
TOP ONE: SPENDING MY FIRST SALARY FOR MY PARENTS
The week the topic was posted for participant,I am very eager to write something and explore my mind to all users of hive,the post just bring throwback of my success and the important of parent to child which I wrote the post in an emotional state.
TOP TWO: MAKING MY KID SISTER HAPPY WITH MY SKILLS//PALLAZO CLOTH
Am picking this weekly post as my second favorite because I really love making my family as union and at the same time love sharing my skills so that it can be helpful to hive users. TOP THREE: ONE YEAR ANNIVERSARY FOR MY BUSINESS
It worth celebration when you reach a milestone on terms of year, that is the reason why users celebrate there birthday on yearly basis to thank God for the succesfull reaching the certain milestone.It hive learner one year anniversary which the celebration will be ongoing in weeks and participant will be sharing there excitement.
TOP FOUR: SHARING HOW I MAKE A WHITE PALM SLIPPERS
i always love creativity which I love sharing my creative skills to users and at the same time love reading creative Content to improve and learn from others skill then I also love teaching others because when you love to share your skills to people on hive,alot of things to gain is here
I WILL ONCE AGAIN CONGRATULATE ALL HIVE USERS A HAPPY ONE YEAR ANNIVERSARY BECAUSE IS A PRIVILEGE WITNESSING THE ONE YEAR ON POSTING ON HIVE.
THANKS FOR THE VISIT AND HAVE A LOVELY WEEKEND