New Products Coming To The Hivelist Store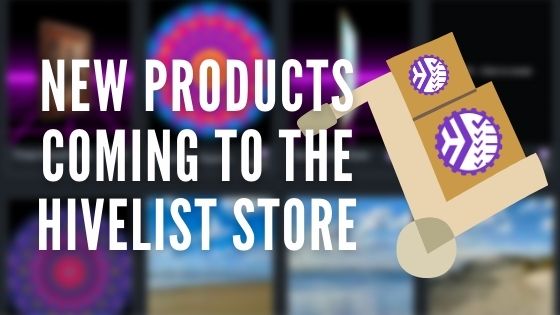 For those new to Hive, you may not know about Hivelist. Well, we will do a bit of a refresher this week on what Hivelist is all about. In a nutshell, it is the prime e-commerce platform for the Hive blockchain! Hivelist has an on chain portion and an off chain retail store. If you want to find out more about the project over all as well as get information on the LIST token, you can check out https://hivelist.io. But today, we are focusing on the off chain portion, the Hivelist Store!
What Is The Hivelist Store?
First off, let me explain a little bit. The Hivelist Store is a WooCommerce based, multi vendor retail store where members of the Hive community can come on and sell their products and services that they offer. We only accept crypto, with a focus on Hive and HBD. We also pay our vendors in HBD for their product sales.
We offer a print on demand service where vendors submit designs and we partner with our vendors and get your design on a variety of products. This is for those that just want to design and let someone else do the rest of the work. We handle all the fiat middleman stuff and you earn some HBD when one of your products sell!
Hivelist also offers their own products. Until now it has mostly been ebooks and some print on demand designs, but we are now going to start offering other consumer products, starting with a focus on electronics! We are going to be using a specific dropshipping supplier that only deals directly with the reputable suppliers in China. They go through and filter out the garbage on only offers the reliable ones. They also have their own fulfillment services out of China and offers lower shipping times than Aliexpress and other vendors which sometimes you are waiting a month or more! Our suppliers are talking 10-20 days for most products!
Once we start building a bit more revenue to cover the monthly costs, we will upgrade our plan which will allow us to have access to suppliers in the US and Europe as well!
Consumer Electronics
This is the first category that we are going to be focusing on supplying. Being that this is a community of primarily people that would be into tech, we are going to be offering as many products as we can get. Of course we are going to be doing out own filtering and only offering things we thing will sell.
Free Shipping On These New Items
Unlike our print on demand products, which we do not control the shipping costs, that is all handled automatically from our manufacturers, these new products we are able to offer free shipping! Now, this doesn't necessarily mean that you are not paying for shipping, this is just saying that we are going to be building that into the product costs! We are able to do this because our suppliers are able to get better prices on the products than we would pay from most other suppliers.
With these products, we get a set shipping rate, so we know how to build the price of the product to allow for 'free shipping'. This is really the way allot of stores do things to avoid cart abandonment... Because let's be real, shipping costs can be a bit of a shock...
Product Guarantees
These products are all guaranteed by our suppliers to not be damaged. If you get a product that has been damaged in transit, then just make sure to take detailed images and then let us know and we can take the images to our supplier and you will be shipped out a brand new product!
We Have Done Our Due Diligence
This has been a big decision to get back into the consumer products since the pandemic started because of supply line issues and the fact that some vendors from China were just not shipping items. Things have changed and settled down a bit on that end as it seems, and on top of that, we have sought out the best supplier that we can possibly find.
We want to be able to offer the best possible items to our customers and be able to offer real world goods in exchange for digital currencies like Hive, HBD, Bitcoin, and more!
Do you have designs or products you want to put up for sale and earn crypto?

Come and take a look at becoming a vendor on our store! We pay in HBD for all of your sales and commission! We handle all payments and exchanges so you don't have to worry about all of that! Sell your own products or submit your designs to our print on demand service!
If you are interested in starting your own ecommerce business in the crypto world, then click here to learn more about becoming a Hivelist Store vendor!
Don't forget, we have Hivelist Store gift cards!!!

Need to get a special gift for someone, but don't know what to get them? Have you tried introducing someone to the crypto currency world, but want to make it an easy introduction, then try out one of our in store gift cards! You can purchase them with any number of our accepted cryptocurrencies!
https://hivelist.store/product-category/gift-cards/
Want to make some extra HBD? Become and Affiliate!

Come and sign up to be an affiliate and get paid monthly for any sales you refer to the store! Affiliate commissions are 5% of the profit from any sale! Get started as a Hivelist Store Affiliate Partner today!
Keep calm and Hive on!
https://hivelist.io - main info site https://hivelist.org - blockchain classifieds/NFTs/DEFI Pool https://hivelist.store - multi-vendor e-commerce retail store and professional services marketplace
Vote for @hivelist.witness on Tribaldex

Posted using HiveLIST