Saturday Savers Club Progress week 1 - 2023 - 07/01/23 - New targets and a nice increase in SPI

Its week 1 of my savings focus for 2023 with the Saturday Savers Club which I think is a great Hive community initiative run by @shanibeer writing as @susie-saver on the @eddie-earner account.
For the near future I will just be focusing on generating HIVE. So my main target is my Hive Power annual goal, and then other methods that contribute to that.
Weekly Stats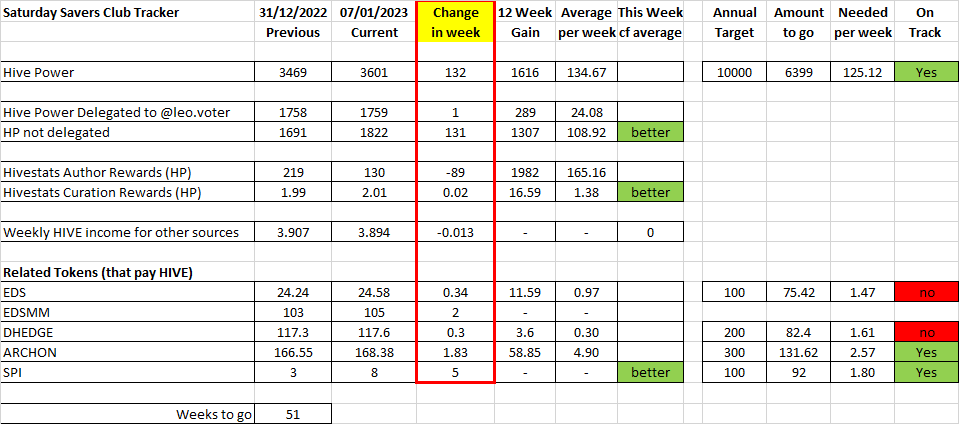 I've revamped the table a bit to include my annual targets, and also SPI, which is another token that I'm keen to accumulate because of the passive HIVE income it provides.
It will take a few more weeks to set up all the stats I want to track, hence the table is not quite complete yet.
Weekly Commentary
My weekly gain was +132 HP which is pretty good, its a little short of my 12 week moving average of 134 HP. However, it must be acknowledged that this low price of HIVE is really helping,
My HP total is 3601 HP, so need a further 6399 HP to hit my 10K target, which at 51 weeks to go requires 125 HP per week - that wont be easy, although comparing to my 12 week moving average, I'm actually on track as of today, but there is a long way to go and a lot could derail it !,
My Hivestats weekly author reward was +130HP which again is pretty good,
My hivestats weekly curation reward was +2.01 HP, a small increase on last week, and good for me,
I picked up +2 EDSMMs - the last tranche of 12500 went on sale, and are selling out fast,
I also picked up +5 SPI in the saturday savers competition last week, which was great !,
I had better than average weekly increases across un-delegated HP, curation rewards and SPI,
My weekly HIVE income from other sources (30 day moving average) was +3.894 HIVE compared to +3.907 the previous week - a slight decrease but good,
In terms of targets, I'm currently on track (based on my 12 week moving averages) to hit everything, except the EDS and DHEDGE targets - however, I will just buy what is needed to hit those along the way (those two targets are not massive),
HBD:HIVE trading - no major movement in this this week as there has been no big fluctuations in price and I have not set up any new buy or sell orders either this week.
All in all it was quite a good week for the first week of the year. The new HP target is a bit daunting - while the price of HIVE is as low as it is, it looks achievable, however that can easily change, and if there is a significant increase then hitting 10K will be pretty hard - so we'll just have to see how things pan out. That also means that it will be important to accumulate as much HP as possible now while the price is low (make hay while the sun shines).
Plan for the coming week
To continue to post daily to ensure daily HBD and HIVE author rewards - this is what has made the world of difference these last few months, and importantly, to produce posts that bring in good rewards - which I need to keep reminding myself off,
To be active in HIVE Blog curation to help with HIVE curation rewards,
To continue to increase undelegated HIVE in order to improve HIVE curation rewards,
HBD:HIVE Trading - while the price of HIVE is below $0.40 I will be selling all HBD rewards for HIVE, Powering up some, and then setting buy orders with the remainder to buy back into HBD. My main buy back orders are in the region of $0.48 to $0.80. But with this new low in HIVE, I've placed a few others at $0.323 which may allow some short term, small gain trades,
To keep taking regular profits (weekly and monthly) from some other token income streams to fund investment in layer 2 tokens or pools that payout in HIVE or HP - EDS and EDSMMs are particular targets at the moment,
To produce a monthly article for the SPinvest account, which pays a 5 SPI reward to help towards that target,
I'm also considering delegating some HP to start providing a BRO income, which in turn will then also generate a passive HIVE income - I've not figured out the maths for that yet, but I will probably start doing that sometime in the coming weeks.
Well I'm quite excited to have set up new targets for the year, and then gotten through the first week. Only 51 weeks to go !
If you want to read the full post on my targets and delivery plan for 2023, you can read it here.
All the best - and remember to drop your savings links into the weekly Saturday savers post comments - I will read, upvote and tip all posts shared.
And as a reminder its LPUD next sunday (the 15th).

Interested in the Saturday Savers Club ? Check out their latest posts here.
Posted Using LeoFinance Beta