Saturday Savers Club Progress week 11 - nice HBD/HIVE trading results in the week

Its week 11 (18/03/23) of my savings focus for 2023 with the Saturday Savers Club which I think is a great Hive community initiative run by @shanibeer writing as @sally-saver on the @eddie-earner account.
For the near future I will just be focusing on generating HIVE. So my main target is my Hive Power annual goal, and then other methods that contribute to that.
Weekly Stats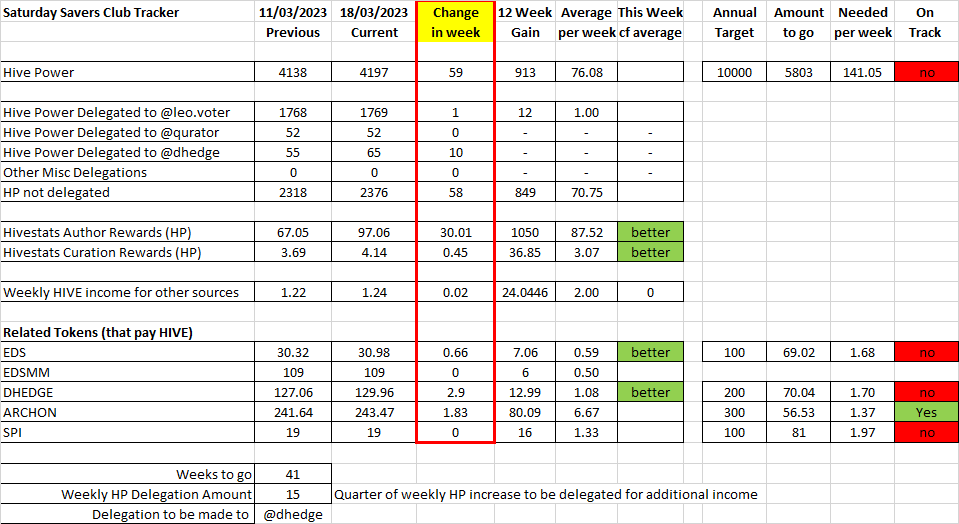 It will take a few more weeks to set up all the stats I want to track, hence the table is not quite complete yet.
Weekly Commentary
My weekly gain was +59 HP which is below my 12 week moving average of 76 HP - due to lower post payouts, and also because I've been directing HBD payouts towards HIVE:HBD trading as I've been making opportunity from that of late,
My 12 week moving average HP income continues to drop and is now at +76 HP reflecting the poorer post payouts that I've had since the start of the new year. It will be nice to see where it settles at as that will give me a better idea of how my HP growth is really getting on,
My HP total is 4197. I need a further 5803 HP to hit my 10K target, which at 41 weeks to go requires 141 HP per week (gone up another 2 per week). So the annual target continues to get more difficult by the week and is looking out of reach, but I'll keep shooting for it. Although I've not yet moved anything into HP from HIVE:HBD trading, and that will provide a boost later in the year,
My Hivestats weekly author reward was +97 HP which is a nice change, and is probably about the highest its been this year,
My Hivestats weekly curation reward was +4.14, which continues to increase nicely - so I'm happy with that,
I had better than average weekly increases for author rewards, curation rewards, EDS and DHEDGE,
My HP delegation to DHEDGE is working nicely, the spreadsheet shows that I'm not on track to hit that annual target, but its not right. I am now on track for that, and its just that my 12 week moving average hasnt caught up yet,
My weekly HIVE income from other sources (30 day moving average) was +1.24 HP, which is reporting a little high. This is proving to be a lot harder to increase than I thought, although the strategy I'm currently taking focuses on other things. It should improve more later in the year - but I dont think it will increase massively,
In terms of annual targets, I'm currently on track to hit my ARCHON target - and DHEDGE (its just not reporting right). I would like to buy more EDS to help with that target, although the price keeps going up so that isnt as easy as I had hoped ! I'm hoping to catch-up with SPI soon - will have to see how that goes,
HBD:HIVE trading - Its been quite a decent week. I had 22 trades/flips, although they were largely small in size, but its growth, so I'm happy with that.
Plan for the coming week
To continue to make sure I post daily to ensure daily HBD and HIVE author rewards,
To be active in HIVE Blog curation to help with HIVE curation rewards,
To continue to increase undelegated HIVE in order to improve HIVE curation rewards,
HBD:HIVE Trading - this continues to be a large focus area for me. I've been using all HBD post payouts for trading, and have also been looking at trading margins to help improve the number of trades,
To keep taking regular profits (weekly and monthly) from some other token income streams to fund investment in layer 2 tokens or pools that payout in HIVE or HP - EDS are a particular target at the moment - and I'm considering adding LGN,
To produce a monthly article for the @SPinvest account, which pays a 5 SPI reward to help towards that target,
This weeks 25% HP delegation of HIVE I've powered up (15 HP) is going to @DHEDGE to help me hit my annual target for DHEDGE (they pay out daily DHEDGE drips at a rate of 21% APR - which is quite high for a HP delegation). Once I'm happy with my @DHEDGE delegation (100HP total, to start with) I'll then move onto something else that helps - will probably start topping up my @qurator delegation,
I've also been selling other layer 2 tokens I'm not using, to generate more swap.hive to put into tokens that provide a passive income in HIVE.
So accepting that my weekly HP growth isnt what it used to be compared to last year, then I'd have to say this was probably an above average week. My HP gain was nice, and I did alright on the HVE:HBD trading front.
And remember - the HIVE anniversary is coming up on the 20th of March, and there is an HPUD style competition to win some HP delegations, requiring a min HIVE power-up of 10.
Also, if you are interesting in the HIVE:HBD trading I do, then you check out the post I made through the week where I explain how I do it (here).

Interested in the Saturday Savers Club ? Check out their latest posts here.
Posted Using LeoFinance Beta