Saturday Savers Club Progress #week 31 - 22/10/22 - buying VOUCHER and ARCHON, and generally making good progress

Its week 31 of my savings focus, working with the Saturday Savers Club which I think is a great Hive community initiative.
Weekly Progress Summary
My Hivestats weekly author reward sits at +98.36 HP which is well above my 12 week rolling average HP weekly income of 58.5 HP - pretty happy with that. To hit my year end 2500 HP target I need 44.3 HP per week, so happy on that front as well,
My hivestats weekly curation reward sits at + 1.28HP so quite similar to last weeks +1.3 HP,
My 30 day moving average LEO income generation stands at +7.44 LEO (223/month) which is great as it has held above my target of generating +6.66/day which will bring in 200/month. However, it will likely dip a little, but I have a few more weeks worth of HP delegation to make which should then solidify above 6.66/day, at which point I will be happy,
I am continuing to focus on Splinterlands DEC income through card rental and pools. Its been a poor week on rental income so I put all DEC gains this week into the HIVE.SWAP:DEC pool,
The Hive:DEC pool is currently reporting a nice 52.33% APR and HIVE:VOUCHER is at 74.37%. I've added to both this week,
WOO staking stands at 143.52% which is also quite nice !!!,
I bought VOUCHER (+3.5) and ARCHON (+25) from the market this week to help towards their short term goals.
Key highlights were
I gained +46 HP and am still on track to hit 2500 by the end of the year but will need to keep working at it to make sure it happens,
Although I didnt buy any splinterlands cards this week, I won about 7 in giveaways !,
I also won a small WOO giveaway which is great while the staking APR is so high,
I caught a few trades this week with HIVE being so low (selling HBD) - not big gains, but gains,
I gained +1.09 EDS, +0.26 DHEDGE, +3.2 ARCHON, +51 WOO, +5 PIZZA, +45 ALIVE, +0.097 ALIVEM, +85 CTP, +13 LUV, +9 PGM, +39 LOLZ, +64 FUN, +909 DEC, +135 SPT, +1 SPS and +61 LEO via staking, giveaways, passive income, curation and or tips - who doesnt love synergy and compound interest !
On the whole its been an above average week - so its all good !!!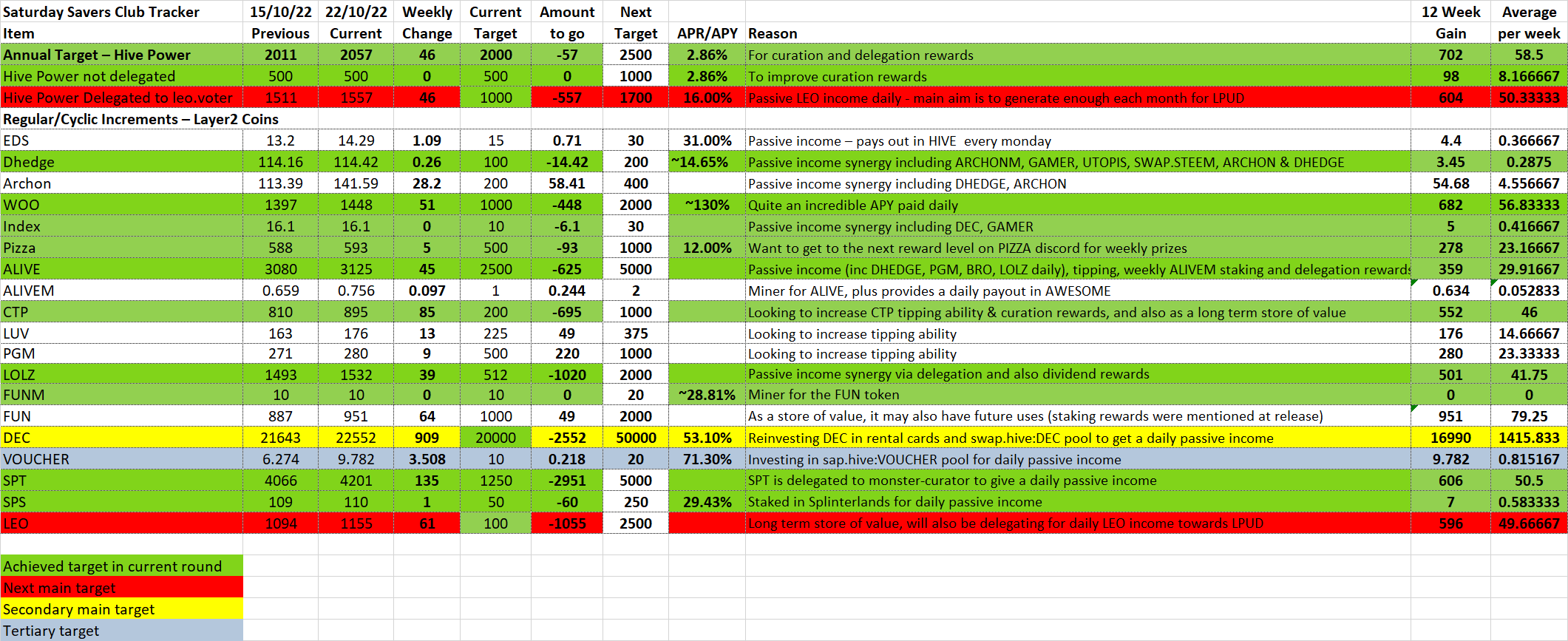 221015 Sat Savers.png
Weekly Plan Changes
Just a general tidy up of the table including revising all of the reasons for chasing each goal.
Main Targets - No change from last week
Primary - Growing HP and delegating it to @leo.voter to increase my daily LEO income with the aim of gaining +6.66 HP per day which would give the 200 LEO needed each month for LPUD. I know I'm showing above that, but I just have a few more weeks to go to solidify that and it will be complete,
Secondary - Adding funds to the HIVE.SWAP:DEC pool to grow daily DEC income to help fund new splinterlands cards in order to grow my rental income. My current income target for this is +100 DEC/day - I'm at about the 48 DEC/day mark, so have quite a bit to go,
Tertiary - Investing into the SWAP.hive:VOUCHER liquidity pool to increase daily SPS income.
Plan for the coming week
I am finding that if try to work on too many main targets at a time that I spread myself and my investment too thin - so I'll keep working on just 2-3 at a time, and get them to where I need them to be before I move onto new targets - and not get distracted by other projects, card pack offers, etc, etc,
To make atleast one post each day to ensure a daily income of HIVE/HBD,
Continuing to keep active in #leofinance to provide additional LEO income, including making at least one thread per day,
With the price of HIVE so low I'll keep trading any HBD payouts to HIVE and be prepared for buying back into HBD when the price of HIVE rises (above $1+). I'll also continue to trade between HIVE and HBD. I have HBD sell orders in the range $0.40 to 0.44, and HBD buy orders in the range $0.53 to $0.80 - this helps to catch any spikes/dumps in HIVE or HBD including when I'm not online,
After each Listnerds post payout, I withdraw 3% of my total balance, and now have a weekly income stream that I sell and use to invest in other layer 2 coins and projects - although my Listnerds payouts have dropped over the last few week, hence I've reduce the withdrawal to 3% ( I was at 20% at one point),
I'm making sure I make better use of tags in relevant posts where I can for better curation payouts, with a focus on #archon, #alive (#aliveandthriving), #lolz, #fun, #gamer, #battle, #pgm and #ctp - as I have stakes in these,
I'm being a little more active in a number of specific tribe blogging interfaces to help increase my income from those tokens (eg, #meme, #ctp, etc),
I am now starting to delegate all LEO Power to provide a passive LEO income from that as well - I'm still in the process of choosing the final provider for that, although @india-leo is looking pretty good as they payout 100% of all curation income to delegators,
To delegate any remaining layer2 tokens I can to LOLZ or the cartel so that they are being put to work to earn some additional income.
Anyway, thats my summary for the week - good luck with your savings plans !!!

Interested in the Saturday Savers Club ? Check it out at @eddie-earner.
Posted Using LeoFinance Beta