Personal Roadmap for 2023: Growing LEO Power

This post is published via LeoFinance.
5 months ago
Jan 07 2023 7:35 am
-
3 minutes read
Goals are our roadmaps...
and it's time to set something to focus on for the current year or else we will just be drifting along wherever time takes us. Bill Copeland is right when he said that "The trouble with not having a goal is that you can spend your life running up and down the field and never score." Of course we don't want that. Or do we?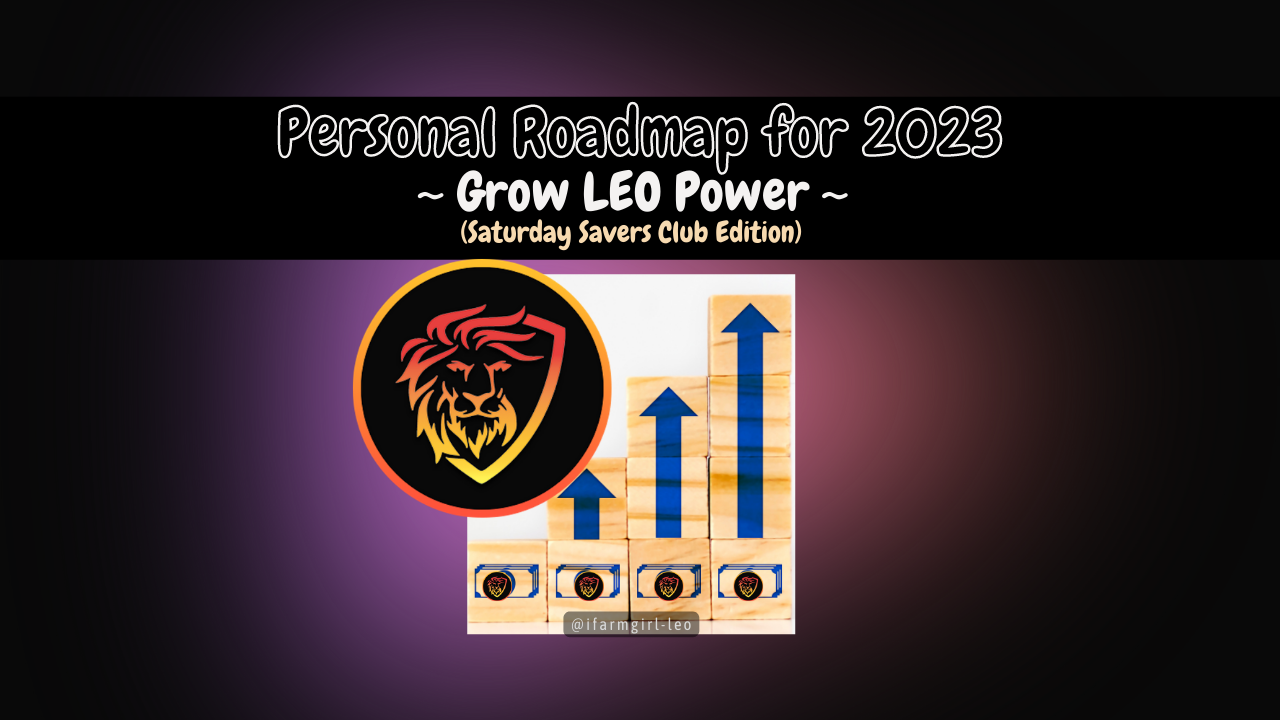 One of the things I had in mind prior to the New Year is to stay consistent with my activities on-chain and publish at least one medium or long-form post a day in the community. Unfortunately, that flew off the window already after I've missed a couple of days, no thanks to traveling and not having something ready. I do have a few on my drafts which I couldn't get myself to complete. But that's a fight I will have to win eventually.
Anyway, I have another major goal and to keep the motivation high, I decided to join the Saturday Savers Club, many thanks to Shanibeer for the open invitation sometime ago. The truth is, although I have been reading posts from friends updating their goal tied to SSC, I didn't really check how the club works. Time has come to learn about it so I went on to read the club's FAQs to get an idea. Many thanks as well to @shanibeer for the succinct explanation of how it can be done.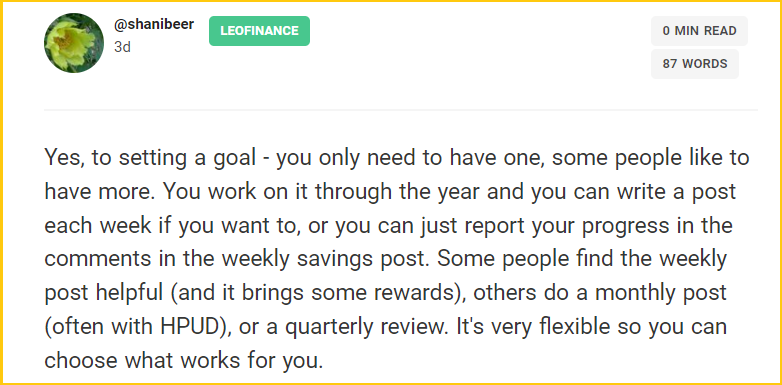 (Source)
Nothing complicated, right? Yep! The SSC is a group of fun and encouraging Hiveans who share their aspirations through their own sets of goals and tracking them either on a weekly, monthly, quarterly basis or whatever flexible timeframes they set for themselves. Discipline is the name of the game, of course!
That said, I will be laying out my own specifically for this alt and here it is, re:
Main Goal: No Less than 15k Leo Power
The major objective for this LeoFinance-dedicated account is to grow its Leo Power (combined with my main a/c, ifarmgirl) to at least 15k. Currently, we are standing at an aggregated Leo Power of 7,536 so we need to stake around 7400+ LEO during the year. That would be no less than 620 LEO per month or an average of 20 LEO each day.
Not a very lofty target for this cub but it's a good start and won't stop there for sure! I kind of heard Tito Ed scream, "Common CJ, that's a 6-month goal for ya!" But then I just have to set something more realistic, so let's go from being a cub to a lion first.
Current LP: 7,536
Goal: Greater than 15k LP
Leo Finance is one of the projects that I love, hence the goal is to continue growing Leo Power. It's one of the strongest communities where the LEO and HIVE whales aren't just sitting around but they are actively making significant contributions to the ecosystem which is so inspiring to witness. Oops, I digress.
Back to the goals, I won't be setting any minor ones but it doesn't mean I don't have any. There are a few tokens which I would also like to accumulate and DCA on but because I tend to get overwhelmed, I decided to not set a bar for them (yet). For the sake of recording, these are some of them.
|Token|Current Holding|Target| |-|-|-| |Hive Power|624|-| |EDSMM|-|-| |BRO|6.19|-| |DHEDGE|111.36|-| |INDEX|29.76|-| ||||
That's how I want to keep it simple this year. Having a single, straightforward target for this alt and just keep going for it. If the goal is achieved earlier then will set a stretch.
And of course, I also plan to stay active and consistent on LeoThreads. It's one of the features of the LeoFinance frontend that I enjoy using. If you have yet to try, go to https://leofinance.io/threads for a Twitter-like experience. Just say Hello or GMfrens. You can even tag me there so I'd say Hi too.
If you want to join the Saturday Savers Club and set your targets for the year, check out the Saturday Savers Launch Announcement and follow @eddie-earner for updates. The 2023 edition will kick off today (7th) so let's be on the look out.
Likewise if you want to start saving and be consistent with it, there's the 365 Penny A Day Challenge which if done religiously, will have you end up with 667 pennies at the end of the year.
That's it and all the best! Let's keep our fire (goals) burning!

Lead image created on Canva. 07012023/15:35ph
Posted Using LeoFinance Beta