#MyHiveGoals - March goal and weekly progress.

This post is published via LeoFinance.
Hello and welcome to all the readers.
A decent progress since the last post.
A new start of the month. My focus this month is solely to reach Dolphin status. This will be my main goal for this month.
This week was #hivepud day, i powered-up 28.365 Hive.
CTP staking contest ended today. I won 0.26 @ctpsb and a silver NFT.
As the rates become more lucrutive, i will convert HBD (not in my savings account) to liquid Hive and transfer it to Hive savings account. I will only withdraw from the Hive savings account 5 days before the #hivepud event on 1st of April.
Hive Token:
I need approx 360 more Hive to reach Dolphinhood, i.e., 12 hive per day for next 30 more days. |Token|Goal|Today (03/03)|% Achieved| |-|-|-|-|-| |Hive Power|5580|5222.040|93.585%|
Reach 150 liquid LEO on or before 15th March |Goal to Reach|last Week (24/02)|Today (03/03)| |-|-|-| |150|36.118 (24.08%)|64.56 (43.04%)| |||||| I have kept this goal and will try to reach it.
2023 Yearly Goals:
|Token|2023 Goal|last Week (24/02)|Today (03/03)|% Achieved| |-|-|-|-|-| |Hive Power|7501|5142.269|5222.040|69.62%| |HBD Savings|1001|520.00|520.00|51.95%| |CTP Power|100001|71536.309|73833.215|73.83%| |LEO Power|3501|1633.271|1661.713|47.46%| |Alive Power|30001|17618.9367|17621.6367|58.74%| |Sports Power|2000001|1075394.444|1084181.891|54.21%| |Actifit|50001|44311.790|45449.849|90.897%| |BRO|51|17.68640701|17.8066111|34.91%| |Awesome|21|4.4011784|4.40807408|20.99%| |Legion|101|19.85052241|20.72529807|20.52%| |Index|501|327.16|327.16|65.30%| |CTP Miner|351|144|144|41.03%| |||||| Note: if required, i will adjust the goals as the year progresses.
hivestats: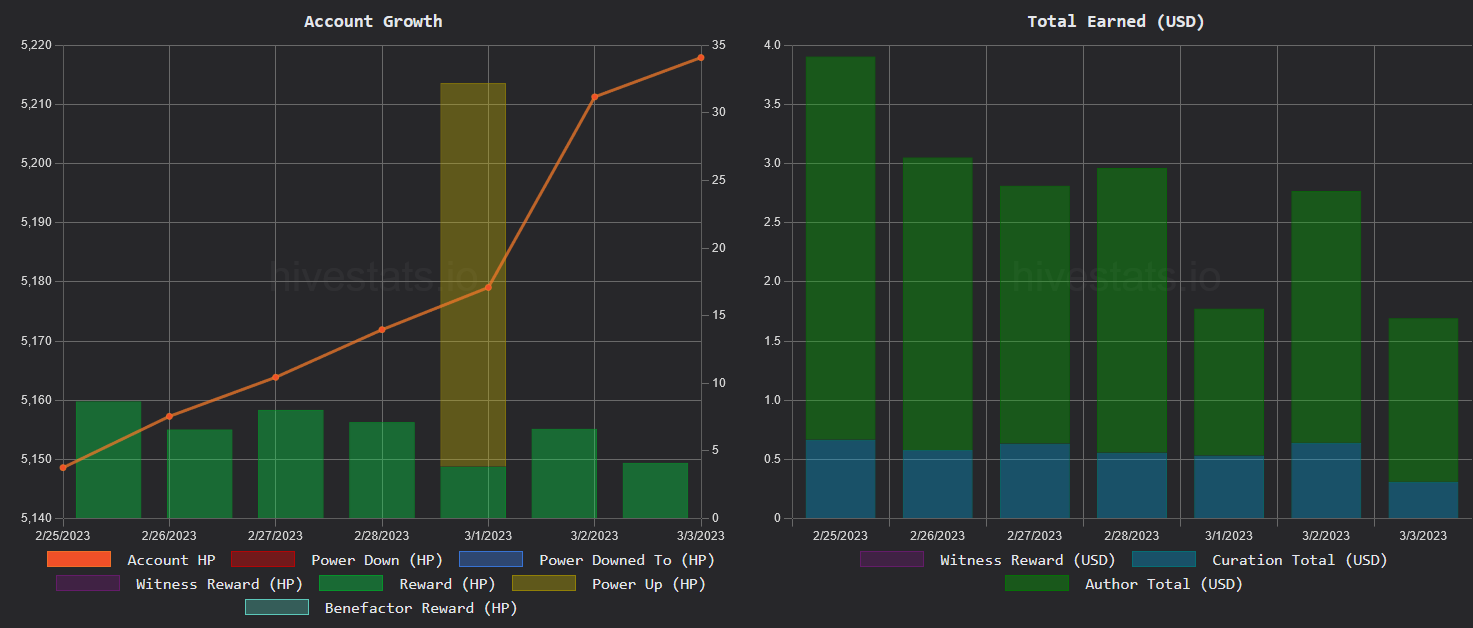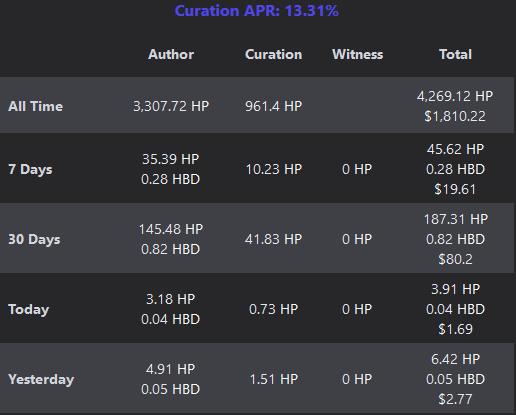 Work in Progress:
My other goals as part of the Continuous improvement process
Improving the quality of posts
look at other subjects and communities
improve engagement on other's post. Better quality comments
Earn 10$ per post.
Earn 100 CTP per post.
Games:
I will continue exploring new and existing games in 2023
RisingStarGame - currently on level 127. (
DCity - Only one hotel. Will invest in 2023.
DCrops - Got a free pack during pre-launch. Will start playing in 2023
Splinterlands - I have won few cards in the giveaways and also have a small amount of DEC & SPS tokens in the game. Not sure if i will play the game, but surely invest in the game.
Followers on Hive:
Goal 2023 - 1000 Followers Current - 398 Followers & 308 Following [zero follower(s) added since last update.]
Thank you for reading my post
Have a nice day.
Farhad Kias [imfarhad]
Failure is not the opposite of Success. It is part of Success. --- William Ritter
Previous Post:
---
if you like my content, please buy me a coffee at https://www.buymeacoffee.com/farhadkias
Posted Using LeoFinance Beta