Dictum Exchange Airdrop Starts Today on Arbitrum. Are You On The Guest List?

This post is published via LeoFinance.
5 months ago
Dec 30 2022 11:59 am
-
3 minutes read
As I already mentioned in my 2023 DeFi predictions article, everything is going to be Ve next year. It seems we are kicking it off with Dictum on Arbitrum. Here is how to check if you are eligible for the drop and what to expect.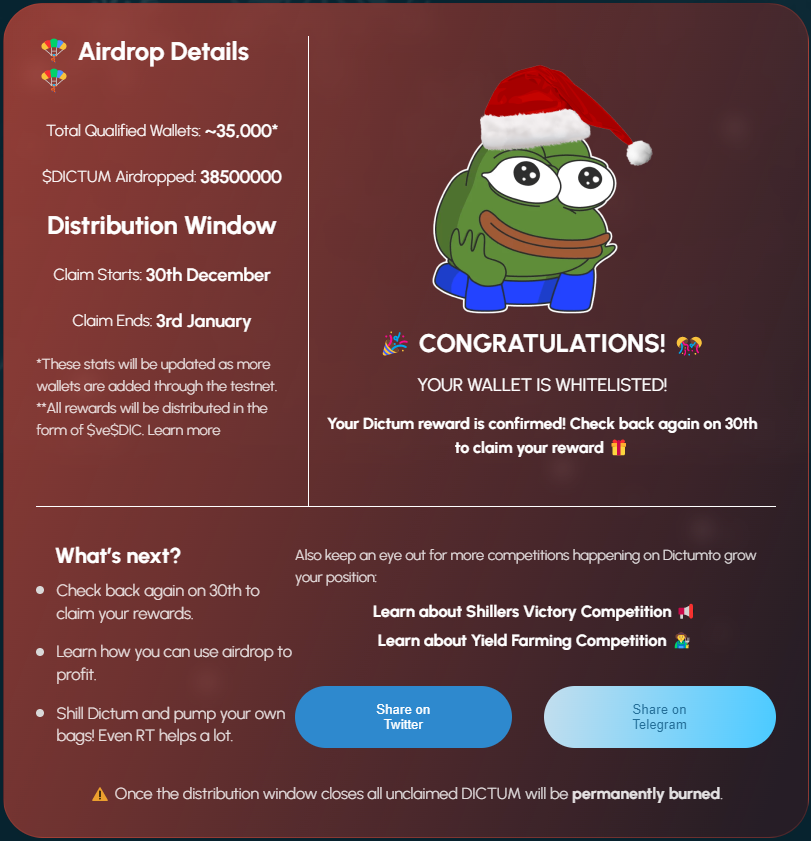 What Is Dictum?
Dictum is taking a slightly different approach to the ve(3,3) tokenomics model but it will operate as almost any other Solidly fork out there. The big differences worth mentioning are:
77% of the token airdropped to the community

Ve NFT rentals included in the roadmap. Renting your tokens to protocols will finally be a thing.

100% of trading fees shared with $veDIC holders
Everything else can be found in the docs.
Eligibility
There were two requirements for this one. You either needed to be an Arbitrum user and hold more than 0.81 ETH in your wallet at the time of the snapshot, or you interacted with trending protocols on Arbitrum and have a non-zero ETH balance. To check if you qualified go to the Airdrop page and connect your wallet. If you are eligible you will see a message like the one above.
What to expect?
At first, this airdrop didn't seem like much but names started dropping and I got interested. Radiant Capital and Lido Finance are already confirmed to be launch partners. This means that they will bribe certain pools to get things started.
When you claim your airdrop you will not be getting $DIC tokens but a veDIC NFT that represents your locked tokens. In other terms, your tokens are locked for a year and you can only vote on pools to earn bribes but the good thing is that there is only 35K people voting during the first few epochs. Considering that most of them will miss the airdrop I am guessing the number will be cut down in half. This should lead up to a juicy APR for at least a month before the word starts spreading.
With some rough math I came to a concrete number as well. Your veDIC NFT will probably hold anywhere between 1200 and 1500 DIC tokens. According to this Twitter thread the listing price will be $0.04 with only 500k DIC tokens in the pool. What this means is that the circulating market cap will be as low as $20K and you know what that means...
Expect a lot of volatility but also make sure that you are farming your DIC tokens with your NFT as much as possible. I am more than confident that they will be a lot more expensive once the bribes start flowing in. Everyone will want a piece of the high APR but obtaining DIC will not be that easy with such a low initial liquid supply.
Farming Strategy
Obviously, you should do whatever you think is best but if you are looking for ideas here is how I will play this drop.
My plan is to hold on to the veNFT as much as possible. At least until the supply dilutes enough that it starts losing voting power to other holders and at that point, I'm sure someone will start sending offers to buy it from you (still not 100% sure they will be transferable but one can hope). If that ends up being the case I'll probably sell it 20-30% below market value.
As for the farmed DIC rewards I will be dumping those on a regular basis. Converting rewards into pools with stablecoins seems like a safer bet in these market conditions. I don't mind increasing my USDC-ETH pool size with the rewards since that will also farm DIC tokens. If things keep progressing in a positive direction I may consider slowly increasing my DIC stake and voting power. This will depend on the number of projects providing bribes and the overall success of the exchange on Arbitrum.
A Lot More To Come
If you missed this one it's really no big deal. You can get on board at the very beginning for about $60 since that is what the initial value of 1,4K tokens will be. The point here is to realize that airdrops aren't imaginary and there are a lot more coming in 2023, especially on Arbitrum. Turning $20 into a few thousand is just a matter of time with airdrops.
Follow me on my journey into the unknown and let's claim all of them together.
Posted Using LeoFinance Beta