Let's Study About the Metaverse & Share Up to 50,000 BUSD [Binance Academy Metaverse Study Week]

This post is published via LeoFinance.
How well do you know the .. Metaverse? If you have been following me, you probably have read some posts about educational courses (Free or paid) that are about NFTs & the Metaverse.
---
Check out here a few different courses that you can attend if you wish to acquire an NFT certificate! (paid or free classes
---
Today I will share with you a new initiative that is starting by Binance and it invites its KYC users to join, learning & reading about Metaverse and at the end sharing a substantial amount of BUSD.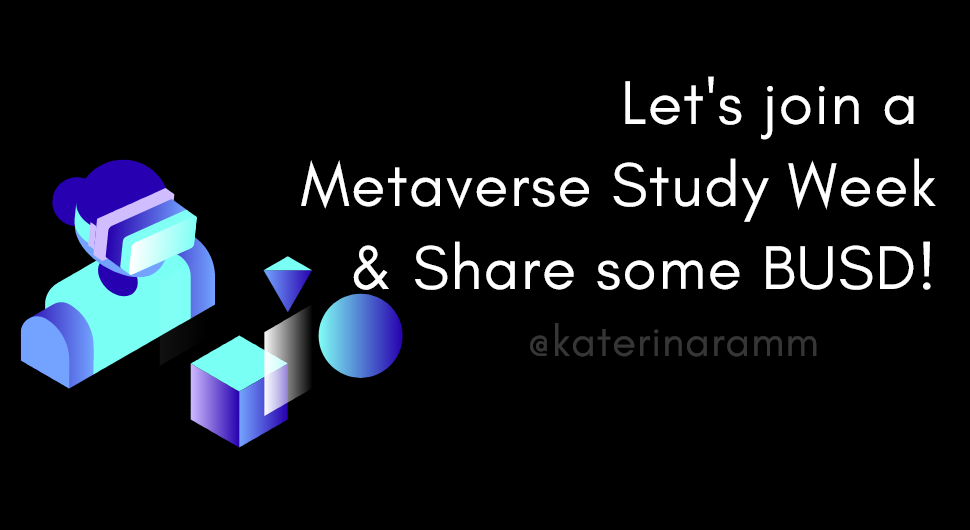 When?
Activity Period: 2023-01-12 09:00 (UTC) to 2023-01-21 09:00 (UTC)
Who?
All KYC-verified Binance users who login to their Binance accounts and complete the following tasks during the activity period will qualify for an equal share of the dynamic rewards pool unlocked.
If you are not a verified user, if you do not have a Binance Account and do not want to have one, again, thats ok! You can still read the articles and be informed in a more detailed level about what Metaverse is, what the potentials are and how we will be using it in the near future!
But if you would consider moving on and taking on the challenges, these are the missions you should take and complete
Missions - Tasks
Tasks:
Read the <What Is the Metaverse?> article on Binance Academy
Read five Binance Academy articles on the topic "Metaverse"
Read five Binance Academy articles that are under the "Intermediate" level
Read different Binance Academy articles for at least five days during the activity period -Read a Binance Academy article that was published in December 2022 or January 2023
Complete the Web3 & Metaverse course in Academy Courses
More information: https://www.binance.com/en/support/announcement/join-the-binance-academy-metaverse-study-week-and-share-up-to-50-000-busd-3e33bfe975e345ef8b4ebd47d916ee1a
Rewards
The rewards pool is dynamic, and the amount depends on the number of qualified users

If you decide to join let me know, and let's test our knowledge after the end of the challenge!
Thank you for visiting!
---
If you do not have a Binance account, you can consider joining with my referral: https://accounts.binance.com/en/register?ref=BVCQI4LF (we both earn 10%)
I am Katerina from Crete, bringing crypto / educational / earning opportunities and news to you on a daily basis! Thanks for following & supporting!
Posted Using LeoFinance Beta