More Education Opportunities. Learn and Earn an NFT Certificate

This post is published via LeoFinance.
We are getting closer to the holidays every day. Only 5 day to Christmas Day. And even if you are not celebrating, you will probably also enjoy a holiday during those festive days. For most of you, there will be 2 weeks of fun/relaxation/rest..? Will it?
Do you usually choose to spend some of your free time to study? To learn something new?
I am here to suggest a few new courses, that you can take either during the holidays or after them!
Let's discover them!
Free course by Binance Academy (with NFT certificate)

This course is offered free for all Binance users
Blockchain For Everyone Learn the basics of blockchain & crypto Watch videos & answer quiz questions 6 courses and 29 modules in total Receive NFT certificate upon completing all 6 courses
Link to the course: https://academy.binance.com/en/courses If you do not have a Binance account, you can consider joining with my referral: https://accounts.binance.com/en/register?ref=BVCQI4LF (we both earn 10%)
Microlearning .. in the Metaverse?
This is something that to me sounds very new and super exciting. I may even try it :) (I will let you know next year)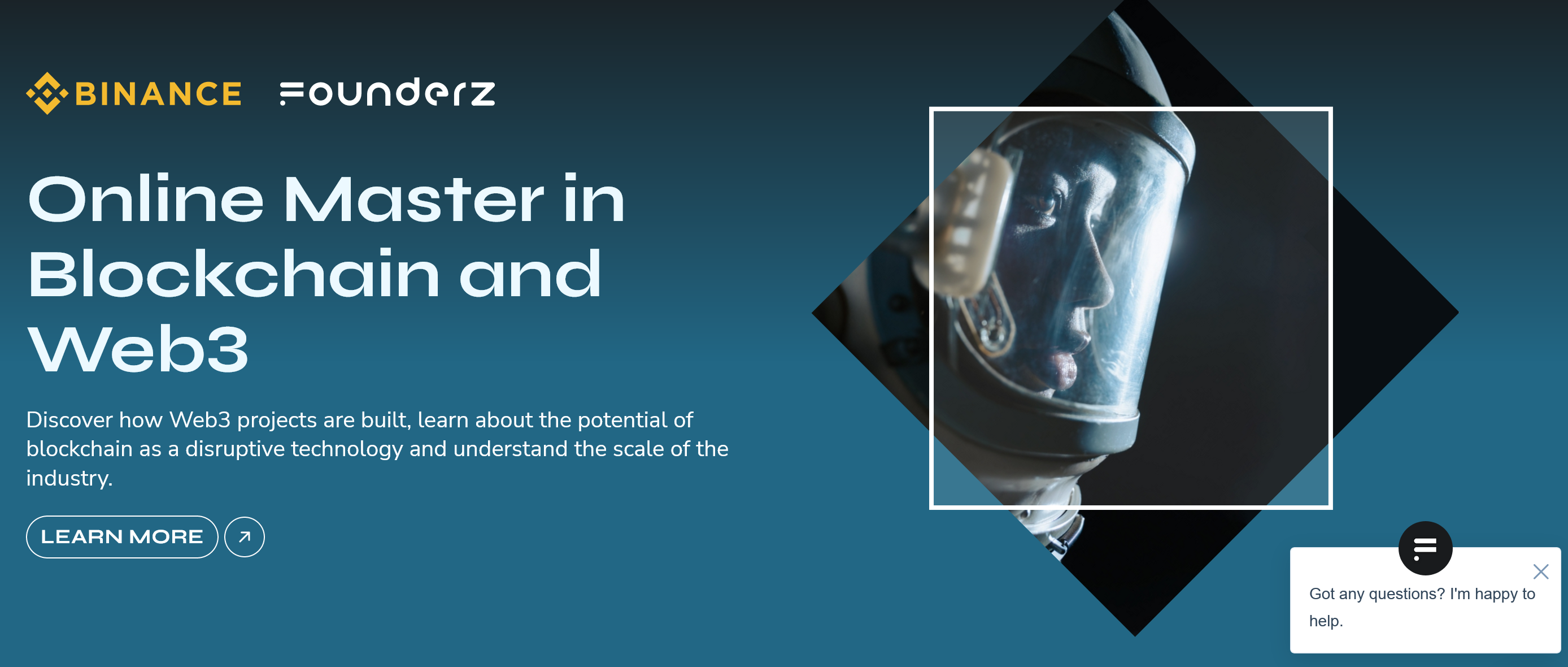 Binance partners with Founders and offers a brand new course about Blockchain & Web3.
Unlock your potential Learn new skills with step-by-step microlessons to achieve knowledge you can be proud of. We've pre-taken lecture notes so you can focus on the instructor, not your notepad.
Flexible 3-month curriculum We break down our program into short lessons and assignments that can be completed over 2-3 months or at your own pace.
Be part of an Inspiring community Share your learnings on our Metaverse Campus, submit your projects, get meaningful feedback and all your questions answered.
Learn by doing Along with watching the video lessons, we'll ask you to complete some related assignments and share them on the online campus together with other students.
Become a Certified Blockchain Expert Once you have completed the program you will receive your certification by Binance and Founderz which can be exported directly to your Linkedin profile.
There is a 50% discount if you enroll until the end of the year!

https://founderz.com/program/online-master-blockchain-web3
NFTs & The Metaverse
The NFT course offered by the University of Nicosia was the first one that took place in the Metaverse. It is now already in week 11 and it will be extended also in January 2023 due to the many extra sessions with guest lecturers/NFT - Metaverse related speakers.
The students can have access to all live sessions at https://www.unic.ac.cy/openmetaverse/mooc-nfts-metaverse/meta-511-fall-2022-live-sessions/ and the course material at: https://github.com/UniversityOfNicosia/META511MC-Course-Materials
The exams will take place probably until the end of January 2023 and the professor announced on Twitter that the next iteration of this course will be most probably in spring 2023.
The course is free to attend, however if you wish to be awarded with a certificate, you should both pass the exams & pay a small fee in ETH.
The University is awaiting accreditation for its new Master Course in Metaverse Systems that is expected to launch coming spring.
I have created here a useful guide with all the information, including other FREE Moocs offered by the University of Nicosia
Free 10-article courses by Decrypt
If you find it hard to commit, you can always visit Decrypt, check out their (4 at the moment) courses, read the provided articles and at the end, answer a quiz and earn an NFT certificate!


---
I hope that this will be enough to fill some of your days!
The above courses have it all, blockchain, web 3, the metaverse, bitcoin, NFTs ... all you need now is your decision and your commitment for learning and developing your skills.
I know one thing for sure, NFT certificates will be playing a significant role into our resume and will be setting some participants apart from the others.
Do you have any questions? Do you plan to attend any course? Let me know below & Let's connect!
---
Twitter - Instagram - Hive/Peakd - LeoFinance - Publish0x - ReadCash - Noise.app-Torum - Appics - Blurt - Steem - Medium - cashrain
---
Posted Using LeoFinance Beta