Social Media Statistics & Earnings for January 2023

This post is published via LeoFinance.
Happy 1st Day of February! How are you? For me, this is the day when I share my statistics & earnings for the previous month. This month, I will also include Medium and you will understand why.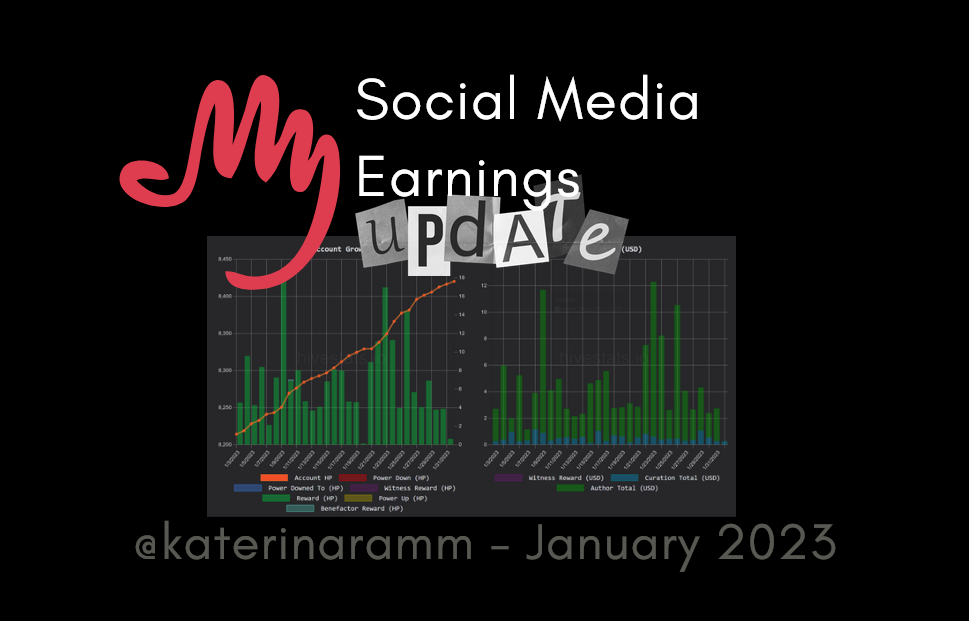 In this report I am including information about Hive - Leo - Medium - Publish0x earnings.
Hive
I have had a few posts with bigger earnings in January, and this brought a slight increase to my monthly earnings which were at approximately 100$ per month.
---
I used https://hivestats.io for many of my reports. I am happy to continue the almost 8.5% APR. The 30 days rewards are at approximately 123$ as author rewards and 16.39 $ as curation rewards. Hopefully these amounts will increase as my voting power (hive & leo power) will increase in the coming months. I have not powered down for a very long time. I only move some liquid funds between wallets in an effort of having a diversified portfolio.

I am keeping HBD in my savings for the 20% APR which provides me more than 10 extra HBD (this month 14) without doing absolutely anything.
As for the LEO, I aim to reach the 15K Leo Power in 2023 - and I have not set a specific goal for my hive - (yet) - because I want to see how things are going these days - in parallel with my time for studying/working and blogging.
Medium
This has been a great experience so far and I plan to continue using it. I am a member in this platform since December (when I earned 0.70$) and in January my earnings went a bit over 20$. If you compare other users' views and earnings, mine is nothing at all - however it is only the first month of me in this platform and I think it is a great opportunity for extra visibility. I also plan to post there all my other digital 'homes' such as hive/leofinance and publish0x :)
Publish0x
In total, the amount earned both in crypto & in $ was 165,19$
These are the 3 platforms where I spend more of my time, and the spots where you can find my blogs.
How about you? Did you achieve your goals?
What are your future plans? February is a month with less days!
This month we will only have 28 days to achieve what we have planned :)
Are they enough?
How were your earnings in January? Feel free to post them below and share your feedback with me!
Thank you for coming by my post and for always supporting me!
Happy New Month!
---
Posted Using LeoFinance Beta