2022 - The Second Great Stablecoin War

This post is published via LeoFinance.
7 months ago
Oct 25 2022 12:18 am
-
3 minutes read
Photo Source
In 2021, the stablecoin market saw a growth of close to 400%, growing from $29 billion dollars in January to over $140 billion by the end of December. Many analysts, including Peter Johnson of Jump Capital, believe that this number will rise to over $500 billion by the end of 2022. This growth is due to the rise of the use of stablecoins in DeFi applications, as people continue to denominate their wealth in dollars, and are looking to gain higher yield than they would find in a traditional bank account. As a result of this growth, and competition for users within the DeFi space, a war has broken out between the many stablecoin options. The "armies" formed around each stablecoin have come out in full force to make sure their stablecoin gains market share and adoption over others. The objective of each army is simple: increase the demand for their stablecoin. (emphasis in original)
[Westie. The Stablecoin Wars Are Upon Us. (Accessed October 24, 2022)].
"FTX CEO Sam Bankman-Fried (SBF) said the rise of Binance stablecoin Binance USD (BUSD) could spark the 'Second Great Stablecoin War,' given how fast its market cap has surged over recent months. Bankman-Fried's recent comments come a month after Binance pushed ahead with plans to auto-convert a host of stablecoins supported on its exchange into BUSD on Sept. 6, — which has seen BUSD's share of the total stablecoin market rise since [Lindrea, B. A stablecoin's rise in market share has ignited the 'Second Great Stablecoin War'. (Accessed October 24, 2022)].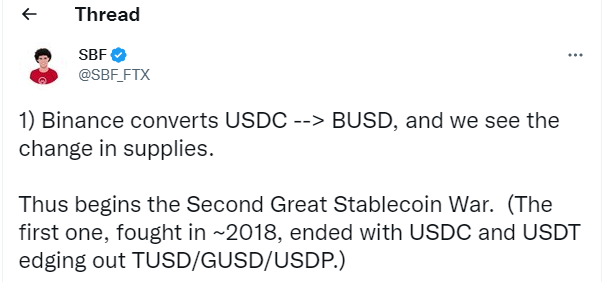 Photo Source
"Since Binance announced it would auto-convert USDC, USDP and TUSD into BUSD on Sept. 6, BUSD's share of the total stablecoin market has quickly increased from 10.01% to 15.48%. Meanwhile, BUSD's market cap has also risen 3.3% over the last 30 days. Now the stablecoin has accumulated $21.7 billion in market value, lagging behind only Tether USD (USDT) at $68.4 billion and USD Coin (USDC) at $43.9 billion. Today, USDT still holds a considerable lead with a 48% share of the stablecoin market, though in 2020 it was an undisputable leader with 88%. It happened at the expense of USDC which has grown in market share from 10% to 32% since 2020. However, Binance's stablecoin rise is even more spectacular, growing more than 30x from 0.5% to 15.48% in the same time frame (emphasis added) [Payspace Magazine. 'Second Great Stablecoin War': causes and consequences. (Accessed October 24, 2022)].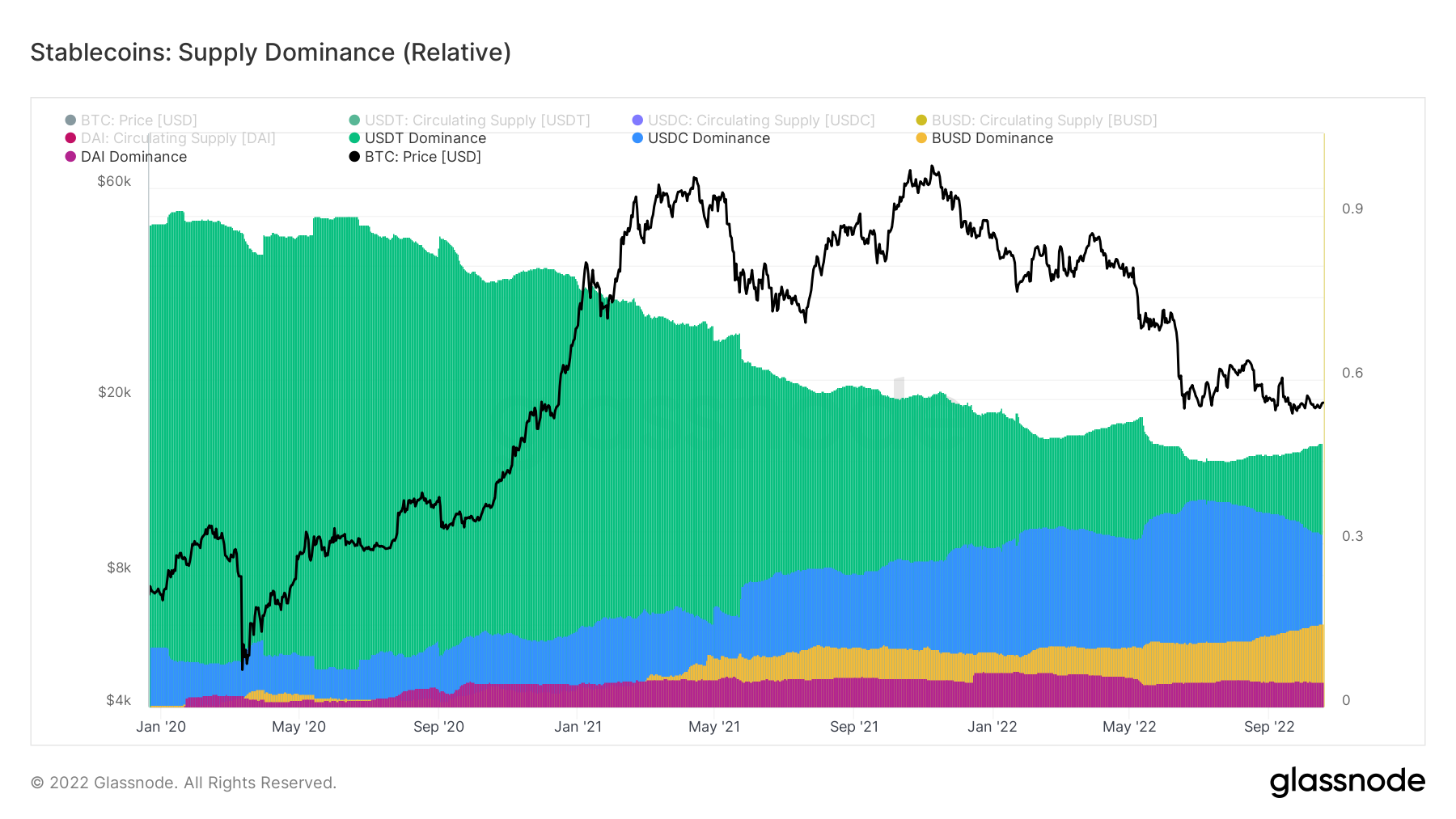 Photo Source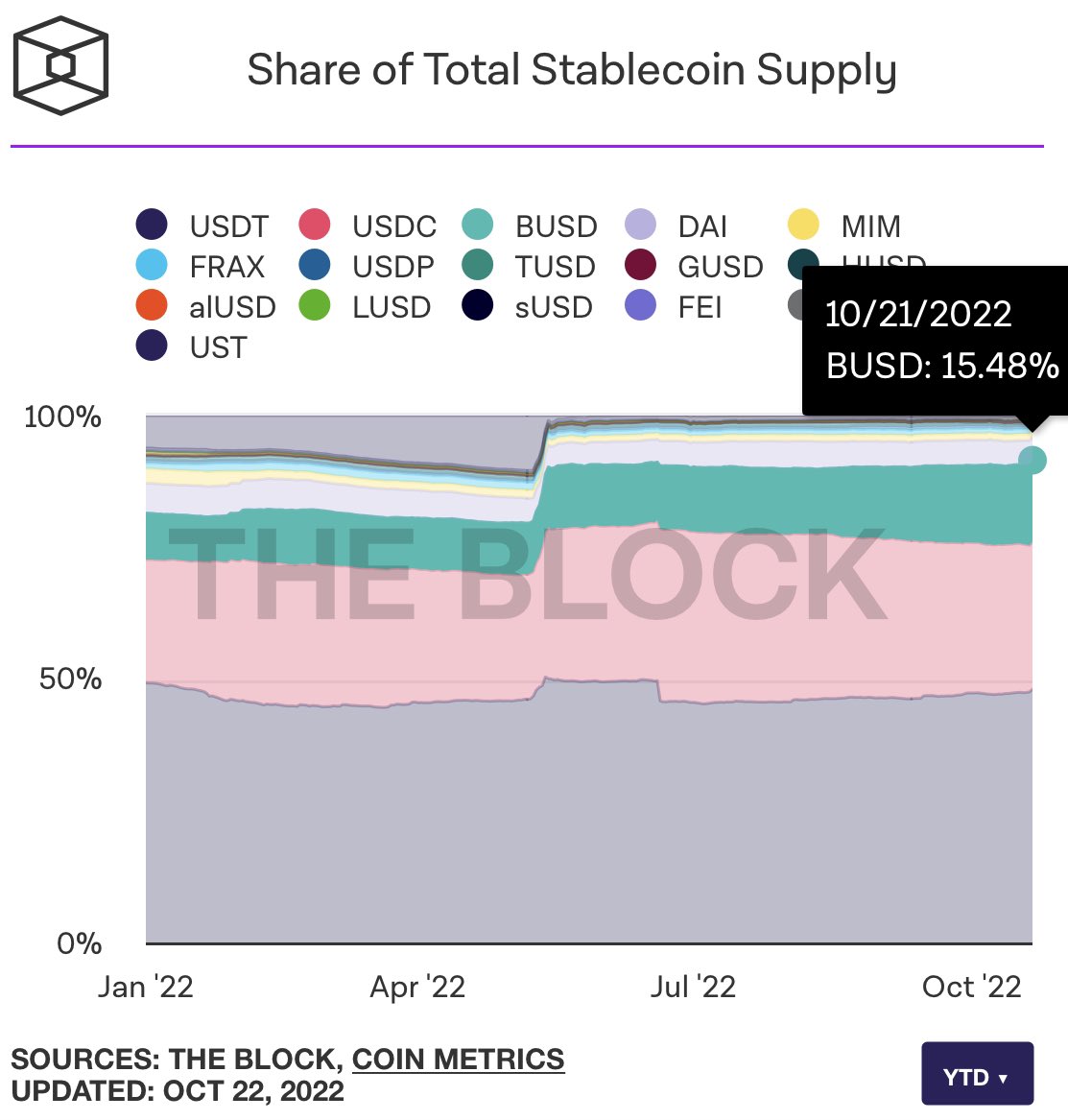 Photo Source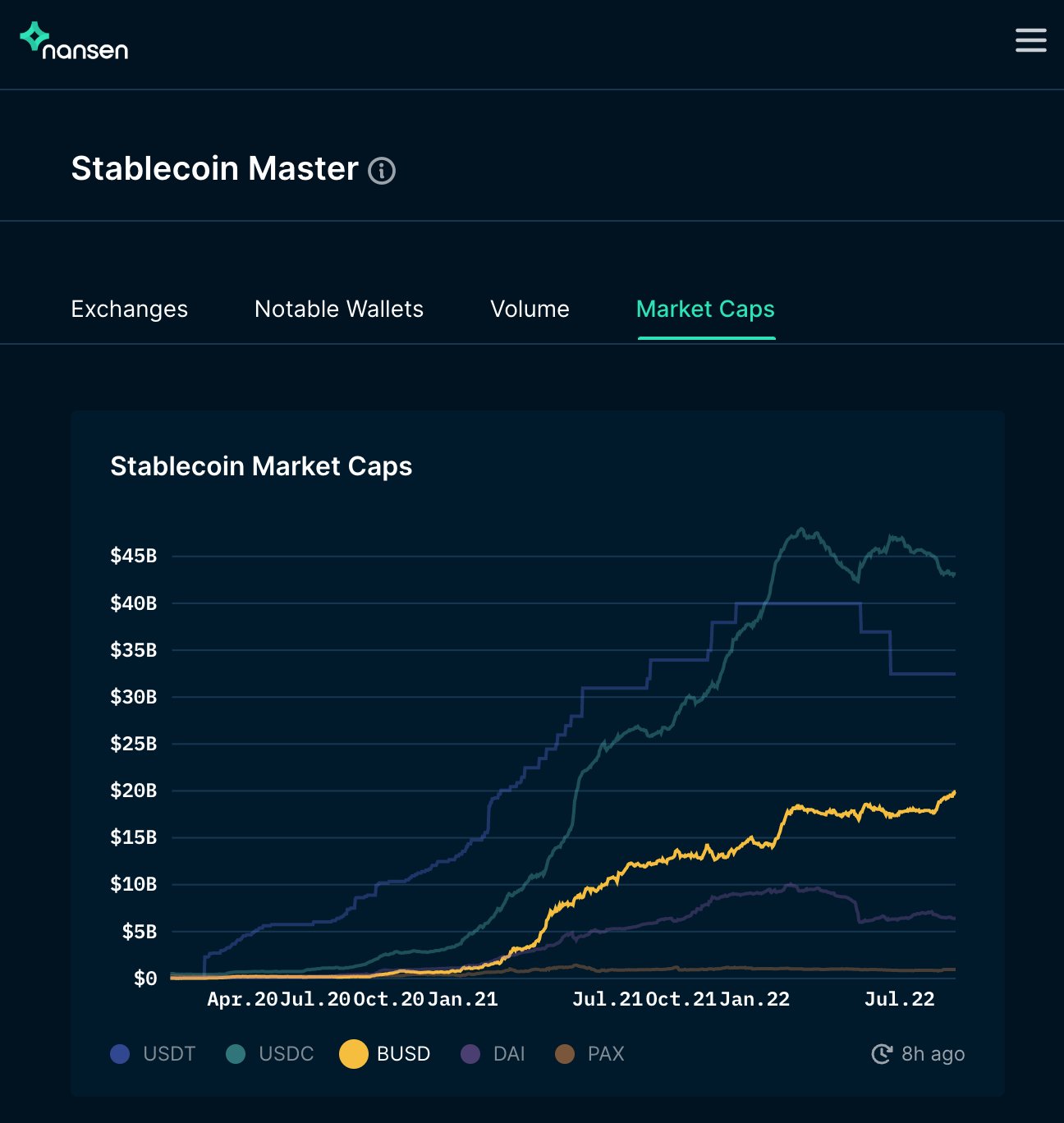 Photo Source
"Stablecoins make up three of the top ten crypto assets by market cap, with a combined valuation of $134 billion, not far behind Ethereum" [CoinCu News. BUSD Rises As Stablecoin Wars Heat Up. (Accessed October 24, 2022)].
"SBF went on to say that this time, there are positive interest rates, which implies stablecoins will generate more income. After Luna and after DAI holding USDC, he stated, 'It'll be intriguing to watch what emerges from the non-fiat-backed-stablecoin area,' before adding, 'It will be something interest-bearing or something with some upside" [Id].
In September, Binance announced it would cease a long list of spot trading asset pairs for USDC, USDP Stablecoin (USDP) and TrueUSD (TUSD), with any users still holding the three stablecoins by Sept. 29 to have their holdings auto-converted to BUSD at a 1:1 ratio. Binance stated that the move was a decision to enhance liquidity and capital efficiency for users. At the time, Binance said there were [no] immediate plans to do the same to USDT, but noted that this 'may change.' (correction added)
[Lindrea, supra; see also, Binance. Binance to Auto-Convert USDC, USDP, TUSD to BUSD (Binance USD). (Accessed October 24, 2022); and see Nagoda, K. No Plan to Auto-Convert Tether...Yet, says Binance. (Accessed October 24, 2022)
"Stablecoin regulations are still a long way off in the United States. Congress appears to be in no rush to address the issues despite the Biden administration pushing for a little more urgency. Last week, Congressman Jim Himes said, 'It's probably not happening in early 2023,' with reference to the long-awaited crypto regulations" [CoinCu News. supra].
Posted Using LeoFinance Beta