GM:FRENS | GM:Miner v0.2 NFT Release!

This post is published via LeoFinance.
8 months ago
Oct 14 2022 5:47 am
-
5 minutes read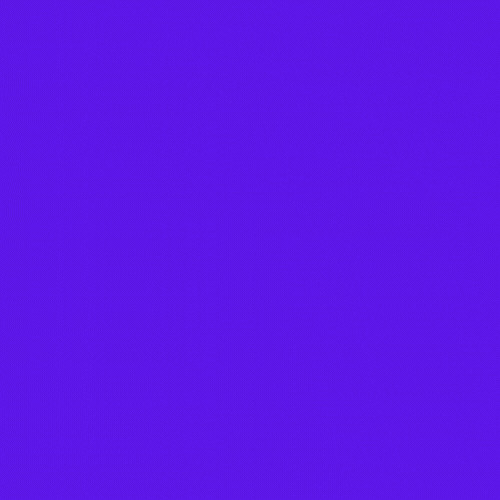 GM:FRENS
GM:FRENS is a cross-blockchain social experiment that lives on the WAX & Hive blockchains. You mine GM tokens by using the #gmfrens tag on Threads, once per day. The whole idea behind the project is to encourage users to use Threads, and interact with one another on a daily basis. Hive is a very active community, and the LeoFinance community is always popping off. My goal with this project is to get every single Hive user to use Threads at least once per day. Outside of that - it's to grow the Threads side of LeoFinance exponentially.
This project has been slowly evolving in the most community-driven way I've ever seen. This project is 100% community funded, and the funds raised from all of the NFT sales have gone straight into the GM/WAX liquidity pool on Alcor.exchange. There has really only been one NFT release up until now, and that was the GM:Miner v0.1 NFT sale... The genesis NFT sale, if you will. This was ground zero. Crazy to think this whole thing is only a month old.
We are building a lot of cool shit that will come to light very soon. The plan right now is to build a deep liquidity pool for GM so people have a reason to want to mine, farm, or buy it. Being able to farm a cryptocurrency by using a micro-blogging platform is pretty cool in and of itself, but when that token has actual value, it really changes things.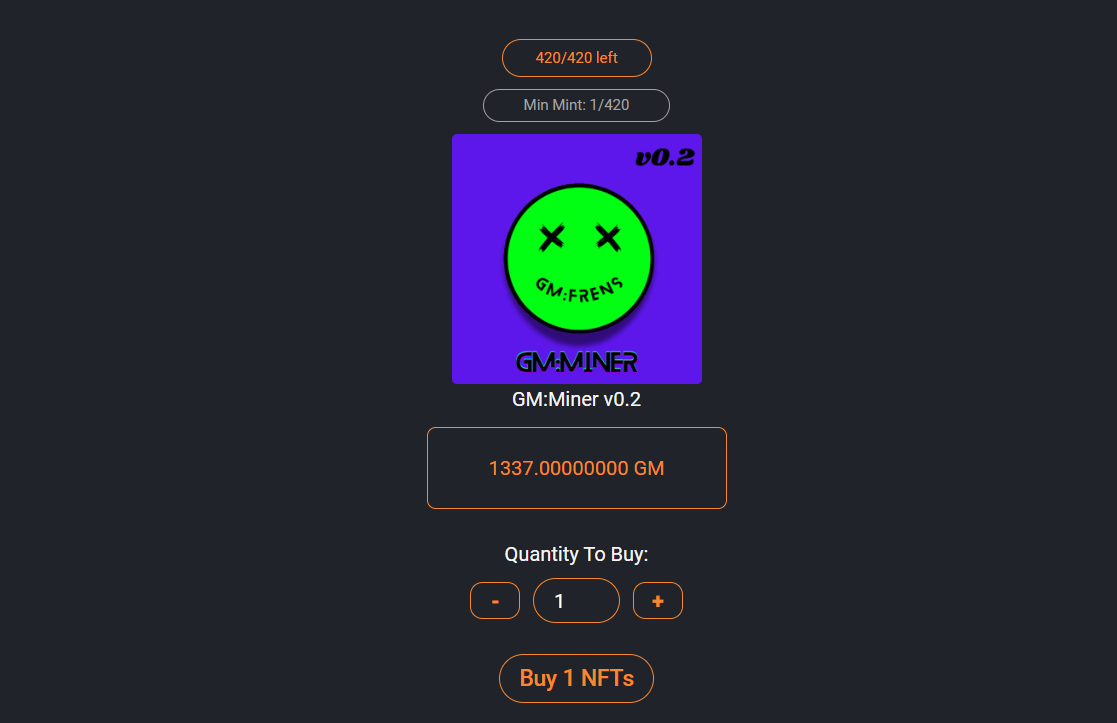 The genesis NFT sale of GM:Miner v0.1 was a great success in my opinion, because around 179 of the 420 were sold. 130 of those are staked (not sure why all?) in the GM:Miner v0.1 NFT pool and are farming GM every hour. This pool was funded with 69,696 GM that is shared amongst the stakers over the course of a few months. The only requirement is to lock 1 NFT in the pool for a minimum of 15 days, and you can harvest your mined GM every hour. These NFTs were sold in the first round for 15 WAX or 1 HBD. Thinking back based on token prices... This was a steal, but I'm not a financial advisor. The captain is a degenerate.
GM:Miner v0.2
Coming this Saturday, at 4:20 AM EST... We have the 1st edition GM:Miner v0.2 NFT that can only be purchased with GM or HBD. I would love to make it GM exclusive, but the reality is that people like having the option to spend their earnings here on Hive. At the end of the day, any HBD raised from the sale of these NFTs is going to be converted to GM and added to the liquidity pool. It's really up to you how you want to purchase the NFT, but if you really believe in the project... I encourage you to spend your GM. Don't worry, this won't be the only opportunity to use your precious GM. These bad ass new NFTs feature a QR code that links directly back to Threads! How fucking cool is that?
How to purchase a GM:Miner v0.2 NFT
Where will funds raised go?
10% of all GM raised from the sale directly on the Drop Page linked above will automatically be deposited into the GM:Miner v0.1 NFT pool! This gives back to the early NFT owners while helping the rewards stay healthy. 5% of the funds will be used to pay fees (NFT drop hosting fees - 2%) and WAX blockchain resources - see WAX CPU, NET and RAM. This maintains the fact that the GM:FRENS project is 100% funded by the LeoFinance community. It's the first & only project Built on Threads, and I imagine that will remain the case for quite a while. As Threads grows, GM:FRENS grows... I couldn't be happier with the progress.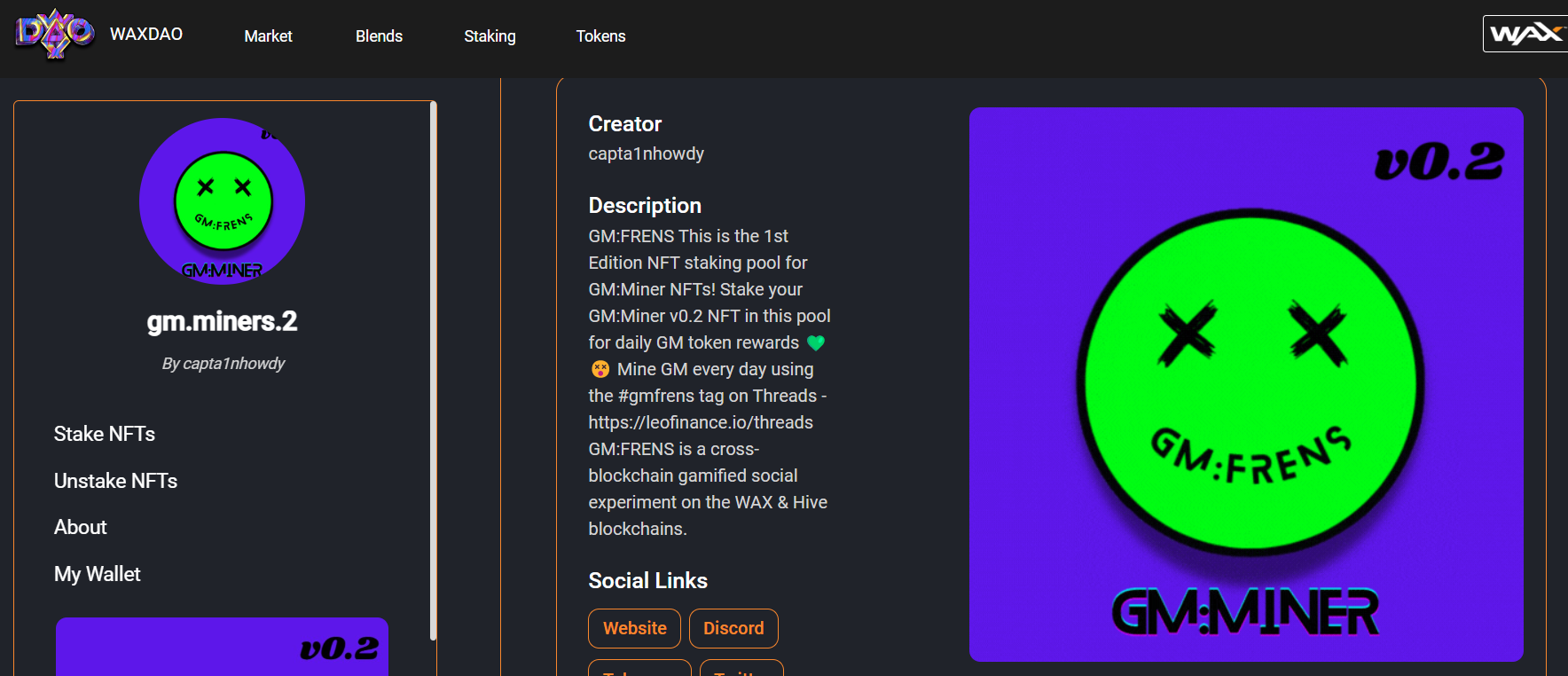 GM:Miner v0.2 NFT Staking
What does the GM:Miner v0.2 NFT do, exactly? Well, just like the v0.1 Miner NFT, it can be staked in the v0.2 NFT pool to earn GM passively. The major difference here is that you can no longer purchase these NFTs with WAX. It's either GM or HBD. The reason HBD payment is an option is that we want to continue supporting the cross-chain nature of the project for one. Second, it makes things more convenient for your average user that isn't really crypto-savvy. HBD is an incredibly under-appreciated native asset on the Hive blockchain, and it is absolutely a great stable option for crypto.
You might be thinking "why would I want to buy this NFT and continue farming GM?"... To that I say... "Who wouldn't want to have a GM all day?"
In all seriousness - you probably shouldn't spend your crypto on these NFTs if you're expecting any kind of return on your investment. I've said it time and time again - this project is not meant to be treated as any kind of investment. It's a weird experiment lead by myself, a nerdy degenerate that smokes too much and has a weird obsession with web3. I promised a super weird project, and the project is working. We hit nearly 700 Threads with the #gmfrens tag last week, and are on the right path for another week trending.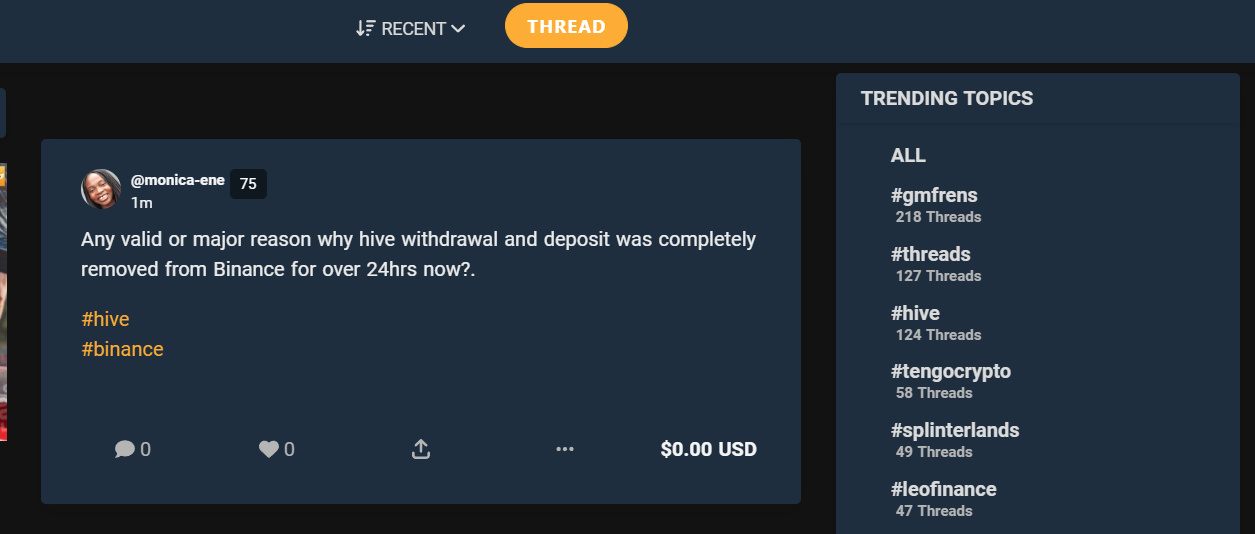 How to stake your NFT for passive GM
So once you have your shiny new GM:Miner v0.2 NFT, you need to stake it to mine GM every hour. The real kicker here is... The v0.1 pool only required you to stake your NFT for 15 days. The v0.2 pool has a minimum stake period of 90 days so you have to HODL. You're welcome. Feel free to check the original guide or follow the steps below.
Visit the GM:Miner v0.2 NFT farm page
Connect your WAX wallet
Click "Stake NFTs" on the left side of the page
Select 1 or multiple NFTs
If you select multiple NFTs, click "Stake X NFTs" and confirm the transaction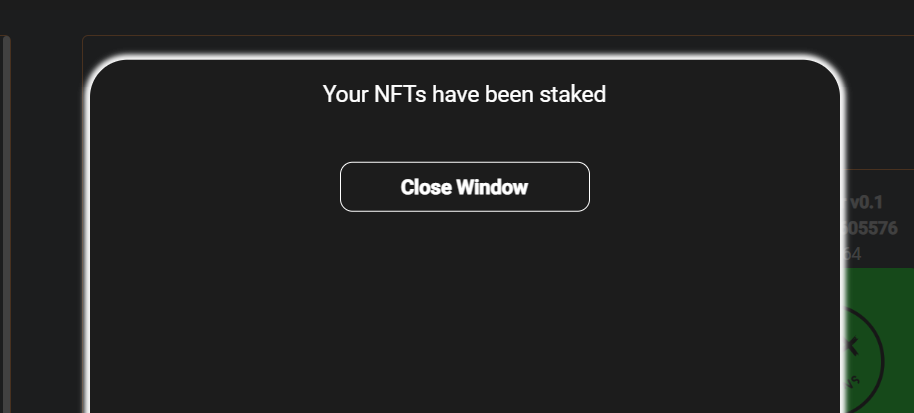 Super easy, right?! Now you're earning your share of 420,000 GM tokens until 4/20/2023. This is a huge reward pool, nearly 5x the size of the first one, and the idea is to encourage the use of GM to get these NFTs. There's going to be all kinds of ways to use your GM in the future, so it might be wise to build up your stack as quick as you can. Again - this is not financial advice, and this is an experiment. If you want to join in on the fun, and ride the wave of the first cross-blockchain social experiment built on the Hive & WAX blockchains... Grab yourself a Miner NFT & above all else - have a GM.
Wanna learn about all kinds of things you can do with the crypto you earn blogging on Hive? Check out my index - Learn Crypto Stuff for some fun educational crypto stuff.
Posted Using LeoFinance Beta