Call to Action! | Hive and LeoFinance Mentioned As One of The Top Ways to Earn Crypto!

This post is published via LeoFinance.
a year ago
Nov 28 2021 4:50 pm
-
2 minutes read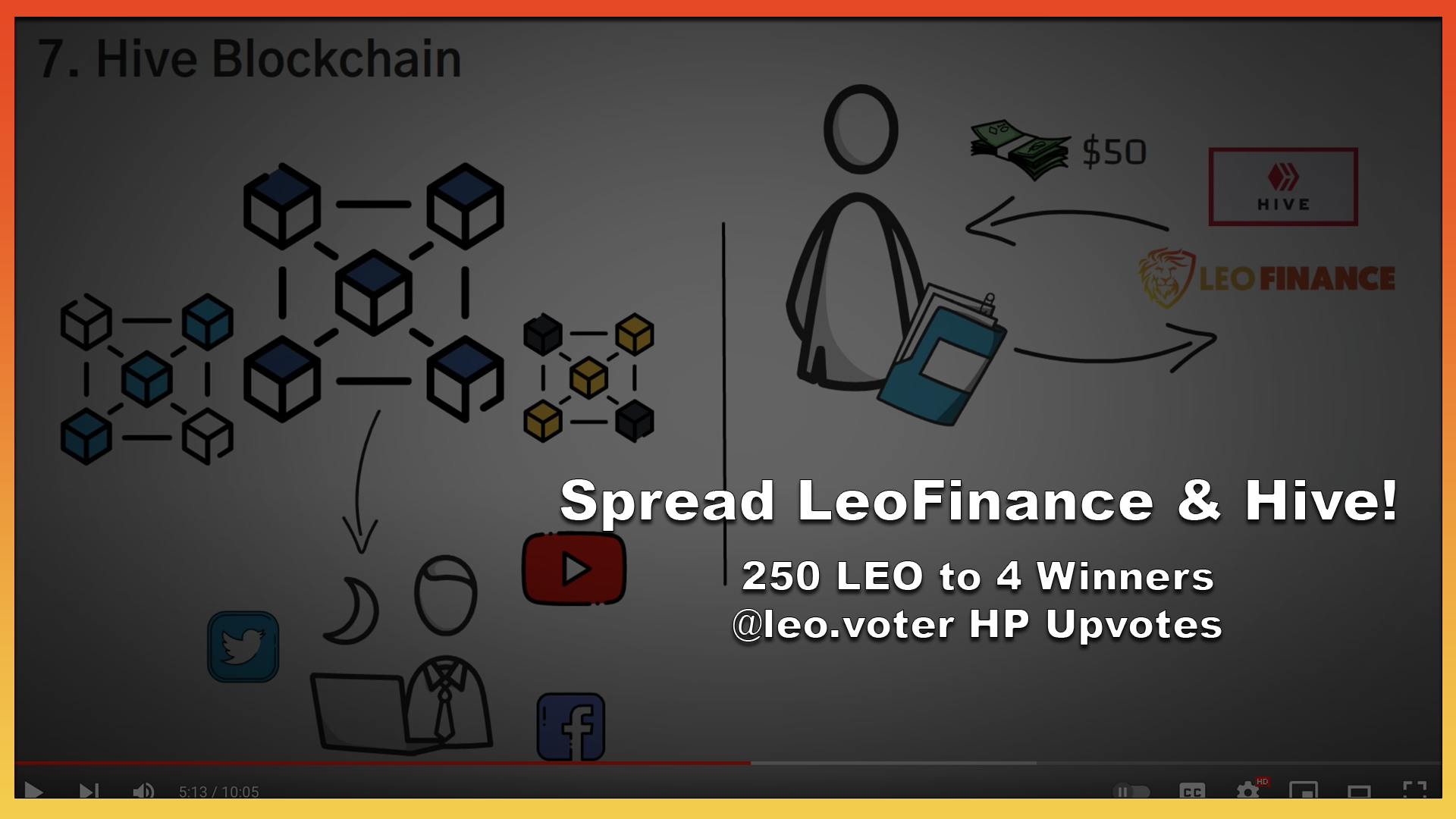 CALL TO ACTION! Hive and LeoFinance were mentioned in a Whiteboard Crypto YouTube video 2 days ago. The video has nearly 50k views and over 300k subscribers on their channel.
Although it was a very brief mention, joining the Hive community and publishing content through https://LeoFinance.io was mentioned as 1 of the top 13 ways to earn crypto.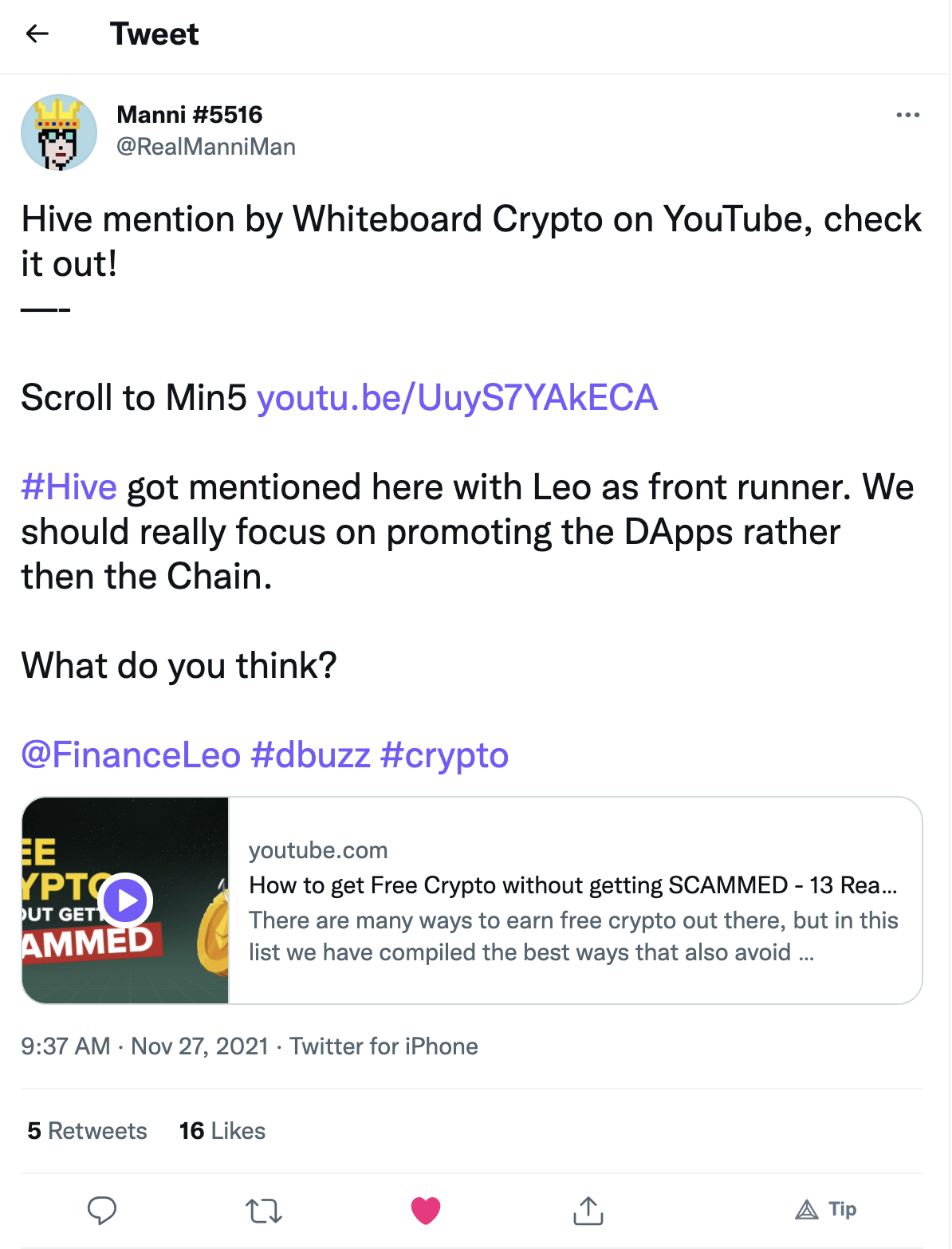 You can find the video at this link. It should be pre-loaded to the 5 minute mark, but if it isn't the mention is right at 5:00.
The mention is brief but the message is important. Getting LeoFinance and Hive talked about in circles outside of the community is one of the most important things we can facilitate. Let's amplify this feature that we got through a little call to action.
ICYMI: we started having a weekly LeoFinance Curator chat every Wednesday. During last Wednesday's chat, we talked about running more initiatives to boost engagement. This is a fun and unexpected way to kick it off!
Call to Action: Share Your LeoFinance Crypto Earning Experience
Go check out the YouTube video and then participate in this week's call to action in any of the following 3 ways:
Comment on the YouTube video and talk about your experience earning crypto on LeoFinance
Retweet the Video on Twitter and talk about your experience earning crypto on LeoFinance and tag us (@financeleo)
Write a LeoFinance post talking about your experience earning crypto on LeoFinance and share it on YouTube Comments/Twitter. Tagging both @financeleo and @whiteboardCryp1
Leave a comment below with links/screenshots to your YouTube Comments, Twitter Engagement & Leo Posts to make it easier on our Curators!
The LeoFinance Curation Team - @whatsup, @behiver and @jk6276 will be watching for all of the above and we'll be distributing:
Pick 4 winners to earn 250 LEO each
Large @leo.voter HIVE POWER upvotes on anyone who participates in #3
Winners will be chosen based on the Curator discussions about who they think brought the most value to this call to action. The goal is to spread the word about LeoFinance and Hive and talk about why it's the best place to earn crypto!

LeoFinance is a blockchain-based social media community that builds innovative applications on the Hive, BSC and ETH blockchains. Our flagship application: LeoFinance.io allows users and creators to engage and share content on the blockchain while earning cryptocurrency rewards.
|        DeFi Platform           |           Tokenized Blogging               |          Track Hive Data          | |:---------------------------------:    |:-----------------------------------:    |:-----------------------------------:    | | Cub Finance     | LeoFinance Beta     | Hivestats     | |
|
|
|
|          Native DEX              |        Wrapped LEO (ETH)           |       Hive Node         | |:-----------------------------------:    |:-------------------------------:    |:-------------------------------:    | | LeoDex     | wLEO On Uniswap | Witness Vote |

|
|
|
Posted Using LeoFinance Beta