Introducing LeoInfra V1: MetaMask Onboarding for Hive Blockchain Accounts

This post is published via LeoFinance.
3 years ago
Oct 17 2020 2:07 pm
-
8 minutes read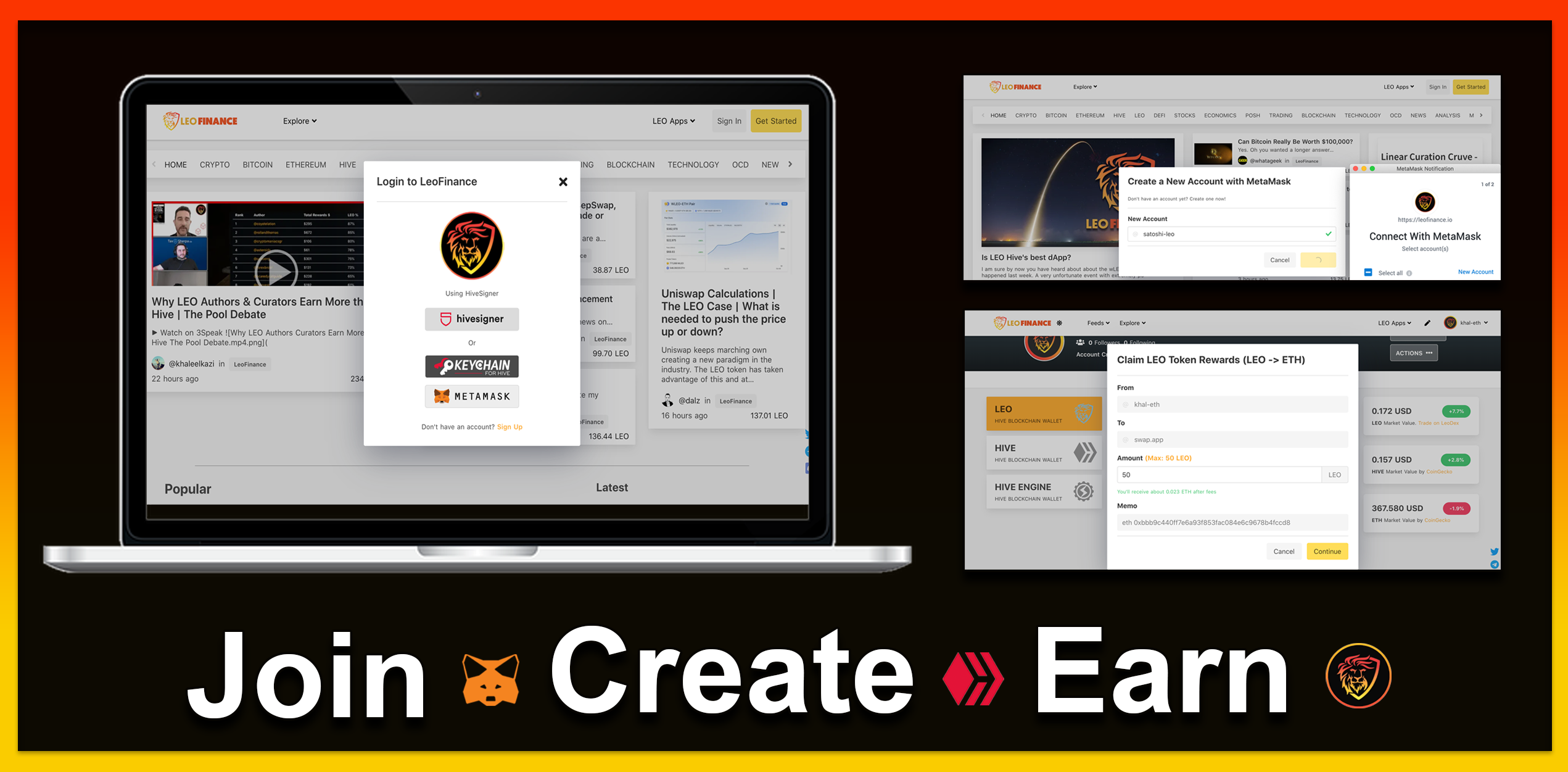 Over the past few weeks, we've been designing, implementing and testing the LeoInfra V1 integration on LeoFinance.io. In its first iteration - the one you see here - we've enabled cross-blockchain account signups for MetaMask users along with a few other cross-blockchain features and a completely revamped onboarding process.
The V2 release of our UI is being rolled out in two phases. Phase 1 (this update) focuses on onboarding, account signups and the development/integration of LeoInfra V1 which connects LeoFinance.io to the Ethereum blockchain. Phase 2 will focus on core UI features which will roll out over the next few weeks.
In today's update, we revamped the onboarding process on https://LeoFinance.io. Adding a new dialogue for users to "Get Started" and an improved dialog for existing users to "Sign In".
In This Post:
Sign Up With Metamask
Sign In With Metamask
What Can MetaMask Users Do On Hive & LeoFinance?
Wallet UI (MetaMask Users)
Wallet UI (Hive Users)
What's Happening on the Backend?
What's the Future of LeoInfra?
Onboarding Plans
Sign Up With Metamask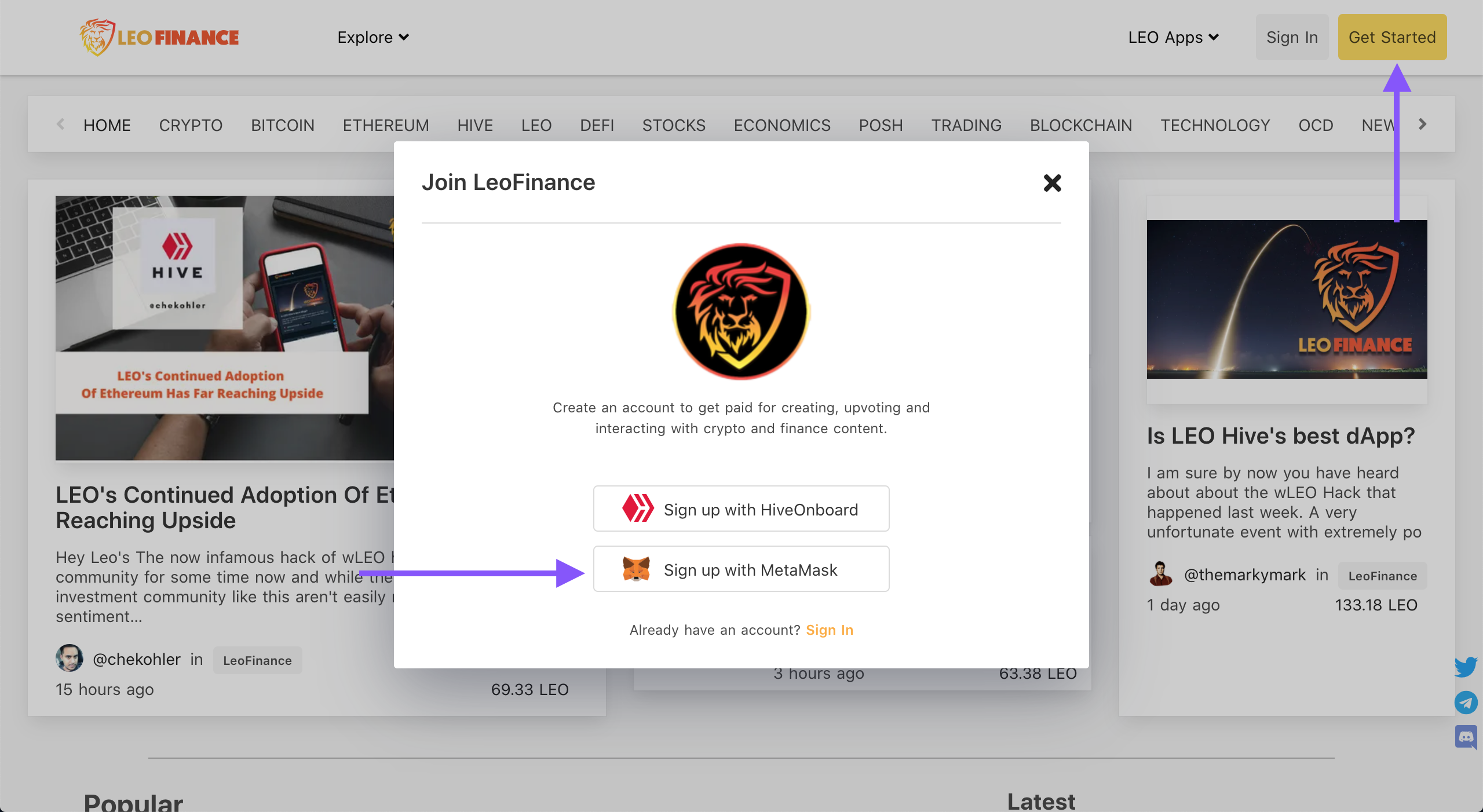 Create an account with Metamask? Yes, we've done it.
You can now sign up to LeoFinance.io directly with Metamask. This feature follows a simple process on the frontend, but a much more complex process on the backend.
If we want to onboard the masses to LeoFinance (and therefore, Hive), don't we need a super simple onboarding process that is as easy as joining something like Facebook, Twitter or Gmail?
With this latest release, users of Metamask can now experience what it's like to join a Web 3.0 social platform just as easily as the most popular Web 2.0 Apps:
Click Get Started
Enter a Username
Enjoy Web 3.0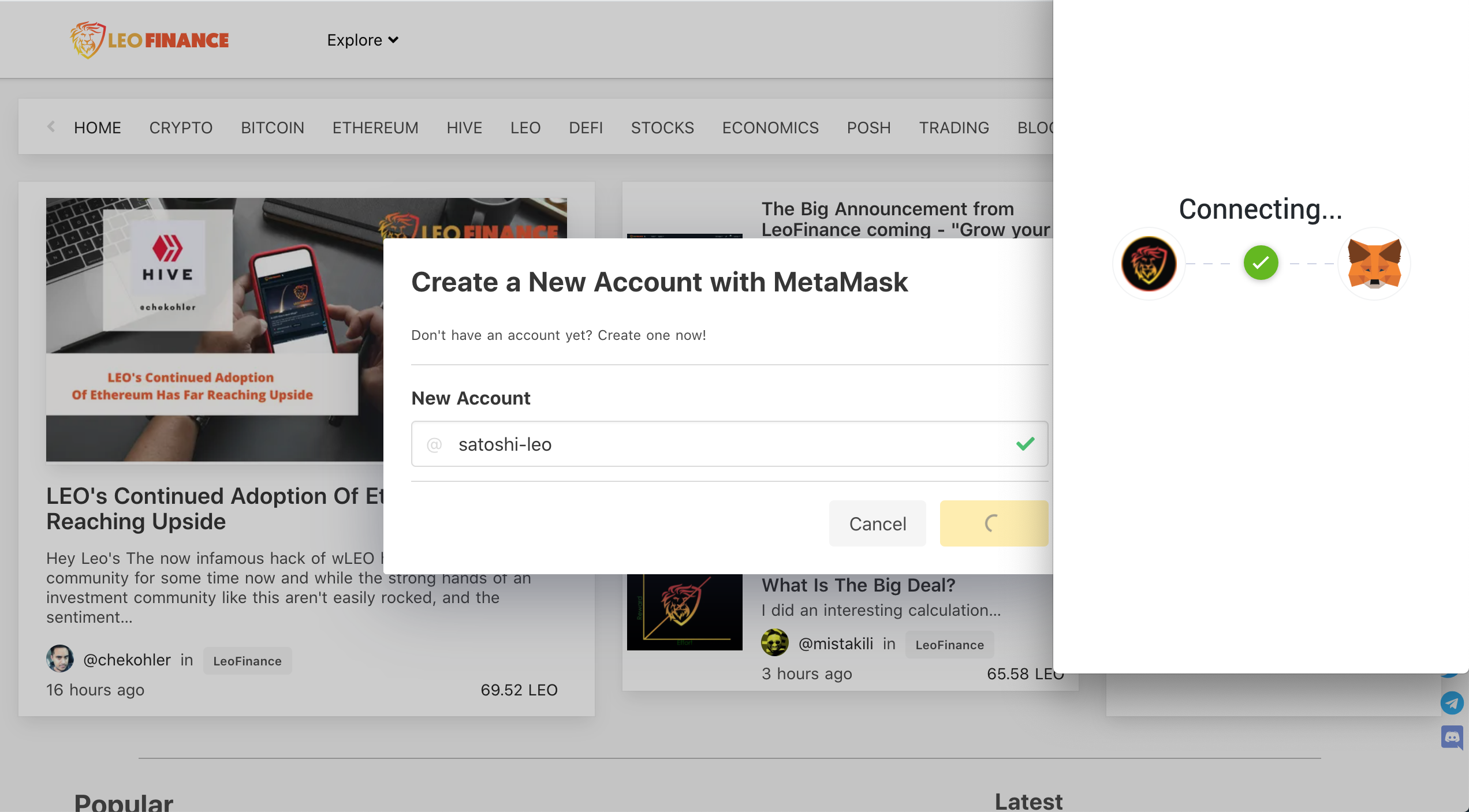 After the user clicks confirm in Metamask, LeoInfra creates a Hive account under their chosen username utilizing one of our account creation tokens. It also delegates a small amount of HP for resource credits so that the account can be used to interact on the Hive blockchain.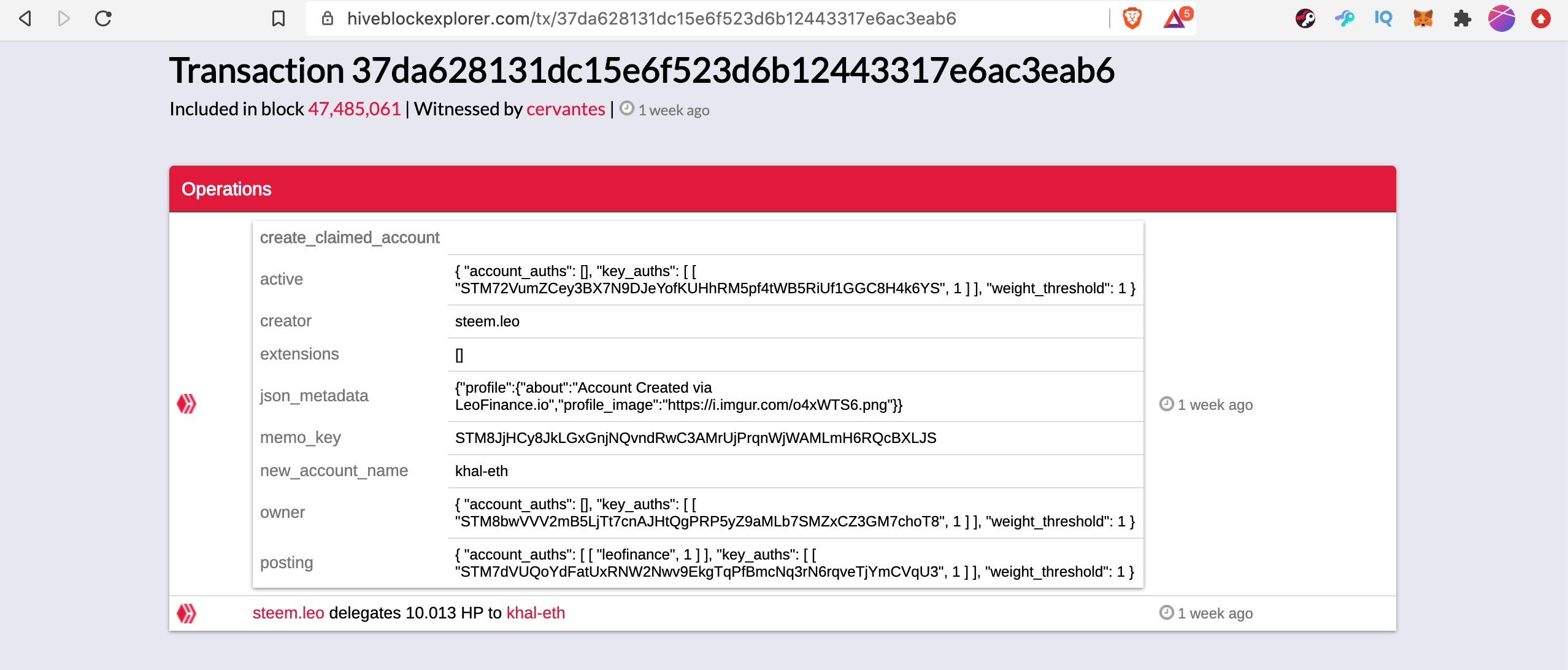 Sign In With Metamask
Once a user has created an account through LeoFinance.io using an ETH address, they can now login anytime they return to the site with MetaMask. Their address is linked to the Hive account that we created for them on the backend.
Logging in to the LeoFinance interface for these users is as easy as it is for Hive users who utilize Hive Keychain: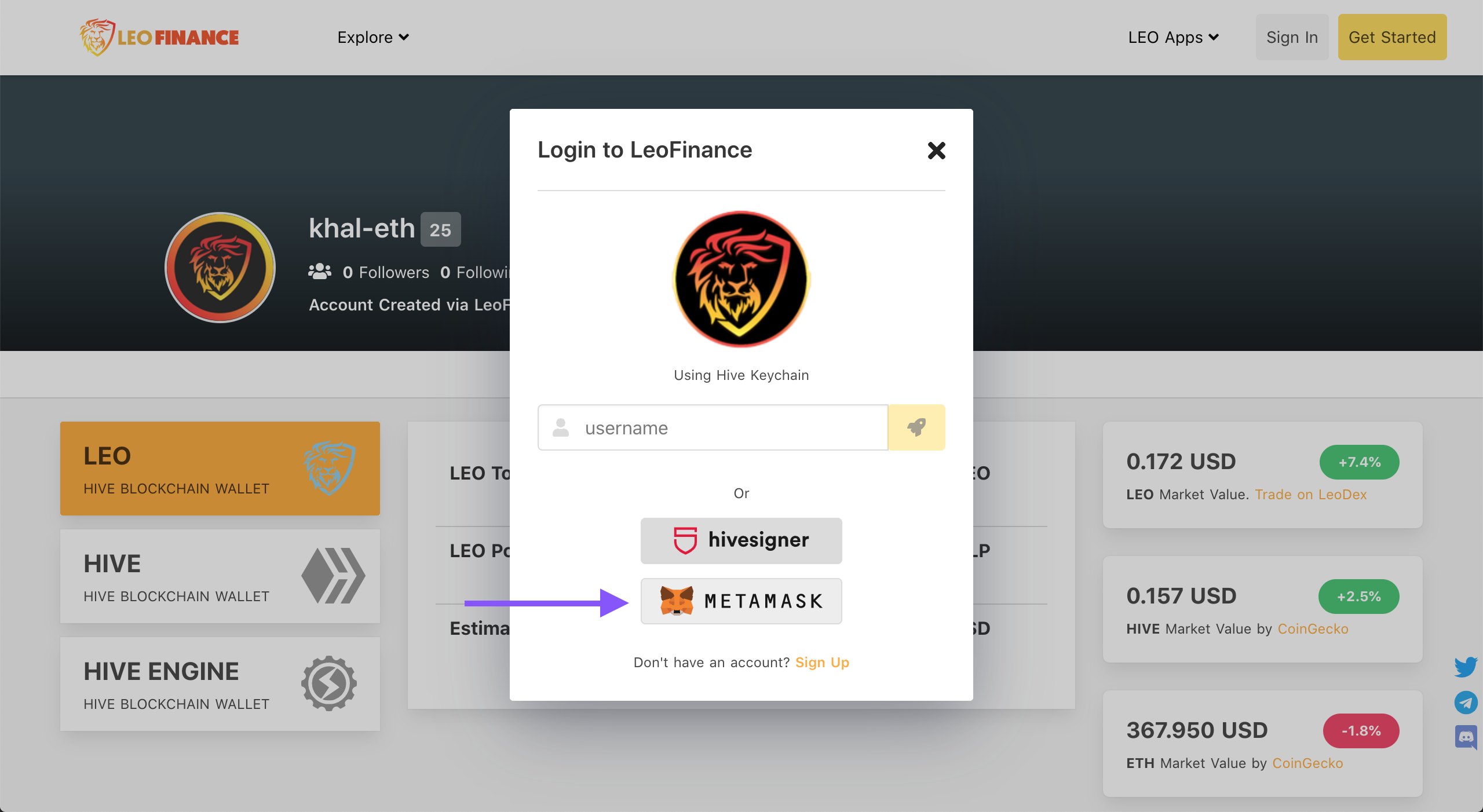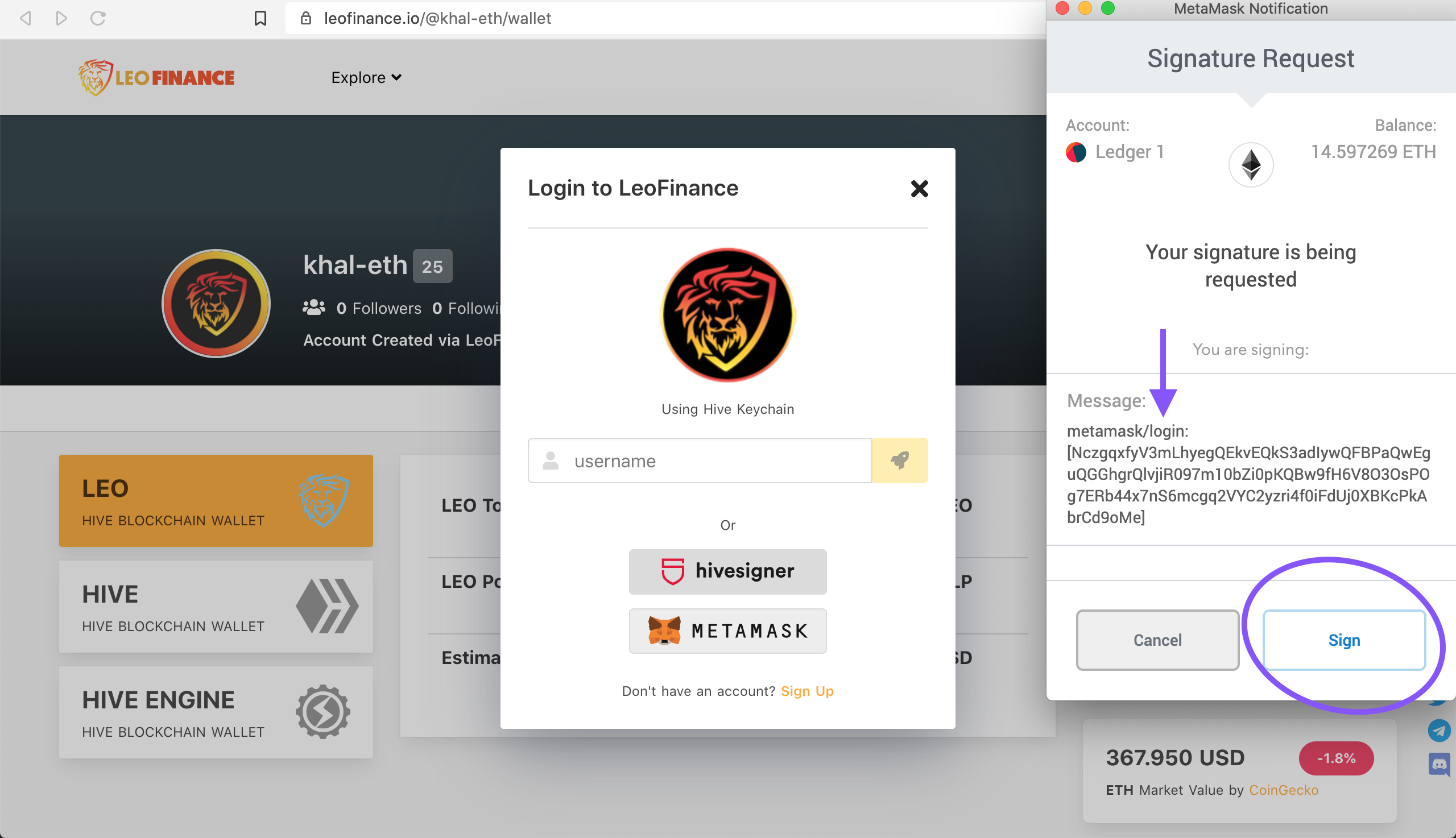 What Can MetaMask Users Do On Hive & LeoFinance?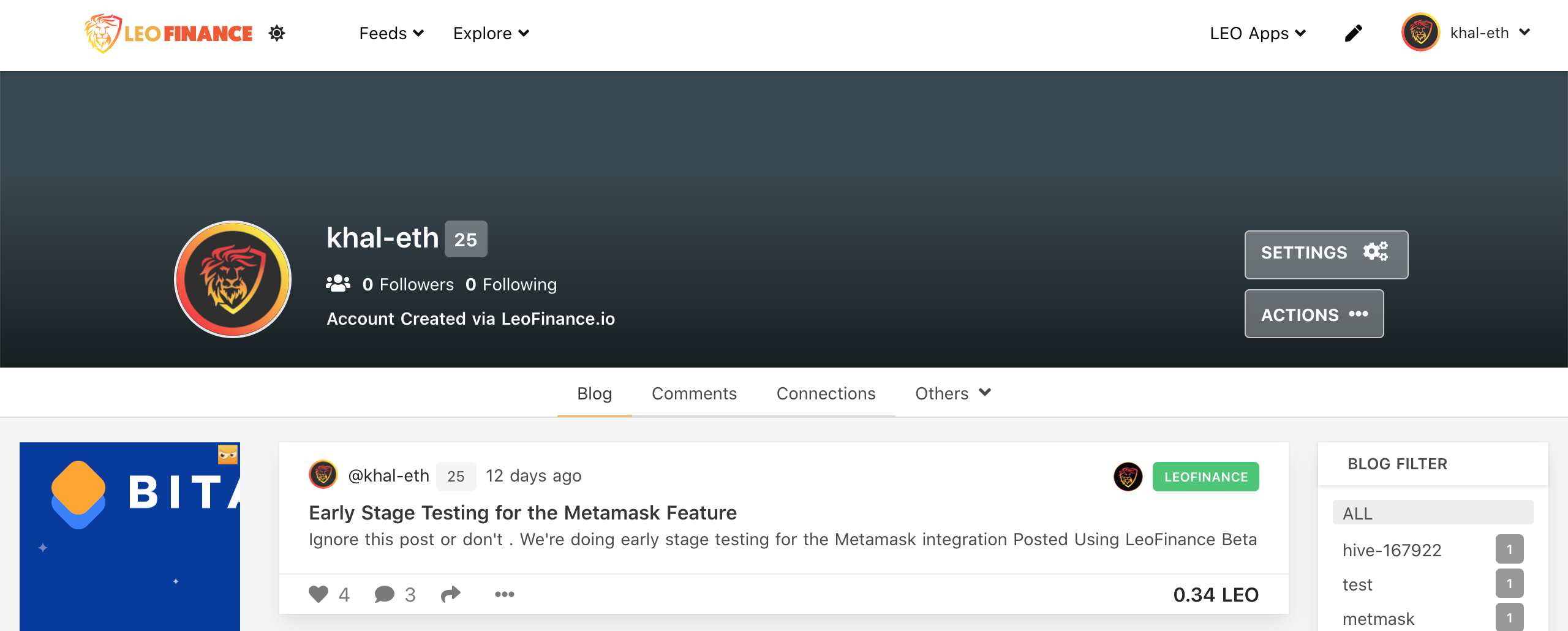 MetaMask users can do nearly everything that a standard Hive user can do:
Post
Comment
Upvote
Stake LEO / HIVE
Update Their Profile
Earn Rewards
Send LEO / HIVE / Hive Tokens
Delegate
....
Wallet UI (MetaMask Users)
The wallet UI looks a bit different for MetaMask users compared to Hive users. When the WLEO operations are reintegrated to the site (after WLEO relaunches), the wallet will look even more different than it does in the current form.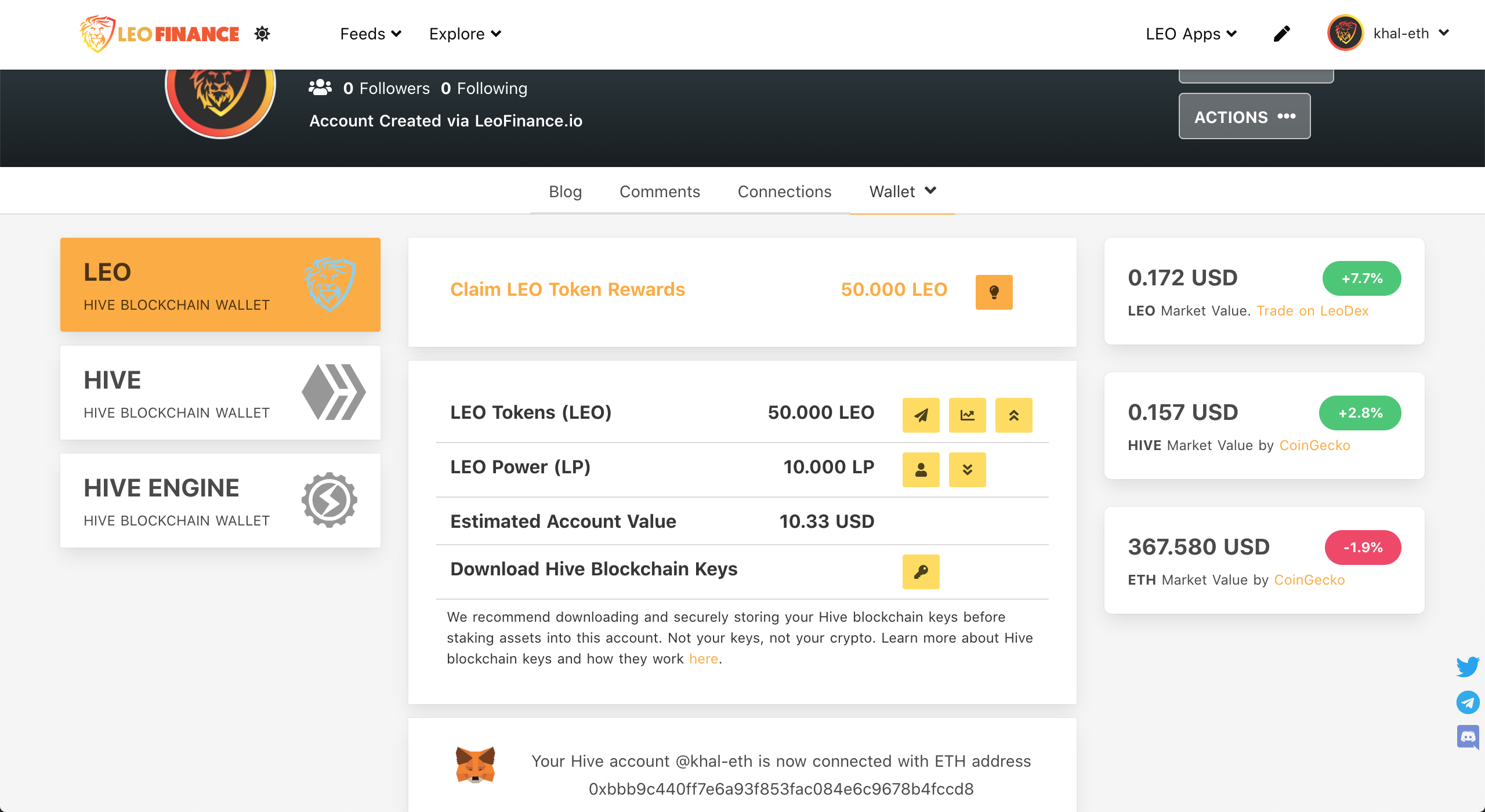 The first thing that you'll probably notice is the "Claim LEO Token Rewards" button. This allows users to claim their liquid LEO balance (on their Hive account) as ETH in their ETH address: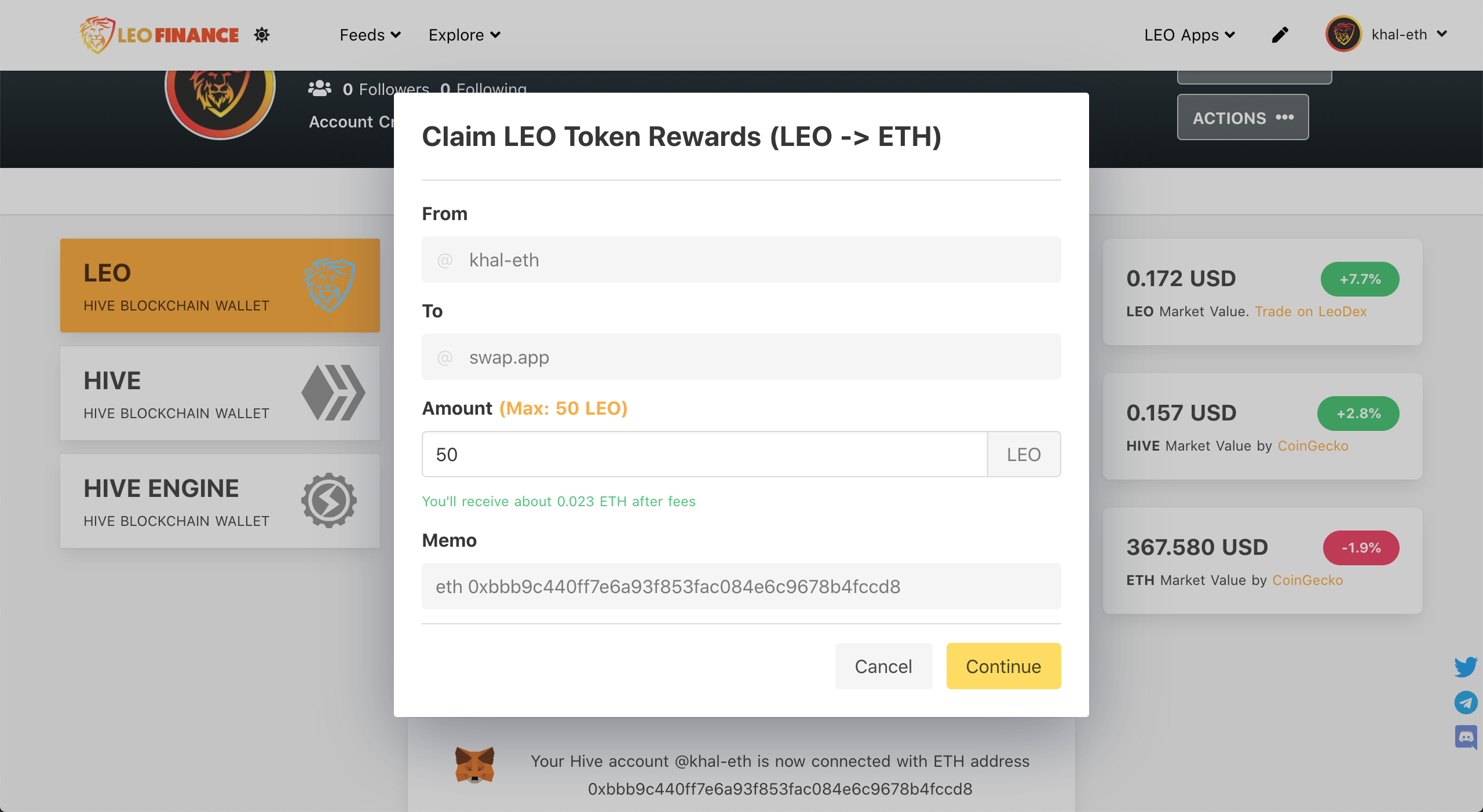 The general idea here is that users who come from Ethereum/MetaMask will typically want their rewards paid out on the ETH blockchain. In the original release of this update, this button converted LEO into WLEO on ETH. As an interim solution (until WLEO returns), we've integrated with the Swap.App application on Hive which allows LEO to be automatically converted into ETH.
This button automatically fills out the send transaction with the current total liquid LEO balance, the to field and the proper memo (containing the connected ETH address to receive the ETH payout). All the user has to do is hit "Continue" to convert their LEO balance (rewards) into ETH.
The green text below the amount field shows the approximate ETH that will be received after fees.
The other sections of the wallet UI are pretty self-explanatory. We've got the standard LEO operations that allow the user to send, trade, stake, unstake, delegate, etc.
Below the estimated account value, we allow the user to download the keys to the Hive account which LeoInfra created for them:


This operation will download the key file containing all the keys to the Hive account that's been set up and linked to their MetaMask ETH address. Over time, we'll add encouragements for the user to take control of their account so that they can change the keys and follow the principle of "not your keys, not your crypto".
An important step, however, is that the user can do everything a normal Hive user can do without taking control of their keys right away. Keys can be a scary thing and Hive can be rather complex in this regard (because of the multi-level key situation). Now, users can get familiar with LeoFinance/Hive before taking the plunge into proper key management and security.
Again, the Hive UI is also pretty self-explanatory for us. This allows the user to interact with their HIVE balances in the same way that any normal Hive user interacts with their wallet: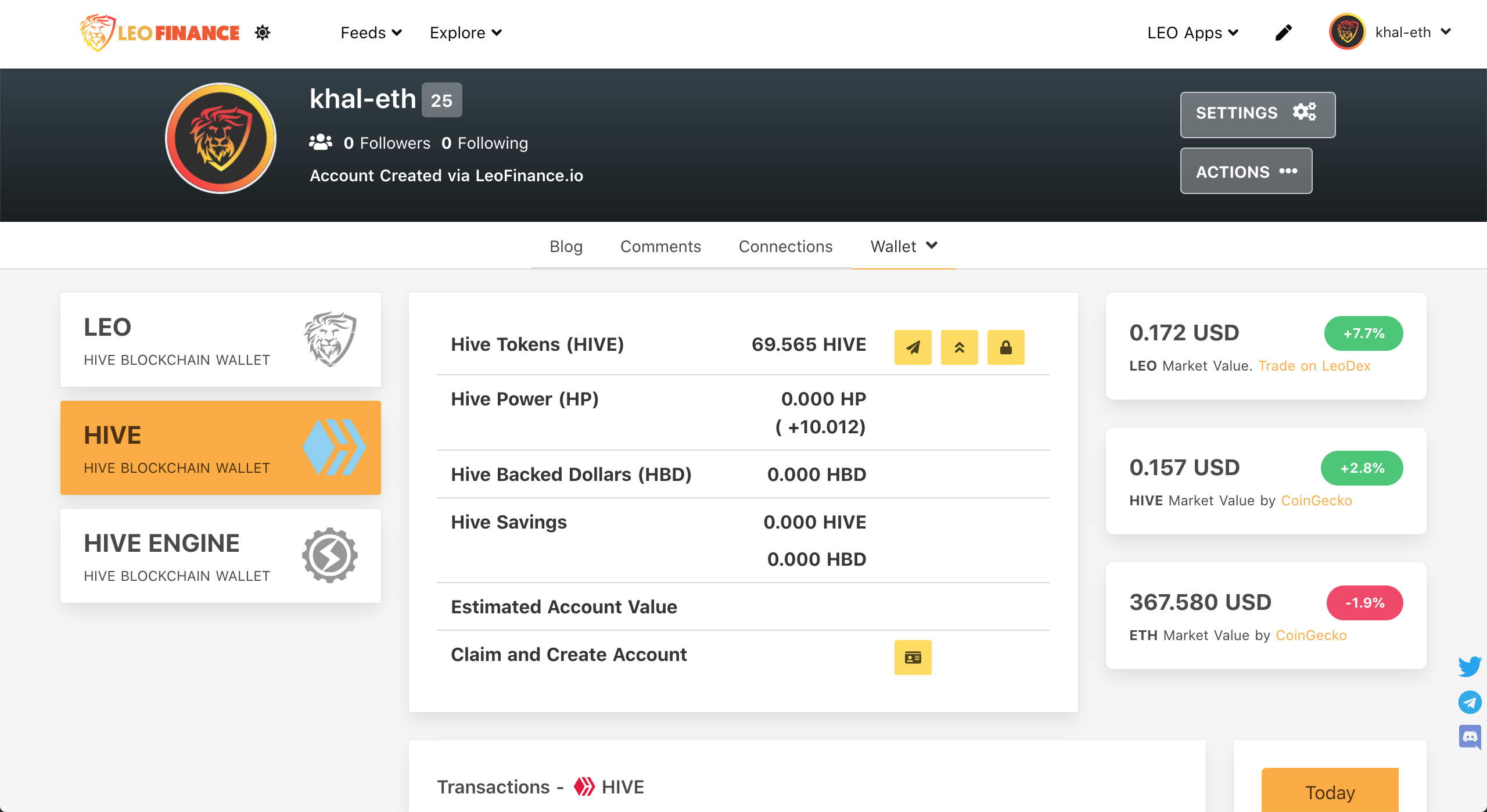 Wallet UI (Hive Users)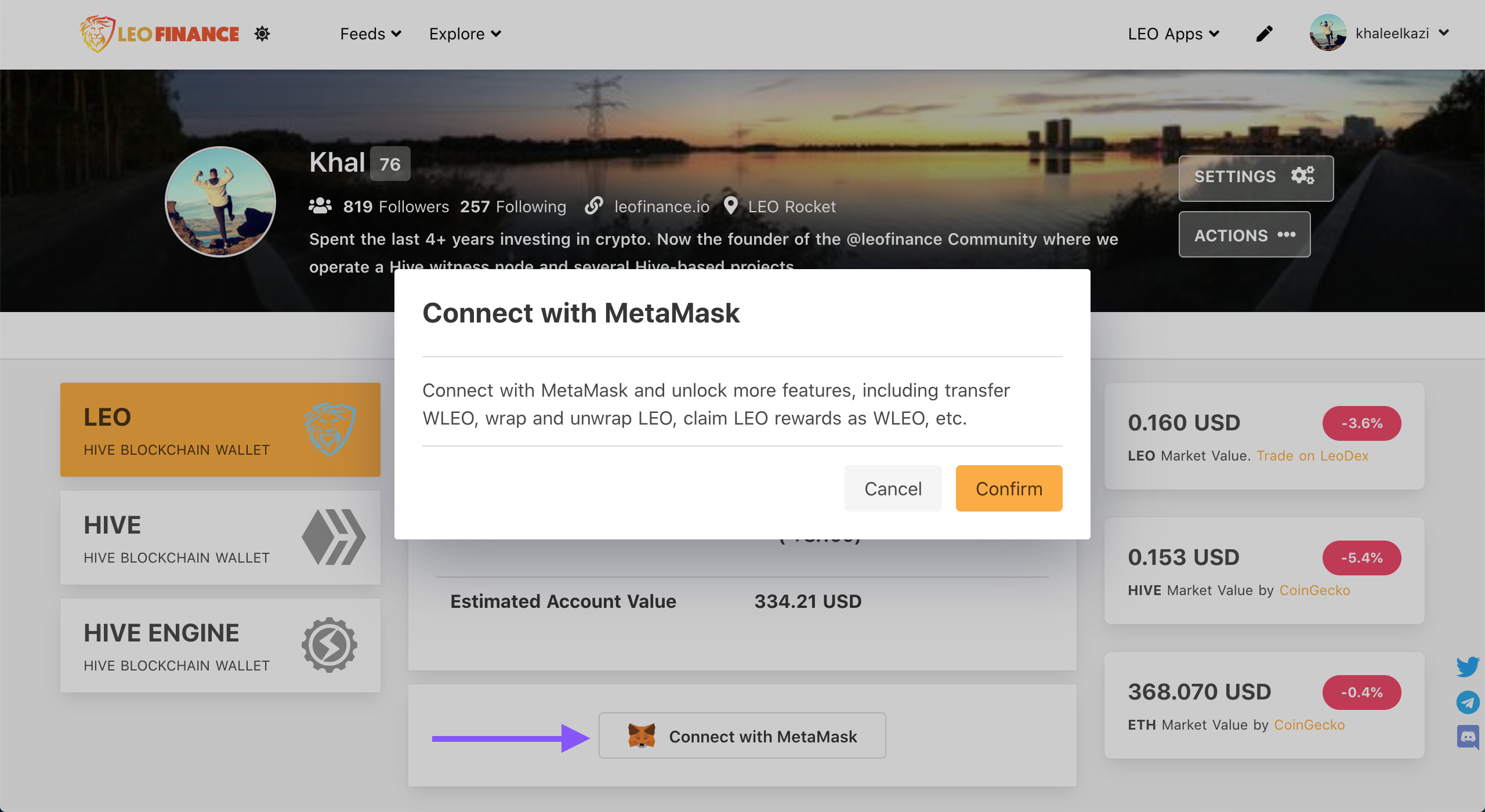 As a Hive user, you may notice a few updates to your wallet page as well. With this update, you can now link your Hive account to an ETH address using LeoInfra via custom JSON on the Hive blockchain.
As the dialog suggests, connecting with Metamask unlocks a number of ETH features. Since WLEO is temporarily offline as we rework the design and security of it for a re-release in the near future, the level of access that users will gain to ETH are limited at the moment. Additional access will be "unhidden" once WLEO is back online.
We call this operation a "Bind" where you bind your ETH address to your Hive account using a Hive-based custom JSON. This JSON doesn't really do anything on the blockchain itself (similar to Splinterlands or Hive Engine). Instead, LeoInfra serves as a sort of watchtower of the Hive blockchain. When one of these custom JSONs are transmitted, LeoInfra picks up on it and binds that ETH address to the Hive account that made the broadcast.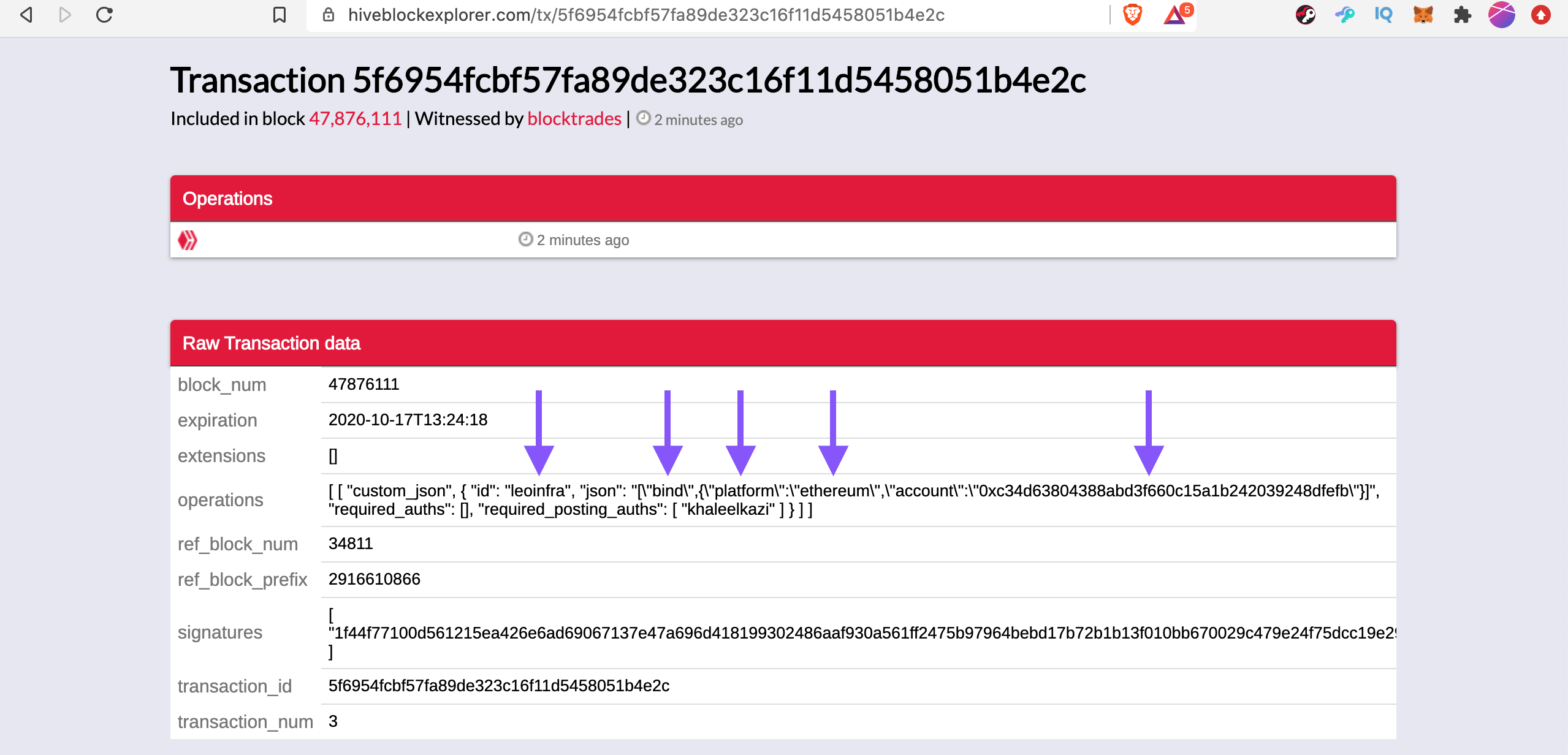 As LeoInfra is developed over the coming months, more ETH-based features will be rolled out both for Hive users and for ETH-based logins. These bind operations will also become increasingly important as other blockchains and even web 2.0 integrations are added to LeoInfra.
Seeing this JSON should give you some insight into what's possible with LeoInfra. We're scratching the surface of a massive iceberg here with our fingernails. There's so much more that we can and will dig into over the coming months and years.
Splinterlands was really the first application to show us what was possible with custom JSONs on the Hive blockchain. The plans for LeoInfra will blow your mind as we put the incredible features of the Hive blockchain to work with custom JSONs that link us out to other applications and blockchains. LeoInfra gets its name from being the infrastructure that enables a true web 3.0 experience on LeoFinance.
What's Happening on the Backend?
As the name suggests, LeoInfra is a very backend-heavy update. On the front end, we've made it easier than ever to interact with LeoFinance and Hive. On the backend, we've run through a lengthy process of:
Creating a Hive account for the user
Linking it to their ETH address via custom JSON (on Hive)
Delegating ~10 HP to their account (for Resource Credits)
Allowing continuous Hive-based posting/active operations by requiring signatures from their MetaMask
Each time the user does something on https://LeoFinance.io, their actions are posted to the Hive blockchain. Just like any other user. When they make a post, comment, upvote, stake, etc. it's all happening on Hive. You can even check the records of their TXs on the Hive Block Explorer.
What's the Future of LeoInfra?
The future of LeoInfra is where you get into some even more exciting territory. MetaMask signups/logins are just the tip of the iceberg for this project. Over time, we're going to build out the database of LeoInfra so that it can handle other blockchains: allowing for even more cross-blockchain onboarding and interactions.
Along with this, we're going to bring in the Web 2.0 app suite and onboard and integrate sign-ins with major applications like Twitter, Google and Facebook.
As you can see with the current iteration of LeoInfra that went live today - the goal is to quickly and seamlessly allow a new user to sign up and continually sign in. Over time, as they dig deeper into the wallet and begin to learn more about the platform - staking, curating, earning rewards, managing their wallet, etc. - we'll subtly encourage them to download the keys to their Hive blockchain account so that they can take the reins and fully own their data.
This onboarding process will continually be refined over time, but it's clear that we've made a great stride here in the ability to bring in new users and quickly get them up and running with LeoFinance. If you go back to when our project was started (about 16 months ago), I (@khaleelkazi) did a few interviews on various Steem-based shows talking about "Steemleo" and our goal to onboard the masses to this blockchain.
It's amazing to see how far we've come from that point but the overarching goal remains the same and over the weeks and months that follow, we're going to see some tangible results when it comes to new account signups and user retention for LeoFinance x Hive.
Onboarding Plans
Now that ETH users can seamlessly connect and onboard themselves into LeoFinance, we're going to run extensive marketing campaigns aimed at bringing ETH users to the site and encouraging them to create an account and start using the platform. This brings more active users to LeoFinance which also brings more active users to Hive.
We believe that this is one of the first steps in a long line of actions that will onboard a massive # of users to the Hive ecosystem via LeoFinance. Over the next few days/weeks, you'll start to see our campaigns going live which include a mix of paid marketing, organic reach and Hive-based initiatives to get the community involved in the outreach program.
Some have asked what the goal of this program is. Our ambition is to deliver on thousands of Hive account signups via LeoInfra over the coming months. As the campaigns rollout and tangible results are gathered, the reality of this vision will set in and we'll show just how viable this massive initiative is to grow the entire Hive ecosystem using LeoFinance.io as the onramp 🚀

LeoFinance is a blockchain-based social media community for Crypto & Finance content creators. Our tokenized blogging platform (https://leofinance.io) allows users and creators to engage and share content on the blockchain while earning LEO token rewards.
| Track Hive Data | New Interface! | About Us | |:---------------------------------: |:-----------------------------------: |:-----------------------------------: | | Hivestats | LeoFinance Beta | Learn More | |
|
|
|
| Trade Hive Tokens | Twitter | Hive Witness | |:-----------------------------------: |:-------------------------------: |:-------------------------------: | | LeoDex | @financeleo | Vote |

|
|
|
Posted Using LeoFinance Beta