LeoMobile Launch Event: 10/21/21

This post is published via LeoFinance.
2 years ago
Oct 19 2021 3:44 pm
-
3 minutes read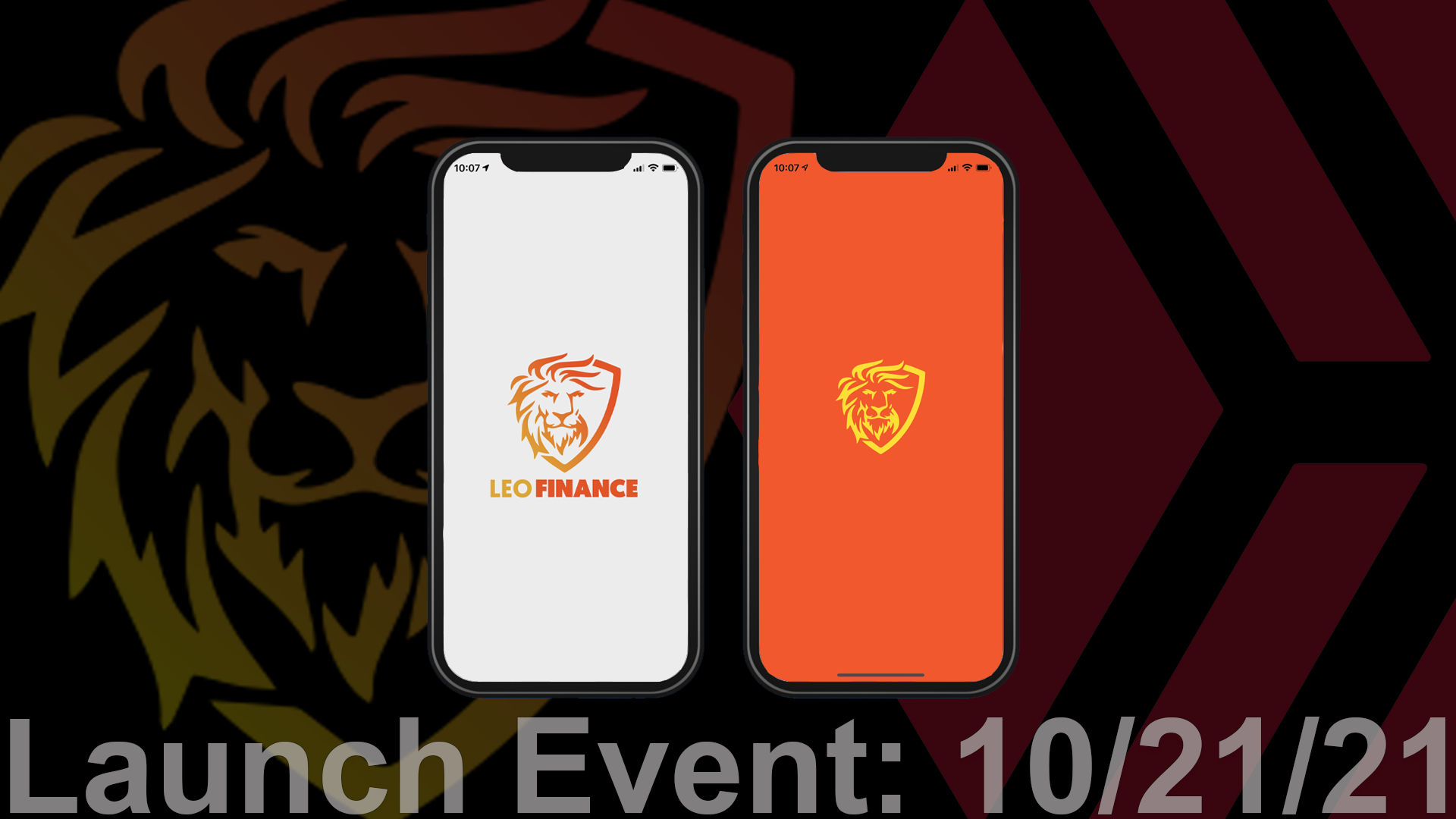 After months of development, the day has finally arrived! LeoFinance Goes Mobile. On October 21st, 2021 we will host the #leomobile launch day event.
There will be a livestream coinciding with the release of our mobile app into open beta. Two key things to note as we take the leap from closed beta to open beta:
The App will first be available in Testflight on IOS. This will allow us to complete our extensive bug testing while we also deploy our major new feature releases (more on this below)
The App will not be available on Android in Open Beta (once V1 is ready, we will migrate it to the main App Stores on both IOS and Android simultaneously) - apologies to any android users who wanted to beta test for us! You'll get a chance to use the app VerySoon™️
---
V1 vs Open Beta
We've mentioned this in a few places, but it's worth reiterating here. We started designing/preparing to build this app at the start of 2021.
The initial app was to be built completely from scratch. As we began our work, an opportunity came up which allowed us to leapfrog a number of major development steps.
With this, we were able to propel the app way beyond what we had initially planned for Open Beta and V1.
Instead of building completely from scratch, we managed to essentially purchase 6 months of development time. We acquired a codebase to use as a framework for our new app.
Open Beta (going live for IOS Testflight on October 21st) is going to allow everyone to use our gutted and rebuilt version of the app.
We'll explain this in greater detail on launch day, but we've basically taken the codebase and rebuilt it... stronger, better and with LEO integrations (i.e. LEO Tokenomics, Leo Lightning DB, LeoInfra backend and more).
The app is already incredible in its current form but keep in mind that this is just open beta. We've gutted the framework down to nuts and bolts and then rebuilt it into a simpler, sleeker and WAY FASTER UI/UX.
V1 is where the magic happens. We've got some incredible feature-adds lined up to build the app into something truly unique. It's a breathtaking experience.
One of the first features to roll out will be an advanced full-text search functionality.
Search has probably been the #1 requested feature on LeoFinance.io for the past year. We wanted to put off doing search until we could do it right. The right way is to make something that can truly search the content of LeoFinance and deliver what the user wants/needs to read.
Open Beta Testing
The initial release into Open Beta will have just the core features. Commenting, Upvoting, Reading Content, Curated Feed, Lightning DB, Minimal Wallet Functionality, etc.
Following this initial release, there will be regular updates each week.
Our focus with the open beta is to test the base functionality of the app and get it into the hands of the whole community.
As we collect feedback from all of you, we'll continue to drop new features every week. The complexity of the app will grow as we battle-test core features.
This is how app development should be done. It will be incredibly easy to send us bug reports and let us know what should be fixed/added/removed in real-time.
See You on Thursday!
We'll host a livestream event early on Thursday which will coincide with the invitation to Open Beta for IOS Testflight.
Get ready, LeoFinance is going mobile on October 21st, 2021!

LeoFinance is a blockchain-based social media community that builds innovative applications on the Hive, BSC and ETH blockchains. Our flagship application: LeoFinance.io allows users and creators to engage and share content on the blockchain while earning cryptocurrency rewards.
|        DeFi Platform           |           Tokenized Blogging               |          Track Hive Data          | |:---------------------------------:    |:-----------------------------------:    |:-----------------------------------:    | | Cub Finance     | LeoFinance Beta     | Hivestats     | |
|
|
|
|          Native DEX              |        Wrapped LEO (ETH)           |       Hive Node         | |:-----------------------------------:    |:-------------------------------:    |:-------------------------------:    | | LeoDex     | wLEO On Uniswap | Witness Vote |

|
|
|
Posted Using LeoFinance Beta