The Best Way to Earn More HIVE & HBD | Earn 40% APY and Get More HIVE

This post is published via LeoFinance.
7 months ago
Nov 02 2022 6:16 pm
-
4 minutes read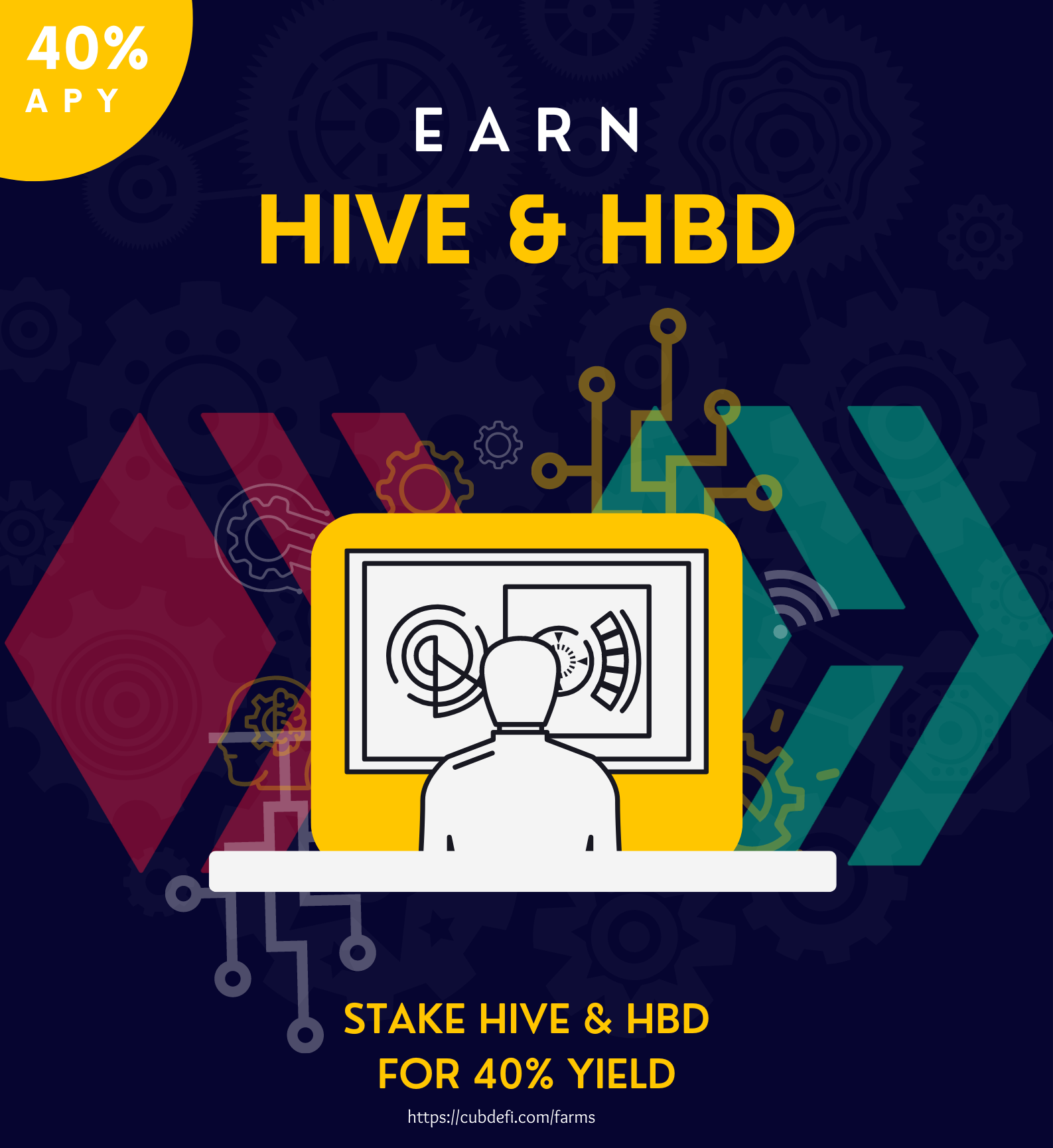 The Hive blockchain has long been one of the best places to earn a return in crypto. Prior to all of the DeFi development, Hive was the original CryptoFi. We were all drawn to this blockchain for a myriad of reasons but one huge reason was the idea that we could use our brain power (content) and our capital (HIVE POWER) to earn yield every single year.
Now, there are so many options to do this and so many different benefits for each option. It depends on what you like and often, the best choice is diversification.
You can
Stake HBD on-chain and earn 20% APY
Stake HIVE on-chain and earn ~10% APY
But now there are other options. There are derivatives both on-chain and off-chain.
Enter bHBD and bHIVE.
Earn 2x As Much Yield on Your HBD (40% APY)
CubFinance is aiming to build the #1 derivatives platform for HBD and HIVE. We desparately need to decentralize liquidity for the Hive blockchain and we're offering a piece of that solution. We believe in a future where there are many pieces that are similar and CUB aims to deepen liquidity on BSC.

Right now, you can earn 39.57% APY on your bHBD-BUSD liquidity. Just wrap HBD to bHBD using https://wleo.io/hbd-bsc/ and instantly provide liquidity and start earning.
Some benefits to this:
You earn daily instead of claiming interest 1x per month on-chain. This lets you compound your earnings back into HBD faster. Stack moar!
You have instant liquidity meaning that you have instant access to your HBD and BUSD in the event of a random HBD pump (which we see a lot of)
You're building on-ramp and off-ramp liquidity for other potential investors - a great way to grow the Hive ecosystem and usage of HBD!
Some trade-offs:
Namely, a derivative. This can carry extra risk
Earnings are in non-HBD - you earn in CUB. This can be a benefit or a negative. If the CUB price goes up (it's currently up 40% in the last 2 months), then it supercharges your earnings the opposite is true if it goes down. The other route is to sell your CUB earnings daily and compound directly into HBD. This gives you the fixed APY you see (40%) on CUB's UI
How to provide bHBD-BUSD Liquidity
Wrap HBD to bHBD using https://wleo.io/hbd-bsc/
Match your bHBD with an equivalent amount of BUSD
Provide liquidity on https://pancakeswap.finance/add/0xe9e7cea3dedca5984780bafc599bd69add087d56/0x874966221020d6ac1aed0e2cfad9cbfee0ba713b
Add LP Tokens to the Farm Vault on https://cubdefi.com/farms
Earn Huge Yield With Only HIVE Asset Exposure
Are you a HIVE maxi? Want to compound your HIVE assets and get more HIVE & HBD simultaneously? The bHBD-bHIVE vault is for you.
Currently paying 28.14% APY, the bHBD-bHIVE vault is a great way to compound your HIVE and HBD while staving off volatility in the HIVE price. Liquidity Pools that are paired with stablecoins (i.e. HBD) are a fantastic way to hedge your portfolio.

How to provide bHBD-bHIVE Liquidity
Wrap HBD to bHBD using https://wleo.io/hbd-bsc/
Wrap HIVE to bHIVE using https://wleo.io/hive-bsc/
Match your bHBD with an equivalent amount of bHIVE
Provide liquidity on https://pancakeswap.finance/add/0x874966221020d6ac1aed0e2cfad9cbfee0ba713b/0x9faf07d1fbc130d698e227e50d1fb72657c0a342
Add LP Tokens to the Farm Vault on https://cubdefi.com/farms
Take a More Volatile Bet With More Potential Upside
bHBD-CUB and bHIVE-CUB provide an interesting way to take a more volatile bet that could potentially pay off exponentially. These carry obvious upside and downside risk but are a great way to get leveraged long-exposure on the CUB platform.

Follow the same steps above in the bHBD and bHIVE section but pair with CUB and provide liquidity.
One strategy we see many take is using their CUB earnings from the bHBD-bHIVE and/or bHBD-BUSD pools, selling half back into bHBD/bHIVE and then pooling with CUB.
This creates that leveraged long position only using your earnings rather than your actual capital. It can be a great way to start diversifying out and building a long-exposure position.
Sell 50% of your CUB harvests to HBD or HIVE
Compound liquidity into bHBD-CUB or bHIVE-CUB
Obviously, none of this is financial advice. After posting the CUB Monthly Burn Report yesterday, we saw a lot of interest turn to the bHIVE and bHBD LPs. A flood of new capital entered and a flood of new questions entered.
We think these derivatives have a massive future as yet another notch in the decentralized liquidity belt of the Hive ecosystem. We're on a mission to grow them for the benefit of CUB and the benefit of the Hive ecosystem itself.
It's pretty unheard of to earn 20% APY on a stablecoin in a reliable and safe way. We have that with HBD on-chain.
What's even more unheard of is also being able to wrap that stablecoin into a derivative (bHBD) and earn 40% APY in a stablecoin LP.
That's the power of CubFinance. We've seen a lot of new entrants into the CUB LPs on https://cubdefi.com/farms.
If you're interested in earning more yield on your HIVE assets to compound earnings this bear market, then the time is now 🦁🐝

About LeoFinance
LeoFinance is a blockchain-based Web3 community that builds innovative applications on the Hive, BSC, ETH and Polygon blockchains. Our flagship application: LeoFinance.io allows users and creators to engage and share content on the blockchain while earning cryptocurrency rewards.
Our mission is to put Web3 in the palm of your hands.
Twitter: https://twitter.com/FinanceLeo Discord: https://discord.gg/E4jePHe Whitepaper: https://whitepaper.leofinance.io
Our Hive Applications
Join Web3: https://leofinance.io/ Microblog on Hive: https://leofinance.io/threads LeoMobile (IOS): https://testflight.apple.com/join/cskYPK1a LeoMobile (Android): https://play.google.com/store/apps/details?id=io.leofi.mobile Delegate HIVE POWER: Earn 16% APR, Paid Daily. Currently @ 2.8M HP Hivestats: https://hivestats.io LeoDex: https://leodex.io LeoFi: https://leofi.io BSC HBD (bHBD): https://wleo.io/hbd-bsc/ BSC HIVE (bHIVE): https://wleo.io/hive-bsc/ Earn 50%+ APR on HIVE/HBD: https://cubdefi.com/farms
Web3 & DeFi
Web3 is about more than social media. It encompasses a personal revolution in financial awareness and data ownership. We've merged the two with our Social Apps and our DeFi Apps:
CubFinance (BSC): https://cubdefi.com PolyCUB (Polygon): https://polycub.com Multi-Token Bridge (Bridge HIVE, HBD, LEO): https://wleo.io
Posted Using LeoFinance Beta