🤣 LOLZ Meme Of The Day - Day 4 🤣

a year ago
Dec 08 2021 8:11 pm
-
1 minutes read
Today's LOLZ Meme is a shout out to one of my favorite LOLZ "almost users". No matter how many times we give him LOLZ he always has exactly 0 LOLZ when he tries to call the bot. !LOL
But that is ok, there is no wrong way to LOLZ! Share the laughs, and we will share the tokens.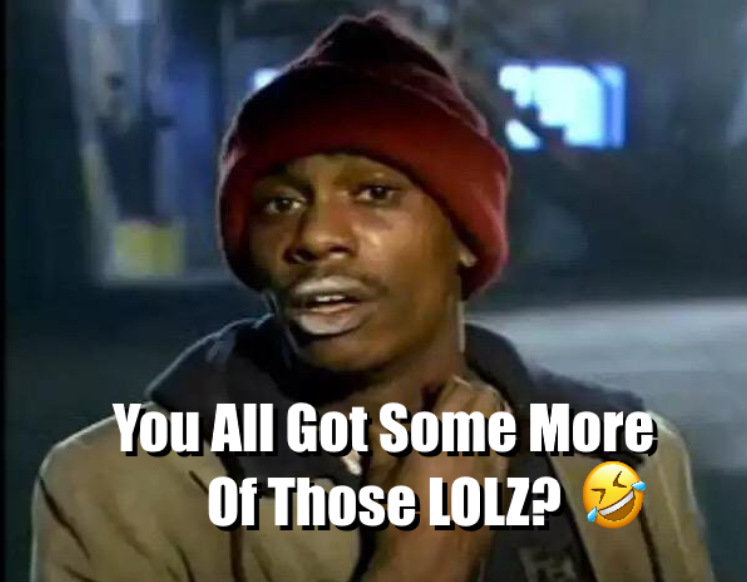 So who all wants some $LOLZ?
About MemeHive
MemeHive is a fun community and tribe where users can earn $MEME tokens when they share, create, and curate memes. Be sure to say "Hi!" to @rentmoney while you are there and check out his awesome giveaways.
About LOLZ Project
LOLZ Project is an engagement project with the mission of spreading laughter and joy on the Hive blockchain. Hive users can use the !LOL or !LOLZ command in comments to share a clean joke and tip the author an $LOLZ token.
Help Support the LOLZ Project
Here are a few ways you can help the LOLZ Project.
Use the !LOL and !LOLZ command often to tip fellow Hive authors.
If one of our jokes makes you smile, consider giving it an upvote.
Follow @lolztoken and participate in our airdrops, contests, and giveaways.