Things to note before investing in web 3.0

This post is published via LeoFinance.
4 months ago
Jan 24 2023 4:00 am
-
2 minutes read
Good morning everyone. It's necessary to know and master vital criteria needed for investment in the #crypto world, especially web 3.0.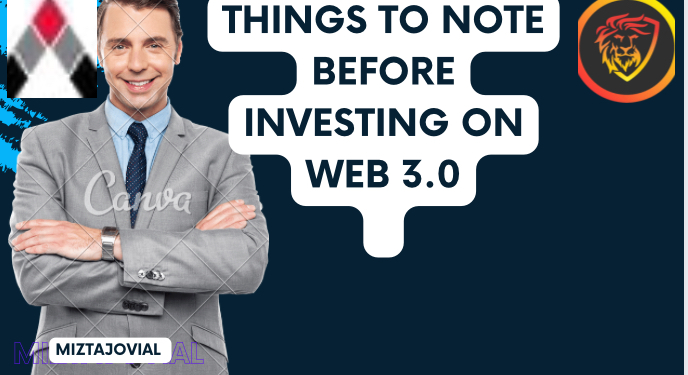 Choice: The man is above choice and we all have a sense of choosing. Most people regret now in their investments because of the choice or choices that they made. Remember choice plays a vital role in a person's life and a person's future, a choice you failed to make today may thwart your future, And the wrong choice made today will affect your futuristic occurrence. No one lives without choice or choices, so the choice is the first move in investing, choosing a type of investment, if physical the business a nice serene and busy environment is acquired.
Nature or type of investment: After making a good choice of embarking on investments, the next thing is to know the kind of business that can be done at a particular time. Jumping into an investment because a friend of us is doing it is not the best thing to do, most people believe in this saying "when you are in the Rom, behave, speak and dress like the roman" Literally, in investment or business, it is not done that way.
Weight of the capital: Weighing your pocket and capital is very necessary before going into business, this is serious because of avoiding a futuristic breakdown. The weight of the capital will determine the nature and capacity of the investment and business.
The season: Knowing the season, I believe that in everything beneath this earth's surface, there is no season. Here in web 3.0, we have the bearish and the bull season just like the rainy season and sun. The bull season is equivalent to the rainy season where we have everything in abundance, In the bull season the price of goods gets high and valuable in such a way that gives investors joy. The bearish season is the dry season where coins and tokens are sold at low prices, lower than the price of buying during the bull season.
As a newbie, investing during the bear season is advisable that's buying the coins and tokens in large quantities all at low prices, and selling them at a high price during the bull.
Invest in web 3.0 packages such as #leo #sps #glx #cent other wonderful tokens.
If you found the article interesting or helpful, please hit the upvote button, and share it for visibility to other hive friends to see. More importantly, drop a comment beneath. Thank you for stopping by.
Posted Using LeoFinance Beta