Can the price of gold rise further?
Today, the price of gold has risen to 1934. The price of gold seems to increase further. The gold price was $2075 in August 2020. Again in March 2022, the price of gold was $2070. Looking at the current gold price, it seems like gold is headed for 2020 and 2022 or above.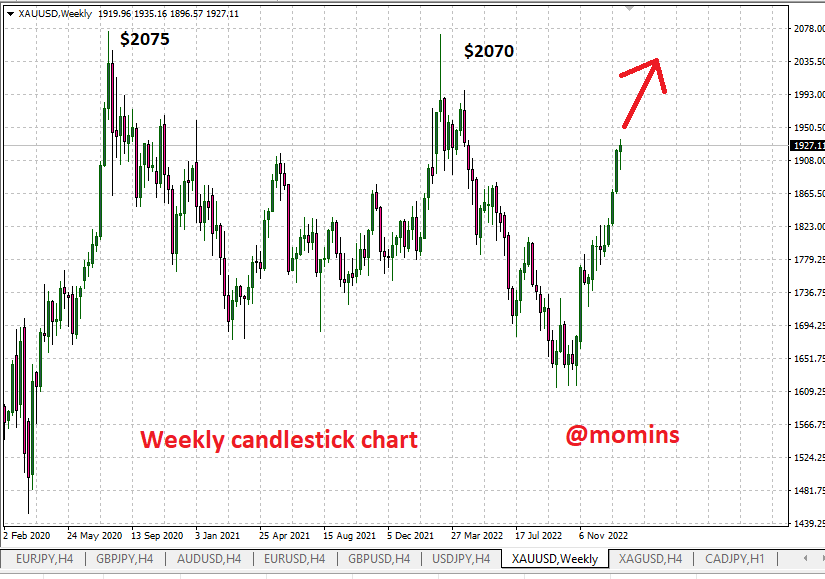 A steady rise in gold prices is making traders more confident. A resistance level can be drawn at $2070 to $2075 which may prevent a move above this price but gold has to go as far. As the price of gold is moving in that direction we can expect it to reach $2070.
Expert investors believe that the price of gold can go much higher in the next five years. We may see gold prices between $2200 - $2300. Even if the price of gold falls, it will rise again from the behavior of the price
U.S. Dollar Index (DXY) is bearish at 101.84. If it goes down further then the price of gold will go up. Besides, there seems to be an increase in investment in gold which will drive the price of gold forward.
Since gold is considered a safe investment, gold is expected to increase investment in economic downturns. The ongoing Ukraine-Russia war has left the world suffering from economic problems and domestic currency inflation. So people are buying gold to save themselves from famine. In that case, the price of gold should increase further. Everyone be careful and risk-free and do the analysis yourself
Best regards
---