Gold has created new support from which its price may rise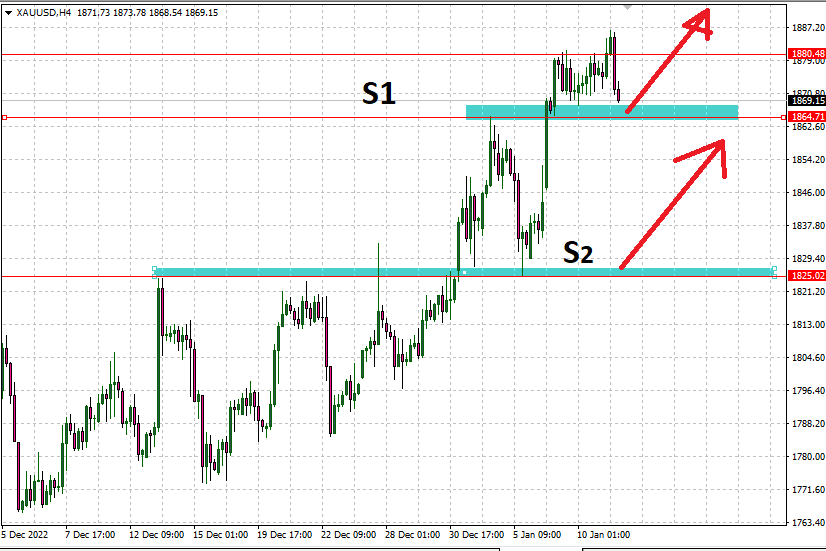 Gold prices again edged lower to $1886. Now it stands at $1872 below which we have identified a support level. This support level is at $1865 which is marked as S1. Hope the price of gold will retest from this support level and go up. If we get a signal along this support level then we can enter the trade. Gold's current trend is very close to this type of support level so we can consider it as an important support level.
And if the price of gold crosses the S1 support level and comes down, then it will be blocked at the S2 support level which is located at $1824 and I think the price of gold will go up after retesting S2. We will also wait for this $1824 support level to be a suitable signal. If we get the price then we can take entry in the BUY trade. Now there are these two support levels on the forex 4-hour chart which must be given importance.
U.S. Dollar Index (DXY) is currently neutral at 103.30. Since the price of gold has not decreased properly, we have to understand that investing in gold is increasing. The price of gold seems to increase even though it is not possible to say exactly. The greater the economic recession, the more likely gold prices will rise.
Trade wisely, don't invest in other people's words, and learn trading well. Be aware that trading is very risky. We are just sharing our thoughts with you that you can benefit from
Best regards
---