¿Combina tus gladius como todo un pro! [ESP-ENG]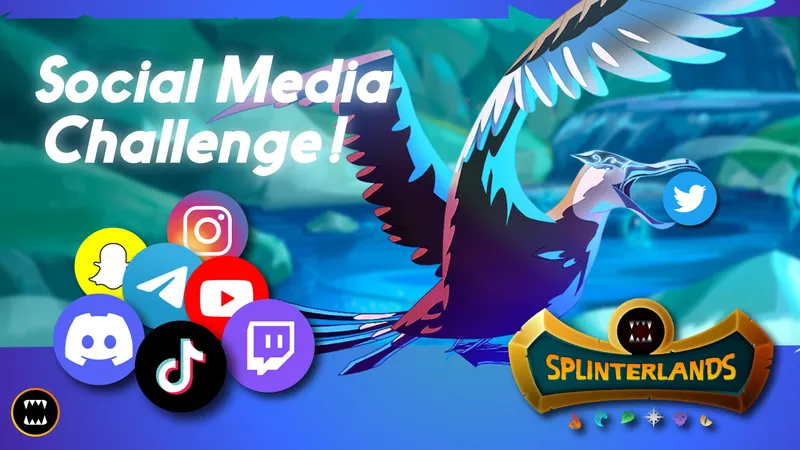 ¿Alguna vez te ha pasado que te dan una paliza terrible en las brawls?
Creo que hablo por todos los jugadores cuando digo esto y es que a todos nos ha tocado ganar y perder batallas en este juego, y es que es claro que la victoria siempre estará del lado del que ejecute mejor la estrategia y es justo eso lo que brilla en las brawls, pues hay muchas combinaciones de estrategias que te pueden hacer realmente fuerte en estas batallas y hoy en este post voy a traerte algunas de las que yo conozco, así que ¡Bienvenidos!
Has it ever happened to you that you get a terrible beating in brawls?
I think I speak for all the Splinterlands players when I say this and is that we all have had to win and lose a lot of battles in this game, and it is clear that victory will always be on the side of the one who executes the best strategy and that's just what shines in the brawls, because there are many combinations of strategies that can make you really strong in these battles and today in this post I will bring you some of the ones I know, so welcome!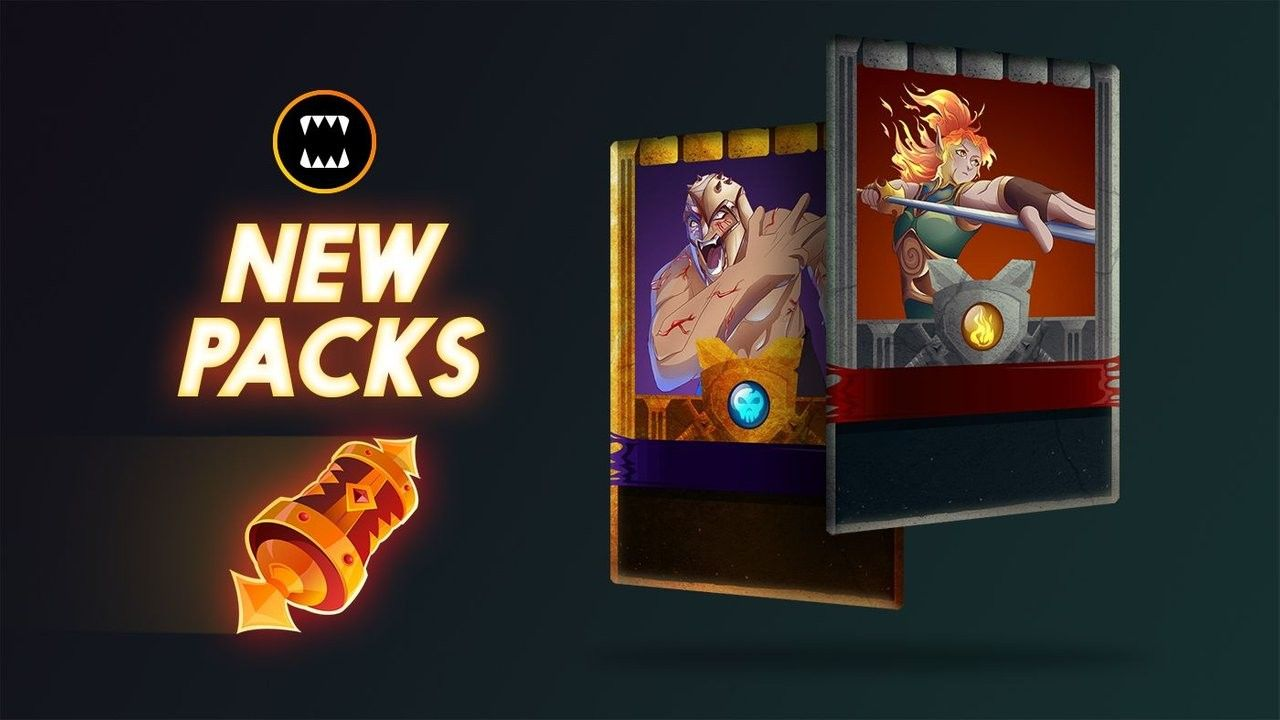 ¿Cómo combinar las Gladius?
Estas cartas tienen la particularidad de la habilidad Bloodlust que las fortalece cada vez que eliminan a una carta enemiga, así que de entrada sabemos que todas son cartas altamente ofensivas, pero la mayoria de ellas tienen tambien otras habilidades que tenemos que aprovechar para potenciarlas al maximo.
Una batalla con Gladius donde no la hagamos activar el Bloodlust no tiene nada de sentido asi que esa debe ser nuestra prioridad en las batallas, pero tambien podemos hacer combinaciones que vayan mas alla de esa premisa y hacer que el Bloodlust sea solo un acompañante de otra estrategia mas grande.
How to combine Gladius cards ?
These special edition of cards have the particularity of the Bloodlust ability that strengthens them every time they eliminate an enemy card, so we know that they are all highly offensive cards, but most of them also have other abilities that we have to take advantage of to enhance them to the maximum.
A battle with Gladius cards on your lineup where we do not activate the Bloodlust ability makes no sense at all so that should be our priority in these battles, but also we can also make combinations that go beyond that premise and make the Bloodlust is only a companion of another larger strategy.

Scarred Llama Mage + Quora Towershead
Esta es una estrategia basica en el juego, pero increiblemente potente en batallas de mana bajo. Necesitas 17 puntos de mana para usarla y funciona en cualquier rango, tiene el mismo funcionamiento que la estrategia con Kron the Undiying pero sumandole el ataque Melee de Quora y claro, su Bloodlust. Si usas estas dos cartas y tu Quora logra acabar rápido con un enemigo es 99% seguro que vas a ganar esa partida y esto es muy facil en batallas de mana bajo donde claramente las cartas no tienen mucha vida y gracias a la habilidad Last Stand el ataque de Quora se potencia desde el turno 1, asi que es como si iniciara la partida con el Bloodlust activo cuando todavia no ha eliminado a ninguna carta. No se le pueden aplicar efectos negativos como Veneno o Demoralize y tiene muchisima vida. Es una combinacion muy potente.
Como punto negativo para esta estrategia, es que no funciona tan bien en mana alto porque la idea es activar rapido el Last Stand, y mientras mas cartas hay, menos potencia tiene esta estrategia.
Scarred Llama Mage + Quora Towershead
This is a basic strategy in the game and a variant of a strategy widely used in the regular game (no brawl), but incredibly powerful even in low mana battles. You need 17 points of mana to use thie simple combination and it works in any range, it has the same functioning as the strategy with Kron the Undiying but adding Quora's Melee attack and of course, his Bloodlust. If you use these two cards and your Quora manages to kill an enemy quickly it is 99% sure that you will win that game and this is very easy in low mana battles where clearly the cards do not have much life and thanks to the Last Stand ability Quora's attack is boosted from turn 1, so it is as if he started the game with the Bloodlust active when he has not eliminated any card yet. You can't apply negative effects like Poison or Demoralize and it has a lot of life. It is a very powerful combination.
As a negative point for the execution of this strategy, it does not work so well in high mana because the idea is to activate the Last Stand quickly, and the more cards there are, the less power this strategy has.

Weapon's training + Cartas sin ataque.
Esta estrategia tiene dos contras bastante marcadas, la primera es que es difícil de ejecutar porque solo hay 2 gladius que no tienen ataque y solo 2 cartas que puedan aplicarle el Weapon's Training (una de su propio splinter y otra del splinter Dragon), y por otro lado, debes tener las gladius al menos al nivel 4 para que sea realmente poderosa. Lo positivo de esto es que al ser Gladius comunes es relativamente sencillo obtenerlas.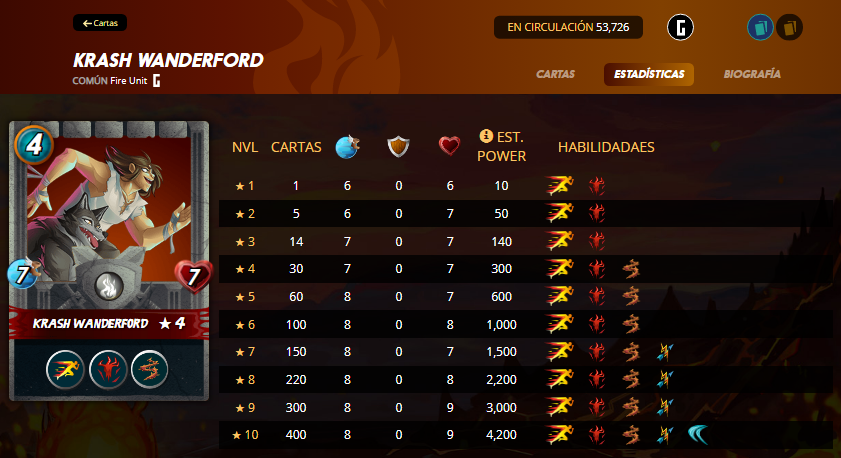 Usaré a Krash Wanderford como ejemplo. Al nivel maximo y combinado con Ferexian Hero le dará velocidad a tus cartas, tendra Thors, Return Fire y Dodge, ademas del Bloodlus potenciado con un ataque Melee muy alto, lo que convertirá a esta carta en un arma defensiva/ofensiva brutal que va a causarle daño al oponente de todas las formas posibles, tanto cuando ataque como cuando sea atacada, y todo eso por solo 4 puntos de mana. Algo similar sucede con Helmet Kharafax que se vuelve tambien una carta muy potente pero mas pensada en el daño magico.
Ademas como la habilidad se aplica a las cartas adyacentes, dependiendo del ruleset podras aprovechar una segunda carta sin ataque que le de aun mas potencia a esta estrategia. Como punto positivo, esta estrategia es bastante nueva y rara de aplicar, asi que si tienes la capacidad de utilizarla es seguro que vas a sorprender.
Weapon's training + No attack cards
This strategy has two quite marked cons for cast it, the first is that it is difficult to execute because there are only 2 gladius that have no attack and only 2 cards that can apply the Weapon's Training (one of their own splinter and another of the splinter Dragon), and on the other hand, you must have the gladius at least level 4 to be really powerful. The positive thing about this is that since they are common Gladius it is relatively easy to obtain them.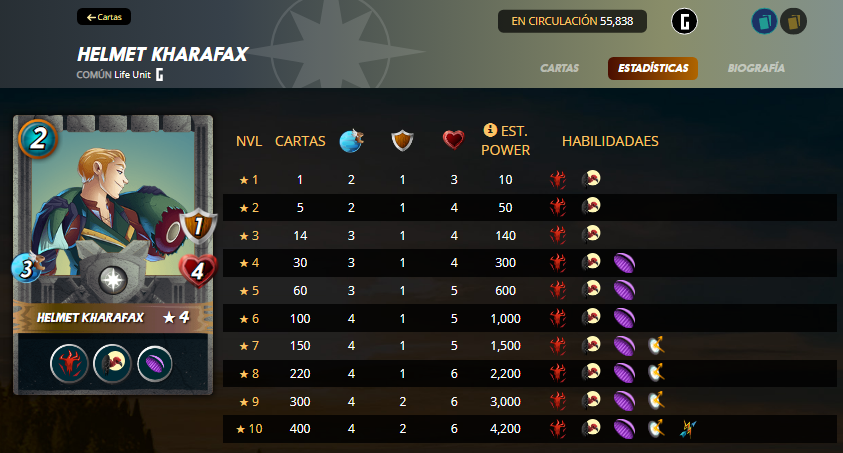 I will use Krash Wanderford as an example. At max level and combined with Ferexian Hero it will give speed to your cards, it will have Thors, Return Fire and Dodge, besides the Bloodlus boosted with a very high Melee attack, which will turn this card into a brutal defensive/offensive weapon that will cause damage to the opponent in every possible way, both when attacking and when attacked, and all that for only 4 mana points. Something similar happens with Helmet Kharafax that also becomes a very powerful card but more focused on magic damage.
Also, since the ability applies to the adjacent cards of your team, depending on the ruleset of the battle you can take advantage of a second card without attack on your lineup that gives even more power to this strategy. As a positive point, this strategy is quite new and rare to apply, so if you have the ability to use it you are sure to surprise.

¡Conscript!
La nueva habilidad exclusiva de los invocadores soulbound es perfecta tambien para crear combinaciones excelentes.
Conscript!
The new exclusive ability of soulbound summoners is also perfect for creating excellent combinations.

Dos cartas con un ataque Melee muy alto que gracias al invocador tendran mas oportunidad de golpear directo al enemigo y eliminarlo mas rapido, ademas sus habilidades hacen muy buena sinergia entre ellas y se puede combinar con la habilidad Inspire para aumentar su ataque Melee, esto lo puedes hacer hasta 4 veces en una batalla (en Wild, 3 en Modern), si se dan las especificaciones correctas.
Two cards with a very high Melee attack that thanks to the summoner Eternan Brune will have more opportunity to hit the enemy directly to the life points and eliminate him faster, also their skills make very good synergy between them and can be combined with the Inspire skill to increase their Melee attack, this can be done up to 4 times in a battle (in Wild, 3 in Modern), if the correct specifications are given.

Jini Guise es un compañero perfecto para Quora gracias a sus habilidades de soporte y apoyo, sobre todo por la armadura extra que le da aun mas durabilidad y en un caso extremo de que logren eliminar a tu Quora, con Jini la puedes resucitar una vez para que siga en la batalla. Es un caso perfecto de una carta que hace mas potente a otra y que te puede dar grandes resultados gracias al hecho de que las dos tengan la habilidad Bloodlust.
Jini Guise is a perfect companion for Quora Towershead thanks to her support and support abilities, especially for the extra armor that gives her even more durability and in an extreme case that they manage to eliminate your Quora, with Jini you can resurrect her once to keep her in the battle. It is a perfect case of a card that makes another card more powerful and that can give you great results thanks to the fact that they both have the Bloodlust ability.

Estas dos cartas se van haciendo mas potentes cuando estan juntas conforme las vas subiendo de nivel, en diamante se complementan a la perfeccion por su combinacion de Stun + Knock Out y una gran capacidad de aguante usando a Alva como tanque y a Flagulon como daño soporte.
These two Gladius cards become more powerful when they are together as you level them up, in diamond they complement each other perfectly by their combination of Stun + Knock Out and a great capacity of endurance using Alva as a tank and Flagulon as damage support of your team.

Conclusiones.
Estas son solo algunas de las muchas posibilidades que tienen estas cartas Gladius, algo espectacular sobre estas es que todas son 100% utiles y muy poderosas en escenarios especificos asi que es recomendable tener todas las que puedas, al nivel mas alto que puedas y que te tomes tu tiempo para estudiar sus posibles usos, ya que asi sabras cuando es conveniente usar una u otra y empezar a ser un verdadero crack en las brawls de tu clan.
Espero que el post te haya gustado y te sea de ayuda, si tienes otras combinaciones de Gladius que te parezcan muy fuertes hazmelo saber en un comentario, el que me parezca el mejor comentario al respecto se ganará 500 DEC, asi que no pierdas la oportunidad. ¡Nos vemos en el siguiente post!
Conclusions.
These are just some of the many possibilities on the game that we have with these Gladius cards, something spectacular about these is that all are 100% useful and very powerful in specific scenarios so it is advisable to have as many as you can, the highest level you can and you take your time to study their possible uses, so you know when it is convenient to use one or another and start being a real crack in the brawls of your guild.
I hope you liked the post and it will be helpful for you, if you have other great Gladius cards combinations for battles that you think are very strong let me know in a comment on this post, the one that I think is the best comment will win 500 DEC, so don't miss the opportunity, see you in the next post!


Si eres hispano y quieres unirte a un clan haz click aqui

All game images are taken from the official game website and Splintercards, credits to whom it may concern.