Take Notes! .:. #MyHiveGoals 2023

When you don't take notes, you get a post about taking notes! 😃 I think it was this morning or yesterday, I had an idea for a post, and exactly for the #myhivegoals post... When something like this happens, I do open my phone and take note of it... This time, I fall into the most often mistake... I said to myself... "This idea is so good that there is no way that I will forget it"
So, or it was a crappy idea, or I got more and more problems with my memory cells... lol... In either case, I will try not to repeat it... (this is probably another lie as it will happen sooner or later... 😃)
I know that many of you have problems with writer's block which happens occasionally, and having some notes means a lot in those cases... I'm impressed to see some people creating 2-3 posts per day and I know that there is an assumption that it's not possible to do so many quality posts per day... But... In my case, I do have a lot of ideas for posts, but not that much time to realize them and create content around them... So, if you have time, I would say that it is possible to do it!
Sometimes ideas are flowing like a river and you can have multiple ideas in a minute, maybe even in a second... But, converting them into content could take a lot of time... Also, it can be vice versa... Some people can write content in a very short time but struggle with ideas... In any case, I would say that it's very important to take notes, not just capturing our ideas, but also, journaling our mistakes, and creating reminders for our "future ourselves"...
Back to #myhivegoals... In the beginning, let's check out HiveStats...
In the last #myhivegoals post I complained about how I was lazy as I created only 3 posts that week... This time, I did one more, and those 4 posts per week are a nice amount from my point of view... I enjoyed sharing my views and experience, and it was great to see that posts cause a great amount of engagement, especially one about checking wallets... It was a (silent) topic that people would like to talk about, but maybe a bit afraid of the consequences... Someone has to break the ice... 😃
Despite having more posts, I have added 206 HivePower to my goal, which is a bit less than last time... Different topics attract different people, and different people have different upvotes... 😃 But, more friends around your posts and a bigger, supportive community is a long-term goal here on HIVE! The rest will come...
Oh, I forgot to mention some of the distractions during the last week which had an impact on my token accumulation... You know that I do play Splinterlands, despite not having it in my Hive goals, and I have aped into the new summoner... 😃 So, when we come to the end of this year, and I'm not achieved some of these goals, I will blame Splinterlands... 😃
Regarding my LEO Power goal, I didn't do too much about it... I suppose that my content isn't that attractive to LEO Finance as I don't shill specific tokens in my posts... I know that people like that type of post, but I'm not feeling comfortable with doing it... Especially to "promote" tokens that I don't believe in...
So, in the last 7 days, I have added 57 LEO tokens to my bags, which isn't that bad at all... It is far away from my "objectives", but still a nice amount...
GAMING GOALS - Flexible Goals
Many tokens are going down during the bear markets... Some of them go faster, some slower... Others drop 90%, others maybe 80%... But, almost all of them went down and the STARBITS token did the same... It is a bit different with gaming tokens, especially with those that are used INSIDE the game, but it is possible to reduce the drop... And that was exactly what the guys from the RISING STAR game did... For the last couple of months, they were working hard on the STARBITS-STARPRO pair and maybe they have found the "secret recipe"... The STARBITS token slowed down its fall, and maybe we have hit the bottom... It's just my speculation, but improvements are obvious...
In the last 7 days, I have accumulated 107 cards which are added to my collection... The same amount as last week! 36 opened packs, 6 cards given away, and I bought some NFTs more...
---
Regarding my GLX token goal, I have decided to push hard until the very limits... I have some income from small trades on the Hive Engine, which I combine with taking some profits from Splinterlands to buy GLX tokens... I have made a price limit over which I will not buy them, but until then, the purchasing spree is on... :)
My current strategy is buying around 300 tokens per day and staking all daily... Besides that, I compound all my earnings from staking and the part from the Splinterlands airdrop... All that summarized, made these 4300 more staked tokens in the last week possible... I'm aware that this investment is extremely risky, but without taking risks, rarely you can win...

It's time to update the numbers and put them into the spreadsheet until the next week! So, freshly updated numbers for #myhivegoals, on February 26th, 2023 are:


These are my initial goals for 2023 created on January 15th, 2023::

Join me in this awesome #myhivegoals and let's grow together! It is fun, it is motivating, and it will keep you focused!
Thank you for your time,
~ph~
PS. None of this is financial advice of any kind...
If you want to support my witness, you can do it by voting for @ph1102.ctp here https://tribaldex.com/witnesses, or just scan the QR code down below...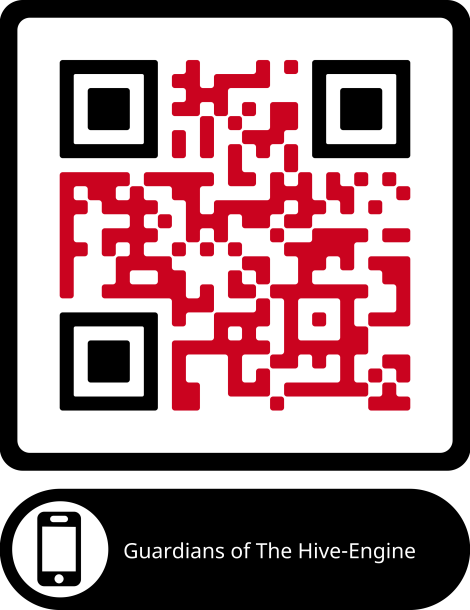 Don't forget to follow, reblog, and browse my Hivepage to stay connected with all the great stuff!
You can also find me on LEO Finance .:. Twitter .:. LBRY
Posted Using LeoFinance Beta