3 Reasons why Now is the good time to Buy SPS

This post is published via LeoFinance.
7 months ago
Oct 21 2022 2:38 am
-
3 minutes read
There are so many coins in the market that we can buy at a lower price these days because it is Crypto winter. This is very common and I hope that many of you should be doing it but at the same time, it is very important to do the research first. Research is the first step to identifying the find that we need to buy because investment is not for one day. So I'll be talking about one of the coins which are highly undervalued and bring many earning opportunities.
This is the SPS token which is the governance token for the Splinterland game. This was AirDrop to all state holders in the game for a year long and because of this reason, I hope the price is low. Even though the price is low but also this is offering a very good apr along with some other benefits that we are not going to get elsewhere.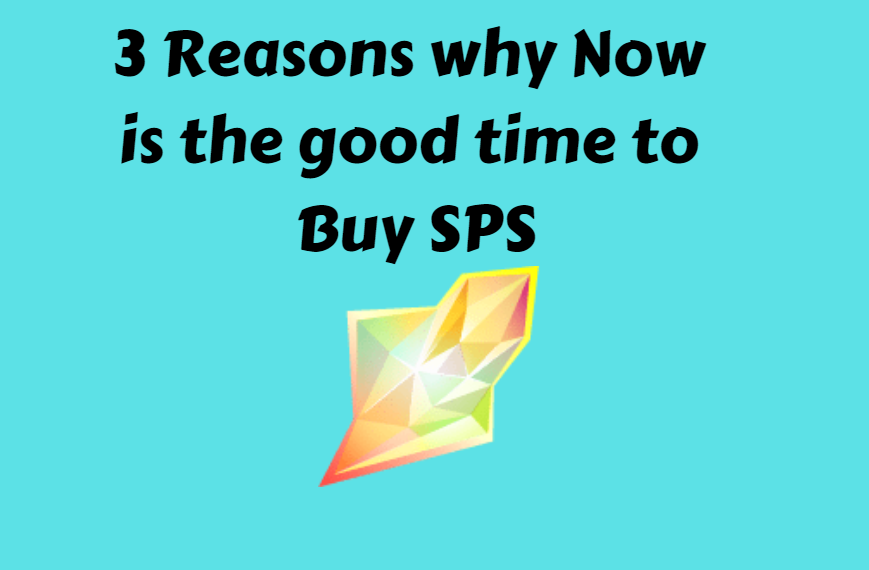 Low SPS Price
The first region is to buy the token because the price is low currently its priced at $0.057 and which is like a rock bottom price. This is the same coin that was almost $1 but now it has dropped heavily because of the long-term airdrop. The spoken is something that I believe a lot and expect that it will grow by 10x easily and it is just a matter of time. Maybe it grows even more but the minimum I expect is 10 x from the range where it is now. If we buy this token now and hold it for the long term then I hope that this investment will be nicely profitable
GLX Airdrop
AirDrop for SPS holders will be starting from 25th October for GLX tokens. This is the governance token of the newly launched game by the splinterlands and this year's drop is also going to be long. Because here the SPS holding will be considered for the airdrop so the more can you have will increase your airdrop automatically. Everyone Crypto market loves to have more AirDrop and this is the reason why buying more spheres and keeping the account locked is a better idea to go for. Did becomes an even better deal when we know that the prices are on the loafer side and we will be able to get more coins for the same price.
Decent APR
We can buy the token and deposit the game account. This process is super easy and the current year is almost 30% which is also very good in my opinion. While we will be getting the AirDrop on the holding as well we also earn this decent passive income through the stake. I like the coins where I can earn some passive income by holding and this is one of the coins which has been offering great returns since the beginning. I have a long-term vision with this coin and it on accumulating whenever I see an opportunity to buy more from the market. I am trying to have 20000 to comes locked my account as early as possible.
---
---
Now because the Airdrop is going to start this coming Tuesday so I think now I will have to pay more attention to my goal with SPS. If you are looking for a better opportunity on the investment that also brings a long-term airdrop then you should go for an SPS token. This is not financial advice and I highly recommend you do your research first before you do the investment. I have shared my thoughts and opinions in this post and it is because I believe in the project and the ecosystem. I also expect that this project is going to grow significantly in the next few years and now is a good time to increase the holding as much as possible.
---
Thank you so much Stay Safe
Posted Using LeoFinance Beta