I have been thinking of giving more time to the game of Splinterlands! It has been a long time since I have shared the battle field in the arena of this play to earn game. The obvious reason behind this decision of mine, was the issue of time. Although, lately I have come to a stance, where I have been able to sum up few of my tasks (in my real life) and as of now I have time to spare! Than why not use this time of mine and play the game and enjoy the adrenaline rush of this game once again!
---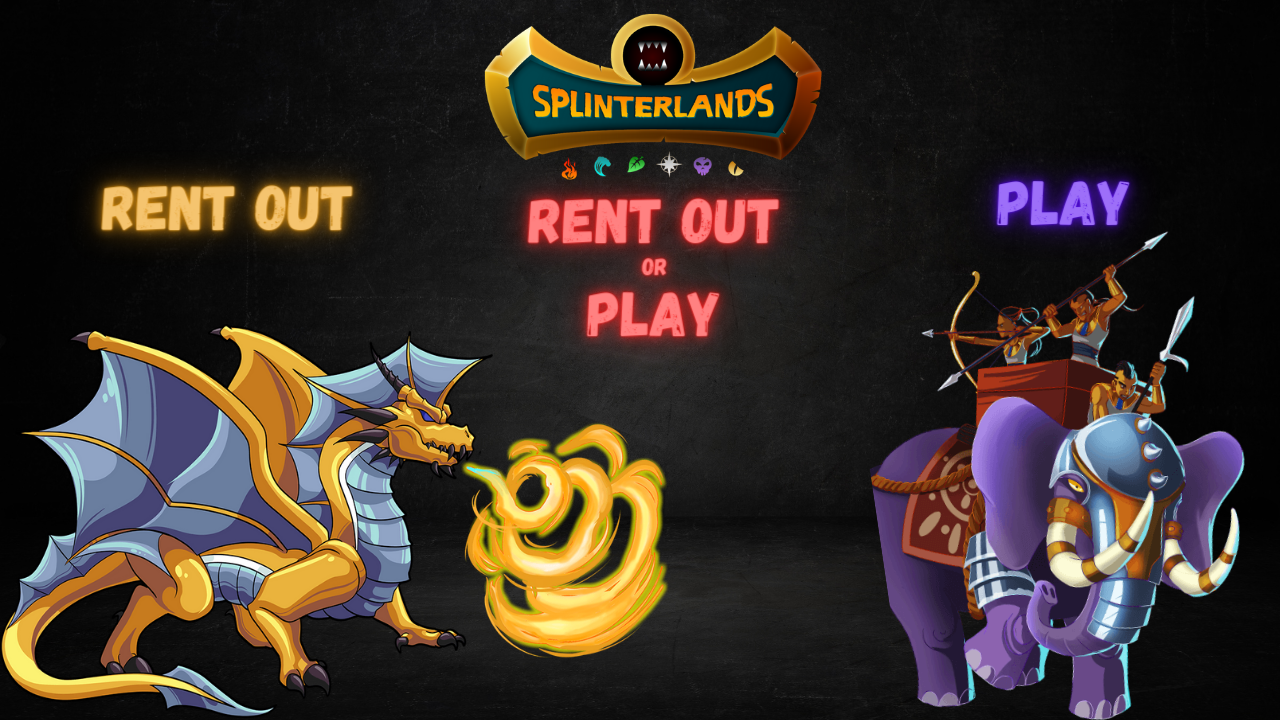 ---
Splinterlands
---
An online play to earn NFT , blockchain game on HIVE Blockchain. I have been exploring the realm of Splinterlands since its inception. It has arrived so far over the years making Splinterlands one of the pioneer of play to earn NFT card games in the blockchain industry.
---
I have been curating the Splinterlands contents for some time. Make no mistake , this has been one of the best task that I have been doing on HIVE blockchain. Upon curating different authors contents, it was becoming quite impossible for me to restrain myself to dive back into the game. Yes, as usual it is not really an easy task to accomplish. Since, it requires lots of devotion and time to acquire something out of this game. I have started back couple of weeks back and so far I am enjoying it.
---
So many options
---
Yes, I was facing quite a lot of difficulties once I started to get back into the game. There were lots of options to start with. Which made me even more nervous to play the game. I started to take down notes to begin with lol. Yes, I was like what the hell is going on and I was being beaten left and right by my opponents. First couple of battles have been really tiresome for me. I was like screw you guys! But slowly everything started to come back in line and here I am finally sharing my experience once again.
---
Getting introduced to new set of cards was the real challenge. Also there comes the new set of rules. Although, upon playing battles against the players it really energized me to keep on going. All the strategies and placement of cards slowly started to keep hitting me like an arrow lol. But it was a nice ride and I think I will keep on continuing this new chapter along with my other activities of HIVE.
---
Play or Rent out
---
I have been renting out my deck for some time. Like I stated, I did not have enough time to pursue this phase of playing. But curating Splinterlands players posts and going through their detailed information about their gameplay and all sorts of Splinterlands activity really was itching me to get back into the battle zone. While I was going through the latest update of the team about listing cards fees of 1 DEC, that is also something of a concern read the post here.
---
There are benefits of owning Splinterlands cards in several ways! Even though, I was using my deck in playing but my earnings kept on coming everyday, via renting them out to other players of the game. Since, there are countless people like me who can not afford to give enough time in the gameplay they have been renting their cards out to other players. This way they are helping themselves in getting a decent return for owning those cards and also helping others play the game who does not have enough to start playing the game.
---
While, there are other ways to make full effectiveness of owning Splinterlands NFT cards collection. Via Playing the game! I have been playing restlessly over the last couple of days and I have been playing as long as I can. I even depleted by ECR to less than 50% most of the time lol. Sometimes, the excitement really gets the most of it. While the more focused one is in the game the more approach can be made out in here.
---
|Renting Out|Playing| |-|-| |Easy Passive Income|Play and Earn| |Time Saved |Consumes Time| |Sit back and relax|Get in game & Enjoy beating up opponents|
---
I am still in the learning mode! I do plan to keep increasing my deck value in the coming days and lets see how that really works out.
---
---
So far my current position within the game is as follows :
---
|

|

| |----------- |------------- |
---
While my last three days focus chests have not been that good but I should say, I have been improving with my game play. Although, it needs a lots of polish and I need to be within the game more and more in order to gain a lot of more experience.
---



Images Shared from peakmonsters
---
Well, I am pretty sure you are not really interested in what I have been getting in my daily rewards. The reason I am sharing this post is because unlike other Play to earn games there are different benefits of owning Splinterlands assets. May that it be playing thyself or just renting it out to others or even having a scholar play for you. Undoubtedly, there are indeed benefits to all of those actions.
---
Here are some new changes which will help the new players on boarding the game and the existing players as well. Read the post for more details!
---
There are some Goals of mine to achieve by the end of the year 2023. Increasing Splinterlands activity in my life is one of them. I do plan to execute those plans accordingly. So far everything is going as planned and I am hoping to make things right in the coming months of the year 2023 ;) Fingers crossed.
---
---
Images in the post are shared from Splinterlands, unless stated other wise!
---
Best regards
Rehan
---
Want to play & earn from Splinterlands
---
---
Splex.gg Rental Service
Optimize your time and the return on your Splinterlands assets!
---
---
Posted Using LeoFinance Alpha