Better Hurry Just 100,000 More Packs (Splinterlands Airdrop)

This post is published via LeoFinance.
a year ago
Jan 27 2022 12:56 pm
-
2 minutes read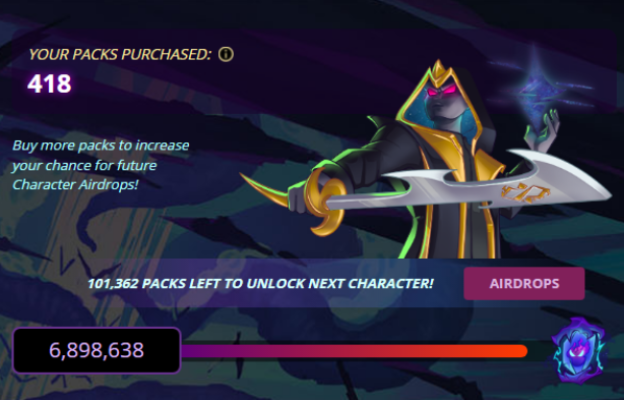 What Is Splinterlands?
Splinterlands is a blockchain game that utilizes NFT's for game play
Chaos Legion is a set of NFT's used in the Splinterlands game
In Splinterlands the airdrops just keep coming. If you want to get in on this next one you will need to hurry as the next drop takes place after 100,000 more Chaos Legion booster packs sell. That might sound like allot of packs but the Splinterland players can and will buy those up in a hurry. If you are reading this and missed this awesome opportunity no worries as Splinterlands has schdeuled a total of 14 airdrops. Currently we are on airdrop number seven. That means there is an additional seven airdrops to be released after this seventh one concludes. All one needs to do to be included is purchase at least one Chaos Legion booster directly from the Splinterlands site and you will have a chance at receiving the upcoming airdropped cards. The more Chaos Legion Packs you purchase the higher your chances at receiving an airdropped card. Lets take a look at the value range of Chaos Legion airdropped cards.
Airdrop Card: DOCTOR BLIGHT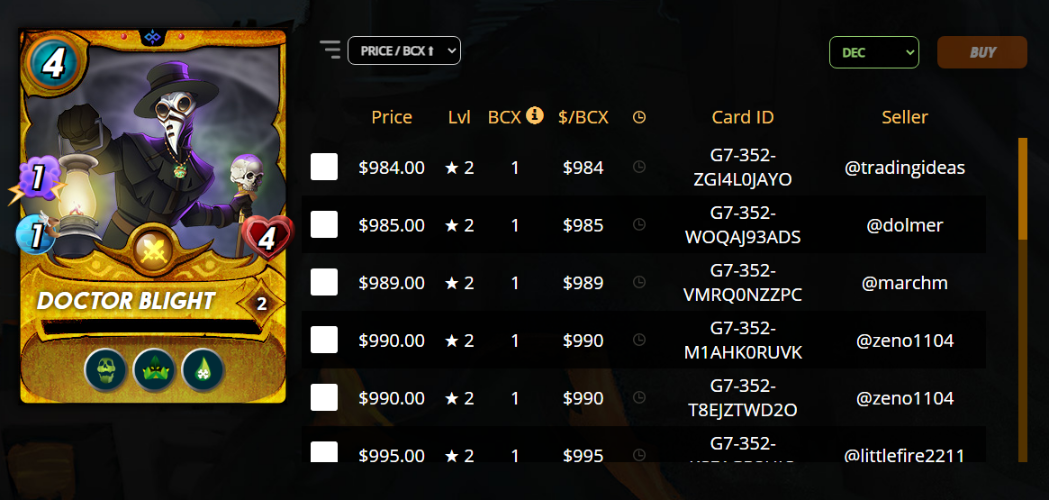 Airdrop Card: IZA THE FANGED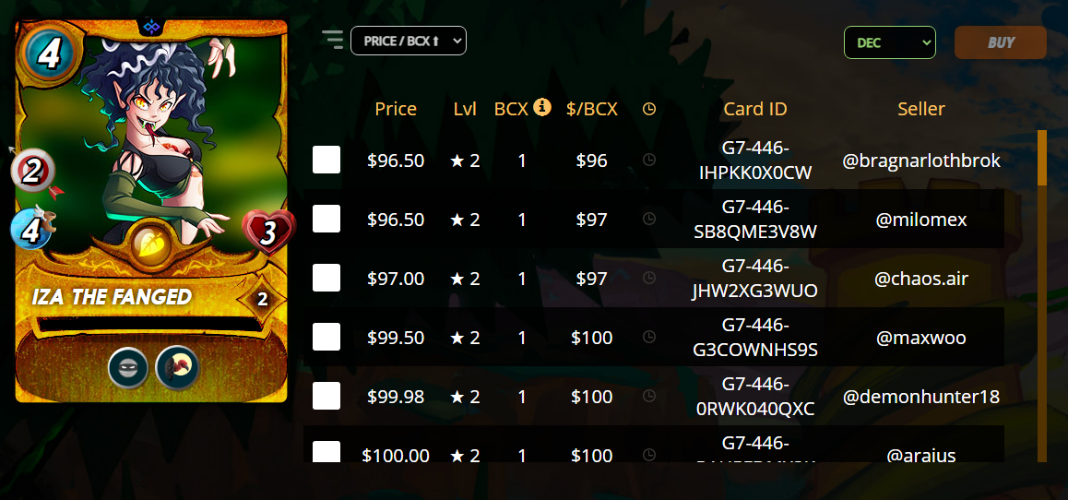 Notes:
The first airdropped card was the amazing Doctor Blight. This card can no longer be attained directly from Splinterlands. It is not and was not and never will be included inside booster packs. The only way to get our grubby little hands on one of those bad boys is to purchase one from market or from someone who already owns one in a private sale. The card itself is currently worth near $1000 USD. That is fairly amazing considering they were given to the Splinterlands community for free. The second airdropped card featured is named Iza The Fanged. Its been awhile since I purchased a GFL but this card and price is tempting me. IZA The Fanged current USD value is near $100 USD. Unlike Doctor Blight this card and all other airdropped cards in the Chaos Legion collection (aside from Doctor Blight) can be attained in Booster Packs.
With the Seventh airdrop just around the corner that means a total of Seven Million Chaos Legion booster packs have sold. The Chaos Legion collection does not have an infinite amount of boosters packs for sale. The Chaos Legion Booster Set is capped at 15 Million Packs. That means after this seventh airdrop concludes there will only be 8 Million Chaos Legion Booster Packs left for sale on the official Splinterlands marketplace. That may seem like allot of booster packs but these boosters are flying off the Splinterlands virtual selves. While you should still have plenty of time to get your hands on some boosters that time is likely to come to an end sooner than you think. Its always better to purchase sooner rather than later as doing so will include you in as many airdrops as possible. May the airdrop odds be forever in your favor.
Posted Using LeoFinance Beta
Posted Using LeoFinance Beta