Claim Your Bounty Here (Original Gangsters Tournament Results)

This post is published via LeoFinance.
a year ago
Jan 31 2022 5:13 pm
-
2 minutes read
The Original Gangsters
---

---
This post will serve as the Bounty Claim Post for the Splinterlands tournament named The Original Gangsters. Once the tournament concludes this post will be updated with tournament results. Those who are eligible to claim a bounty (1000 Splinterland Battle Tokens) will have 24 hours after tournament completion to do so. Once the 24 hour Bounty claim window closes all SBT tokens will be sent to the bounty claimants within 48 hours. At the same time I will announce the winners of the 15 SPS Bounty draw (3x5 SPS to three participants who placed in the 16-32 rankings) and send them their SPS winnings. At the time of this publication The Original Gangsters Splinterlands tournament is still open for registration. You will have to hurry and register if you want to play (just hours to go before the tournament Kicks Off and registration closes). Tournament details can be seen below. Good luck with giving RentMoney a Splinterlands beat down and collecting a bounty while doing so.
---
Don't miss out: Just 40 DEC To Register!
---
Tournament Details
Date | 01/31/2022 | ------- | --------- | League | Novice | Staked SPS Requirements | 40+ | Power Requirements | 500+ | Tournament Type | Anytime/Group Size 12 | Round Advancement | Top 30% Advance | Team Select Time | 1:20 Seconds | Playable Cards | Alpha+Beta | Entry Fee | 40 DEC | Paid Places | 32 | Min Payout | Two DEC (17-32nd Place) | Top Payout | 20 SPS (First Place) | Other | No Legendary Summoners|
---
Bounty Bonus Rules
The first bounty will reward 1000 SBT (Splinterlands Battle Token) to anyone who defeats RentMoney in battle and brags about it in the Claim your bounty here post. The Second Bounty: Three participants who place in the 17-32 spot will win Five SPS Each. A random generator will choose the three winners. Bounty payouts will be issued roughly 48 hours after the tournament concludes.
---
Splinterlands is an online blockchain game built on the Hive Network. It utilizes NFT's for game play. These NFT's and other in game assets are tradable and have real monetary value. Click here to play or to invest in Splinterlands. Play for free or pay $10 USD and start earning today!
---
Tournament Register Link
https://steemmonsters.com/?p=tournament&id=0b4a42ae12bac52998d6942841556a5365df559c

---
Tournament Results:
Congrats to @bitpizza for winning the tournament!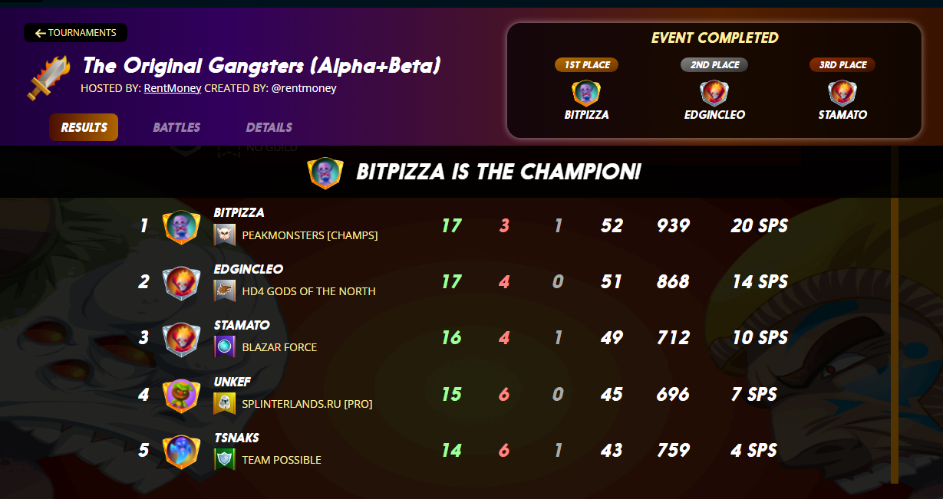 ---
Bounty Winners:
Winner | Bounty Prize | ------------- | ------------- | @jos3lider| 1000 SBT | @tsnaks| 1000 SBT | @sokolik78| 1000 SBT | @kjchemical| 1000 SBT | @unkef| 1000 SBT | @uwelang| 5 SPS Tokens| @thelunacysystem| 5 SPS Tokens | @cryptoniusrex-| 5 SPS Tokens|
Congrats to all the Bounty Winner!
Posted Using LeoFinance Beta