New Splinterlands Airdrop Cards Available

This post is published via LeoFinance.
a year ago
Jan 20 2022 12:33 pm
-
2 minutes read

Each time one million Chaos Legion Packs are sold a new card gets airdropped to the players and investors of the game. To qualify for these airdropped cards one needs to purchase Chaos Legion Booster Packs directly from the Splinterlands site. Purchases made on secondary markets do not count towards airdrop points. This time around to guarantee yourself one airdrop card you would of needed to purchase at least 350 booster packs. Of course buying just one pack qualifies you for a chance. The 350 booster pack is not the min required to qualify.
What Is Chaos Legion?
Chaos Legion is a set of NFT's used to play the very popular blockchain game known as Splinterlands. They can be found in booster packs (Five NFT's) or purchased on markets.
What Is Splinterlands?
Splinterlands is a blockchain game built on the Hive Network (no transfer fees). It utilizes NFT's for in game play. These NFT's have real monetary value and can be traded on the in game marketplace and many secondary markets. Other in game assets can be won in ranked play such as the in game currency known as Dark Energy Crystals and Potions that help drop rates of NFT's won in battle known as Reward Cards.
How To Claim Airdrop?
Go to Splinterlands.com
Click Shop icon on top corner of screen
You are brought to the shop section
Locate "New Airdrop" Banner (top corner)
Click "Check Status"
You are brought to the "Claim Rewards" page
Click "Claim Rewards"
I had 308 packs that qualify for the airdrop and I ended up kicking the random generators virtual butt. As seen below in the screenshots I was lucky enough to get dropped two of each Legendary. Goes to show that anyone has a chance to get dropped one as long as you purchased at least one pack. I hope your luck was as good or better.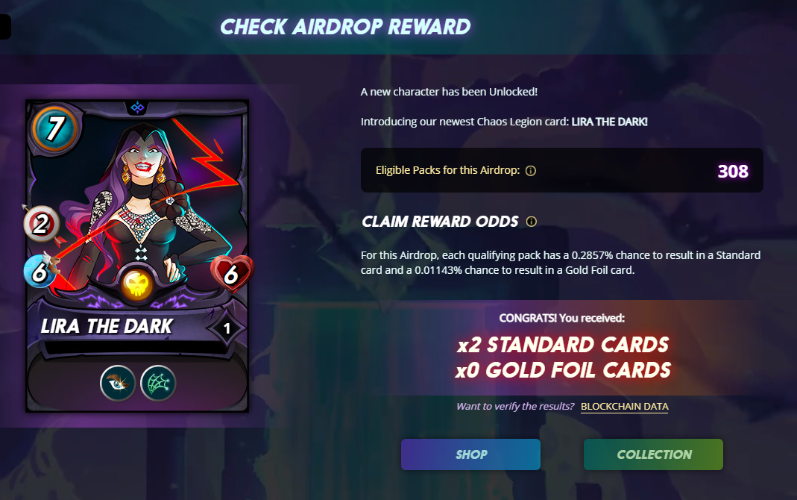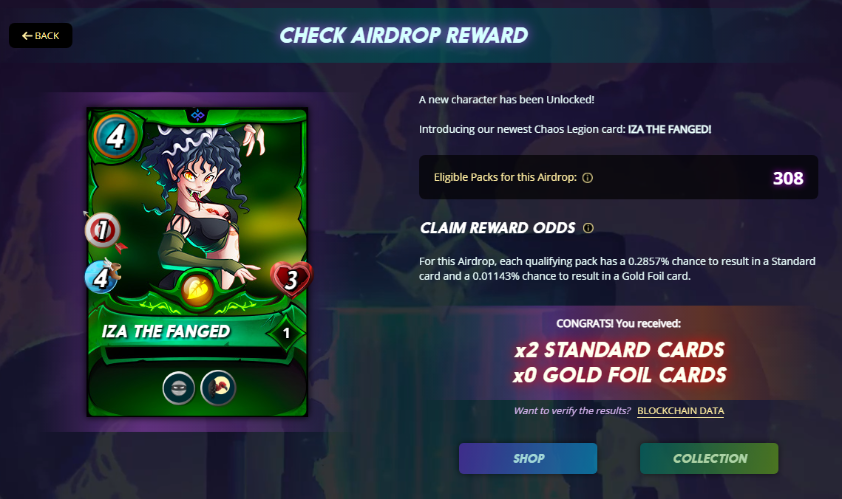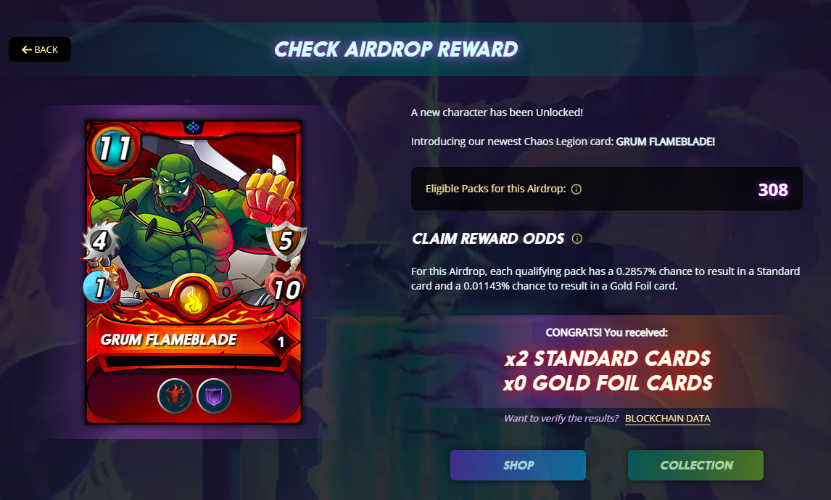 Posted Using LeoFinance Beta