Hit my 20K SPS stake - that SHOULD do me for Chaos...

This post is published via LeoFinance.
2 years ago
Sep 13 2021 5:22 pm
-
2 minutes read
Well I just hit my minimum SPS stake target before even the announcement of Chaos Legion, and that's 20K SPS.....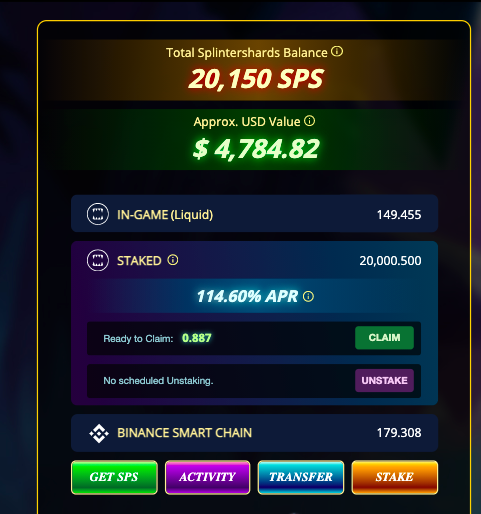 There's currently 78, 000, 000 staked so that gives me 0.025% of the pool.
I want a $10K in, and working on an estimated price of $2.50 a pack that means I want to purchase 4000 packs in the pre-sale. If the price is $3 - I'll be buying nearer 3300.
At my current 0.025% share, it would only take a pre-sale release of 200K packs, for me to be able to buy a maximum of 5K packs, which gives me plenty of wiggle-room at the pack price I'm expecting.
At the moment I think it's looking pretty likely that I'll be able to get as many packs as I want, however there's A LOT of liquid SPS kicking around out there, and my share could EASILY go down to 0.01%, in which case I'd need a pre-sale release of nearer 400K packs to to allow me to get my 'in'.
I think I'll be OK - a few thousand of that liquid SPS is mine so I can up my stake if required, and I can always purchase some pre-sale tokens to make up for any surplus.
I'm not sure how many packs will be in the pre-sale, I can't imagine it would be less than 200K, but 500K sounds a bit on the steep side - I mean these packs are supposed to LAST for a while, aren't they?!?
Of course it the price is a lot higher than my current $3 upper estimate, I don't think I'm going to have to worry too much about staking any more SPS, I'll have plenty! I can't imagine the price would too much over $3 per pack as that would just send the price of SPS and DEC plummeting as people sell to buy, unless there's a REALLY tight pre-sale release.
It's all fun and games, but ATM 20K staked and a little liquid feels about the right to allow for the kind of Vest I want.
Posted Using LeoFinance Beta